Bucuti Beach Resort
Fall 2002 by Stacy
Flight:
We flew USAir via Charlotte, NC - no problems and an uneventful flight. No complaints.
Hotel:
Bucuti Beach The Bucuti was, as usual, a wonderful place to stay. They really make us feel right at home. They have added much needed restrooms at the pool. The restrooms also have shower and changing facilities. Also at the pool is a hot tub! You wouldn't think you'd want to get into a hot tub in Aruba, but let me tell you, it was wonderful!! And then to jump right into the pool!! The breakfast buffet and the lunch service have been improved. The beach service is very accommodating and prompt. The rooms are still spacious and well appointed. The staff is still helpful and professional. We've been staying at the Bucuti since its opening and we will continue to stay there in the future.
Activities: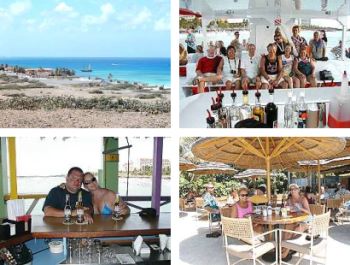 What a busy vacation! What didn't we do?!?
Horseback riding @ Rancho Notorious - TWICE!! Wonderful horses, guides, and just a wonderful ride. We went to the lighthouse and to the beach.
Quad tour @ Rancho Notorious - I never thought I'd have so much fun!! There wasn't a mud puddle missed! Thank you to Melvin and Amy for putting together this wonderful excursion. We went to the Natural Bridge, Gold Mine ruins and the California Lighthouse.
Golf @ Tierra del Sol - I just rode in the cart, but Chris and Danny looked like they were having fun! Golf is NOT my idea of fun! The course is gorgeous and challenging, and well worth the experience.
Snorkel cruise on the Tranquilo with Cap'n Anthony - What a wonderful time! The pea soup is to die for! The snorkeling is beautiful! The hosts are fabulous! The drinks are plentiful!! This is a 'don't-miss' cruise. He only takes out small groups at a time and goes to the south side of the island for snorkeling. Then, after he drops you back off at the DePalm Pier, you've got to stop at the Kokoa for a drink!!
Aruba-Travelguide.com BB Party @ Amsterdam Manor and sunset sail with Red Sail Sports - put on by Melvin and Amy, again!! They are wonderful activity directors!!
Snorkeling @ Baby Beach - Great fish, great water, and great sun. We actually saw 2 couples at Baby Beach from the cruise ship that was in port that day!
Scuba diving - didn't have time this year.
Parasailing - didn't have time this year.
Restaurants (see www.RestaurantsAruba.com):
El Gaucho - My FAVORITE!! Wonderful Gaucho steak and sangria. Can't stress that enough!!
Amazonia (formerly Texas de Brazil) - Make sure you go with a hearty appetite and DON'T fill up on the huge salad bar. The skewers and skewers of different meats - unbelievable!!
Flying Fishbone - Worth the drive. You eat right on the beach at waters edge and watch the sunset. It is located with the Cosmo Day Spa.
Madame Janette - Always a wonderful dinner.
Chalet Suisse - Even if you don't have dinner here, you have got to go for dessert and order the Toblerone chocolate fondue for two (or three!). It is to die for!! Their food is excellent, too!!
Buccaneer - Good food and atmosphere! If the catch of the day is barracuda, get it - wonderful fish, and I don't like fish all that much.
Marina Pirata - Located near where you catch the tender to DePalm Island. You sit on a dock out in the water - unbelievable! The food is excellent!!
Charlie's Bar - If you go to Aruba, you have to go to Charlie's Bar!
Avallone's - Wonderful food and outstanding service thanks to owner/chef Tom. He'll prepare anything to your order. He really goes out of his way to accommodate his customers!
Pasion Restaurant - Their wine list was like a phone book! This was our first time at this restaurant and it was wonderful. It wasn't very busy as I don't think too many people have heard about it yet.
The Old West Tex Mex Bar and Restaurant - My vote for "diamond in the rough" restaurant. I'm so glad we went. It doesn't look like much, but the food is great! The tenderloin is almost comparable to El Gaucho - I can't believe I just said that!! We were the only table in this small restaurant, but the food is worth it!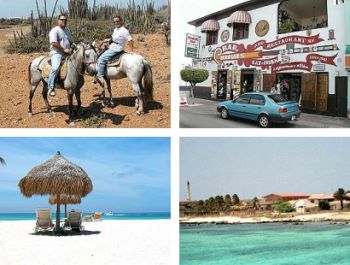 Papiamento Restaurant - This restaurant is so quaint. The food is great and the atmosphere is wonderful.
Tabasko's Restaurant - Even though the Bushiri Resort is now closed, Tabasko's is still open for business.
Carlos n' Charlies - Fun, fun, fun!!
Champions Sportsbar and Restaurant @ the Marriott Ocean Club - Good bar food and a GREAT place to watch ALL the football games on Sunday!! La Dolce Vita - Wonderful Italian food!! One of my favorites!
Sunset Grille @ the Radisson - Expensive, but well worth it! Salt & Pepper - Great food!
Le Petit Café - Cook your food 'on the stone'!! Wonderful!
Pirate's Nest @ the Bucuti - Great food, great service!
Hooters - it's Hooters!
Car Rental:
Jansen Car Rental - I've had the best experience with this rental company, and I've used almost all of them in the past years. Highly recommended.
Secial Thanks to:
Melvin, Amy & Mike, Kay, Sonny & Dotty, Sue & Gerry, and Cindy & Jim (aka "can of peanuts"!!). Y'all made our vacation!!!
Bon Dia,
Stacy