Divi Aruba Beach Resort
January 7-14, 2002 by Lisa
2nd trip to the Divi...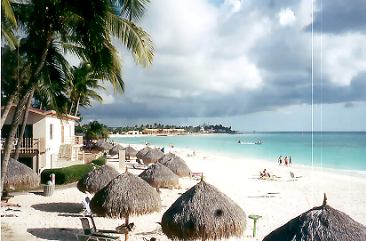 For our second trip to Aruba, there was no question we would stay at the Divi Divi Beach Resort. We spent our honeymoon there 2 years ago and loved it. We left JFK without a problem, and we (my husband and I, and our friends - total of 4 people) landed at the airport at a little after 4 pm, and got to the Divi by 5 pm. Check in at the Divi was no problem - there was no wait at all. We went straight up to the 2nd floor of the Vista 2, in room 515, and our friends were in an adjoining room in 513. Standard room, with a king bed and refrigerator, which was fine, because the view from the balcony was amazing. You can see the beautiful beach, and all the way down to the Tamarijn.
There were many nice changes to the grounds since our last trip. The lobby looked beautiful, the paths to the buildings were all redone, and there is now more space by the Pelican Bar to just sit and look at the beach. Sitting there at night is wonderful - you can have some drinks and listen to the waves crashing. We ate our breakfasts, lunches, and a few dinners at the Pelican Terrace. I would rate the food to be OK to very good at the buffet. We ate several meals at the Red Parrot, which was always great. One night we went next door to the Tamarijn to try Paparazzi (the Italian restaurant). To be honest, my husband and I weren't expecting it to be all that good. But we were pleasantly surprised with the meal. Of course we also had many personal pizzas from the Coco Grill. The bartenders at both bars were great. Very quick to come help, and never skimpy with the drinks.
We spent most of our days relaxing on the beach. Some days we had trouble getting a hut if we didn't get up early enough, but there were never any problems getting towels or a float. The water was always a perfect temperature, and clear. The breeze was always welcome - never a problem on the beach.
There are many people who don't like an all inclusive on Aruba because of all of the restaurants they have to offer. The restaurants and food are not the important thing for us when we go on vacation. We prefer the convenience of being able to stay where we are, and not have to worry about the money when we want food or drinks, which is why we like the Divi. We also prefer the smaller, relaxed atmosphere, and we love the fact that you are right there on the water. We will definitely be going to the Divi again.
Lisa