Tamarijn All-Inclusive Resort
January 19-26, 2002 by Eileen Druzak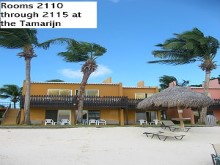 A group of 8 of us stayed at the Tamarijn from January 19-26, 2002. We booked our trip through Apple Vacations for $1417.44 per person including airfare out of Pittsburgh, PA.
I emailed The Reservations Manager, in advance to request 4 rooms together in the 1900 block or higher. We were not disappointed when we checked in. We were given rooms 2109, 2111, 2112, & 2113. The odd numbered rooms are on the first floor. Blocks 1900 and higher have a much nicer beach in front of them and no sea wall. However, blocks 1100 and 1200 are really close to the nice beach located between the Tam and the Divi.
The winds were very strong during our stay and we saw a lot of rain. It rained at least a little bit almost everyday. It rained a lot on the Friday and Saturday before we left. But in Aruba, it is not bad. It rains a little and then the sun comes out strong as ever. The sun is very strong in Aruba. Bring lots and lots of sunscreen. The temperature difference between the sun and the shade is amazing!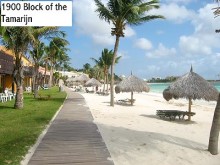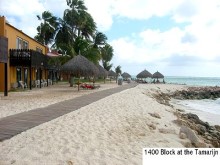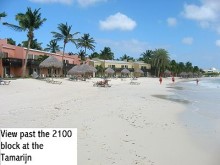 I would like to say a special Hello to my friends that I got to meet in person after meeting them on the Aruba Bulletin Board. Hello to Debi from Lancaster County, Pa; and Hello to Judy and Rob from Cleveland, OH. It was great to meet you and to share some vacation time with you.
There are a lot of rocks in the water at the Tam. Some of them are quite big. Definitely bring your beach shoes. The Tam provides hand & body lotion and hair & body shampoo in dispensers in the shower. There is also soap in a dispenser at the bathroom sink. Small bar soap is also provided. There are no refrigerators in the room. They do provide an ice bucket and glasses. If you want a safe it costs $2/day.
You have to request a hair dryer and iron/ironing board from the front desk. I just brought my own hair dryer. The rooms are basic hotel rooms. The furniture is old. The rooms are kept very clean. They have sliding glass doors that lead out onto the beach. If your lucky like me, the left part of the doors will have louver windows and screens so you can open them at night and just listen to the ocean. You can get either two double beds or one king bed. I believe that the only rooms that have king beds are in the 2100 block and higher.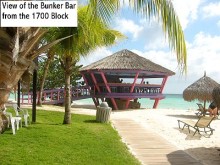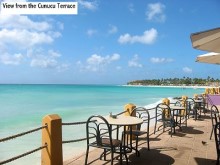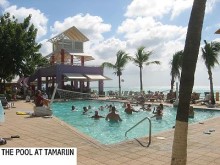 The Tam has two sit-down restaurants that you need to make reservations for, the Paparazzi Ristorante and Palm Court Restaurant. We ate at Paparazzi our first night there. It is an Italian Restaurant and we enjoyed it. We never ate at the Palm Court as the menu didn't seem like anything special to us.
I would recommend bringing an insulated drinking cup. It is sometimes a long walk to the bar!
The Tam also provides a shuttle along the sidewalks at the front of the buildings. It goes to and from the Tam, Divi and Alhambra Casino. Don't be afraid to use it. It runs constantly and is easy to catch.
When you check in you will be given a Divi Resorts calendar of events. Be sure to check it out so you don't miss any of the activities.
On Tuesday, we rented two jeeps from the Hertz desk at the Tamarijn. We were looking for Jeep Wranglers, but Hertz didn't have them. I only saw one ad in the paper for Jeep Wranglers and they wanted $90 a day for them. We ended up with a two-door and a four-door Suzuki Jimnys. Some rode air-conditioned style in the four-door and the rest of us went open-air style in the two-door. We got the two-door for $50 and the four-door for $60. Early on in our trip, the four-door blew a tire. When we returned the car, Hertz indicated that the tire would cost $120 and if there was damage to the rim there would be another $100 charge (the insurance doesn't cover this). They had to have their mechanic check it out. When we returned after the mechanic checked it, we were still only charged the original $60. I don't know why and we didn't question it!
We had a blast that day. We went to the California Lighthouse, drove through the California Dunes, said a prayer at the Alto Vista Chapel, visited the Natural Bridge, went to the Bushiribana Gold Mill Ruins, toured the Ayo Rock Formations. We were really looking forward to swimming in the Natural Pool too. But when we got there we were told that we could not go in as the water was too rough that day. We then went to Baby Beach where we relaxed and did some snorkeling. The snorkeling there was pretty good (better than I expected). We then returned home to shower and change for dinner. Since we had the jeeps, we went to Le Petit Café for dinner. It was quite good. After dinner we went to Carlos 'N Charlie's. That place is always a good time!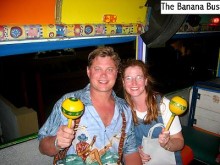 On Thursday we went on the Banana Bus. Since we had a group of 10 of us (fellow bulletin boarders Judy and Rob joined us) we negotiated a rate of $30pp. The Banana Bus is normally $37pp. (The Kukoo Kunuku & YabbaDabbaDoo Bus are $55pp but include dinner) The Banana Bus normally runs from Tuesday thru Thursday 8pm-12:30am. It does not include dinner like the other party buses. It includes 5 drinks (3 on the bus) and goes to 3 bars: Bombai, Ijsberg, Carlos & Charlies.
If you have a big group, call Greg directly on his cell phone at 934467 to get the best price! When you book through the front desk at your hotel, the tour has to pay commission. This is why the tour prices are so high. We were told that the bus was currently only running on Thursdays since 9/11. I'm not sure where the first place we stopped at was.
It was atop a hill overlooking the whole island. It was beautiful! If you can, try to sit in the back of the bus. They have a small dance floor there and it is lots of fun!
My husband did the Fun Factory Snorkel Adventure Snuba Combo for $89. He had fun but said he wouldn't do it again. Keep in mind that he has done Scuba before. He didn't like the snuba because you are limited to a hose that is attached to a raft above and attached to several other people.
We took the bus into Oranjestad for shopping. It is only $2pp round trip. Just ask for round trip tickets when you get on. The bus runs every half hour and is very easy to catch. They drop you off at the bus station in Oranjestad and that is where you pick it back up. Most of the shops open by 9AM. A taxi into Oranjestad will cost between $6-$8.
Eileen Druzak