Bucuti Beach Resort
April 6 - April 18, 2002 by Chris & Amy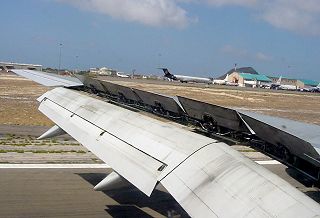 Once again, we want to thank everyone on the Aruba BBs for all of their wonderful suggestions & directions. This report is long and detailed but it is divided into sections, so you only need to read what interests you. I know that I LOVE reading long trip reports because then I can live vicariously and it gives me good ideas for my next visit.
Flight to Aruba
We flew American Airlines from BWI to Boston to Aruba. The security lines moved very swiftly and we only had a problem in BWI. They never announced our flight to Boston but we saw people lining up to board the plane. We got in line, handed them our tickets and started down the stairs to the tarmac (it was a commuter plane). Once everyone was checked-in, they announced that we were now going to board for NY - WHAT?! - where did the Boston flight go? The gate was changed with no announcement at the last minute. Obviously the person didn't even glance at our boarding passes. We were very worried about missing our flight and our connection to Aruba but Boston doesn't have a separate terminal for commuter planes & international flights so we only had to walk 2 gates to get to our Aruba gate on time. We ran into friends that we had met last year in Aruba on the Kukoo bus. We live in MD and they live in upstate NY so neither thought that we'd be on the same flight in Boston. It was great catching up with Tony & Marlene and we set some dinner & fishing plans for the week.
Bucuti Beach Resort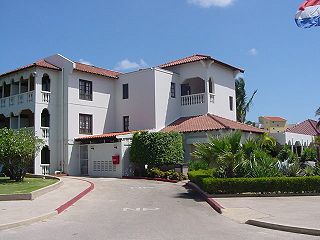 We cannot say enough wonderful things about this hotel. It is always very clean, very quiet and very inviting. Each year we notice upgrades to the hotel for the benefit of the guests - like the new hot tub by the pool. We were offered champagne or ice water while we checked in. The bungalow was as beautiful as we remember and the view was incredible! This time we took a lot of pictures of the bungalow, the inside and the views because we are often asked about it.
Staff
It is nearly impossible to single out someone at the Bucuti because everyone is so nice and friendly. Many remembered us from last year (and we were only there for 6 days) with comments like, "Wasn't your hair shorter?" and "Weren't you here later in April?"
Everyone we encountered at the Pirate's Nest Restaurant and Bar was very friendly. Carsten gave us some good advice about chartering a boat. Deborah (the manager) did a great job of providing balloons, banners & wine coupons for the BB parties. She also checked on the parties to make sure that we had everything that we needed. The Biemans (owners of the Bucuti) stopped by the BB party on 4/8 and couldn't be more gracious.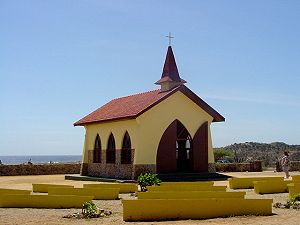 Ocean/Pool - We only swam in the ocean off of Eagle Beach on the first day. It was very calm. The rains came after that day and although it didn't rain much during the day, it did cause the water to be a little rougher. The Bucuti's pool was always at the perfect temperature. Warm enough to get right in but cool enough to be refreshing. I met some very nice people while floating around the pool. It's funny that everyone usually asks "where are you from?" instead of "what's your name?" so I remember all of the states & countries, but no names.
The Sandbar - The Bucuti's bar is always a great place to meet some nice people and catch up with the friendly bartenders. The Happy Hour drinks are half price and they serve free munchies. Once again, I remember where everyone was from, but didn't get any names of the friendly bar patrons I met.
Rental Car
We rented with Economy, again. They had the best rates per vehicle and we were very pleased with them last year. We used the VisitAruba Plus card for our 10% off. We rented a Toyota Yaris (same as an Echo) with air & power steering (we needed that for the trails we drove) for 1 week and when we returned it, we rented a Suzuki Jimny, no air, no radio for one day. Some cars are cheaper than the Yaris but they are also smaller and not as fully equipped. The total for the 8 days was $260 with the discount. At $32 a day, it was worth it to avoid taxi fares and to have the freedom to explore the entire island. One word of warning - check the rental agent's math. One woman was very good and on top of everything - the other woman added our discount instead of subtracting it. It was clearly an honest mistake - but be careful.
Parties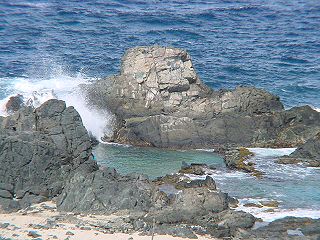 The Bulletin Board (BB) party on 4/8 was great. Shelly asked for a separate area for us and the Bucuti set us up on the beach under a large palm tree for shade. Darrell was quick to greet each new arrival and pull up an extra table and chairs. The only negative was that there was so many of us, that it was hard to get to talk to everyone. Chris & Dan took pictures of the "wildlife" on Eagle Beach. Darrell received some digital camera tech support from Chris. The Bucuti gave us Pirate's Nest postcards and we passed them around so we could get everyone's signature. It was like the last day of high school - trying to get everyone to sign your yearbook. I think that we missed some of the late-comers. One group left early to go on the Kukoo bus and one group stayed late enough to enjoy dinner at the Pirate's Nest.
The BB party on 4/17 wasn't as crowded as the one on 4/8, which gave us a better chance to get to know everyone. The Bucuti set us up in the same spot and once again provided balloons, banners, snacks (yummy ribs) & wine coupons. I passed around my list of who had "RSVPd" on the BB so we could see who was there and who was missing. I was a little disappointed that some of the people didn't show. I know that in Aruba, it's hard to keep track of dates and times but we were really looking forward to meeting some of the people we had been chatting with for months on the BB. Deborah, the Bucuti's Manager, stopped by the party for awhile to see how things were going and she stayed to discuss a few future upgrades to the Bucuti - including bathrooms at the Pirate's Nest - for those who drink a little too much and can't walk the distance to the restrooms in the Bucuti. We had late reservations for dinner so we stayed after everyone left and chatted with Julie & Cameron. They were also staying at the Bucuti and we had tried to meet up earlier in our vacation but kept missing each other. That night we saw the most beautiful sunset we have ever seen, anywhere! Chris & Julie got some great pics.
Snorkeling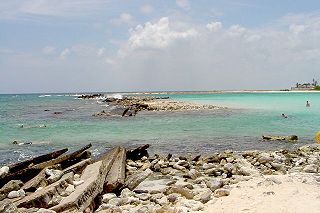 Baby Beach - This was our first time at Baby Beach. Just like everyone on the BB said, you need to swim out to the channel to see the fish. It started pouring rain, but we were already in the water and didn't care. Of course, the rain didn't last long. Not only did we see a variety of fish but many of the fish there were very large. We saw Trigger Angels, Parrotfish, Sergeant Majors and many more. Although Baby Beach is a family spot, there were some topless sunbathers there. We ran into Shelly, Dan, Karen & Pat who we met at the BB party the night before.
Boca Catalina - This was our favorite spot last year. It is not very far from the hotels and is close to some of the wrecks. Since there were a number of storms and brief showers, the water was very cloudy and churned up. It was difficult to see any fish. Chris did see his first large starfish, but we doubt the pictures will come out. I spotted a large flounder, but he was difficult to follow. We didn't stay long and didn't go back because of the lack of visibility.
Fishing
We decided to go deep-sea fishing with our friends Tony & Marlene (who we met last year on the Kukoo bus). We reserved our seats on the Rainbow Runner. It was $60 for a half-day plus snacks. Carsten at the Activities Desk recommended that for $15 more a person, we could have our own boat and could go after larger fish. The Rainbow Runner is a bottom fishing boat and we wanted to go further off the coast. We chartered the "First Light" for $300 - so it was $75 per person.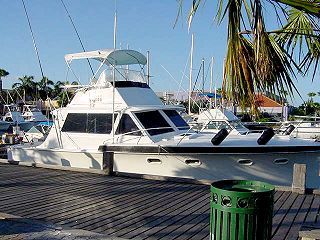 Cederic is the captain and Ronny was the first mate. We chose the order of how we'd alternate who reeled in each fish. Marlene was up first, but her fish got off the hook before she could get him on board. Chris was next and he brought in a nice size bonita. Tony went third and caught a small bonita. I went fourth and also caught a nice size bonita. Although bonita are in the tuna family, they aren't good to eat. Chris threw his back before the first mate could stop him (we're used to catching & releasing when the fish aren't good to eat). But Ronnie kept the rest of the bonita for bait. The boat ride itself was wonderful. It was a beautiful day with few clouds in the sky and we could see Venezuela.
Souvenirs
We bought souvenirs in a couple of the little shops at the Seaport Mall and waited in line to pet Tessa the tiger ($25 a person includes a picture with you and Tessa). The Bucuti & Manchebo gift shops also had some nice souvenirs.
Driving/Sightseeing
We did a lot of exploring on our own this trip. We found a great map in the Bucuti Gift Shop for about $5. I was the navigator, which isn't easy in Aruba since very few of the streets have name signs. I'd just have to count how many crossroads until we turned. We first drove to the California Lighthouse and drove all around the dunes (in our little Yaris). After our trip to Baby Beach, we drove to find the Colorado lighthouse. We did see a box with a light but I don't know that I'd call that a lighthouse (unless we missed it somehow). We explored all around the Seroe Colorado area and Chris took some great pictures of the crashing waves.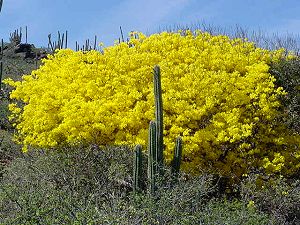 We finally found the Temple Beth Shalom. We had hoped to make the Friday night service, but we were too early and we hadn't eaten dinner and wouldn't have a chance to eat and get back in time. We took a couple of pictures and wrote down good directions, for the next person asking how to get there. We went back a few days later to get some pictures in the daylight.
On another day we explored the Alto Vista region. The church was much smaller than I had expected and I liked that many of the pews were outside the church. Chris took some incredible scenic pictures from that area. We then drove by Casabari (we had climbed it on a previous trip) and stopped to climb the Ayo rocks. We stopped at the Natural Bridge for souvenirs and pictures.
One Sunday, we drove all over San Nicholas (even found Charlie's Bar - it was closed) but that was not intentional. We were trying to find the Promenade restaurant. On our way back to the hotel, we decided to drive up Mount Jamanota (once again in our little Yaris). That was a fun drive and quite beautiful. There were these trees with beautiful yellow flowers. On our way down the mountain we saw a woman (Dianne) taking photos of the yellow trees. We stopped to say "hello" and she explained that they only bloomed for 3 days and that today they were at full bloom. She was originally from New York but had lived in Aruba for 27 years.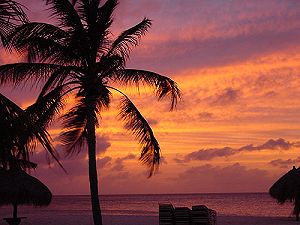 Our last day of sightseeing was in the 4x4 we rented for one day. I'm sure you know where we intended to go - the Natural Pool. The map showed a path to the Natural Pool but when you got to the beach there was a restricted sign. We didn't think there was any other way to go so we started across the beach. A guy came out of nowhere (there is nothing around there) to stop us. After talking with him and showing him our map, he told us how to get to the Natural Pool and allowed us to cross the beach. If you know how to get there, it doesn't take long - however - no one gives good directions because there are NO street signs.
So your first time there, it will take awhile and you have to drive slowly because it is bumpier than you can imagine. Our jeep had no a/c and there wasn't much of a breeze that day. We were pretty hot and tired by the time we finally found the pool. And you feel so victorious that you almost expect a welcoming party to congratulate you. Once you finally get to the parking area, you still need to climb down a good amount of rock/stairs to get to the pool. The pool itself requires climbing over rocks to get in. Of course, there are no facilities there. I'm not trying to discourage anyone, I just want you to be prepared. You MUST have a 4x4 and you MUST be very good at driving clutch. We had planned on doing other things that day but the Natural Pool ate up most of the day. For those who like to snorkel, there are tons of fish in the Natural Pool.
After the Natural Pool we went to the famous Divi Divi tree to take a picture of that beautiful tree. We couldn't get out of there faster - boy does it smell bad there!
Our last night on the island with a vehicle, we drove up to the California lighthouse. We parked and just looked at the stars and the town's lights below. It was very beautiful & peaceful.