La Cabana Beach and Racquet Club
April 8-17, 2015 by Corrine
Aruba Forum Profile: Corrine
This was our thirteenth trip to Aruba. We stayed at our timeshare at LaCabana.
Ah Jetblue…..A while back, I chose an 11am flight so I could sleep at bit in the morning and our room would be ready when we got to LaCabana. They cancelled that flight and changed us to 7am!! Not my thing at all but I discovered JFK is less than 20 minutes away at 4:30 am. Good to know! We had a bumpy ride down but arrived safely! I really enjoyed the movie "Wild" with Reese Witherspoon.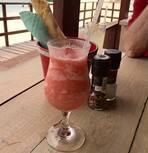 When we arrived, we were greeted by Hector at Optima Car Rental, who drove us to the office and we picked our car. He said Optima is no longer at La Cabana, as they had seriously raised the rent. We stopped for lunch at the West Deck. If you want to enjoy drinks on the water, in relative quiet, this is the place for you! The food was not bad but the drinks were great, a perfect place to begin chilling. It is behind Wilhemina Park.
LaCabana was sympathetic to our plight of arriving early and rushed to get our room ready in one hour. We were renting the first two nights, and the wonderful Magda found us a room right near our unit, to make moving easier on Friday! This year I decided to go back to Ling's Supermarket and was not disappointed! Fresh fruit, cheeses and breads at the bakery were great as always.
Dinner was at somewhere new to us - Bavaria Food and Drink. We wanted to try something different from the same old, same old and since my husband is 1/2 German he wanted to try it. So glad we did! Owner Peter came over to greet us and explained he used his mother's original recipes. My husband had rinderroulade, a stuffed beef, with the most d elicious spatezel we've ever had. I had bratwurst and the best ever potato pancakes. Of course, we tried some German beers. Mine was Weitzen by Tucher, a light lemony beer. A lovely little place, with great food at reasonable prices!
The next couple of days were a bit overcast and windy. But hey, we were in Aruba!
The first day of course was the beach all day. We never had a problem getting a hut. If you got up early enough, you can be in the first row. Check out the poor fellow below with two tails and a missing foot!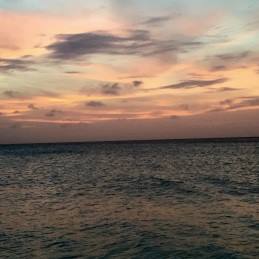 That night was our anniversary so dinner was at Barefoot, one of our favorites right on the water. My grouper with mango sauce was perfect, as was my husband's steak. Wonderful martinis as usual. It is amazing how you never tire of those sunsets...... We then went to the Marriott Stellaris Casino where I quickly lost $50. I definitely prefer shopping!
The next day, Friday, true to their word, the reception desk and our bellhop got us into our unit by 10:30am! The day was spent at the pool and dinner was another new restaurant, Barney's. Thank you Amy for recommending it. We both loved it! Crab cakes, Dutch skewer with peanut sauce and ribs - yum!! The owner- made lemon martini was perfect and large sized.
The next day (finally sunny!) we decided to do something completely different. We went on the Discover semi-submarine. You get on it at DePalm Pier, where a fun boat ride takes you out to the Explorer. You get on and walk downstairs and sit. Unfortunately all we saw were angel fish and a Dory. But it gets up really close to the Antilla, which I had only seen while trying to snorkel. The best was looking up and seeing the kicking skinny legs of snorkelers. Very interesting with a very informative and funny guide.
Afterwards, we went to lunch at Matthew's, new to us. What a treat! Delicious food and drinks, great service and view! I didn't want to leave!
After that we went to the new Alahambra mall to check it out. I found a store I liked R Glass, with leather and glass jewelry (not made in China!) and had to get a bracelet. Dinner was at another new to us place, Sole Mare. Another winner! We had bruschetta, veal parm and spaghetti with clam sauce. Again great food, drinks and service!
Back to the Marriott Casino, lost $80 - I am done with this now!
By now, I notice my capris are getting tighter!
Sunday arrived hot and sunny, which stayed the rest of our stay. A beach day for sure!
We had dinner in our unit and went to Buglaloe for some music. The Equator Band gets better every year and the Patron margaritas were great. I met some young people from upstate NY and had fun dancing away with them.
Monday was a break from the sun day. My husband discovered that the Divi has an older professional golfer, Donald Ross as the pro who gives lessons. He took an hour private lesson and is still raving about it. I went shopping. I skipped Paceo mall and went back downtown. Did the Royal Plaza first. Many souvenir shops but I found a shop called Los Tres Reyes with cool stuff and bought a small replica of one of the artist-designed bulls that were all over New York a few years back. Also got some shirts at Piraña Joes and Estée Lauder make-up duty-free.. I went over to The Ren Mall. What happened? Very few quality stores and the DuFry store was half the size, but I managed to get perfumes anyway.
Tuesday morning I offered to get up early and get our hut. Got the first row, it was 6:30 so I decided to sit and chill.... and promptly fell asleep. When I got back to the room I thought it was seven... But it was nine am! Hubby was starting to panic! After a day at the beach, dinner was at Papiamento. We were never here either. Wow!! It is gorgeous outside quite and romantic! A new favorite. Impeccable service, fabulous food -lime grouper and a "Stone Mix" where the food cooks on a stone in front of you. But the stand out was their home-made bread pudding, Pan Bollo. This is a must have!
Wednesday, we did absolutely .... Nothing!! Beach all day. Lunch at the Islander Grill was delicious.
Thursday was our last day. We spent it at the pool, did laundry and packed. That night we picked up my brother and sister-in-law at the Marriott, who just got in. We went to Ricardo's, after checking with our Aruba friend, Elaine. Is it possible to have another fabulous meal in Aruba? Yes! You are immediately greeted by Ricardo and his wonderful staff. Dinner was coconut shrimp, Argentine churrasco, filet mignon and more grouper. Of course we watched the sunset.
Afterwards I wanted to go to the Wine Room, but where did we go? Back to the $!& casino, this time the Alahambra. Lost more money, sis in-law won $200 in a half hour. I stood and watched craps the rest of the night.
Our last morning, we ate breakfast at Cafe The Plaza, perfect as always. We had to get to drop the car off, so we got to the airport too early. Imagine our faces when the JetBlue agent told us he had bad news- our plane needed to be "changed" and would arrive an hour and a half later. To make a long story short, we were at the airport from 1:30 to 6:50, the longest day of my life. I ate, drank, shopped, read on my IPad and chatted to a young couple from NYC. When the plane arrived all I saw was the green tail, and started to panic, where did JetBlue get this green plane from?? People started taking pictures, so I went to look and saw NY JETS on the side with the NFL logo. We were given the NY Jets team plane. It is a scary thought that that is all they had left, but we had a smooth and safe ride home!
It was another perfect vacation in Aruba! Next time though, I will need to get more exercise as I gained some weight with all these delicious meals and drinks! LaCabana BRC is better than ever! It is spotlessly clean, the staff is wonderful, very helpful and friendly. The front desk even called to check on us and when we said the lights were too low in the LR, they sent maintenance with brighter bulbs! Security was a constant presence. They also listened to me (ha-ha) and now have great working Wi-Fi for free, yay!