20th Trip to Aruba - Amsterdam Manor Beach Resort
September 17 – October 4, 2009 by ~Amy~® and Mike
Aruba Forum Profile: ~Amy~®
Arrival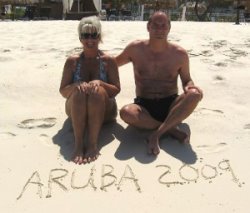 Used Delta again this year (MSP-ATL-AUA) and all flights and connections were fine.
Rented a Toyota Yaris from Optima/Payless again (always reliable and great service.) Again, no complaints and got a red Yaris with the BEST A/C (very important to have good A/C while in Aruba!)
Stopped at Kong Hing on my way to Amsterdam Manor to pick up a few breakfast supplies and liquids. Checked in by 4pm and was ready to let the vacation begin. The young guy who helped me with my luggage and grocery store purchases spoke very little English so I used the few Spanish phrases I knew until he lost me – all I could tell him was "muy poco español". LOL! As he lugged my 2 cases of beer into the room I showed him where to put them and he already saw 2 cases sitting there (my friend Stacy, who was arriving the following week, overpaid her hotel bill last year and she preferred beer instead of a cash refund – smart girl!)....he looked at me, looked back at the beer on the floor, looked at the cases in his hands, looked at me again, and he must have thought "either you're having one heck of a party or you should seriously seek treatment". My husband wasn't arriving until a few days later and our friends the following week so I think he thought all of the beer was for me!
After that I was off to the manager's cocktail party at 5pm to have drinks with Daniel & Heather and a few others. Bingo for dinner (and welcome hugs and kisses from Frans) and then to Screaming Eagle for a nightcap. The nightcap lasted until 2am – ran into some friends there and we ended up drinking wine and champagne until I couldn't drink anymore (I had almost been up for 24 hours at this point.) Needless to say, I had a slight hangover in the morning which is customary for me on my first morning in Aruba. I like to be able to get it out of the way and cross it off of my list of things to do.
Amsterdam Manor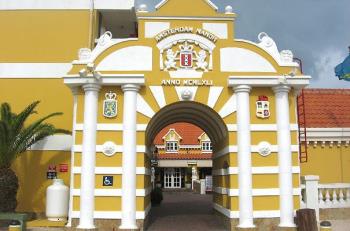 We get the same room every year – a 2 bedroom/2 bath that my husband and I share with two of my girlfriends from NY. I walked in and it was just like being "home" again….same room, same frig packed with Brights, same balcony, same beautiful view…..never get tired of it!
We've stayed at other resorts in Aruba over the year but this one, for us, is perfect. It's smaller which gives us more personalized service, it's quiet (if we want activity at night we just hop in the car and drive 5 minutes to the high rise hotel area), the beach is never crowded (can always get a palapa at any time of day which is great!), the rooms all have kitchens and are nice and roomy….and…we love the staff!
This year they added a towel hut on the beach. Previously, the towels were at the front desk which was convenient to our room but not really to other rooms at the other end of the resort. The new towel hut on the beach makes it more convenient for everyone as you're headed to the beach and need fresh towels or want to drop off your used ones on the way back.
Brought a laptop this year so we were able to take advantage of the free Wifi from the room. But they also have free computers for guests to use near the front desk.
After We spent a lot of time on the beach this year – just wanted to relax. Sometimes we'd make sandwiches in our room for lunch but most of the time we would order food from the beach bar (pizza, chicken wraps, burgers, salads, etc.) - it was just too convenient and we were getting too lazy since they bring the food to your palapa for you. The beach staff was great – always catering to our every need – and we can be pretty needy sometimes. LOL! We would just repeat the beach most days….using the floats in the water, having a few Brights, taking a walk every now and then, and we were usually still on the beach when happy hour at the beach bar rolled around at 5pm.
Did a few morning walks to/from the Phoenix (trying to work off some of those Bright calories). One morning we were walking along the shore past the Phoenix heading back to Amsterdam Manor and we saw a huge eel in the water near the shoreline…he followed us along the water's edge for quite a ways. We would try and do our walks at 6:30am before it got really hot but we were still usually drenched in sweat by the time we'd get back around 7:15am. Then we'd shower, go back to bed, and get up for a late breakfast and morning Mimosas on the balcony. This was a repeat most days, too.
Election Week
got caught up in a couple of parades during election week on the island. One night we were with friends at El Gaucho and just as we were finishing dinner we could hear loud music outside – looked out the window and there was the Green Party parade going by. It lasted about an hour and because our car was parked within the barricades we were held captive at El Gaucho – which is not necessarily a bad thing! They have a bar so all was good (El Gaucho made some extra money off of us that night.) We took our drinks outside, stood in front of El Gaucho, and watched the parade – it was a lot of fun! I asked one of the waiters if the parades for Carnival were similar and he said yes but they have more than one color (only green in the parade we saw - LOL!)
Eagle Beach
Eagle Beach was beautiful as always – so clear that you could still see the bottom if you swam out to the buoys around the swimming area. You could see a lot of fish (large and small) swimming around, too. The water was calm so we were able to use the floats every day. Amsterdam Manor has free floats for their guests to use but one of my girlfriends brought some from home as well – it's always a joy blowing those up – not! LOL! Later on in the week our friend Maria bought one, too, but she was smarter than us girls from the U.S. – she asked maintenance at the hotel to blow hers up….ahhhhh....why didn't we think of that?!? Next year! I also had beer bottle koozies made for everyone this year with Aruba printed on the front and their name on the back. They turned out really well and we could always tell our beer apart.
Weather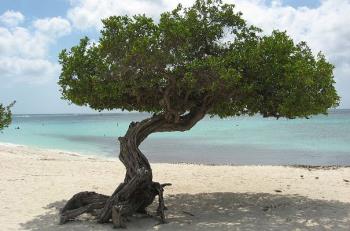 Sunny and hot and breezy. It was actually a little windier than usual for Sept. but it felt good. Sprinkled one day while we were sitting on the balcony having breakfast – felt about 10 drops and that was it for our rain over the course of 17 days.
Wedding and Welcome Party
Very good friends of ours (Gerry & Sue) hosted their daughter's wedding in Aruba while we were there. We've met their daughters over the years in Aruba and they're almost like a "second family" to us now so we were delighted to be invited to Jenny and Drew's wedding.
The night before the wedding was a private Welcoming Party at Pinchos – they had a band, dancing, great food, drinks….beautiful setting. A heartfelt speech from the groom to his future bride had everyone in tears at the end of the evening.
The wedding and reception was the following night at Renaissance Island. We had to be downtown at the Renaissance by 5:15pm for our boat ride to the private island for the wedding. The only downside to Ren Island was being attacked by mosquitoes at dusk. The ceremony was beautiful as the sun was going down but as soon as the sun was gone and it was dusk they were all over us (and everyone at the wedding sprayed with Off prior to the ceremony - they had several cans for us.) So we re-sprayed again....helped a little. It wasn't just one or two mosquitoes that would land on you...it was like a small army. As the father of the bride said to me half jokingly: "This was not in the brochure". LOL!! After enduring about a half hour of this and wondering how we could all get a boat back to shore, it was dark and they went away (or they were "full" - not sure which - LOL!) We then all relaxed, had drinks, had a wonderful dinner (food was amazing), more drinks, a ton of different desserts to pick from in addition to wedding cake, and then....alot of dancing (and more drinking.) Maybe the drinking helped us stop from itching! LOL!! Actually, it was very pretty ceremony and the reception was beautiful...it was just that one half hour that we had to get through. When we got back to our hotel all of us jumped in the pool at about midnight...felt soooooo refreshing from the bites and the Off.
The next night was another "wedding event" at Soprano's – everyone got a free drink ticket and had a good time socializing.
Yet another "wedding event" the following night on the Kukoo Kunucu Bus. My girlfriends joined everyone but I opted instead for the Food & Wine Festival at The Village – various restaurants had booths with small plates of food to purchase, wineries also had booths for tastings. DJ was kind of loud though so I popped into the bar at Papillon for a glass of wine – ended up having dinner there again. Headed over to MJ's to say hi to Eline – again, ended up at the bar with friends and talking the night away until 2am. Kasi said I was drinking "sissy drinks" (wine) but those sissy drinks kept me from having a hangover the following morning. Met 2 cute little dogs in MJ's parking lot sleeping next to my car – one as sweet as can be and the other wanted to play – wish I could have taken them home with me.
Bulletin Board Parties
A great time as always! Finally met Scott & Sandy (she is as sweet as can be!), got to see Wanda and Bob after all these year, always great to see Tom & Karen, and Daniel and Heather also made it to both parties. I'm trying to remember everyone who was there but it's been a few weeks now and my memory is failing (sorry!) Oh, I did get to have another mojito with Milie's mom, Carmelita (we always share the 2 for 1 mojitos together.)
Restaurants / Bars
All of my restaurant reviews are at the following link: www.restaurantsaruba.com
In a nutshell.... Favorite new restaurant: Papillon
Favorites overall for romantic dining/great food: Screaming Eagle, Passions, MJ's
Favorite casual places: Bingo, Tulip, Ellioti's, Sawasdee (Thai), Rumba
Other places worth mentioning: Mango's, French Steakhouse
We also had lunch at the Bugaloe (a trip to Aruba is not complete without drinks and lunch at the Bugaloe), a few drinks at Taste of Belgium, and lunch at Pure Beach Restaurant which is located at the new addition of the Phoenix. We only stopped at Pure Beach for lunch (thinking we might come back for dinner) and probably would have ordered alot more if we hadn't been so disappointed with our first appetizer which was the crab spring rolls. While the presentation was excellent and they tasted excellent, we only received 2 spring rolls which were about the width of a pencil. They were really good but...we wanted more! And for the price we paid (okay, I guess real crab is not cheap), we should have had more. I don't need a heaping plate of food to make me happy but, again, for the price...we thought maybe the waitress ate a couple of them on her way from the kitchen to our table…LOL!
Butterfly Farm
After all of our trips to Aruba, I finally wanted to go to the Butterfly Farm. We went early in the morning when they're the most active and we got a brief tour/explanation about the butterflies which was interesting. They were beautiful and in all different colors but very hard to photograph because they were so active. If you want photos, the best time to go is later in the afternoon because then they'll actually be still for your photos. Also, when you pay your admission fee, it's good for the entire time you're on the island so you can always go back at any time "for free" which is nice.
Horseback Riding
Went horseback riding at the Gold Mine Ranch (went there last year) with 3 of my girlfriends (it was just us and the guide.) And whoa nelly....they had me on a horse that was only 5 years old - it was like riding a puppy who had way more energy than me! We were so far ahead of everyone else at one point that I felt like I was on my own ride. Last year we were able to stop for photos along the way but this year I was on a "speed demon" and a couple of the horses my girlfriends were riding did not like each other so we had a few "issues" along the ride. I finally let my horse go a bit as we were ending the ride, nice trot, then a nice canter, and then he saw the barn (actually, he saw his "girlfriend" at the stable) and he took off into a gallop….it was fine until he was galloping toward the fence of the corral and would not stop. He did what I call a "western movie stop" where the horses are galloping toward the saloon and come to a screeching halt right in front. I was happy I didn't fly over his head. Next year I think I'll tell them I need a "beginner" horse. I had a good ride but he was a little too much for me to handle when I was more in the mood for a relaxing ride.
Charlie's Bar/San Nicolas
Went to Charlie's Bar to meet Daniel & Heather for lunch and an afternoon of drinking and a walking tour – hit a few other bars around town, drinks here and there…very interesting and a good time was had by all! LOL!
Screaming Eagle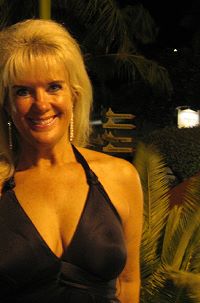 After our day in San Nicolas, we joined Kasi and Eline for dinner that night at the Screaming Eagle – chef's choice for dinner and Erwin made us some incredible Indonesian dishes. Fun night and great conversation - will definitely need to be an annual dinner/get-together now!
Donkey Sanctuary
On our way to the Donkey Sanctuary and, of course, we made a wrong turn somewhere so we ended up at the Natural Bridge by accident (still fun to see.) We bought carrots at the grocery store along the way and finally made our way to the donkeys for our annual carrot and monetary donation.
Departure
Took my last morning beach walk, checked out, said our tearful goodbyes to our friends from Holland and the staff at Amsterdam Manor, and headed toward the airport. Dropped the car off at Optima/Payless which only took a couple of minutes and they shuttled us over to the airport. My girlfriends were flying Jet Blue and I was on Delta but their flight was about an hour earlier. I just figured I'd check in early and enjoy a few last drinks with them at the airport. HA! So, my flight is at 3pm and I stand in line at the Delta counter at 11:45am along with about 20-30 other people…and we stand…and we stand….and we stand. There was no one at the counter until almost 12:30pm to check us in. Nice! So much for getting to the airport early! Finally got through all of the security, etc. and went to the Jet Blue gate to see if I missed my friends – had about 10 minutes with them before they boarded. I have to remind myself that next year I'm going to fly home mid-week instead of Sunday – less hectic during the week, not as many flights so it's not as crowded.
Until next year.....thank you, thank you, thank you to the wonderful staff at Amsterdam Manor for your kindness, hospitality, and friendship!