Tamarijn All Inclusive
December 22, 2007 – January 3, 2008 by ArubaLisa
Aruba Forum Profile: ArubaLisa
Website: www.arubabound.com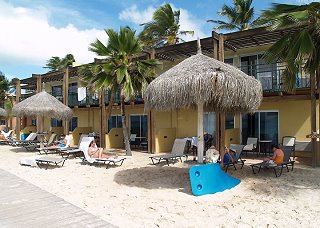 Overview
We are a family of 10 comprised of my grandmother age 94, who treated the family to this trip as a Christmas present. My parents are in their late 60's, my brother, husband and, myself - mid- 40's and children- aged 11, 13, 15 and 18. My parents have been to Aruba three times previously having stayed at the Holiday Inn and most recently the Radisson. My husband and I, have been to Aruba quite a few times having staying at a variety of resorts along Palm Beach, some numerous times: Divi Phoenix timeshare, Playa Linda timeshare, Wyndham (now Westin), Allegro (now Occidental), Radisson and Hyatt.
Traveling with 4 children who love to eat and eat well, we knew to start, dining out was not an inexpensive option and cooking by one of us, say in a timeshare, was just not going to happen. We could stay home and cook for the holidays if that were the case. So in our case, all inclusive was the choice for our family. We have used MCM Tours for over eight years now when booking our Aruba travel. Having always had the best pricing and excellent service, this trip was no different. In explaining what our family needed in a resort accommodation and having booked our travel through them for so many years, they knew our likes and dislikes and recommended the Tamarijn. We went along with this knowing full well before booking that it is NOT a 5 star resort.
This was the first land vacation in Aruba for my brother and his children. After seeing the crowds along Palm Beach during Christmas week, he said given the choice of staying at the Riu All Inclusive on Palm Beach or staying at the Tamarijn, he would choose the Tamarijn hands down for simple fact that the beaches all along Palm Beach were just too crowded. Add to the crowds, the huge amount of watersports activities and their accompanying noise, it was a real big turnoff to him.
I cannot say in words how happy our family was with the Tamarijn. In reading a great many reviews of this resort over the many months before our trip, we knew what to expect. This was not going to be a 4 star resort like the Marriott, Radisson or Hyatt or even the Westin. I would however say we were just as happy if not happier with our experience at the Tamarijn than our 3 stays at the Westin when it was still the Wyndham, and it is a different type of experience than our four stays at the Radisson.
The atmosphere at the Tamarijn is much more relaxed than anything you would find on Palm Beach, never mind the Radisson or Hyatt. Cannot comment on the Marriott because we have never stayed there, but would imagine it would be the same. Dh and I, still believe there are "trade offs" for staying along Palm Beach at some of the more "upscale" hotels and staying at a resort such as the Tamarijn. The Tamarijn and Druif beach does not have all the many activities within walking distance, the rooms at the Tamarijn are much more basic and unlike Palm Beach where there are many casinos in the hotels adjacent one another, there is only one casino, the Alhambra, across the street from the Divi Resort. For us, however, the tangible bonus of the Tamarijn was the ability to walk directly out of our room right out on to the beach. As much as we love the Radisson we cannot do that there.
For some it seems so much easier for people to find faults with the Tamarijn than to have done the proper research before booking their stay. Just because all the rooms are oceanfront, this does not mean that this is a 5 star resort. There are no 5 star resorts on the island. We had booked our trip through MCM Tours, and they had requested, though could not guarantee that our 4 rooms be near one another. Our room in the 1300 building was more than adequate in size for three people, but then again, the only time we spent in our room was to shower and sleep. The beach outside our room was our living room for the 12 nights of our holiday vacation. Our TV was never turned on. The ocean outside our door was our entertainment. The baths may be outdated, but were clean and again, for our needs, not an important factor for this vacation. The resort suited our family in every way for what we required, in a family vacation for our holiday.
The rooms at the Tamarijn from what I understand were renovating not too long ago and appeared to us clean and fresh. After having read so many reviews I was also expecting a room the size of a shoe box. Well, maybe too many cruises for us, but with three people, we had plenty of room and storage for the all too many clothes we packed. Many reviews have also stated that the guestroom bathrooms were outdated. Well, yes they are; however, our family knew what to expect, and we found clean bathrooms which in no way adversely affected our vacation. Other complaints I have read over and were that other than their ala carte restaurants, they serve their beverages in hard plastic cups. Indeed this is true, we knew what to expect. The swimming pool was not fancy; yes the swimming pool is a simple rectangle. In our opinion, on the island of Aruba, the Tamarijn cannot be beat for the value for the money in an all inclusive resort. All oceanfront accommodations make this resort the perfect paradise.
If anything, the worst thing I can say is that it would be very easy to never leave the resort except for an occasional run over to her sister resort the Divi. For first time visitors to Aruba, if you never left the resort, you would never get a real feel for the island and all it has to offer. You would still however have the wonderful experience of one-on-one contact with one of Aruba's and the Tamarijn's exceptional assets: it's warm, welcoming and friendly people. As soon as we stepped out of our taxi driver friend Bully's van and were greeted by the bellman and subsequently the front desk clerk, we knew we had found an amazing spot.
My husband and I, love to frequent some of those $150 - $200 per couple "fine dining" restaurants in Aruba such as the Sunset Grille and found all the food outlets at the Divi and Tamarijn, whether ala carte for dinner or breakfast and lunch buffets, to be delicious. All members of our family are "foodies" and no one felt there was anything wrong with the food here. From made to order omelet's at breakfast and even seafood selections at lunch such as scallops in wine sauce and paella, we could find nothing to complain about. In other words, we could always find something to eat. Snacks and sandwiches at the Pizza bar were also excellent. Made to order pizzas were our favorite, with a choice of thick or thin crust!
Service at the food and beverage outlets was typical "Aruban or island time." No worse than any other place where we have eaten. If we were looking to sit down, eat and run, then the buffet will be our choice. Since I enjoy being able to sit and enjoy the atmosphere and the company of whom I am with, I was more than pleased with the service and staff at both the Divi and Tamarijn.
Getting There
Our family members flew from Newark on Continental, American from Miami and dh, dd, and I, from Atlanta on Delta. Considering we were flying the Saturday before, and only 3 days before Christmas, things did not go too badly.
Living in Atlanta, most of our flights no matter we travel are via Delta. We have flown Delta 3 times, twice domestically, in the past 6 months and our experiences have been good and bad. Probably all in all it breaks down to 40% poor, 40% mediocre and 20% excellent. Even booking flights eight months in advance for this trip, the discounted fares were already sold out. The discounted first class airfare on the way to Aruba was less expensive than a round trip coach fare so we took that, and used frequent flier miles to upgrade to first class on the return.
A last minute equipment change gave us a larger plane but screwed up coach class seat assignments. All the passengers then had stand in line at the gate to grab whatever seats they could get as well as new boarding passes. The result was long lines accompanied by short tempers, coupled with a low ceiling, our flight for Aruba departed over an hour late.
Attitudes all around with Delta were much better when the airline was in the midst of their bankruptcy. Things have since returned to their cold, uncaring attitude towards their customers. My tray was broken, so dh and I ate lunch in two shifts switching seats. The flight attendant was not even willing to look at it and totally indifferent to the situation, basically like "deal with it." I do have to admit that the airport personnel for Delta in both Atlanta's Hartsfield and at Queen Beatrix in Aruba were excellent. On surely one of the busiest travel days of the year, could not do enough to assist us. Come on airlines, come on FAA, Delta needs more competition in Atlanta!
Having made up some time, our flight to Aruba arrived only 40 minutes late. Again we faced similar scenes from the morning, crowds and people who had simply "had enough." Add to this everyone was tired and now hot. The terminal was more crowded than I had ever seen it and there were a number of unhappy passengers who had arrived on American Airlines with their luggage not arriving along with them. Admittedly, it did take a good 20 minutes for our flight's luggage to begin coming out. I overheard someone state that the delay was caused by the passing rain shower during which our flight had landed and the fact that they do not like to unload luggage in the rain so it does not get wet. We were fortunate that as soon as the luggage did begin coming out, for the first time in 16 visits, we were one of the first people on our flight to receive our luggage off of the carousel. For us, coupled with a short line at immigration and breezing through Aruba Customs, we made it out in for us, near record time!
Exiting Aruba Customs, already on the other side of the glass, I could see our friend Bully, the taxi driver, excitedly waving and motioning hello. Passing through the doors there were hugs and kisses all around, we had finally arrived at our "home away from home." Off for a very short ride to the Tamarijn. Well, what normally would have been anyway?
What is Christmas like in Aruba? To start off with, the Saturday before Christmas and LG Smith Boulevard through downtown Oranjestad was closed. This is a traditional day for Arubans to do their shopping. To ease access to stores, especially for families, the street is opened only to pedestrian traffic. Bully did his best but it seemed that every corner we turned resulted in just more gridlock. Either way, we made it to Tamarijn and who should be standing at the far end of the lobby but my Mom. She had been at Pizza per Tutti and just had "that feeling" that we had arrived.
The Tamarijn - Rooms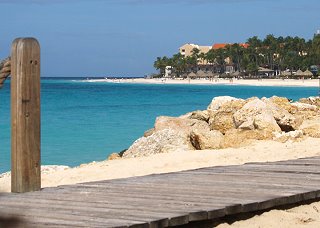 After a quick hello to my Mom, we went to the front desk and received our bracelets which would allow us to eat and drink throughout our stay, towels cards, and room keys and, we rented a key to the safe for the duration of our stay. Again, we booked four rooms through MCM Tours and had asked them to request for obvious reasons, that at least my grandmother's room, be located on the ground floor with the three remaining rooms as close together as possible. In checking in we discovered that all our rooms were adjacent on the first floor of the 1300 building- 1313, 1311, 1309 and 1307. We were off to a wonderful start.
Some people worry about security with these ground floor rooms but I would not worry too much if you take the proper precautions. We felt just as safe at the Tamarijn in a ground floor room as we did anywhere else we have stayed in our 15 previous visits to the island. The room's sliding glass doors have a bar which locks across the middle of the door in addition to a standard lock. Our lock was always locked when we were not in the room. I have heard from others who either forgot to put up the bar or chose to sleep with their door open, that security had stopped by and asked them to shut the door and put up the bar. In building 1300, because of the direction of Aruba's tradewinds, front to back on our room, we had to ensure we truly pulled hard when shutting the front door to our room to guarantee that the lock had caught. Not doing so, there would be a chance the door could blow open. This is not an issue as long as you are aware of it. There was visible security around the resort day and night. Twice during the day when I walked to the end of the resort to the 2500 building there was a security guard posted there as well.
Rooms came equipped with hair dryers, iron and ironing board (not for me on vacation thank you), and a mini-refrigerator and clock radio alarm. You can put whatever food you wish in the mini-fridge. It is totally empty and located on the bottom right of the armoire. Delicious Aruban water is from their desalinization plant and can flow from the tap quite warm. Bring your own empty pitcher if you want to chill some to keep in the fridge. Satellite TV stations were very well covered: ESPN, ESPN2, HBO, TNT, Disney, USA, WGN, TBS, CNN, Venevision, Tele Aruba, Cinemax, Fox, CNN Headline News, BBC World, BBC America, CNBC, ABC Family, ABC, NBC, CBS, Fox Sports, Golf Channel, MTV, In-house TV and a couple of others, presumably South American, I never heard of.
The maids have a tough job keeping the tile floors clean of sand. I know in all four of our rooms, no matter how hard we tried, we still tracked in some sand each day. We took the towel tub mat and placed it right inside our sliding glass door from our patio to wipe our feet on when we came in the room, and that helped some. I think the rooms in the higher numbered buildings which have grass between their room and the beach, accumulate less sand.
Again, I have read complaints about the noise from these in the wall units but it was never was a problem for our family and, it soon became just background noise. The air conditioning had a digital thermostat to set as you wished and to boot, the room had a ceiling fan! Lighting in the room could have been better for reading at night. Luckily dd, had brought her book light and dh used that to read before falling asleep at night. If you have a lot of hanging clothes, bringing a dozen extra clothes hangers from home is also a pretty good idea. Between dd and myself we need at least 8 hangers just for beach cover-ups.
Many people state, for them the biggest turnoff is the bathroom, but honestly I thought it was clean. There was always hot water, soap and plenty of fresh, fluffy towels. I have one photo where it looks like mildew on the tiles in the shower, but after close examination dh and I did not think so. I have horrible allergies to mold and mildew and have had allergic reaction in rooms in other resorts throughout the Caribbean because of this. This was not the case at the Tamarijn. The shower had shampoo-body soap "all in one" type wall dispenser and a bar of soap were provided as well. There is a liquid soap dispenser for the sink as well. If you like your "own" brand bring it from home and if you have longer hair definitely bring conditioner for your hair.
With my grandmother being now 94 years old, she has difficulty walking long distances. Past Christmas vacations when we have taken cruises, she has spent most of her days on the balcony of her cabin sharing only meals with us. I just knew that if we could convince her that Aruba was a destination which would appeal to the entire family, that the Tamarijn would be the perfect accommodation. The entire family loves the beach so our days are spent mainly there and, of course, in the ocean swimming. What would be more fitting for her than an oceanfront room with a patio where she could sit working her crossword puzzle or where only steps away, she could lounge under a shade palapa all within sight and contact of the entire family.
In building 1300, everything was centrally located for her, whether we needed to get her out to the lobby to the rental car for our "do it yourself" island tour or the golf cart shuttle to take us over to the Divi for dinner at the ala carte Red Parrot Restaurant or an even shorter walk to Pizza per Tutti for lunch or a snack or the Cunucu Terrace for breakfast or lunch. Also close by between the lobby and the Cunucu Terrace were the ala carte restaurants, Ginger and Paparazzi. The Palm Court Grill is also located adjacent to the Cunucu Terrace. Again, this was ideal for someone who could not do much walking.
After settling into our spectacular oceanfront room, we met up with my grandmother and headed over to Pizza per Tutti where we had some delicious pizza and my first Balashi of the trip, all while overlooking the ocean just a stones throw away! The snack proved to be more than enough food to hold us over until our first night's dinner at the Red Parrot. Following our snack, dh headed back to the room to unpack, and I headed to the lobby to await my brother, my nephew and two nieces. It had been a year since I had seen the kids, and I missed them dearly. Following a long day of travel, the next best thing to being in Aruba, was sitting in the Tamarijn lobby gently cooled by the tradewinds, just after dark, relaxing in the warm glow of the Christmas lights and beautiful Christmas decorations and trees.
Food, Beverage & Service
Food was excellent throughout the resort and there was always something for everyone, including the children. For food the buffet opened at 7 a.m. and Pizza per Tutti stayed open until 1 a.m. For a quick snack there was always popcorn. They made it throughout the day at per Tutti and dish it out fresh in small paper bags. My niece complained the pizza at the pizza bar had a "plain" sauce and was "not like the NY pizza she was used to." She was supplied with oregano and red pepper- problem solved. We were totally taken by surprise by some of the more upscale offerings on the lunch buffet such as scallops in wine sauce and paella complete with shrimp, mussels and crabmeat (though I think that may have been imitation). Steaks at the Red Parrot were better than the ones we have been served on Princess and Celebrity Cruise Lines and in my opinion, the Churasco was better than El Gaucho's. The portions were also more than plentiful. If I had to say any part of the food was lacking it was the cakes for dessert, though there were a couple of chocolate cakes that were not half bad. Is anyone going to allow his vacation to be judged upon desserts?
My parents arrived at the Tamarijn a few hours prior to us so Mom was in charge of making dinner reservations. She was able to make reservations for the first three nights of our stay. Reservations the first day work out essentially, you get whichever seating's are left for the night you arrive and, except for those who have checked in already before you that day, you have first dibs on the next two nights. Then the following morning beginning at 8 a.m. you can make reservations for your fourth night's dinner and so on for the successive days. My husband is an early riser so was there at 8 a.m. each morning. The resort was full capacity for some of the nights we were there. On New Year's Eve, because of all the new check-ins of those who could book the 3 nights in advance, instead of 8:30 p.m. or 7:30 p.m. our reservation for that night was 8:45 p.m. We do not mind eating late, especially on New Year's Eve, a 15 minute difference was no big deal. Most every other evening we were able to reserve a table at 7:30 p.m. It was very sad arriving at the restaurants, which were supposed to be booked solid, and they sat half empty. From talking to the staff, they explained that from drinking all day, people get tired, take a nap and then sleep right through their dinner reservation.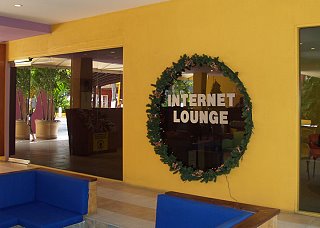 You cannot discuss dining without mentioning the service. Again, a matter of opinion, we did not have high expectations for the service at the resort after reading negative things throughout the internet. We again, were very pleasantly surprised at how good the service was. Those Arubans who were outstanding included: Concierge Iris; at the Cunucu Terrace: Iso and Elvira; Tamarijn bartenders: John and Carmen and Calvin at the Red Parrot. These are just a few of the folks at the Tamarijn and Divi who made our vacation so enjoyable. I also cannot leave out the activities staff, which no matter how few participants they had, just carried on in their jobs trying their best to get the crowd involved. The biggest draw of the day was always poolside bingo. I knew the ladies from the kid's club were winners when they surprised the kids during pool games by jumping in to the surprise of everyone, with all their clothes on! The kids thought it was cool, and so did I.
My husband was not keen on tipping at an all inclusive where the tipping was "included," but at my prodding, he quickly learned that a $5 tip here and there was worth a ton of good will. He visited the concierge first thing 8 a.m. each morning to make our dinner reservations. Twice he came forth with a $5 tip and both reactions were the same, utter shock. Evidently no one at the resort ever tips the concierge? Must have been a truly memorable moment for sure if dh received a hug and kiss from Iris the concierge as we were departing. $5 first thing in the a.m. helped us get prompt service the rest of the day at Pizza per Tutti, meaning if we walked up the same time as someone else, we were handed the drink first, rather than having to wait and the drink being slid across the bar. This also helped our dd who is a little on the short side stand out among the crowd when she was waiting to be served. Dd was having a difficult time in the beginning getting served her afternoon ice cream. When they found out she was with us that took care of that problem too. LOL...Was it a problem? Where was she rushing off to anyway?
There was no beach or pool service, but the bars served just about every kind of tropical drink imaginable. Alcohol served was name brands. They only served one brand of wine, Colon, from Argentina. Dh liked the merlot, Mom liked the Chardonnay, and I liked the Pinot Grigio. Beer is only available on tap. All bars served the local Balashi beer. Balashi is a light lager similar to Amstel Bright and Corona. Some of the bars carried Amstel and Heineken. For beverages, or food, for that matter, neither beach nor pool service was offered. If you ordered something at Pizza per Tutti and wanted to sit at the table and chairs they have under the canopy overlooking the boardwalk and ocean, the bartenders would gladly bring your food over to you after it was cooked.
Breakfast buffet at the Cunucu Terrace at the Tamarijn was more than satisfying. There is a problem if you could not find something to your liking. Offerings included: yogurts, small platter of meats and cheese, chunks of fresh fruit: pineapple, orange, mango, melons, eggs cooked to order, hard boiled eggs, French toast, pancakes, pastries and breads, corned beef hash, scrambled eggs, sausage links, sausage patties, bacon, Dutch potatoes (baked cubed potatoes with onion) and juices: fruit punch, orange, grapefruit, tomato and cranberry among others. Dh did not particularly care for the coffee, but then again we have never traveled where he liked the coffee as much as he does his own at home. It is interesting to note that on New Year's morning, dh and I decided to head to the Divi's breakfast buffet and in addition to the above, they offered lox as well as egg's Benedict and poached eggs. Overall the breakfast was a little more upscale, but if you do not like the walk or the even longer wait for the golf cart shuttle there from the Tamarijn, it is not a huge deal if you skip it. As a nicely added touch, on both Christmas and New Year's morning, the resorts offered a choice of Mimosa or champagne at the breakfast buffet.
Monday Lunch Buffet
Cold Buffet: chef salad, nicoise salad, beet salad, fresh cut fruits, fresh cut fruits, salad bar; Soup of the Day: cream of asparagus; Hot Buffet: wild rice with mushrooms, macaroni and cheese, deep fried plantain and potatoes, BBQ ribs, turkey and mushroom; Action Station: chicken nuggets with honey mustard sauce, pork sate with peanut sauce, stir fried vegetables, Cajun mahi-mahi, grilled beef steak with chimichurri; Sandwiches: hamburger, hot dog, tuna salad, smoked turkey-tomato, pastrami-mozzarella; Dessert: variety of mousse and cakes.
Tuesday Lunch Buffet
Cold Buffet: crabmeat salad, baby corn salad, coleslaw, fresh cut fruits, salad bar; Soup of the Day: beef bullion with noodles; Hot Buffet: rice pilaf with curry, penne with basil pesto, mashed potatoes, cauliflower in cream sauce, Cajun beef stew; Action Station: fried calamari, beef skewer with spicy dip, pork loin stir fry, chicken stir fry with vegetables; Sandwiches: hamburger, hot dog, egg salad, gouda-lettuce-tomato, turkey-cheese-bacon; Dessert: variety of mousse and cakes.
Wednesday Lunch Buffet
Cold Buffet: Titi shrimp salad, turkey salad, potato salad, green bean salad, salad bar; Soup of the Day: Boston clam chowder; Hot Buffet: Cajun rice, tri-color rottini with pesto, potato bonne femms, sautéed zucchini, spicy chicken wings, pork in tomato basil sauce; Action Station: French fries, onion rings, fish skewer, stir fry beef, pork in mushroom sauce; Sandwiches: hamburger, hot dog, salami, roast beef-mozzarella; Dessert: variety of mousse and cakes.
Thursday Lunch Buffet
Cold Buffet: Italian salad, bean salad, egg salad, salad bar; Soup of the Day: Potato garlic; Hot Buffet: white rice with raisins and butter, penne carbonara, boiled potato in tomato sauce, mixed vegetables; steamed mussels in wine sauce, sweet and sour vegetables; Action Station: mini croquettes, chicken sate with peanut sauce, beef stir fry, pork in sun dried tomato pesto; Sandwiches: hamburger, hot dog, shrimp salad, pastrami-mustard, mozzarella-salami-onion; Dessert: variety of mousse and cakes.
Friday Lunch Buffet
Cold Buffet: mixed seafood pasta salad, beef potato salad, kidney bean salad, salad bar; Soup of the Day: Goulash; Hot Buffet: fried rice, bow tie pasta with four cheese sauce, fried potatoes and peppers, Asian mixed vegetables, BBQ chicken drumsticks, jerk beef ribs; Action Station: fish fritters with Thai sauce, meatball onion skewer, pork in pepper sauce, chicken with fajita spices, French fries; Sandwiches: hamburger, hot dog, prosciutto-provolone-pepperoni-onions; Dessert: variety of mousse and cakes.
Saturday Lunch Buffet
Cold Buffet: chef salad, tri-color pasta with pesto, rice-fruit-raisin and nut salad, salad bar; Soup of the Day: chicken consommé with vegetables; Hot Buffet: rice with herbs, fettuccine with tomato basil sauce, curried boiled potatoes, corn on the cob, fish fillet in Creole sauce, beef stew; Action Station: breaded pork in zingara sauce, beef kabob, grilled chicken in BBQ sauce, mini pastechi; Sandwiches: hamburger, hot dog, bacon-lettuce-tomato, cheese-mushroom-pizza sauce, salamon salda; Dessert: variety of mousse and cakes.
Sunday Lunch Buffet
Cold Buffet: chicken vegetable salad, four bean salad, beef macaroni salad, salad bar; Soup of the Day: mushroom; Hot Buffet: paella, farfalle with mushrooms, potato quiche, yellow squash with onions, pork Roast with mustard sauce, sesame chicken in five spice sauce; Action Station: fried fish with tarter sauce, chicken with sweet and sour sauce, pork in pepper corn sauce, soy beef and vegetables; Sandwiches: hamburger, hot dog, crabmeat salad, roast beef-lettuce-peppers, ham-cheese-pineapple; Dessert: variety of mousse and cakes.
When we did not eat at the buffet for lunch, we ate at Pizza Per Tutti. We also walked over to per Tutti for most of our beverages since it was so close to our room. For water or soda, we walked to the other side of the swimming pool to Coconuts where there was a self-service station. My personal favorites at per Tutti were the made to order, thin crust pizza with mushrooms, tomato, peppers, onions and olives, the Mexican fries which are topped with salsa, sour cream, cheese sauce and guacamole as well as the onion rings. My Mom loved their garlic bread, grandmother enjoyed the garlic bread and, of course all the kids loved the chicken nuggets, ice cream, frozen virgin drinks and grape soda. In June I will try the Tuna on French bread as well as the meatball sandwich on French bread. If you were still hungry, everyday, many times a day they were making pop corn. Popcorn was dispensed plain so low calorie which makes it even better. On the subject of calories, dh and I thought we would gain some weight on this trip with all the terrific food, and it turned out we did not. He and I came to the conclusion that with all the walking back and forth between the bar and the buffet or per Tutti, we were burning the calories as we consumed them.
Some days my grandmother did not feel up to walking to the Cunucu Terrace so my brother or I, would fix her a plate "to go". Usually, one of her favorites, a hot dog with sauerkraut or a nice salad from the salad bar, and she would eat it at the table on her patio overlooking the ocean.
In that we prefer a sit down dinner, by choice, our family did not dine at any of the dinner buffets. Each night there was a different theme. Menus were posted following lunch at the Cunucu Terrace, so you had the ability of deciding whether you wished to eat the buffet for dinner or ala carte, if you could still get a reservation.
For our ala carte meals, we ate many terrific meals at all the restaurants: Ginger, Red Parrot, Paparazzi and the Palm Court Grill. Being at the resort for 12 nights, and so the restaurant food did not become boring, we did rotate restaurants each night and overall were extremely happy with not only the quality, but the portion sizes. Some of the men ordered, appetizer, soup AND salad each night and were never told no or limited in any way. They just ordered whatever they wished. On Christmas and New Years the Divi and Tamarijn's restaurants offered a special holiday menu with only three entrees. My Mom is a finicky eater and did not care for any items offered. One night she was able to order a Caesar Salad which was not on the menu and which she loves anyway. New Years night at the Red Parrott, she asked for broiled shrimp which they not only said was not a problem, but they even offered to prepare with garlic for her. Every night the server received a $10 tip. Too much or too little or not necessary I suppose is based on personal opinion. Tips were always gratefully accepted.
We ate only once at Ginger since my parent's are real fond lovers of that type of cuisine. We only ate twice at the Palm Court Grill since there were 10 of us and preferred eating together. My personal favorites were the Caesar Salad at Paparazzi and the Red Parrot, the Dutch Onion Soup at the Red Parrot and the Churasco a Moda at the Red Parrot. This steak was served with a delicious, hint of garlic, creamy "almost" mashed potato as well as tomato vegetable relish and orange soy barbeque sauce. These were spicy, which I have a hard time with, so just asked for them on the side the next time. Special requests like that were never problems.
At Ginger, the Asian restaurant, some of the items we sampled included: Appetizers: Spring Rolls, Sushi, Green Curry Mussels, Tempura Mix (included fish besides the Vegetables), Miso Soup, Won Ton Soup and Entrees: Tokyo Beef Noodles, Spicy Chicken, Spicy Green Curry Chicken and Mango Chicken.
The Palm Court Grill Restaurant was a different concept. The table is your cook top here and you cook your own food. You grill your own two choices of Shrimp, Pork, Chicken or Beef. Some in our family just doubled up and ordered two beef or two shrimp and it was never a problem. Before bringing out your entree for cooking, there was a choice of two salads and two soups were offered as well. Along with your selections for the entree, each table was also served a fresh vegetable mix for grilling, French fries or fried rice, and three yummy sauces: Chimichurri, teriyaki and garlic mayonnaise. Besides the ice cream, the best dessert was found here, what they referred to as cream puffs! In actuality, even better, Profiteroles!
What would an all inclusive resort be without an Italian restaurant? At the Tamarijn it was called Paparazzi Restaurant. I would label the food here more Aruban Italian, than true Italian but we made out just fine. With that said, I was never daring enough to try the Lasagna al Forno with cottage cheese. Perhaps next time I will be daring enough to try it? In the 12 years we have been traveling to Aruba, never have we found a true Italian meal. No matter where we have been it has always had that blend of Aruba mixed in. Imo, it would only be the real Italians looking for some of Mom's "homemade gravy" who would have a tough time at Paparazzi since again, like all the restaurants, there was something for everyone.
At Paparazzi we sampled just about everything. Appetizers: Bruschetta, Prosciutto E Sopressata, Carpaccio Di Pesce, Caesar Salad, Beef consommé with ravioli and Entrees: Ravioli Al Formaggio (Cheese ravioli in a creamy mushroom sauce served with basil and parmesan), Pasta Di Penne (Mediterranean ratatouille with penne pasta and tomato), Frutti Di Mare (Spaghetti with shrimp, mussels and squid in a creamy crustacean sauce), one of our favorites: Rinforzare E Salsa Delia Senape- Grilled beef tenderloin with cheese ravioli and grain mustard butter sauce and Dessert here: try the Torta Di Formaggio Di Amaretto- Amaretto cheesecake with marinated raisins and rum raisin ice cream. No need to go out drinking when you get a taste of their rum raisin ice cream. With the amount of rum in that ice cream the spoon stands up all by itself.
The other most popular ala carte restaurant is the Red Parrot Restaurant located at the Divi Resort. Items we sample here included: Appetizers: Nicoise Salad, Caesar Salad, BBQ Chicken Wrap, Island Seafood Gazpacho, Bonito Carpaccio (tuna loin), French Delight (Baked Brie cheese on toast served over poached apples finished with honey and red wine drizzle), Chorizo Delight (dh's least favorite item in all the restaurants), Dutch Onion Soup and Entrees: Creole Snapper, Coconut Shrimp, Lomito Famoso (grilled medallions of beef tenderloin accompanied by a garnish of potatoes, onions, bacon and carrots served with a creamy pepper sauce) and Churasco a Moda (Marinated and grilled sirloin steak served with creamy garlic potatoes, tomato vegetable relish and orange soy barbeque sauce).
If there were one thing I could fault on the service, it would be the golf cart shuttles between the resorts. Sure it is an easy walk, for most adults, but for my elderly grandmother as well as mother who had a hip replaced less than a year ago, it was not possible. The shuttles were just not dependable. Whether it was the mornings to get a ride over to the Divi for breakfast or even worse, to come back from dinner at the Divi's Red Parrot, either way expect a wait. One night we waited a half hour for the shuttle from the Divi back to the Tamarijn. There were plenty of shuttles around but they were taking folks back and forth between wherever and the Alhambra Casino.
Beach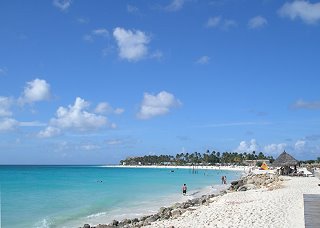 Another huge topic among those who discuss the Tamarijn on the internet is "the rocks". There are a substantial number of rocks the length of the resort. Yes, it was a slight inconvenience, but again there are many positives of the Tamarijn which outweigh this aspect. In comparison to the high rises, the Tamarijn's beach may not have as sandy of a bottom, but unless you own a lanai at the Playa Linda or an oceanfront unit timeshare at the Riu, there are no resorts where you are able to walk from your room directly out onto the beach. If all you know are high rise beaches, all you know is a beach full of people. We had been reading and hearing how wonderful the beaches were at the low rise resorts for many years. It took a stay there and seeing it with our own eyes to be convinced that yes there are beaches in Aruba which are not crowded.
Which rooms have rocks in front of them? It seems that there is no single answer to this question since Mother Nature is always in flux. The one steady factor seems to be that there is always a beautiful stretch of white sand beach between the Tamarijn and Divi resorts.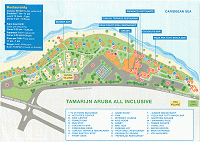 The resort runs from the north at building 1100 ending to the south at building 2500 closest to Oranjestad. The end closest to 2500 is extremely quiet. The northern end at 1100 is not as quiet in that it is next to the fitness center, sports center (spot to pick up non-motorized watersports equipment) and a long stretch of beach beyond where many of the resorts guests choose palapas as well as owners of the Divi timeshares across the street.
During our stay, the north end of 1100 had the least amount of rocks, our recent stay was in the 1300 building, and walked to 1100 in order to easily enter the water. There were some coral shards (worn down, not sharp) even there but no rocks to climb over and I had advised my parents to bring water shoes. They were glad they did.
Essentially rocks extended from 1200 all the way down the beach parallel with the swimming pool to 1400 which had a very nice stretch of beach. All the public areas, two of three bars, restaurants, and lobby and publics areas are located between 1300 and 1400. Unfortunately, 1500 – 1800 was entirely rocky. The Bunker Bar is located between 1800 and 1900. 1900 to 2500 the further south you headed, the wider and better the beach was.
A terrific idea had read on the internet was to bring along clothespins or hair clip to secure our beach towels to the chaise lounges. With the type of chaises that the Tamarijn uses, there is no way to wrap the edges of the towels up and around and through the corners of the chair to prevent the towel from blowing off the chair. This tip worked like a charm!
We were very fortunate that outside of our four first floor rooms, there were a total of two palapas. As I said, my husband is an early riser. One morning he awoke at 7 a.m. and there was a woman already sitting under the palapa right outside our room. LOL, there was a palapa right outside her room, but her next door neighbors had risen even earlier and claimed that palapa. Domino effect and did not matter to us because we were touring the island that day. It worked out in days to come; she shared the palapa outside her room with her neighbors in the room next door. When we came back to the resort at 2 p.m. she evidently had already had enough of the beach for the day anyway and the palapa was empty. That too was a day during which the resort was booked solid. I think many folks down at our end of the resort headed north to use the palapas on the beach between the Divi and the Tamarijn. There were always a ton of people walking back and forth in that direction. If you did not mind the walk the beach there was nicer.
There are some buildings which have only two palapas. Down towards the south end of the resort from 1900 – 2500, there were a number of palapas being used by owners staying at the Divi Dutch Village. I understand they are fully entitled to do so, and you will also find owners from the Divi Village and Divi Links timeshares using the beach and palapas between the Divi and Tamarijn Resorts. The resort's policy is that you cannot "hold" a palapa; you must be there with your towels and possessions.
Tamarijn Activities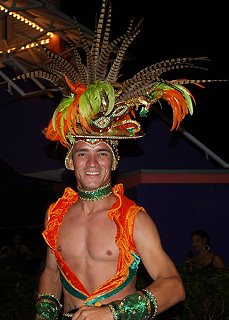 Upon check-in you will receive a packet of information which includes a list of resort activities. There was a wide variety of things to do at the Tamarijn. The activities center-towel hut was open 8 a.m. to 6 p.m. Our family's main use was to pick up towels and floats. Most days we exchanged our towels for fresh ones late in the day when our time at the beach was over. This way when dh went out early in the a.m. to sit under the palapa waiting for the rest of the family to awaken he always had fresh towels. The most popular activities seemed to be bingo poolside as well as t-shirt tie-dying. My 18 year old niece was one of only three to participate in the beer drinking contest and though she lost, she still received a t-shirt. My brother and the kids took the bicycles out for a spin one morning and one afternoon he took a ride down to Palm Beach and back. There were always a ton of sign up sheets: pizza making, t-shirt cutting (presumably the ones you had tie-dyed earlier), Aruba Aloe Factory Tour, bicycle tour to snorkel and more. There was a minimal fee for some of them and you need to sign up in advance for all of them. Activities like the beer drinking contest and pool volleyball etc were more spontaneous, though scheduled and did not require sign up.
The Divi Sports Center at the end of building 1100 was the spot where you could sign up to take out Sunfish sailboats, kayaks and windsurfers. Clinics were offered here as well. In addition this was the pick up spot for snorkeling gear: fins, masks and snorkels. Gear was in good shape, and they were nice enough to allow us to keep the gear overnight in order to head out first thing in the morning to snorkel rather than having to wait until they opened at 9 a.m. There were many people, including us, who attempted snorkeling the waters off of the Tamarijn to discover there is nothing to see, except some schools of small fish, mostly, fish I believe, are called silversides. My brother and nephew some saw critters down past the Bunker Bar near the pipes in the water. The next day my brother went back with dh and myself in tow and we saw nothing. I swear if I had not read on the internet that other people had seen things here I would have never believed him. The rock climbing tower at the center was open 4 hours a day and the adjacent fitness center was open 7 a.m. to 7 p.m.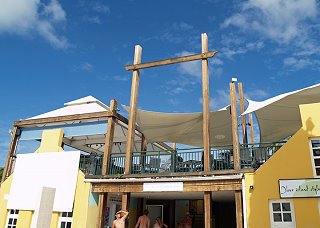 Besides live music nightly, night time activities at both the Divi and Tamarijn offered a nightly theme which rotated. These theme shows included: Salsa, Waterballet, Salsarengue, Karaoke, Limbo and contest, Latin Dance, Carnival Dance show which was the best show I have ever seen on the island. On the beach there was an 8:30 p.m. movie one night for adults and another night at 7:30 p.m. a movie for children. Chaise lounges are lined up and positioned facing a large white screen affixed to the front of the Divi Sports Center. Another night there was a kids disco complete with clowns!
The Rest of Our Vacation
Most of our days were spent lounging on the beach with plenty of food and swimming mixed in. Jerry and I were usually the first ones in the family to head over to the breakfast buffet. Nice and quiet that time of day with no line for omelets and usually easy to secure a table close to the beach. For myself there is always that stupor for the first few days, just relaxing in a chaise lounge looking out over the gorgeous turquoise waters trying to keep my eye lids from closing until the time I ultimately lose the battle. No book needed these first few days. My grandmother was very content watching the kids enjoy themselves as she watched from her chaise lounge under our palapa. The rest of the time she kept herself busy reading or doing a crossword puzzle. Walking just those few short steps from the patio to the chaise lounge was perfect for her. Dh does what he does best, reading under the palapa until he eventually dozes off. His idea, and mine too, of a perfect vacation.
On Christmas morning we awoke to waves. Well, waves in the sense of two to three footers on the western coast of Aruba which are far from the norm. These lasted for a few days and broke up the monotony. That is I suppose if you care about that sort of thing like the kids did. All in all the weather was a little wetter than average, but hot as usual. Wetter in that we had some rain showers overnight, but not every night and some early morning showers most mornings as well as a couple of afternoon sprinkles. The first half of the trip was a little cloudier than the second half but I guess that means the kids were a little less sunburned than they would have been otherwise. I can force my own kid to slather on sunscreen, but my teenage nephew and nieces were a little more difficult. The best I could do was standby with the higher SPF for the next day, which they had "forgotten" to bring and the Benadryl for the itchy rash.
We did get out of the resort a couple of times. One day at lunch my grandmother announced that she needed to go shopping. Living in an assisted living facility she has many people who help to look after her and there were a few of her favorites for whom she wished to bring back souvenirs. I knew these could be had at the Tamarijn's Mini-Market. We picked up a couple of nondescript items and I figured she was finished. She had it in her mind that she wanted to buy a guayabera for the kind gentleman who drives her to the beauty shop, bank and doctors. Nothing in the store could satisfy her. To her, they were not authentic enough. Where else to head in Aruba then but La Linda. La Linda is an Aruban department store in downtown Oranjestad. As a matter of fact a good place to go if, heaven forbid, the airline ever loses your luggage! I telephoned Bully and asked him if he was available to come pick us up. As considerate a person as he is, Bully felt his nephew Harold's taxi was easier for my grandmother to get in and out of than his van so Bully telephoned Harold to pick us up at the Tamarijn. In the meantime Bully was close by and the next thing I know, he pulled up at the Tamarijn in his taxi with his seven year old son riding "shot gun". They just wanted to say "hi" and help us to pass some time while we waited for Bully's nephew.
Harold was terrific. He was able to drop us off right in front of the store so that my grandmother did not have far to walk. He then came into the store and waited while she made her selection. After we had paid for the purchase, Harold offered to bring the taxi around front, but being parked right outside the back door my grandmother said she could make the walk. All in all the ride cost almost as much as the shirt, but I am happy to see my grandmother do her part to help the local economy. People are not happy about the BBO, the car rental situation at the airport, the rising price of gas (they are well aware it has fallen in the US in recent weeks) and it goes on and on and on...not to mention Riu.
Another night before dinner we had made plans to meet up at the Amsterdam Manor Beach Resort with Andrea (moderator from aruba.com forum), Cheryl from various bulletin boards and Eagle Beach Boy. A nice time was had by all and as always, it was nice putting faces with names. Andrea, nice person that she is, had actually come down with her husband to the Tamarijn earlier in our stay to say, "hi" and meet us. Imagine walking up and down the boardwalk at the Tamarijn looking for the kid in my computer avatar? What a lady!
Dh and I had worked it out so that about the middle of the vacation, when we thought there might be a chance that the kids would begin to get bored with the Tamarijn, we would have two SUV's for the 10 of us to tour the island for three days. We made the reservation with Royal Car Rental in April for late December for two Suzuki XL-7's. The day before they were to drop off the rentals, Royal called us to say that they would not have the vehicles the following morning, but could drop them off late afternoon. Jerry called them and said why not just make it the morning after that since we did not plan on using the vehicles at night anyway. The kids could have cared less about not leaving the resort. They were happy to continue doing what they were doing. A day after originally scheduled Royal appeared with two vehicles, one Suzuki and a Jeep Wrangler. The second Suzuki we had reserved had not yet been turned in. The Jeep Wrangler ended up being not in the best of shape, bottom of the barrel really. I can only imagine the amount of wear and tear those things go through. Jerry telephoned Royal at the end of the day and asked them to just come pick it up and we would just keep the one vehicle. After one day of touring, the kids and my parents had seen enough, so basically after that we just wanted the rentals to drive around to some snorkel spots one day and do something to be determined later on the third day. Royal was nice enough to come the very first thing next morning and switch out the Wrangler with a Lexus RX300 SUV at the same price as the Wrangler. After this we had no further vehicle problems.
So the big day comes and we finally have our "wheels" and we are off to tour the island with our "newbie's." With myself as tour guide in the Suzuki and dh as tour guide in the Wrangler, off we went heading south towards San Nicholas. We missed the turn as we do, nine times out of ten for Baby Beach. Next thing we know we are at the Seaman' s Memorial and then continued on into Arikok National Park from there. Everyone was excited to see the herds of wild goats and the few wild donkeys. Lucky for us the donkeys were nice enough to pose.
The next stop was Quadirikiri Cave. Dh and I had been to the cave at Fontein before and with the Indian's drawings, thought it interesting. Why would Quadirikiri be any different? It was much different and definitely not for the faint of heart. This is a much larger cave. The ranger from the park service warns you before you enter, that if you have respiratory difficulties or fear of bats, that this is not the cave for you. He was correct on both accounts. It was a tour of 20 - 30 minutes and probably the hottest I have ever been in my life. This place is virtually a sauna. The further back into the caves we went, the tighter the spaces, the hotter it got, the more bats, and those were the ones pointed out to us. Indian drawings, fossils, stalagmites and stalactites were all very nice. The kids loved it and now we have done it so now can say we do not have to do it again.
From there just continued on the path towards Boca Prins stopping a few places along the way for photo opportunities. The kids soon began complaining that we were showing them nothing but rocks and the rough ocean so once at Boca Prins we headed straight out of the park rather than making the right hand turn past the sand dunes to get over to Dos Playa. It was their loss for sure. We headed back to the resort and grabbed some lunch. When it came time to venture out again, everyone was enjoying themselves on the beach so dh and I headed back out on our own.
This time we retraced our steps to Boca Prins to pick up where we had left off. A few years back, Arikok National Park had set up a visitor's center a short ways before heading north and reaching Boca Prins. In the back of the visitor's center was Fontein. This is the only fresh water spring on the island. Literally an oasis in the middle of the desert and a lovely little spot with fresh water fish and turtles inhabited the water pond and it was a nice tranquil spot. In 2006 when we drove by the place was closed off and shuttered tight. Curious what had happened to such a wonderful spot I asked the ranger at Quadirikiri Cave what had happened and there was evidently a dispute of some type over the property so it is now closed to the public. I was a nervous wreck and got a lot of briars on my socks and sneakers, but we were able to figure out how to sneak in for a few pictures. The spot is virtually unchanged, though overgrown and we did not spot any turtles.
Once we arrived for the second time that day at Boca Prins we stopped at the bar and gift shop, for some bottled water and a bottle of, my favorite, Amstel Bright. Dh figured it was the least he could do to try to sooth over the rough morning. We continued onto Fontein Cave right around the corner, but by this late in the afternoon it was locked up tight. Yes, the caves are locked at night to protect the drawings from graffiti artists. Undaunted we continued out stopping along the way for some pictures of the white sand dunes at the base of the beach at Boca Prins. It is a long drive around the sand dunes, to get back over to the coast line to head to Dos Playa, but I am all for it if it protects the dunes, flora and fauna. We finally arrived at Dos Playa and took a couple of quick pictures. A squall was racing in off the ocean so fast you could literally see it pushing the waves ahead of it. We got back in the Jeep and headed back inland towards Santa Cruz.
Our next target was the collapsed Natural Bridge via the Ayo Rock Formations, but we missed the turn and ended up all the way north in Bushirbana. Heading back towards the eastern coastline we passed by the Bushirbana Gold Mill Ruins. The dirt paths here were horrible. Sharp pointed rocks were everywhere we looked and dh was worried about getting a flat tire so with darkness soon upon us anyway we decided to take one last quick detour up to Alto Vista Chapel. From there we just went back to the Tamarijn through the island route through Noord. This time I did not get us lost and much to dh's relief we did make it back to the hotel before dark.
The following showery morning, dh, my brother, myself and the four kids set out after breakfast to snorkel. We started off at Catalina Cove. Imo, this is the best spot, but also the hardest. There is a lot to see once you get out into the four or more foot deep waters, but before that there are many rocks. It is difficult at best trying to walk over them with fins on and extremely painful in bare feet. The kids were getting tired and it was getting cloudy. Yes, yet another shower was heading our way. By the time we got out of the water and toweled off, it began raining. The kids decided that they had seen enough and were not interested in being in the water in the rain. Dh and I on the other hand, are used to diving in the rain so snorkeling is not much different except for the funny sensation on your back. My brother took the kids back to the Tamarijn in the Suzuki and dh and I hopped into the Lexus and headed down to Boca Catalina. Very strange snorkeling here. There is a very sandy bottom. The difference entering the water here was like night and day. For the best of both worlds, enter the water here and snorkel northward, it is not that far before you eventually reach Catalina Cove. Consider it one large snorkel area with just so-so coral up towards Catalina Cove, a lot of fish, and a good place for beginner snorkelers.
Anyone who knows us, realize that we are never without our dd. With my brother's offer to look after dd back at the resort, we decided to dry off and head off for some more fun. What could be better than a long relaxing lunch? Next decision was where to go. I was thinking Bugaloe on De Palm Pier, but couldn't be bothered with trying to figure out a place to park. Instead we settled on Salt and Pepper. We hadn't been there in a number of years and it ended up being a really great choice for a relaxing leisurely lunch for two. The sun had finally made an appearance so we decided to eat outside. There was a table that would soon be available so we decided to wait at the bar. Dh was dying for a good espresso and I ordered an Amstel Bright.
About five minutes later, our table was ready. I suppose we were starving from all the exercise that morning because we ate like little piggy's. You have to love tapas, being able to order all those small portions of everything that appealed to us. We started out with an appetizer of nachos, good but more like the Aruban version, followed by delicious: Greek salad, marinated olives, salt & pepper dip (kalalu-spinach and cream cheese with nacho chips), seafood wrap and garlic calamari. The service was on Aruban time, but dh and I were in no rush since we never ever get out alone together. Too full for dessert we just stalled our departure over a cappuccino and espresso before heading back to "the family". Ending our peaceful interlude, dh and I headed back to the Tam and picked up my Mom and Grandmother to drive them back up the north coast to see the California Lighthouse which they were gipped from seeing the day before.
That night at 10 p.m. was the Ling & Son's firework display. The front desk told us that there was an office building's parking lot across the street from the Tamarijn which would be perfect for viewing the fireworks. This fireworks display was one of the things which we told my grandmother would make this trip to Aruba worthwhile. She admitted later we were right. She had not seen fireworks like that in her entire life. Dh drove my grandmother over to the parking lot in the Lexus and she had a seat and a stupendous display. Our family thought they were just as good, if not better, than 4th of July at the Magic Kingdom in Disney World. They had a 15-20 minute delay due to technical difficulties, but worth the wait.
We held a roll call for the family for our last day with the rental cars. Anyone who wished to snorkel again was more than welcome to join. Another showery morning and dh, dd, my brother and I headed out to snorkel at Mangel Halto. It is right past the Spanish Lagoon and usually a very picturesque spot. This time though with the clouds, the colors of the water were just not as bright. We snorkeled for a short time and quickly became cold so headed back to the Tamarijn. By the time we reached Oranjestad, as every other day, the sun came out and the rest of the day was beautiful.
Topping off our day was New Year's Eve! After another wonderful dinner we went back to our room and awaited midnight. The day before a barge loaded with fireworks had been moored just off shore between the Divi and Tamarijn Resorts. We lined up a bunch of chaises to face the fireworks where the palm trees would not block the view. Steps away from the fireworks, again, they were everything we had hoped for. No disappointments for us.
Vacation wound down after that and before we knew it was time to head home. We ended the vacation the same as it began, shared a final beachside lunch with my parents and grandmother at per Tutti. Bully made two trips transporting my brother and his family and then dh, dd and myself to the airport. Bully's nephew Harold picked up my parents and grandmother to take them to the airport, again because of the ease of my grandmother being able to get into the car. Our flight was later than everyone else. We asked the Tamarijn for a 1 p.m. check out rather 12 Noon and they nicely obliged. We always spend every last moment on the beach, leaving on enough time to shower and dress before leaving.
We did not know what to expect as far as long lines at the airport and I would say they were about normal. The line for US Immigration was non-existent. First time we have ever seen this. People complain, rightfully so, that there is no where to eat once you pass through US Customs and Immigration. At the gate area, unless you like Sbarro, essentially you are out of luck. If you fly first class you receive a meal, but otherwise flying Delta you receive a snack pack and then a snack. Next time, we will bring tuna or turkey sandwiches with us to eat on the airplane for our dinner. Our flight boarded on time; however we departed about an hour late. Some excuse was made about flight control. From what I have been able to piece together, air traffic control which is actually located in Curacao, had computer problems, so we were unable to depart. My parent's flight on American was supposed to depart over an hour prior to ours and they were still at the gate as we were taking off. They eventually took off about 15 or 20 minutes later.
The only other downer which we already knew was that when we arrived in Aruba. We had just purchased new hard sided luggage and one piece arrived in Aruba with one corner so dented it was no longer there. Knowing that the personnel in Aruba were contractors, dh figured it was easier to get the problem straightened out when we arrived back in Atlanta. He was right. Upon retrieving the luggage from the carousel back in Atlanta we headed over to the baggage claims office to report it. They filled out the paperwork and gave us a pre-paid shipping bag in order to send the suitcase, after I had emptied it, on to Delta's baggage repair center. They telephoned us a few days ago to say that the bag is not repairable but they could ship another new one as a replacement. Only problem is that the color is black, ours was orange and part of a set. We purposely purchased the color orange because it is so easy to separate from the others on the carousel. Even in preparing to go through US Customs in Aruba there was a wall of luggage lined up and ours just popped right up our of the mass. Delta left it that they will have their claims department contact us so they could arrange reimbursement . That is fine, as long as they make good on it. Dh is persistent, they will make good on it, and they will not have a choice.
Now we are home and in the midst of an extremely cold winter counting the days until the end of the school year for dh and dd and our return to the Tamarijn.