Marriott Ocean Club, Palm Beach - 2nd Trip
January 4th - January 11th, 2008 by Beth & Ken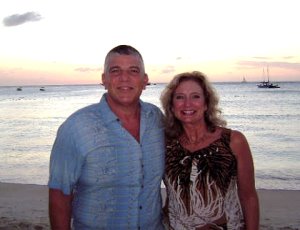 Friday, January 4th
Since we live 2.5 hours from the airport, we did the Park and Fly at Embassy Suites in St. Louis the night before the flight, and what a great hotel. For $100 a night you get a suite with separate living area, free ala Carte breakfast, and free drinks at the managers reception each night from 5:00-7:00. Plus – free airport shuttle and free parking. We awoke on time to catch the shuttle over to Lambert Airport boarding on US Air, went through security and boarded the plane on time. I breathed a sigh of relief, the first hurtle was over, and I could stop worrying about making the next flight in Charlotte with only 40 minutes to spare. We landed 10 minutes early, found our next gate, and after a brief wait were on our way to Aruba!
We landed on time in Aruba, 4:45 pm, and breezed through security and customs. We were in a taxi and headed for the Ocean Club within 20 minutes of landing. All our bags made it, too, so now I can really relax. Not one problem with US Air or the airport was encountered.
Check-in at the Ocean Club was efficient and the room was very nice. We were given a week by some friends who own a timeshare there, and the 1 bedroom suite was roomy and clean. We were on the side of the building, but could still see the ocean from our balcony and were very pleased with the room. The beds at the Ocean Club are some of the most comfortable I have ever slept on, including my own! Since the day was waning, we quickly changed into shorts and hit the beach, stopping on the way to grab drinks. We watched the sunset over the ocean (incredibly beautiful), toasted our good fortune, and just looked at the beauty that is Aruba. Ken was all-agog, since this was his first visit. He agreed completely with something I had been telling him for months, "I can't explain how beautiful it is or what it feels like to see that ocean and that beach, you just have to see for yourself." Truly, there are no adequate words to describe it. We had a nice, long walk down Palm Beach in silence, holding hands and feeling like the luckiest people on earth, grinning at each other like idiots.
We wandered into Moomba's for a quick bite at the bar, still trying to absorb the fact that we were finally, actually in Aruba. We ate the XXL Platter and I have to say, it was bar food at it's worst, but we did not care. It filled our stomachs and we were in Aruba! We sat at Moomba's and had drinks, and then around 10:30 decided it was time to call it a day. It had been stressful the week before leaving because I moved my son into an apartment at college, and we were exhausted after the long day of traveling.
Saturday, January 5th
We got up early and headed to Ling and Sons via the bus. The bus is very reliable in Aruba and safe. We asked the driver if he would alert us when we were at Ling and Sons and soon enough he stopped the bus and said "Ling and Sons – over there". Where is over there? I could not see any grocery store. "over one block, behind that car", so off we went. It was actually more like 4 blocks but we did find it. It was a very nice store! The deli meats, cheeses, breads and fruit were to die for, really exceptional. We got the last dozen eggs in the store and had to search long and hard for bacon (at first they directed us to "pork belly", and they call cantaloupe "melon"... I don't know what they call watermelon!). We had tried Balashi beer at Moomba's, and it wasn't bad, but remember we are from the land of Budweiser, so it was not that appealing to us. Tasted more like Coors. However, the Amstel Brights found new fans and we picked up a bunch of liquor and 2 cases of Amstel Brights, too! And don't forget the limes! Taxis were waiting by the front doors and we were soon unloading our week's supplies and heading for the beach with a properly stuffed cooler. Amstels, fresh pineapple and cantaloupe chunks, grapes and 2 sandwiches made with the best croissants I've ever had. Now that's living!
This was Saturday and it was not too crowded on the beach until Monday hit. We had no idea what was bearing down on us as the weekend ended, but more about that later. We did not reserve a palapa since we had to go to Ling and Sons, but we were able to get one anyway and spent a very satisfying day on the beach. Happy hour came and off to the pool bar we went. They weren't on special but I had to try a Slippery Monkey – OMG!!!! It was to die for! So yummy!!! This started our daily tradition, beach and beer all day and a couple Slippery Monkeys before dinner.
We had reservations at Simply Fish at the Marriott, eating on the beach at sunset. It was spectacular. We felt we had one of our top two meals here and really enjoyed the excellent service. Eating on the beach is the way to go, for sure. We started with a Prawn Cocktail, absolutely delicious, second came the Aruban Triangle consisting of a 4 oz. lobster tail, grilled mahi mahi and swordfish. They were all delectably delicious. Ken had the grilled swordfish and it was excellent, as well. We finished up sharing a piece of the pineapple coconut cake and were thoroughly pleased with every course. I highly recommend Simply Fish. It's very romantic, too. Back to the condo – and you don't get to hear about the rest!!!
Sunday, January 6th
Ken is an early riser and he reserved a front row palapa for us, and we had breakfast in the unit. This was a great way to save a little money, and we did not feel guilty about spending big at dinner since we made our own lunch and breakfast throughout. Another quick breakfast of bacon, fruit and eggs, stuff the cooler and off to the beach we go! That afternoon we went back to the unit and made some frozen blender drinks with our fresh pineapple, Malibu Coconut Rum, orange juice and some Absolute for kicks. It kicked all right!!! Nothing like a frozen drink on the beach, lots of walking and sunning, and of course, Slippery Monkeys to top off the afternoon. We were feeling no pain! (That came later....)
I had left Sunday dinner open and we decided to go to Wacky Wahoo's. We were told we could easily walk there from the Ocean Club, so we headed out. Our directions were not very good, we had to ask a couple of different people if we were still going the right way because it was A LOT farther than we expected. Oh, you can walk there, but not when you've been beaching it all day and are wearing sandals with heels! Word to the wise – if you are going in the winter, wear your various sandals around the house for a week or you will end up with blisters, which I did. As we got farther night fell and it was truly dark. We got nervous, but not to worry, nobody was out to harm us. The only way we found Wacky Wahoo's was to refer to the sex shop all the time, "it's next to the sex shop" got nods and "oh I know where that is!" Ha! We finally saw the neon sign to our relief, got up to the door and CLOSED ON SUNDAY NIGHT. We were not too happy about that, and started the long walk back. We could not find a taxi anywhere nearby. We finally made it as far as Tony Roma's and decided to just go in there and have some ribs. It was busy but we were seated in their outdoor section and it wasn't bad. Being from Missouri, we know BBQ! The ribs did not wow us, but they were okay and we felt better after we ate. Back to our comfy unit, a late cocktail, and we called it a day
.
Monday, January 7th
Today I had a little surprise planned for Ken. I had arranged for a Helicopter Island Tour with Heli-Tours and he had no idea. We needed to do a little shopping so we took the bus downtown and made our way to the helicopter pad by the marina of the Renaissance. We were the only people going up and Ken was a little hesitant (he really doesn't like heights, but he loves it once he's up there). Here came Christian and the helicopter and after talking to the nice lady who handles the money, he decided to go up. We were only about 10 minutes into the 30-minute tour and were going by the lighthouse when Christian announced "I don't like what I'm seeing on one of my indicator lights. It's not an emergency and there is no reason to be frightened, but for safety's sake I am taking us back to the pad." Poor Ken thought I had put Christian up to saying that just to freak him out! When he finally realized it was for real, we were almost back and landed safely. I thanked Christian for his safety first attitude, and he refunded our money in full, which was above and beyond what I expected. What a great guy. Evidently, he had to order a part or something because the helicopter did not fly the rest of the week. I would not hesitate to go up with them, since they proved to us that their customer's safety comes first. Kudos to Heli-Tours! We were up long enough to get some great pictures and a feel for flying over the island. It was a great experience! After doing some more shopping downtown we took the bus back to the Ocean Club and got in a little more beach time that afternoon.
By this time I have at least 4 blisters on my feet so Ken went to the market in the Ocean Club and bought some bandaids. They were of the Dutch variety and did not work very well. They kept coming off and they weren't waterproof! It was funny, Ken carried bandaids around in his pockets the whole trip, God bless him.
It was a lot more crowded that Monday afternoon; it appeared the entire family tree of Fran Dresher had arrived. Lots of people were complaining and it was truly offensive. We did not spend much time on the beach because we could not get a palapa and went to hangout by the pool. We were told there was one palapa left, but when we arrived a lady was already there and she had a reservation tag, too. It was just a small mistake by the towel hut, no big deal. They were feeding the iguanas by the pool and it was very enjoyable to watch the children with their leaves of lettuce. At first I was startled, because about 10 iguanas came rushing out of the bushes and under my chair to get to the lettuce, but they are harmless if a little scary looking! A couple of Slippery Monkeys later and it was time to get ready for dinner at Madame Jeanette's.
Something about that restaurant just makes you feel like a teenager in love, for some reason. We had a fabulous time there. Everyone is so nice and friendly and the service is outstanding. We had a young man who was headed back to Holland after that night to finish his education. He is studying to be a chef and hopes to open his own restaurant one day soon. I believe his name was either Jorge or Jordan. He was excellent and attended to our every need. We had the crab cakes for appetizers and all I can say is you haven't had a crab cake until you have Madame Jeannette's. After that we could not pass up the leek potato soup. It was fabulous! Served just warm, not hot, it was the perfect temperature for a warm evening. Ken had the Old Butcher House filet and I had the Almond Encrusted Grouper. The filet was huge, tall and perfectly cooked. Ken could actually cut it with a fork. The grouper was good and the au gratin potatoes were so rich I could only eat a few. We had half our meal left and no room for dessert. What great snacks we had in the refrigerator after that meal – it was excellent all the way around! You must go to Madame Jeanette's – our other meal in the top two for the week along with Simply Fish.
Tuesday, January 8th
We had been looking forward to this day for a long time – we went sailing and snorkeling with the Tranquilo! Captain Anthony and his mate Gregory were just simply awesome, and Gregory was hilarious. The rum punch flowed and we were in good spirits by the time we got to Mike's Lagoon. Snorkeling there was awesome. It was Ken's first snorkel experience and he loved it. We did the drift snorkel and I highly recommend it. Back on board we had the famous pea soup and sandwiches and it was time to sail back. A very relaxing time for the most part. One man decided to get into a political discussion that I was opposed to being forced to listen while on vacation, but other than that it was great.
That evening we had a date with a Helluva Woman named Hella! Yes, it was time for the Kukoo Kunucu bus –and what a blast! All age groups were represented and we were a fun group. Shaking the maracas and yelling at poor bystanders out the window, we boogied to the lighthouse for champagne at sunset. "Mama" as Hella calls herself, was the perfect hostess for that crazy night. She told us "Aruba teach me how to party.... but they not teach me how to stop!" And she did not stop the whole evening! We partied at three different bars and she got all the women on the bar first and then made all the men get up on the bar with crazy hats and do the YMCA song. It was a riot. I highly recommend it, you get to see another side of Aruba and visit some bars (like U Wanna Beer), which you would normally never find on your own.
Wednesday, January 9th
We had planned to rent a jeep today, although we did not have one reserved, but Ken could not tear himself away from the beach and we were a little hungover, so we stayed where we were and he got up to get us another palapa. And so it began.... .incessant whining about the Surf Club ("that's a blue towel – they need to get back on their side – I'm getting security") and there were not enough palapas to satisfy everyone. We did our best to ignore the whiners, but it was hard, they were so loud, self-righteous and nasally – sorry if I offend anyone, but believe me, spending our vacation that way was very offensive to us! Ken told me it was the first time he truly understood what "ugly American" meant. All of this luxury and beauty around you and all you feel like doing is complaining about a palapa? You could see the change on the faces of the Aruban staff, they were such happy people when we arrived and now they were hearing nothing but complaints. They were beleaguered to say the least.
Since we did not rent the jeep and I was dead set on keeping the reservation at Flying Fishbone, we went ahead and paid the exorbitant taxi fee. Our driver was very nice, though and got us there in time to see the sunset from our table on the beach. It was very, very nice. The food was not my cup of tea, but I think it is because it is very European there and they just present the meals and sauces in a different way. I had the Chef's Special of Sirloin and Shrimp Kabobs and Ken had the Fresh Catch, which I believe was Wahoo. Ken's was really good, but my sirloin was tough and overcooked, and so were the shrimp. When the waitress asked how it as, I told her I hate to complain, but the steak and shrimp were both overcooked. I was prepared to keep the plate I had because I did not want to eat alone, but she whisked both plates away and brought out new ones, and they were much better. It got dark rather quickly and you literally could not see the food in your plate, so that was a little disconcerting since they were using some ingredients I did not recognize and I would have liked to see what I was eating! My mashed potatoes where swimming in a literal pool of butter and I just don't eat like that, but I loved the environment. Another couple we recognized from the Kukoo Kunucu bus was there and it was fun to see them again. The biggest thing we noticed and appreciated, other than the beauty of the locale, was the fact there were no loud, whiney people there! Not one nasally syllable was uttered and everyone spoke quietly and politely. It was such a nice contrast from our day that we lingered and enjoyed the peace immensely.
Thursday, January 10th
Our last full day in Aruba, it was a sad realization upon awakening. We were determined to enjoy our last full day on the beach, however, and gamely headed out to get a palapa in the back row. We figured there would be less competition there and if we want to see the ocean we'll take a walk! The people were much kinder than those near the front, probably something to do with the fact that some people just HAVE to be first. It was a great day and we got really tanned by this time. We went to a tanning bed for a couple of weeks before we left, and it really works. We started out with 30 SPF, then 15 SPF and the last day or two I went down to 8 SPF and I really got nice and brown. This day was spent going up and down the beach, talking to people we had met, drinking in the scenery and just soaking up the sun. The ocean was much warmer than the first day or two we arrived, and the surf was calmer, too. There was a nice lady named Danielle who was working the Roberto's booth in front of the Ocean Club, and she was just a peach. Ken had seen pictures of the divi divi tree on Eagle Beach and he wanted a picture there, too, so we decided to go to Eagle Beach that afternoon.
We took the bus to Eagle Beach and loved it down there. We took our pictures by the famous divi divi tree and relaxed on a beach that was as different as night and day from Palm Beach. It was not crowded and there was a big mix of people from many different countries there. We will be staying near there next time, for sure. We stayed on the beach until dark, grabbed a bus back to the Ocean Club and went to Champions Sports Bar for a final dinner of good old American Cheeseburgers and fries. I must say Champions makes a great burger!
Friday, January 11th
We checked out of our room at 10:00 a.m. and put our luggage in the luggage room. Our flight out was scheduled for 5:40 so we had at least ½ day more to enjoy. It seemed everyone had gotten the complaining out of their system by this time and things were pretty pleasant on Palm Beach. Maybe it was because we were leaving that day, but it seemed to us to be the best day on that beach. People were happy and enjoying their vacation and it was even more bittersweet for us to leave. Around 2:00 we showered in the fitness center and grabbed a taxi to the airport. Customs was a breeze and US Air boarded us on time and with no problems, once again. The only complaint I have is there was no food at all on the plane unless you were in first class. As soon as we got to Charlotte we wolfed down some sandwiches and got back into St. Louis around 11:30 p.m.
There were a lot of things we did not do because we love the beach so much, but I told Ken it's always nice to leave something undone that you can look forward to on your return. Ken is now an Arubaholic, too, just like me. Just wait until I can take him to the Natural Pool and surrounding area and Baby Beach. We've already started talking about another trip in October. This one will be on Eagle Beach. Are we there yet?