Amsterdam Manor & Manchebo
October 13 - 20, 2004 By Whitney & Tyler
Flight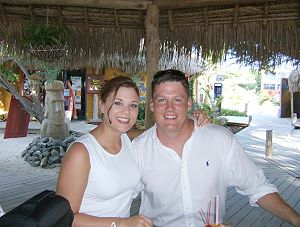 Flew out of Nashville, TN on time, with US Airways at 7:00 am with a lay-over in Charlotte. Second leg was also on-time and only about 2/3 full. We had room to spread out; they showed Spiderman 2 and served a bagged lunch with a Ham & Cheese sandwich, chips & a cookie. We arrived at the Aruba airport early, but had to wait a good 20 minutes for our luggage. The flight home was okay. Customs took forever, we arrived at the airport two and a half hours before our flight and only ended up sitting and waiting for about 20 minutes. Flight was full. They gave the same lunch and showed The Notebook. The second leg of our flight was delayed by 35 minutes and they lost my husband's luggage. Flight cost was okay, I booked directly on the US Air website and after taxes and all, it was about $950 for the two of us. Be forewarned though that the lady at the luggage desk told us that if they go out of business due to bankruptcy, which has recently become an issue for them, they will be able to do nothing about tickets purchased through them and will not refund the money!
Weather
The weather was VERY HOT! and there were hardly any trade winds, so we got in and out of the water a lot to cool ourselves off. We both burnt very easily, even with sunscreen on. This was also the first time we've experienced mosquitoes and a few flies due to the standing water from the heavy rain they had during the hurricanes. It rained a bit more than last year. Two mornings it steadily rained for about 30 minutes. The last morning, it thunder stormed around 5:00 am and rained all the way until 3:00 that afternoon. Lucky thing for us, it was our last day there, but we didn't get to spend any last minutes on the beach!
Budget Rental Car
Things were busy for them, so it took a little while, but after about 25 minutes, we were in the car! Of course, rental cars in Aruba are never very nice, at least the ones we have always gotten aren't. It does surprise me that a national company like Budget doesn't require that they have clean cars, etc. The car was a four-door Toyota Tercel, barely started each time you turned it on and was filthy, but we made do! I booked directly with them online at a $167 rate for the whole week. I was told when we picked the car up that they would then apply the 5% Visit Aruba Plus Card discount when we returned the car. However, when we returned the car, I was told that I had already been given the lowest rate possible and couldn't receive any further discount. This angered me, as the Visit Aruba Plus Card says I could have the discount if I booked directly, which I did. I didn't feel like arguing the point though, because again, they were very busy! I just know better than to believe everything from now on!
Amsterdam Manor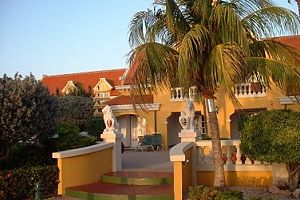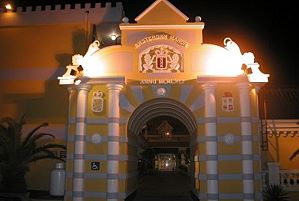 Christy was working at the front desk and she immediately recognized us from last year. She was so nice and had our room ready to go. The room was a regular superior studio with an ocean view, but was plenty for us. Nice king-size bed, clean room, mini-bar, kitchenette (microwave, frig, coffee maker, toaster, blender, dishes, etc.), and a HUGE bathroom with double pedestal sinks and a large Jacuzzi tub that was large enough for two and fridge! They had beautiful new fountains up and running and the pool was nice and refreshing, with a great waterfall. There is always free high-speed Internet access at one of two computers near the lobby and we rarely ever had to wait to get on. We love the new Mango's Beach Bar that the AM has built. It was so nice to be able to order drinks right there, and we drank right up since we were on AI. Hubby prefers their signature, Mango Smoothie Cocktail, while I mostly drank Strawberry Daiquiris. In addition, we love Mango's Poolside Bar. We visited with Filo, the bartender, nearly every night and he knew what our drinks were before we requested! All the bartenders at Mango's are awesome! We also had a favorite waitress who remembered us from last year, I think her name was Paulina. On our checkout day, we asked Christy at the front desk if we could extend our checkout time by one hour to 1:00. She said that was no problem and we headed off to Baby beach to snorkel. We got free snorkel equipment from the front desk, with our AI program. Upon return, we checked out, telling Christy we hated to go and that next time, we would be sure to book our room well in advance so we could stay there the whole time.
Manchebo
We arrived on Saturday about two hours before their check-in time, but were happy to find that they already had a room ready for us. This was the first and just about the only good thing to happen while we were there. As we started to unpack I noticed little ants. They were on the floor in the bedroom, and then I noticed them in the bathroom sink. Then, I noticed them on top of the TV center. Then, I went to take a shower and they were crawling out behind the shower wall. As I looked around, they were practically everywhere. I was not a happy camper. We phoned the front desk and the lady there wasn't very helpful, she said she would send a maid, but that didn't happen until 30 minutes and another phone call later. They didn't seem to care that there were ants, they sprayed some bug spray and told us they couldn't move us because there were no other rooms available. I was extremely aggravated, as the maids spoke no English and left dead ants all around the room. I told the lady at the front desk that I wanted to speak to a manager; she said one wouldn't be available until the next morning. I have never had to deal with a hotel that was this dirty, workers who didn't seem to care, and didn't have someone on staff to make decisions. My husband and I proceeded to get to bed and tried not to think about the bugs. Then, the toilet started making an odd squealing sound that went on for hours. Apparently, there was no maintenance guy on duty that night either, so the lady at the front desk said she couldn't fix it. This kept us awake the first half of the night. Then, to make matters worse, around 3:00 in the morning, the air conditioner started making this awful buzzing sound and wouldn't stop. After 20 minutes of trying to fiddle with this odd remote control they had for it, we got the buzzing to stop, but then the entire thing stopped working and we had no air conditioning for the remainder of the evening.
The next day, after getting very little sleep, I went down to speak to a manager. By this time, there were more ants back in the room. The manager sent another maid and a security guard to the room to check it out, as if they didn't believe what I was telling them. They had maintenance fix the air and toilet, but said they still didn't have a room to move us to. I explained that I didn't appreciate having to pay nearly $130 a night for a room with bugs. She said she would have her manager look into what could be done as far as reimbursement. We ended up spending a second night in the room, bugs and all. The next morning, I had the Operations Manager and yet another maid in my room. I swear, these people couldn't make any decisions on their own, and had to keep going to the people above them to try to get anything accomplished. Finally, they found us a new room to move to, which seemed to be bug free. After much arguing, we were given a refund for one of our four nights stay. In the end, the hotel wasn't anything we expected, we couldn't believe how old and ugly it was. The staff was not friendly or helpful. We actually saw bugs everywhere around the hotel. At the front desk, in the gift shop, at the bar. Now, don't get me wrong, we realize that this is a hotel on the beach, but I haven't ever seen or heard about this sort of problem at any of the other hotels on the island. I guess I am just very used to America, where the customer is always right. The last straw for me was when the operations manager actually said, "there are always bugs, get over it, you're in the Caribbean!"
Restaurants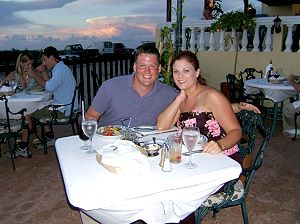 Mango's at Amsterdam Manor
This is the restaurant at the Amsterdam Manor. We chose to do the all-inclusive program for the three days that we were at the AM. Therefore, all of our meals for the first three days were at Mango's. The menu was the same as last year. The food is pretty good. The breakfast buffet is more European, and you can order pancakes, etc. off the menu but none of the food tastes very American at all. We mostly ate toast and had juice on these mornings. Lunches are good, you get plenty of food on the all-inclusive program. We had burgers, chicken sandwiches, and pizzas on the different days we were there. The French fries are also good, but their ketchup tastes very odd. Dinners were good, but I don't think we could have done more than three or four days there. The menu selection is okay, but we were ready to try something different after three days. All in all, I tried to keep track of how much our bills would have been and we really were pushing to actually eat and drink enough to reach the $85 a day per person charge for the AI. We drank a lot of frozen cocktails all day every day for three days, which we wouldn't normally do but felt we needed to, to cover what we had paid for AI. We like Mango's and love the wait staff, but probably won't do AI again.
Turtle's Nest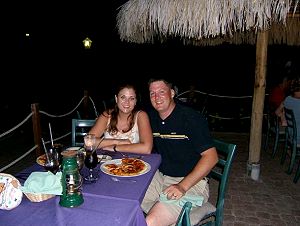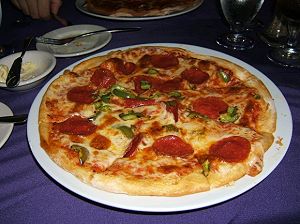 This was a great little, outdoor place at the Costa Linda Resort. We walked right in, didn't need reservations. We both had pizza (each was huge, enough for four people really) and cokes. The pizza was phenomenal. We also had salads and one drink each. Total bill with tip was $33, this was after a 10% savings we got from using our Visit Aruba Plus Card, which saved us about $3.
The French Steakhouse at Manchebo
This is a very nice restaurant, just as we had always heard. We did make reservations, and it was a good thing, because it looked very crowded. The wait staff was friendly and wonderful. Hubby had the filet mignon, I had the salmon and onion soup. The food was so delicious, we will definitely eat there again. We had free meal vouchers from our all-inclusive program, but the cost of the meal with a tip and alcoholic beverages would have totaled $87.
The French Steakhouse Garden Terrace at Manchebo
We ate breakfast here one morning and were very pleased to find a pretty "Americanized" breakfast. I had pancakes with eggs and hubby had French toast with bacon. There was more than enough to fill us up and the bill total with tip was $20.
Pega Pega at Manchebo
We ate their BBQ buffet Sunday lunch, which was a great deal! For $8.75 per person, we got our pick from a huge selection of salads, hot foods, breads, and chicken and ribs. Very well worth the money. The music in this outdoor bar-type setting at Manchebo beach was loud, but very island-friendly. We also got strawberry daiquiris, which were $5.50 each.
Basi Ruti Beach Bar & Terrace at Playa Linda
This was a great little outdoor place we came across and noticed their sign for a buffet breakfast, all you could eat. We decided to try it one morning and it was great! Completely "American" tasting. You could order whatever you wanted and eat as much off the buffet that you wanted. Anything you could imagine was there. Total for two with tip was $23.
Alfredo's
We had a desire for Italian the night we went to play Adventure Golf and saw this restaurant there and went in. The staff was super nice and very quick with our order and food. We liked the food, not really fancy Italian and not too many spices. I finished my entire order of cheese ravioli and my hubby did the same with his chicken Parmesan. Orders are served in the skillets they are made in, which is fun! Total with tip was $45, this was after a 10% savings we got from using our Visit Aruba Plus Card, which saved us about $4.
Dushi Bagels
We made a quick stop here one morning while we were getting ready for our ATV tour. They were quick and friendly, toasted the bagels and everything. Bagels were huge and good with the extra cream cheese he gave us. We were able to take them with us for the ride. Would definitely recommend for a quick morning breakfast. Total with a tip was $9.
Wendy's
some "Americanized" lunch. This was the only place we were able to get real ketchup! We were in heaven as my husband and I are big fast food junkies. Taco Bell - Quick late-night snack one night. We had hoped they would have real Mountain Dew, but it too tasted awful. Total was $4.
Dunkin Donuts
some "Americanized" breakfast, but more expensive than here. Cost was $8 for two donuts and two juices.
La Trattoria: El Faro Blanco, at the CA Lighthouse
We made reservations for 6:00 rail seating to watch the sunset. It was a gorgeous view, but the restaurant was packed and service was somewhat slow. They kept you full with alcoholic beverages and bread until your meal came. I had lasagna and hubby had veal Parmesan. Both were delicious, but a little over priced. Entire meal costs with tip was $80, this was after a 10% savings we got from a coupon we found in one of the welcome packets at the hotel, which saved us about $10.
Manchebo Spa
The Spa was the only good thing about Manchebo. It is brand new and has a very luxurious feel to it. My husband and I did the honeymooners couple package. We started off with a dip in the Jacuzzi, which ironically enough, even though it sits outside, overlooking the beach, the water temp. was just right and you weren't hot. We were a bit bummed because the package was also to include time in the Eucalyptus Steam room, but it was broken. They were very nice though about letting us make changes to the package. The package included tropical body scrubs for both, but since my husband was badly burnt, they let him have a cooling wrap instead. We were both a little surprised at how non-caring the girls were about having us get completely naked for everything. I didn't mind a much as my hubby did. He relaxed after awhile though. After our wrap and scrub, we both got 90 minute, full body massages which were pure heaven! It was wonderful to be in our own little private hut right there on the beach. After the massages, hubby got a manicure and I got a pedicure. We ended the afternoon with fruit trays and juice. The day was well worth the $320 fee.
Beaches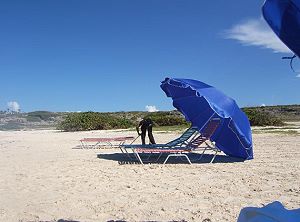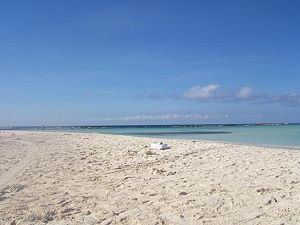 Eagle Beach
This is right across the street from the Amsterdam Manor. We had no problems at all getting lounge chairs, float mats and a palapa. I did notice a lot of debris in the water there, and the ocean had an odd odor to it. People were saying both of these things were due to the recent rain from the hurricanes. It wasn't horrible, just noticeable. This beach we love because there are never any children, there are very few water sports passing by because they aren't near there and we just have a great relaxing time. The AM Beach bar is right there too!
Manchebo Beach
This beach was very different than the others. The sand was clean, white and the water very pretty. However, the water had constant waves and was choppier. My hubby had a blast, playing as though he were 5 again, but I preferred the calmer waters of Eagle Beach more. We saw a lot more activity of water sports down on this beach. We also had a hard time finding a hut and lounge chairs. We got lucky one day and snatched one up as a guy was leaving, but the other days we didn't get one.
Palm Beach
We visited this beach on the day we went to De Plam Pier, but again, just as last year, couldn't imagine staying in a resort down on this area. The beaches are packed full and the lounging is so far back from the ocean that you can't really see it. There were screaming children all around and water sports every 5 feet. Even if we ever stay in the high-rise area, we will always get in our car and drive to a different beach. Malmok Reef - We stopped here for snorkeling on our horseback riding tour. The beach was very rocky and the water extremely choppy, making it very hard to get in and out of. We didn't see many fish and didn't think it was much worth the stop.
Baby Beach
We made it to Baby Beach in about 30 minutes, as there was no traffic on Saturday morning, most places don't open until 9:00. Upon arrival, there were only two other families there and we paid $20 to a guy who had set up huge beach umbrellas with lounge chairs. He threw in float mats for free. It was so quiet and peaceful and stayed that way most of the morning, as there were not very many people that came there. Even when a tour bus came through, you didn't really notice. We thought that Baby Beach was beautiful, no odors or debris, the water was so clear. The snorkeling was good and that water is so shallow that you can enjoy yourself! People told us that the rock formations there were new, and had been formed by the rain from the hurricanes, but we though they were pretty. For anyone who has a rental car, this is a must do!!!!!
Activities
The Butterfly Farm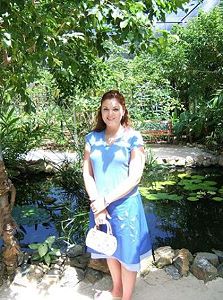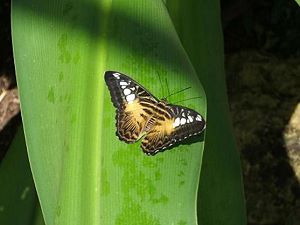 We did this lat year and loved it, but this year, I was surprised to find that the tour guide wasn't as friendly or as informative. He kept telling us about how the world was going to end due to global warming and that we would all eventually die if we didn't plant trees to attract more butterflies. He seemed very mis-informative about things, and although the butterflies are always pretty to look at, I wish we hadn't spent $24 for the two of us to look at practically the same things we did last year. I will plant butterfly-friendly plants at my home to be able to see these beautiful creatures more often. I would recommend the farm to anyone who hasn't ever been, but wouldn't go back again.
Rancho Notorious
They picked us up right on time. We arrived for our afternoon #5 horseback riding tour and found that there was only one other couple going. We were a little bummed, as we really wanted to meet some young couples, but it was nice too, because the tour seemed a little private. The tour guide was nice, I believe his name was Ernesto. He even sang to us. Last year we did the countryside tour, so this year, we decided to try the lighthouse, beach tour! We liked this tour so much more, as the scenery was gorgeous and the beach at sunset was breathtaking! The weather was just right and the breeze had picked up some. We snorkeled at Malmok, but really could have done without that part, because it was hard to then get dressed with a wet bathing suit and sand everywhere. Upon our return, we saw Karen, our favorite guide from last year who had remembered us! We got dropped back off at the hotel around 7:30. We booked our tour online before we left and they gave us $5 off per person, so it was $75 each. Next time, we will probably just do the ride without the snorkeling, which was $65 each.
Four Wheelin't in Aruba (through Rancho Daimari)
This tour was great, we did the one that went to the Natural Bridge, the Natural Pool and the sand dunes and rock formations. No one else had signed up for our tour, so we got a private tour, even though we didn't pay for one. I rode with my hubby, I was too scared to drive myself. It was a fun way to see the island, though at times was very scary. You go straight up and down some mountain sides that are so rocky. The natural pool was awesome, although it is quite a hike to get down and back up. Our tour guide was so much fun and gave us extra time to play in the sand dunes, which my hubby loved. The only thing I didn't like about the tour was that their ad claims it is a 4 hour tour. Really, they pick you up from your hotel, it takes about 45 minutes before you are at the ranch. Then, another 45 minutes home. You also wait for the horse tour and so the actual ATV riding only amounted to 2 hours. That's about all my butt could take anyway, but I felt as though they shouldn't have touted it as a 4 hour tour. The cost of this tour was $75 for the two of us. Normally, it is $85 but we saved $10 with our Visit Aruba Plus Card!
Mi Dushi Taste of Aruba Cruise
We did this last year and loved it both times! The crew was much the same as last year and every bit as fun. The snorkel stops were fun, but it didn't seem as though there were as many fish this time around. The BBQ lunch was good as always. We still didn't like their bar, but because we mostly drink frozen cocktails, we didn't expect to like it much. We mostly filled up on sodas all day! We will do this cruise every time we return. The cost for both of us was $100 because we got a discount by booking online in advance!
Amsterdam Manor Friday Night BBQ Buffet and Live Latin Dance Show
We did this last year and loved it and it was every bit as good this year too! They have a wonderful buffet you can visit as many times as you want, and there is more food than anyone could ask for. The dinner was from 7:00 - 8:30, The show started at 8:30, put on by the Aruba ballet company, but it is a dance show that showcases dances and costumes from all around the world. We loved the talented performers and were amazed at some of their moves! We would highly recommend this event to everyone! You don't have to stay at the AM to attend. It's $24.95 per person for the dinner and show and entirely worth it!
Jolly Pirates Sunset Cruise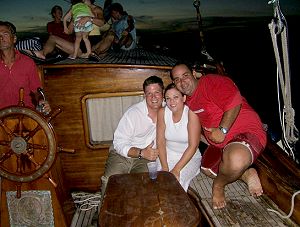 This was by far the best thing we did! We did their sunset cruise and renewed our wedding vows at sunset. The crew was so friendly and they had written this great little vow ceremony! I will never forget it, I cried. We would like to thank them for taking the time to make our cruise so special!! Everyone else on the cruise was so nice too and applauded us! J We booked this event online before we left too and saved 15%, cost for both of us was about $45.
Adventure Golf
We had to make a stop for a game of mini-golf. My hubby couldn't stand the thought that I beat him last year and challenged me. He won this year, so now we have a tie-breaker to do whenever we return! It wasn't crowded at all, we had the whole place to ourselves. We also saved $2 per game with our Visit Aruba Plus Card, which made each game $5.
Shopping
We did the usual souvenir shopping and gift shop stops but tried to keep buying to a minimum. Hubby got a few t-shirts and a Tommy watch duty free! I got a new diamond bracelet and ring! One of the most surprising places was a little shop at the Moomba Beach Bar, which had great jewelry! We also loved the Juggling fish, as usual!
Other
Traffic
We were surprised to find traffic at a standstill every time we drove into downtown. It took us more than 30 minutes to get through that little one-mile strip. Never could figure out why, except for that there were three cruise ships in that day, so a lot of people were crossing the streets, etc. while shopping.
Television
We wanted to get to the room before 8:00 so as not to miss Survivor, as we watch it religiously. We had no problem finding American TV stations to watch and even found a channel playing or local Nashville news
Sodas and Food
We got sodas and snacks several different times here or there. Everything was extremely over-priced and nothing tasted right. This is mostly because the food isn't imported from America, but places like Brazil and Europe.
Visit Aruba Plus Card
We decided to try this program based upon people's suggestions. The card, which cost $10 did pay for itself, but after that, we only saved about $9. Budget refused to give us their discount, which I still think is wrong and plan to report to the Visit Aruba Plus Card website. Also, we were supposed to have gotten a free beach bag from Little Switzerland with our purchase there, but they said they didn't have any and didn't seem to care. I would suppose that if we didn't do the All-Inclusive for the three days we could have saved more by eating at more of the restaurants that are covered under the card. I am all for saving any money, so it was worth it!
Final words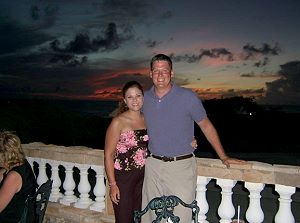 I must say that all in all, we did enjoy Aruba every bit as much as we did last year. We hope to return again soon, but also want to try other tropical places in the near future! Aruba is quickly growing into more and more of a popular tourist attraction. There are new hotels, condos and apartments springing up everywhere. We even heard that the Amsterdam Manor is expanding and building the Rotterdam Manor! I was a little put off by some people's attitude of just not caring when they didn't have the services or selections you wanted. But, most of the island people were very friendly!
Until Next time, Bon Bini!!!