10th Trip to Aruba - Amsterdam Manor & Aruba Grand
September 16-30, 2004 By Amy & Mike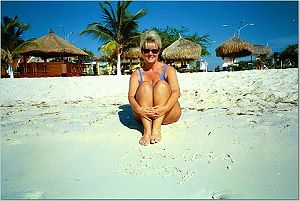 Jansen Car Rental
Picked up and returned the car at the airport. New Kia Rio 5-door with wonderful, cold A/C. We can always rely on Jansen's for good service and no surprises - never a worry when it comes to the car rental.
Amsterdam Manor
Rooms were fantastic. I had an oceanfront studio which included a king size bed, kitchenette (microwave, frig, coffee maker, toaster, blender, dishes, etc.), and a HUGE bathroom with double pedestal sinks and a large jacuzzi tub that was large enough for two. My friends had connecting rooms (one bedroom and a studio) on the first floor that was just steps from the pool and the pool bar.
The one bedroom had a kitchen, large wooden dining room table and buffet, and a living room area with a sofa, 2 chairs and a TV. It also had a front and back door - front door to the pool and back door to the car (couldn't get any easier!) Also loved the fact that you didn't have to mess with towel cards or returning your towels at a certain time every day - they were always available at the front desk. Normally, I don't use the internet much while on vacation but since Amsterdam Manor offered it for free and I needed to keep tabs on my husband at home (or maybe it was him that was keeping tabs on me?) and the Aruba bulletin board , I used it almost every day. Amsterdam Manor also has a brand new beach bar - happy hour at 5pm every day and you could also order lunch from the bar so you didn't need to walk back to the restaurant. Speaking of the restaurant (Mango's)…it's a great place for dinner and you're missing out on some great dining (courtesy of Chef Marc) if you don't have this place on your restaurant list. I spent the first few days of the trip sans husband since he wasn't flying down until later and wasn't sure how I'd like being on the island alone - but everyone at Amsterdam Manor took very good care of me so I don't know what I was even worried about! Of course, I had my partner in crime, Stacy, as my chaperone until Mike arrived (still not sure if that was a good thing or a bad thing yet! The island will never be the same! LOL!)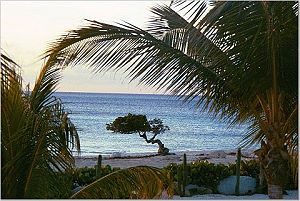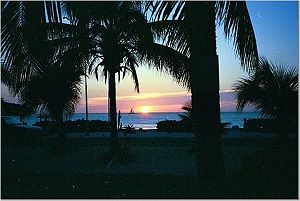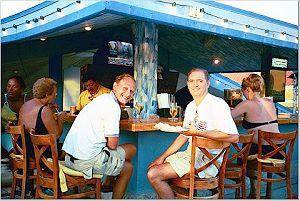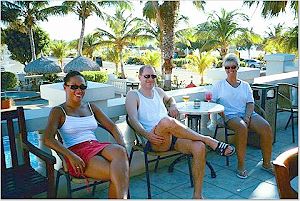 Aruba Grand
We always stay in a lanai room at the Grand. They're located on the other side of the pool area and just steps from the beach. The lanai rooms have new carpeting, comforters, and drapes - looks so much better now. Also noticed that the Grand has installed brand new washers and dryers (a request by the timeshare owners.) The Grand was overbooked while we were there so we didn't get our usual room but we only had to walk a few more steps to the beach so there really wasn't anything to complain about. I wasn't sure how crowded the beach would be since the Grand was booked but we were still able to get a hut every day at ANY TIME of day - they have a great beach and it's never crowded since it's a smaller hotel than the others on Palm Beach. I was able to spend a little time with the manager at the Grand this year (finally meeting after years of emails to each other) - absolutely wonderful man and really looks after his guests. And, of course, the bellmen that remember us year after year - I always receive plenty of kisses and hugs when we check in and check out.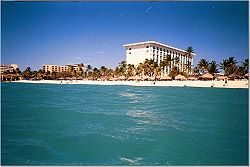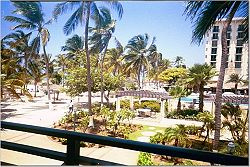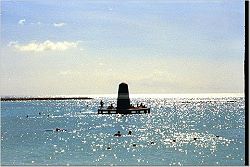 MVC Eagle Beach
Since so many people asked about it I decided to walk down to MVC Eagle Beach and do a little snooping. It's located right next door to Chalet Suisse and across the street from Eagle Beach. It's small and has an enclosed (walled) private courtyard with a small (and I do mean small!) pool. There is a bar/restaurant with indoor (A/C) and outdoor seating. I had a couple of cold beers there and the waitstaff was very nice. I didn't order any food but the guys sitting next to me at the bar had some sort of appetizer sampler platter that they said was very good (and cheap, too.) It looked very clean and well taken care of although I didn't see any of the rooms. There are palapas across the street on the beach but I didn't see any lounge chairs available. It was very, very quiet there since there are only about 20 rooms or so - saw a few people relaxing in the courtyard area.
Baby Beach and Rodger's Beach
We drove to the other side of the island to see what damage had been done from Hurricane Ivan. Rodger's Beach looked fine and we could barely tell that it had been touched. Baby Beach looks a bit different now, but all things considered, does not look all that bad. Swam for the afternoon at Rodger's Beach and only a couple of people stopped by in the course of 2 hours (very nice and private if you're looking to get away from the crowds.)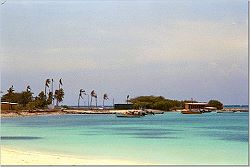 Tranquilo
Booked another great snorkel trip with Captain Anthony, Roy, 7 of our friends, and a few new friends. Had a great time as always and even drank them out of beer on the way back. But never fear, Captain Anthony was able to get more beer for the trip back (ya gotta love him!) Then, of course, a trip on the Tranquilo is never complete without following it up with many hours at the Kokoa Bar.
4th Annual Bulletin Board Party at Amsterdam Manor's new beach bar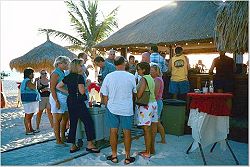 What a great turn-out this year! The unofficial head count was 38 people. Had a great time seeing a lot of old friends that we see every year and met a lot of new friends as well. I always have to apologize for not spending as much time as I would like talking to everyone but I wanted to make sure that I tried to say hi to as many people as I can. Here's hoping everyone can make it again next year. Special thanks to everyone at Amsterdam Manor for sponsoring the party (free appetizers, a steel drum band, and $1 drinks.)
One sidenote: .....repeat after me.....if you are attending a BB party, it is not polite to pinch and/or grab at the moderator (yours truly). LOL! I think some people had a tad too much to drink (but it was all in good fun.) I know, I know.....what happens in Aruba, stays in Aruba! LOL!
Restaurants
Tried Tomato Charlie's, Pinchos, and Paris for the first time this year. Tomato Charlie's had thin crust pizza at reasonable prices (located in the high rise area.). Pinchos - We reserved a table for 10 at Pinchos (our annual group dinner with friends.) Wonderful ambiance and our host, Anabela, stopped by to say hello. Very nice, casual place - you can sit at a table, sit at the bar, sit on pillows on the dock, or sit in a swing made for 2. All of their food is on skewers and it was wonderful - wish we would've had time to go back again. Paris - This is a Chinese restaurant located downtown that I've walked by many times. Sandra and Erik who live in Aruba were kind enough to take me to dinner there one night so I could try something different - and I loved it (thank you, Sandra and Erik!) We'll definitely be going back to all 3 of these restaurants again next year. Also went to some of our favorite places: Marandi, Madame Janette's, Gasparito, French Steakhouse, Marina Pirata, Mango's, Rumba, Salt n Pepper (the waiters at Salt n Pepper are an experience in themselves - lots of fun!) The only restaurant I won't return to is the Sunset Grille at the Radisson. Good food and service but really pretty expensive. I can get a dinner just as good (if not better) at other restaurants for half the price. We also had lunch at Rumba this year, too - great place for lunch if you're downtown shopping.
Manchebo's New Spa
Did a walk thru and it looked very nice. Didn't have any time to take advantage of any of the services but I think next year a massage is in order.
Bars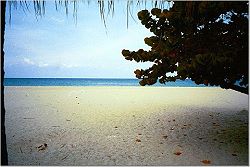 You can't beat the happy hour at the Amsterdam Manor's bars (beach bar and pool bar). The bartenders knew our regular drinks by the first night (extremely friendly service.) And our old favorite, the Kokoa Bar, never fails to disappoint with good service and drinks as well. The Kokoa also has live music on Friday and Sunday nights. Also tried Mira Solo (martini bar) at the Radisson this year. They make every kind of martini imaginable - pages and pages of different martinis - and all very good (well, at least the ones I tried were good - could not even begin to make a dent in all of the different ones.) Ambiance was quite nice there as well.
Shrimp
A trip to Aruba is not complete without fresh shrimp. We made a huge plate of shrimp cocktail and shared it with the entire bar at Amsterdam Manor.
Weather
Because of the hurricanes, there were no trade winds the first few days I was there and it was VERY HOT! Finally a nice breeze arrived and by the second week the wonderful wind was back. This was also the first year I've ever experienced mosquitoes and a few flies due to the standing water from the heavy rain they had the previous week (glad I brought bug spray because it did the trick.)
Celebrity Watching
Yes, Ben Affleck was on the island for the poker tournament and everyone I knew saw him except me! I did have one cryptic phone message though that MUST HAVE been from him (never did figure out who it was from, so I apologize if I didn't call you back.)
Are you ArubaAmy?
If I had a dollar for every time I heard that question…..I ran into so many people on Palm Beach that recognized me from the bulletin board (think it's time to remove the photos from the board - LOL) and it was so great meeting everyone! Again, I wish I had more time to spend talking but it seemed like I was always on my way to something. But many, many thanks for all of the drinks that were purchased!
Distinguished Visitors Award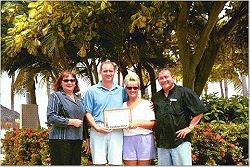 Since this was our 10th consecutive trip to Aruba, we received the Distinguised Visitors Award which was presented to us (a plaque with our names on it) from the Aruba Tourism Authority and the Aruba Grand. Ten more consecutive trips and we'll receive the Ambassadors Award….hmmmmm, something to shoot for, I think.
A few notes -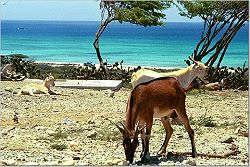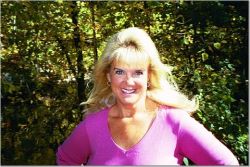 Not enough time to see everyone (I've never had so many telephone messages on a vacation before!) and not enough time to do everything....but I made a pretty good dent in Aruba's beer, wine, and Grand Marnier supply! Contrary to what you may have heard, I DID NOT drink the island dry (only the Tranquilo!)
Amsterdam Manor was fantastic (it's our "new home".)
Tessa the Tiger died.
Charlie Jr. (of Charlie's Bar) passed away.
There was a tornado on the island.
Big fire downtown one night on Main Street - we could see the flames from our table at Marandi - had a hard time getting back to the hotel that night because a lot of the streets were blocked off.
All of the hotel beaches looked good.
Did I mention Amsterdam Manor was fantastic?
Favorite restaurants this year: Rumba and Mango's
Had another great trip but it's really the people who make the trips to Aruba so special: Melvin and Maria, Stacy and Chris, Gerry and Sue, Leo, Richard at the Aruba Grand, John and Sandy, Sandra and Erik, Richard and Karen, Stefan at Rumba, Mike and Alecia….the list keeps getting longer every year. A special thanks to Marc, Amy (what a great name!), Filo, Jurgen, and the rest of the staff at Amsterdam Manor for making me feel so welcome there! Can't wait to see everyone again next year!