Bucuti Beach Resort
September 20 - 29, 2002 by Gerry and Sue W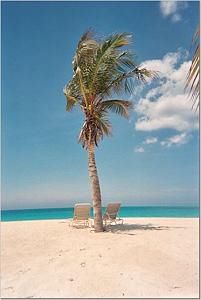 Prior to Sept 20-29, 2002: Our plan was simple---and no different than previous trips---relax in the sun, enjoy the gorgeous water, take a few sailing trips, sip on tropical drinks and return to some of our favorite restaurants as well as try a few new ones. Anything else we accomplish would be a bonus.
Flights
Trip arrangements were made thru ArubaBound Travel/MCM Tours. Lisa and Amy did an excellent job and we thank them. Everything happened like clockwork. We flew uneventful flights on Delta and breezed thru all the checkpoint desks and gates. Our return flight went as smooth. Considering the departure terminal was jammed, there were no hold-ups anywhere including the fact they no longer check/tag electronic gear. We were required to open our check-ons but they were barely glanced at unlike the thorough search we experienced last January.
Tropic Car Rental
Hans and Dennis met us at the terminal with our Toyota Tercel. They also provided curbside service upon departure. Great people, a good car with excellent air conditioning, and competitive pricing. They're definitely a keeper.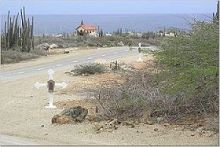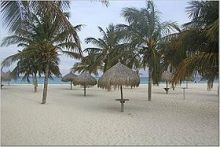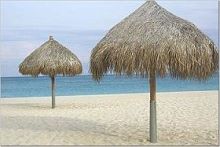 Bucuti
Our stay at Bucuti was as magical the third time around as it was on our very first trip. The genuine warmth and sincerity shown by the hard-working management and staff continues to amaze us. The property still appears to have been built yesterday and with each visit improvements have been added. This year there is a new free-standing hot tub on the pool deck; a set of restrooms have been built between the pool and bungalows; and a wheelchair ramp now leads to a hut directly on the beach that has a cement 'floor' so the physically challenged can also enjoy the beach. We must admit, though, we missed Brown, the beach attendant but we understand he will return as soon as possible.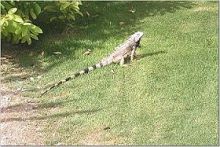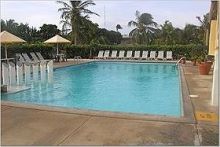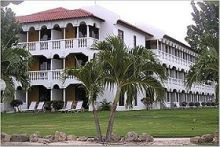 Weather
Sun, sun, sun and hot, hot, hot. We went thru 4 bottles of sunscreen and nearly finished 2 other bottles. We did have a gentle breeze Friday thru Monday but they vanished on Tuesday as a result of the tropical storm activity north of us. It was uncomfortable at times but we made adjustments. They picked up again on Saturday, Sept 28 but not by much, maybe 5mph, if that. Our last 3 evenings on the island brought spectacular lightening shows over the ocean. One late evening we simply sat on our balcony and took it all in and wishing I had brought my tripod. We also had a thunderstorm one night but by then we were in a casino.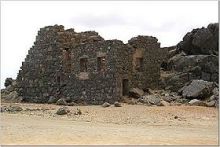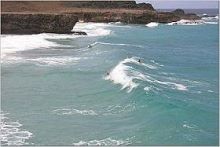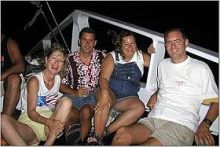 Activities
We were beachbums by day, no simpler way to put it. The color of the sea on Eagle Beach still blows our minds away, it is breathtakingly beautiful! We went to Moomba's Full Moon Party and lasted about as long as it took us to walk from their parking lot entrance to the beach and back again. There were more people there than at the Atlanta terminal and most appeared to be in their early 20s. Definitely for the party-animal (right, Melvin?...lol)
The first day without winds, we stayed cool in the car by touring the entire island which was a first for us. We forgot The Grotto but will catch that on the next trip. Early in the week we joined several bbers for Happy Hour at the Amsterdam Manor Beach Resort Aruba followed by a sunset cruise. Our thanks to Melvin and Amy for all their hard work pulling this successful event together. We really enjoyed ourselves. Another day we took the 6 hr southside snorkeling trip on Tranquilo with Anthony, Roy and 3 other couples. We had a wonderful time and yes, the Dutch pea soup is everything you've heard it is. We took one morning to shop downtown and found a couple charms for my bracelet. At that time we also found photo opportunities on the backstreets with all the lovely quaint buildings cheerfully painted in pastel colors. Somehow no trip is complete without our driving thru the Tierra del Sol community. One observation: missing from the Port-Of-Call on both Sept 20 and Sept 27 was the Destiny Cruise Ship. We also noticed that the Paradise that was due in port on Thursday didn't make it until Sunday. Perhaps it was tropical storm related?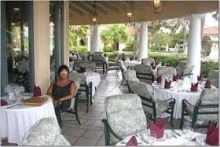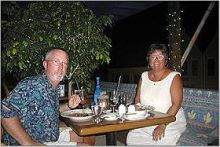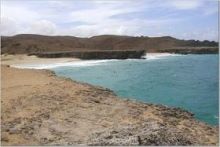 Casinos
We visited 4 or 5. I played the quarter and nickel slots while Gerry played blackjack for the very first time. We aren't serious gamblers so we had fun playing for as long as our allowance lasted. In fact, we even closed the Radisson one night.
Restaurants
We dined at Ruinas del Mar, Amazonia, Sole Mare, Pirates Nest, La Cage Folie (we feel very fortunate we had a chance to dine here before they closed a few days later), Ventanas del Mar, Caffe Baci, El Gaucho and Madame Janettes. A detailed account of each has been placed in the 'Restaurant Review' section of this bb. Overall we found service to be excellent everywhere with the exception of one restaurant and I'll be quick to admit they may have been having a bad night as they came highly recommended. It's such a pleasure for us not to be rushed through a meal and to be served consistently by a friendly, courteous, and knowledgeable staff. Kudos to all the owners/general managers of these establishments.
Final Thoughts
I firmly believed that after the third visit the trip report would be shorter. As you can see I've failed in that quest. But sharing the joy of our trip is something I enjoy as much as I do reading other detailed reports. Aruba and Bucuti radiate tranquility for us. It is the calm in our lives, perhaps the only peaceful state of mind we're in until our next visit. Yes, we're happy to report that the next visit is already reserved.
Gerry & Sue W