Occidental Grand Aruba (formely Allegro)
July 28, 2002 - August 5, 2002 by Lori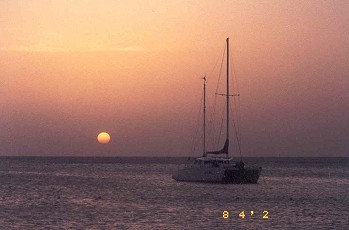 I know there is no way this is going to brief. I will try to give an objective perspective of the island, our activities and lodging. First of all, I would like to thank everyone who has posted information on the BB's. The help was invaluable. We booked our all-inclusive vacation to the Allegro through Apple Vacations. We departed from Pittsburgh, PA on Sunday, July 28 and returned Monday, August 05, 2002 (We were supposed to arrive Sunday, August 04. Since you are supposed to give positives before negatives so I will leave the Apple Vacations info for last). Just some background info of us, my husband and I are in our 40's and we brought our daughter, 22 & son, 16.
This trip report will include information on:
Allegro Resorts, Apple Vacations - Planet Airways, Jeep Rental, Cosmos Day Spa, Tranquilo, Carlos & Charlie's, Aruba Grand & Hyatt Pool Area, Aruba Kayak Adventures, Parasailing, Baby Beach, Natural Pool, Natural Bridge, general observations of the island and anything else I can think of.
The Allegro Resort was very nice. Because of negative BB postings, I was concerned what we would find. When we checked in, we were given a room on the pool level that faced the Hyatt. I asked if we could be up graded to an ocean or pool view (hoping for an even numbered room). We were given rooms 829 & 833. Both had an ocean view. The view was beautiful but was not conducive to seeing the sunset, which was fine.
We found a different location each night to view them. The rooms were not huge but adequate. (If you've ever stayed at the Delta Chealsa in Toronto, these were HUGE!) They were very clean, no mold, smell, dirt, etc. that has been reported in some postings. We tipped the maid $1-$2 each day and our rooms were cleaned by the time we returned from breakfast (same w/ the kid's room). We never had any needs as far as the room went. There was a hair dryer, refrigerator, safe, nice size dresser and closet. The bathroom also has good-sized counter space.
Food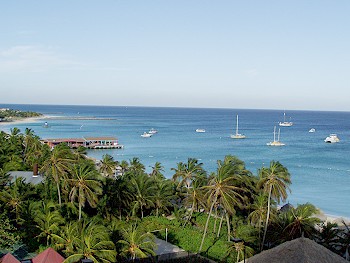 There is a breakfast buffet that is endless. There are made to order omelets, French toast, pancakes, fresh fruit, cereal, danishes, muffins, bagels, sausage, bacon, potatoes, ….. You name it & it's there. For lunch, there is a buffet in the same place, Papaya's or a beach hut that has hot dogs. Each day there is a different theme to the buffet dinners: BBQ, Italian, French, Caribbean, Seafood, and International. There was always a large salad table, rice, potatoes, carved beef or lamb and pasta. The buffet starts at 6:30 with the show beginning at 8:30. If we ate early, Edgar would take care of us. He would seat us up front then put a "reserved" sign on our table. This way we could leave then come back. If he would see us during the day, he would ask if we were going to the show. If we told him yes, our sign would be on a table waiting for us. There is Caruso's which is their Italian restaurant. We made reservations for Saturday night and the food was very good. 'Lots of garlic!!! My husband has linguini & clams, my daughter had spaghetti w/ meat sauce, I had veal saltimbocca. Everything was delicious. There is also Papaya's, which is an open restaurant by the pool. In the afternoon they have an ala carte menu and at night you need reservations. I had the filet mingon there and it was very tasty. My son had the baked chicken and he didn't care for the seasoning (very picky eater!) The pizza oven is outside by the pool. It is open from 6pm-1am and has good made to order personal size pizzas - thin crust.
Pool
The pool looked to be one of the nicest in the area. We saw the Aruba Grand - it was an Olympic sized regular old hotel pool. No palm trees, fountains, etc. It did have a rock formation w/ a small pond & mote. The water was so stagnate and green, you couldn't see the bottom. The Hyatt had a beautiful free form pool w/ fountains like the Allegro. They had macaw birds that were beautiful but after a while drove you crazy from cawing all day. Their pool seemed to have almost all shade from the palm trees. The Allegro had a large free formed pool with a large rock island in the middle. There were 2 waterfalls going over the rocks. In this area there were 3 hot tubs. (Actually, during the day "hot" is translated into "magma tub".) There was a nice mix of shade & sun for the lounge chairs. We did not have a problem getting lounge chairs at the pool or beach.
Tranquilo
On Wed. night we took the sunset cruise with Capt. Anthony at the wheel. What a wonderful, relaxing trip. We cruised down to Baby Beach then back up to the lighthouse. It was a fairly cloudy night so we didn't have a good sunset but the tranquility of the sea was still there. I booked this online prior to leaving. When Capt. Anthony picked us up at the De Palm Pier at the Aruba Grand he greeted me by name, which was very personable. He does ask you to keep your shoes in the dingy so don't wear anything special for the ride. The cost was $25 a person plus we tipped him and Greg his helper. Capt. Anthony does not advertise in Aruba. He only has his website and by word of mouth. If you would like to do any of his ventures, make sure you bring his phone number w/ you.
Cosmos Day Spa Cosmos Day Spa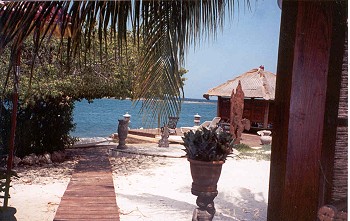 My daughter & I went to Cosmos (which is adjacent to the Flying Fishbone in Savaneta) for a half-day package ($310 for both). We spent time in the hot tub, a eucalyptus sauna, total body exfoliation, total body massage, and manicure. We were given a fruit platter and juice as well. It was very relaxing. Since going to spas is a frequent venture for us, it was a nice change to have the reality of the ocean & bird sounds instead of a CD in the background. Make sure you bring you bathing suit. They will provide a robe, towel, & spa slippers. (This still wasn't as relaxing as the Tranquilo!)
Natural Bridge
What a beautiful sight! We drove there on our own. The only thing is get there early. We got there around noon & it was swarming w/ tourists. Hard to get a good picture w/ everyone else in it.
Carlos & Charlie's
We are dinner at C & C's one evening. There are no free pop refills in Aruba. This was a surprise to us - especially w/ a thirsty teenager! We had 2 Mexican platters, a steak & BBQ shrimp 2 beers & 3 sodas for $94. The food was good. The waiters are pranksters so beware!!! A fun place.
Kayak Adventures
While Alyse & I were at the spa, Dan & Nick went kayaking. There is only one place that will take you kayaking and you can arrange this through De Palm tours. It was an all day excursion. They kayaked in the ocean and then went to De Palm Island for great snorkeling. They ate lunch on the island than kayaked back to their starting point. They really enjoyed this.
Parasailing
My husband & son went parasailing. First and foremost - if you get motion sickness, this probably isn't the adventure for you. The trade winds really knock you around however it is a blast. We went through Red Sail for this. $45 each to sail and $10 to ride if you just was to go along.
Banana boat
I'm not sure of the name of the group we went through but they are located in a tent in front of the Hyatt/Allegro Red Sail building. Look for Trevor! This was a blast. We went from the Allegro to past the airport. $15 for 30 min. of fun!!!
Natural Pool
Because of our adventurous side, we saw the small handmade "natural pool" sign and decided to give it a try. Fortunately we came across some of the park rangers who said, "Follow us!" Some where along the line we forgot to leave the breadcrumbs. We made it to the pool, which was absolutely beautiful. When we tried to get back, it seemed like all trails lead to nowhere. After our 4th trail we finally made it out. J I think all the goats around us were laughing! There is no way you can do this trip without a 4X4!!!
Baby Beach
We were a little disappointed in Baby Beach. I thought this would be a great place to snorkel. There really was not a lot to see as far as fish in the bay itself. The fish seemed to congregate at the opening into the Caribbean. There was a current there that kept pushing you into the bay. It is a picturesque place, except for the oil refinery in the background.
California Lighthouse
The landscape around the lighthouse was beautiful. The waves crashing on the rocks were great. If you go toward the sunset side of the lighthouse, there is a large divi divi tree w/ a bench under it. This is a great place to watch the sunset.
Iguanas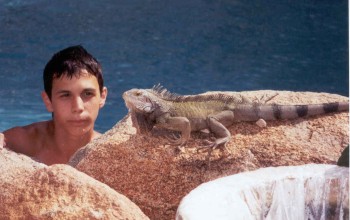 I have to put this is for the Jeff Corwin's out there. My son was in his glory w/ these little - and no so little - guys. They are beautiful creatures. They may not bite but they will beat you up w/ their tails! They are quit harmless and are interesting to watch. They love fruit - which is also a natural part of their diet. There was only w/ an amputated arm at the Allegro. We called him Lt. Dann (from Forest Gump).
Shopping
We did a fair amount of shopping. Don't plan on going to town after dinner - everything will be closed. All of the stores were closed by 7:00 p.m. - some at 6:00 p.m. The only ones we found open were across from the Allegro by Salt & Pepper's. Personally, I didn't think the jewelry prices were that great.
Jeep Rental
Because of some of the credit card scamming, we decided to go w/ Avis. We might have paid slightly more for a jeep for the week, but it was w/ a national company. We paid $325 for 5 days. They were located right in the Allegro. We thought about getting one at the airport but we wouldn't have had room for our luggage.
General Info
We did notice that there was a cruise ship in town on Monday, Tuesday, and Friday. We stayed clear of town & major attractions on these days. EVERYONE on the island is very friendly. A couple times we were in villages and asked for directions and the people were great.
One sad note we noticed, there is a major litter issue in Aruba. It was terrible seeing garbage stuck inside the cactus and divi divi trees. I was concerned about the wind. There was always a welcomed breeze; a couple times it was windy. As everyone says, you're glad it's there or you will fry like bacon. One nice thing about the sun & proximity of the equator, you never need to constantly turn to face the sun, it's was always right above you. Which did pose a problem w/ pictures. Since you are to have the sun at your back, a lot of our pictures w/ us in them came out shadowed. L The only time we saw stray dogs was when we were in the towns. There were none on the beaches.
Apple Vacations, Immigrations & Customs
We booked our package through our travel agent. The flight there was uneventful. The plane was large and they used all possible space for passengers so it was cramped. The food was less than the average airline food (we thought it looked like Fischer-Price food!). I think we could have gotten a better price if we went through Allegro and a commercial airline. All was well until we had to come home. Coming to find our return flight experience is somewhat common. Our flight was to leave at 12:15 p.m. so we were being transferred to the airport at 9:30 a.m. The bus came early so we were at the airport a little before that time. We waited in line until after 10:00 a.m. Halfway through processing our line, they started to move lines and we were bumped several people back. They then told us that the flight was delayed until 3:00 p.m. but we weren't allowed to leave the airport incase we left earlier. We then went through customs & immigrations, which took all of 10 minutes at the most. They did not ask anything just took our return card and pointed the way. (There were some who had their luggage searched. They were all w/ commercial airlines.) Once we got passed these two check points we were not allowed to retrace to go outside or anything. We were eventually given $10 meal vouchers. About two hours before our flight was to leave, the snack bar quit taking the vouchers because they already took too many! We finally boarded the plane at 5:00 p.m. and left a little after 5:30 p.m. We didn't make it back into Pittsburgh until after 11:30 p.m. since we had to stop for fuel. We were never given the same answer as to why we were delayed. The pilot even gave a couple different versions. It was a flight that put the damper on a perfect week.
We will NEVER fly Apple Vacations again!