Divi Aruba Beach Resort
January 17, 2001 to January 22, 2001 by Tara & Mike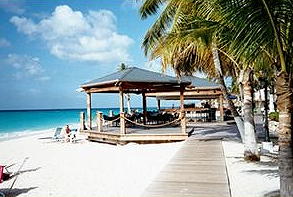 Arrival/first impressions
We flew TWA out of Logan in Boston with a stop in San Juan. Everything was enjoyable and smooth - no delays or hassles. Customs in Aruba was a BREEZE - it took all of five minutes tops. We used our birth certificates and driver's licenses and had no problems. The airport was extremely empty (it was a Wednesday afternoon) and was new and clean. There were plenty of taxis - the ride cost $14.00 to the Divi. The ride to the hotel area is very unimpressive and it looks as if you're in a third-world country. Until you get to the resort….
The Divi's beach and water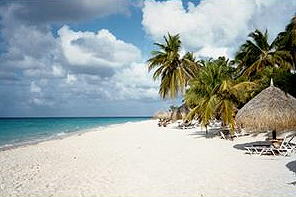 PURE PARADISE!!! The Divi exceeded all our expectations and we are very difficult to impress and analyze everything to pieces. The beach and water were our biggest priority in a resort and the Divi's were fabulous. The beach was wide, white, clean (except for cigarette butts which disgusted us and hopefully others) and postcard-perfect; and the Caribbean Sea was a gorgeous shade of blue-green. The water was colder and wavier than we expected, but that didn't deter us from spending ample time swimming and enjoying water sports. Another word about the waves: they are quite big for what we expected the Caribbean to be like. They are much smaller in front of the other resorts up Eagle Beach and then they become almost non-existent.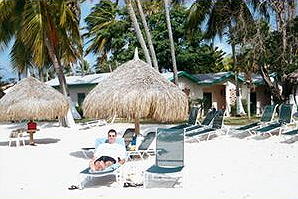 The water starts out shallow with a sand bottom and then it gets deep fast. But there is ample room to stand and catch the waves or to swim farther out. Compared to the other resorts, the Divi's beach was the BEST - although the beach gets incredibly wide up Eagle Beach. The beach is still gorgeous up there as well, but there was something about the Divi. It was one of the few resorts with restaurants/bars right on the water and we thought that was great. That didn't take away from the tropical, "barefoot elegance" feel of the beach at all. There were lots of huts on the beach although many people put towels on them to reserve them and then didn't show up for an hour or more (which irritated us when we wanted one for shade). We are usually very active vacationers but we opted to just enjoy the beach, swim, windsurf (which was SO hard but fun!) and just enjoy the scenery.
The weather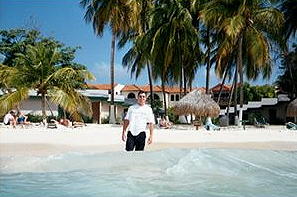 It seemed around low 80s with partly/mostly cloudy conditions on average. We thought this would be a drag but it turned out to be perfect. The sun is SO hot and strong that if it stayed out even twice as more as it does, people would be scorched! Even though the sun peeks in and out a lot, the temperature is just perfect. Little to no humidity either. We have great tans and experienced slight burns at the beginning. We only saw a few light sprinkles our last day which were so light to the touch and they lasted for about five minutes or less. The tradewinds were perfect - I was nervous we wouldn't like them. They are so slight and cooling. Occasionally the wind picked up a bit while we were there and there were some dark clouds - perhaps a storm offshore. But again - none of this really affected the weather overall.
Food and Drinks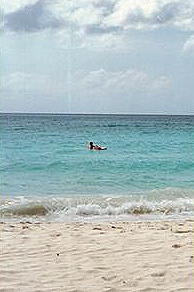 The drinks were great and we loved all the bars and bartenders. Panch at the Sandpiper (near the Casitas) was great, as were Eric and Dino at the Pelican Bar. They had a great selection of liquors and tried to keep everyone's cup full. They had a daily drink special that was good, especially if you don't know the names of a lot of Caribbean drinks. The food was good overall, except they could use a little more variety at the buffets. They tend to serve a lot of meat in sauce that was boring. But they did make an effort and what lacked in variety was made up for in service. We really liked the grilled pizza and sandwiches at the bar. Breakfast was delicious and they had a lot of seafood selections that I enjoyed. One night they put out shrimp scampi (the shrimp were huge) and prime rib that Mike enjoyed. I am a seafood lover and there was plenty. The Red Parrot was inconsistent - one night it was outstanding - the next, kind of half-decent. But for some reason, you don't get that upset about it as you would in your home city. It's just not important and the people are just so nice. We don't go on vacation for the food anyway - we want a quality resort with great ambiance. We ate at the Tam as well and the food at the Divi edged them out. Paparazzi had good appetizers but the entrees were mediocre.
All-inclusive vs. not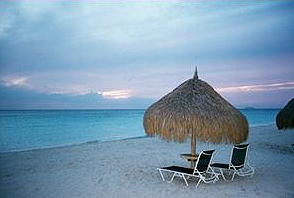 Since this was our first all-inclusive, we didn't know if we would feel like we'd really get our money's worth. Well we loved it and will probably do it every time we vacation. We are not huge eaters or drinkers but it was SO great to know you could go to the food area or bars anytime - no wallet or worries - and help yourself. We ended up drinking more than we expected because you just can't beat strawberry daiquiris as you relax on the beach. We drank more during the day and just had one or two at night. We did a price evaluation (estimating breakfast for two w/tip at $25, lunch $25, dinner $50 and drinks $50 per day), and we definitely feel the all-inclusive was worth it. We estimated high for the Caribbean prices keep in mind. We probably would've budgeted much more (and not have had as good as a time) if not on the all-inclusive - like drinking in our room and having a bagel for breakfast - but we feel that wouldn't have been in the true spirit of vacation.
Ambiance and people
The ambiance was true "barefoot elegance." The property is gorgeous, lush and well maintained and is not tacky one bit. The pools looked nice (although we never went in) and the grounds were tropical and inviting. We'd occasionally see iguanas near the bushes and grass and there were some flies around the eating areas but it wasn't a huge nuisance. There was a mix of people at the resort but was mostly older couples (50s-70s) and middle aged couples, some with kids. But there were VERY few kids overall. There were also couples in their 20s (we are in our late 20s) and we liked the age mix. We did not want a rowdy, spring break-style resort and the Divi is far from that. We met a lot of nice people from all age brackets. The entertainment at night was good and people danced and had a great time.
The rooms
We stayed in room 355 in the Casitas. We felt the Casitas were a great choice. We were literally five steps from the beach which was wonderful. The Casitas are like your own little house on the beach and they are angled toward it. The room was nice - a typical room in our opinion - clean and simple. We loved the location of the Casitas since they were more private (away from the main area where the buffet area and bars are) - at least ours was (the Casitas do start closer to the main area but we were farther away).
We loved being near the Sandpiper Bar - the smallest bar that is casual with chairs facing the beach (and two TVs at the bar for a dose of reality). The poolside rooms were extremely nice as well- they are an Mediterranean style design that was very attractive. You could see the water from their balconies although they are a lot farther from the beach obviously. The oceanfront Lanai rooms were very nice too since they are the only rooms at the resort that directly face the beach/water (as opposed to facing on an angle with limited view). We thought the Casitas were the best overall and will stay there again.
Overall comments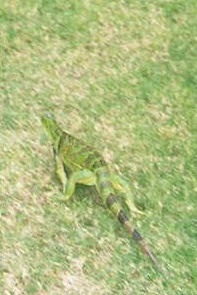 The Divi did everything right and is the perfect vacation. We are very picky and thought the beach was perfect as was everything else. We did not do any tours or sightseeing because we couldn't pull ourselves away from the Divi. We are beach and water lovers so we swam, sunbathed, went "body boarding" (they give you these body raft things that are great to ride the waves with) and windsurfed. We rode bikes into town one day and picked up some great deals on beachwear. But we missed the Divi's beach so much and if it wasn't for the incredible bargains, we would've regretted wasting that time in town!! There is just no need to do other things there if you are beach lovers like us.
We would've taken a snorkel cruise (we did regret not snorkeling…next time I guess) or seen the Natural Bridge, but other than that, Aruba is not a pretty island in general. The beaches are what make the island so attractive. There was no way we would've felt like missing a day at the beach for a jeep tour. But that's just our preference. A We are eager to travel to more islands but have a feeling Aruba and the Divi are going to be hard to beat. Our vacation was the perfect combination of our "wish list" and we can't seem to stop thinking of the wonderful time we had. Feel free to email us with questions at anytime.
Tara & Mike