Bucuti Beach Resort
August 26 - Sept. 16, 2001 by Stacy
Let me just preface this by saying that my heart goes out to those who lost loved ones in the tragic events of 9-11-01.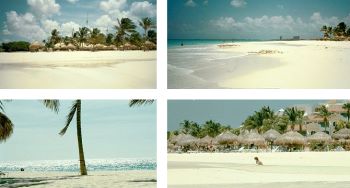 My wonderful 3-week vacation to Aruba was split into 2 parts - pre and post 9-11-01. It definitely made a divisive line for everyone. My thought and observations are at the end of this report.
GETTING TO ARUBA
Flew USAir from Philly to Aruba. The flight was on time and we had no problems. Cleared immigration quickly and got our bags. Cleared customs with no problem.
CAR RENTAL
Rented a Toyota Tercel for 3 weeks from Jansen Car Rental at the airport. Got a great rate over the Internet and the car was waiting for us. I'd highly recommend them.
HOTEL
Stayed at the Bucuti Beach Resort in the low-rise section of the hotels. Stayed here numerous times before and still love the place. The Bucuti is a lovely hotel with just 3 floors. Great views from all of the rooms. The service is wonderful and the staff is very accommodating and helpful. The hotel is directly on the most beautiful stretch of beach. There were always plenty of huts on the beach for shade. There is beach service, too, for drinks and lunch. The Pirate's Nest Restaurant is located at the Bucuti right on the beach. They serve a great breakfast buffet, lunch, and dinner. Also at the restaurant is the Sand Bar. This is a great outdoors beach bar. Happy Hour is from 4 to 6 daily - drinks are ½ price with the exception of beer, wine, and soft drinks. They also have snacks during Happy Hour. If you want seclusion and relaxation, this IS the hotel for you.
ACTIVITIES
Tried a massage, facial, manicure and pedicure at the Intermezzo Day Spa at La Cabana. (They also have other locations.) The massage and facial were a first for me. I didn't consider the massage anything to write home about, but the facial was WONDERFUL! I had considered going back for another before I left, but circumstances didn't allow it. The manicure and pedicure weren't great either. I had to go back to have my fingernail polish redone the following day. I wouldn't recommend them, as there are many other spas on the island and in the bigger hotels.
Went to visit the Donkey Sanctuary. I'm glad I went! Those guys are so cute! There are about 30 wild donkeys living there now. Some had been hurt and were brought to the sanctuary and some were rounded up to be taken care of before they got hurt. There were 2 babies there at the time. Cute! The donkeys are taken care of by volunteers. They take care of their ears, give then vitamins and medicines, and take care of any medical problems they have. They also have them fixed so that there is no inbreeding. They are opening another sanctuary near San Nicolas because they are running out of room. To hear the stories of some of the conditions in which they receive these donkeys is heartbreaking. What people do to animals is unbelievable. The sanctuary is open to the public on the last Sunday of each month. There is a Jeep tour that goes there too. You can feed the donkeys carrots and make your donation to help save them. You wouldn't believe how expensive hay is on the island.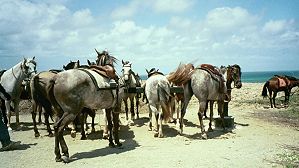 Went horseback riding at my favorite ranch, Rancho Notorious. Barb, the owner, just had a baby! Congrats, Barb!! The ranch is clean and well maintained. They have quite a selection of horses and all are taken care of very, very well. All of the employees of the ranch are extremely nice and helpful, even if you've never been on a horse. They take their time and make you feel comfortable and secure. I would highly, highly recommend them for a nice scenic ride through the Aruba cunucu. Wear sunscreen, long pants and sneakers. There's many a cactus out there!
Visited the Butterfly Farm for the first time in my 21 years of visiting the island and I'm very happy that I did. It was breathtakingly beautiful. Marco, our guide, went through everything you would ever want to know about butterflies! From caterpillar to death. There are many examples of different species of butterflies and moths from around the world. There are also examples of caterpillars and cocoons. They have cabinets where they store the butterflies that are just about to be born and those that were just born and are drying out their wings in preparation for their first flight. Once you pay your $10 fee and take a tour, you can come back and visit as many times as you like during your stay on the island. They have a cute gift shop, also. And remember, if a butterfly lands on you - make a wish!!
I really relaxed this time, so that's all the activities!!
RESTAURANTS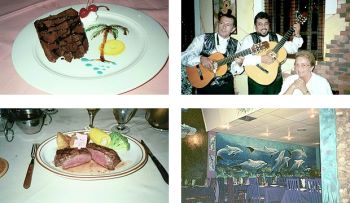 Here goes!
Salt-n-Pepper - near the hi-rises, specializing in tapas… like appetizers as meals. You can order as few or as many as you like and try a sampling of many different dishes. Great for sharing. Good service. Bill came to $42.50 for 2 people with out a service charge. 4 Amstel Brights @ $5 a piece (yikes!), glass of wine, 4 tapas, 1 big salad, and cappuccino.
Pirate's Nest (Bucuti) - Breakfast Buffet $12.95 per person - $29.78for 2 with service charge. Eggs and omelets made to order, bacon, sausage, ham, fruits, breads, cheeses, cereals, coffee, juice, and Champagne. You really fill yourself up!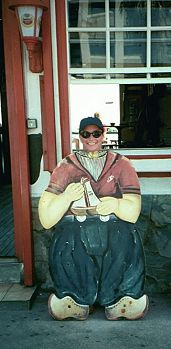 Eetcafe the Paddock - this is the restaurant downtown with the cow, VW and dinosaur on the roof. Good food and good service, fun place. Had lunch - 2 Amstel Brights @ $2.50 a piece (MUCH cheaper!), ice tea, tuna salad plate, order of fries, sandwich - $16.50 without service charge.
Marina Pirata - WONDERFUL restaurant! Quite a drive past the airport, but well worth it. This was the only restaurant we went to twice. You sit on a deck on the water and can watch the sunset if you go early enough, which I never did… Great service, very friendly. Bottle of wine, escargot (the BEST I have ever had in my whole life!!), shrimp cocktail, broiled lobster tail (they throw the shell into the water and you can watch the fish eat!), conch with oyster sauce, cappuccino - $79 without service charge. I would highly recommend this restaurant. The second time, I had the chef's special - fish (I had barracuda) with shrimp on top and gouda cheese melted on it with a Creole sauce - DELICIOUS!!!
Papiamento Restaurant - The atmosphere here is great - outside seating (or indoor) next to a pool (the pool was quite clean…). Service was great and the food was too. Bottle of wine, 2 pea soups, lamb chops, seafood pasta, cappuccino, and 2 desserts - $118 with service charge. Delicious meal.
Gilligan's (Radisson beach bar) - Had lunch - Amstel Bright ($4). Diet Coke, ice tea, chicken sandwich, fish sandwich - $31 with service charge.
Avallones - GREAT restaurant (the only reason why we didn't go twice is because they closed a few weeks for holiday). 2 glasses of wine, stuffed artichokes, Caesar salad, penne pasta and spaghetti (which my mother brought with her due to a wheat allergy) - $46 with out service charge. Tom, the owner and chef, was kind enough to prepare my mother's rice pasta for her in one of his delicious sauces. I'd highly recommend this restaurant!!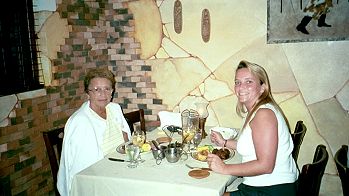 The Patio Café - Located at the Seaport Mall at the end where the tiger habitat is - had lunch - salmon salad plate, crab salad sandwich… and I forgot the rest - $21 with service charge, I think. Great place for lunch while you're shopping.
French Steak House (Manchebo) - The old stand-by… bottle of Asti, escargot, stuffed mushroom caps, chicken cordon bleu, filet mignon, cappuchino - $89 with service charge.
Le Dome - Disappointing. Nice atmosphere and great service, but too expensive for the food you got. Bottle of wine, 2 Belgian onion soup (prefer French onion), Caesar salad (split), duck a l'orange (chewy), lobster salad supposed to be a big salad, but was just a few chunks of lobster with a leafy decoration, cappuccino, 2 desserts - $92 without service charge. Totally expensive with small portions. The lobster salad was $19 as an appetizer or as an entrée. It was worth like $7 - you'd get more meat in a shrimp cocktail. First time trying this restaurant and probably the last. They closed for a few weeks for holiday.
Balashi Pool Bar (Hyatt) - Lunch - drinks, grilled salmon salad, grilled panini sandwich - $36 with service charge. Good food, but expensive! Hey, it's the Hyatt, what'd you expect?