La Cabana
March 2001 by Scott & Merriam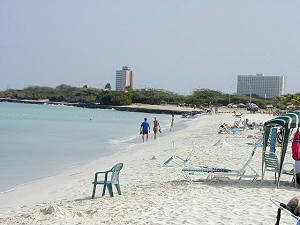 First of all, we would like to thank everyone who contributed to this BB as it was a valuable tool in helping plan our first trip to Aruba. We spent seven nights at La Cabana Resort on an all-inclusive option and now feel compelled to write our own trip report in exchange for the helpful tips we received from others.
Preparation
We booked this trip last fall with Apple Vacations and immediately began researching the island on the internet. There are many helpful sites to assist with your planning. We talked to friends that had been there and got good advice from our travel agent, who had also been there. We flew American Airlines and I called them a few days before departure and gave them the numbers from our birth certificates and this information was entered into their system, which apparently makes it easier when you check in at your departure city.
Getting There
This proved to be a bit of a headache for us. We live in Iowa and had to fly from Cedar Rapids to Chicago; had a two-hour layover; flew to Miami; had a two-hour layover, then flew to Aruba, arriving around 9:00PM. This made for a long day, considering we flew out of Iowa at at 8:30AM. The new airport in Aruba is similar to modern US airports and it was a breeze checking through and getting our luggage. On the flight from Miami, you get a perforated immigration card that you fill out and then when you arrive at the airport in Aruba, you give this to the agent and you get back part of it. Make sure you keep track of this stub as you will need it when you leave. We only had birth certificates and driver's licenses and this is all you need to get in the country. We got our luggage and walked outside and there was a DePalm Tour bus waiting that took us and several others to our respective resorts and dropped us off. This transportation cost was included in our package.
La Cabana Resort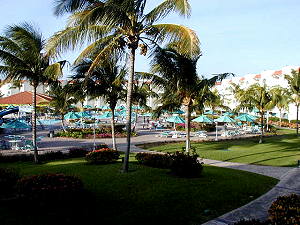 This is an awesome resort and the staff there is very friendly and helpful. We got checked in our room that night around 10:00PM or so and immediately walked down to the beach to dip our feet. After a grueling Midwestern winter this was what we really needed. We then headed to the outside bar by the pool and had a couple of drinks before settling in. Our room was on the fourth floor and did not have a very good view, so we asked the staff the next morning if they had something else and they moved us to the second floor with a view out over the pool, which was much better. Our room had a kitchenette with stove, microwave, and refrigerator. The one thing we weren't real crazy about was that the bed was a Murphy bed that folds up into the wall. We thought we would have a separate bedroom but apparently our package didn't include this. We figured we wouldn't be in the room that much anyway so we didn't worry about it. The rooms have cable TV; not that we went all the way to Aruba to sit around watching Nick @ Nite, but it was nice to turn on ESPN Sportscenter while getting ready in the mornings and follow the NCAA tourney. The resort has three pools and is right across the street from Eagle Beach. I read several complaints on the BB about having to cross this street to get to the beach but we didn't find this to be a problem at all. It's a divided boulevard and the local drivers are very courteous and many would stop and allow you to cross. The resort is very well maintained with a friendly staff. They also have a fairly decent gym that includes several cardio machines, circuit weight machines, free weights, and aerobic floor. My wife and I are both avid fitness buffs but only found one day to squeeze in a workout during the week. One other nice thing here is that each room has a small wall safe and when you check in they issue you a lock and key for it and it works great for safekeeping your wallet and travel documents.
Tipping
We used our own discretion as far as tipping goes. We were on the AI plan and gratuities are figured into the bill, but if we felt the service was especially good, then we would tip. We used this policy everywhere we went.
Dinning
We were on the AI plan so ate all meals at La Cabana. We were not disappointed in any of the food and felt there is plently of variety to choose from. There are four or five restaurants there and we liked the pool side grill the best as far as lunch goes. There were a few buffet spreads throughout the week and these were theme nights and very good food all around. We felt like this worked out best for us since we could eat what we wanted and didn't have to worry about running up a huge room bill. We did see several American fast food places on the island and there is an Outback Steak House right next to the resort. I guess it depends on your priorites as to whether or not you go AI but eating out isn't that big a deal for us so we were satisfied with AI.
Bars
La Cabana has a bar inside the lobby on the second floor and an outside bar near the main pool, where we spent way too much time some nights. There is always live music from a local band out there and was a really nice place to relax and meet other guests. The bartenders are very friendly and take pretty good care of the customers. There is also a small bar right on Eagle Beach that is part of La Cabana and you can get drinks while out on the beach. We even saw the staff waiting on people on the beach at times.
Beach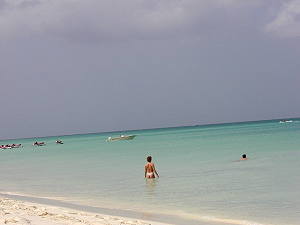 La Cabana is right on Eagle Beach and from what we saw this is by far the nicest beach there. It is fine white sand with plently of room and lounge chairs. There is even a bar on the beach that is included in the La Cabana AI. We spent most of our lounging time around the pools or on the beach and made it a point to walk down the beach every day. You can go to the southeast forever and we walked at least a mile or so in that direction past some of the other resorts like Costa Linda and Manchebo. As far as the dress code on the beach; we saw everthing from thongs (which most of these women had no business wearing) to an occasional topless sunbather. No one seemed to care and it was really no big deal.
Weather
We never saw a drop of rain the whole week and there was always sunshine and temps in the mid 80's. There are always passing clouds there but it was never totally cloudy enough to make it a bad day. We had heard many things about the wind there and found out that it does indeed blow pretty stiff. It was pretty constant at 20-30MPH the entire time but you just wear a cap and deal with it. The only bad thing about it was when it was hard enough to blow sand in your face on the beach. It certainly wasn't enough of a factor in deciding to go back or not. My wife wanted to make sure I suggest that ladies take a sweater along because it can get a little cool in the evenings with the wind blowing.
People
The people of Aruba are very friendly towards Americans, both in the resorts and outside as well. We never really ran into anyone that had a bad attitude towards the tourists, although they should, judging how rude Americans can be at times.
The Island
We rented a jeep one day and drove the entire island. We saw the California Lighthouse, Natural Bridge, Alto Vista Chapel, large rock formation, San Nicholas, Baby Beach, and Oranjestad. The roads are not very well marked and we got lost about a gazillion times but everyone we asked for directions was very helpful. You really need to do this at least one day because there are many interesting sights, especially on the wild, North coast. It is a totally different island there as compared to the Southern, leeward side. We rented our vehicle from Optima Car Rental and they have a satellite office right at La Cabana. A four-wheel drive Suziki costs us $69.00 for 24 hours with unlimited mileage. You only have to bring it back with a full gas tank. The gas stations on Aruba are pay before you fill. This was a little confusing at first but you just go in and give the clerk more than what you know it will take to fill it and then go back in for your change after you fill.
Oranjestad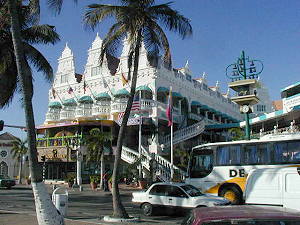 We loved this city and went there on two different days. We rode the city bus that picks you up on the main road between the La Cabana and the beach and this only costs you $2.00 each for a two-way ticket. It takes you right to the bus station downtown and then everything else is within walking distance. A cab will cost you about $8.00 each way and we liked riding the bus as it is usually full of tourists and locals alike. There are many very nice shops and malls downtown, all with an outdoor setting. Cruise ships port here and there is a long row of vendors set up along the main drag that sell t-shirts and other souveneirs. We bought a few things and felt the prices were no different than anywhere else. There are many restaurants downtown, especially along the harbor walkway. Make a point to stop in at Carlos n' Charlies over near the cruise ship port. It's a wild place and they sell great t-shirts. American dollars are accepted everywhere in Aruba but the coin change you get back is in local currency.
Communications
We did make a few calls back home to check on kids, etc. and we had heard the cheapest way to call is by using a Setar calling card. We bought a card at the mini-market at La Cabana and it cost about $8.00 for approximately 10-12 minutes. We later found that they are a bit cheaper at the Setar office in downtown Orangestad. This office is at the northeast corner of the Seaport Mall. The calling cards can only be used in certain public phones that are marked as such but they are all over downtown and there is one right outside the mini-market at La Cabana. There is internet service available on Aruba and I did use this a few times to send some e-mails and check a few web pages. On the third floor of the Royal Plaza Mall in downtown Oranjestad is the Cyber Cafe. They have several PC's in there and you can get about 30 minutes of internet time for $5.00. It's pretty nice place and they sell drinks in there. Be warned though because it is dial-up modem service and if you are used to cale modem or fatser like we are, you'll find that you use up most of your time waiting for pages to load. There is also internet service available at La Cabana but it is more expensive there.
Getting Home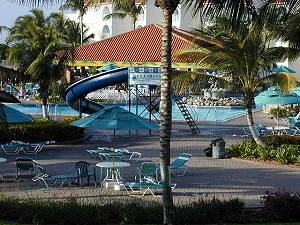 Our flight left Aruba at 9:30AM so we had to leave the resort by around 7:00AM. Again, the DePalm tour bus took us to the airport and this cost was included in our package. Customs at Queen Beatrix airport was a very smooth operation. We got there and checked in at American Airlines and then went through Aruban Immigration and Customs, as well as US Immigration and Customs. The whole process took about 15 minutes and no one looked in any of our stow away luggage or carry-on bags. They only asked if we had any meat, fruit, or vegetables with us. This is the only time you have to clear customs during the entire trip back to the US. We then had the same connections back to Iowa with even a longer layover in Chicago, but we arrived back in Cedar Rapids, Iowa around 11:00PM to blowing snow. My wife commented that just 24 hours earlier we were being pelted with blowing sand and now we're getting blasted with blowing snow. Welcome back to reality.
Overview:
All in all, we would go back to Aruba in a heartbeat. The beauty of the island, the people, the weather, and everything else make this a wonderful spot to vacation. If ayone has any specific questions please feel free to e-mail us and we'll try and answer as best we can.
Scott & Merriam