Renaissance & Hyatt
March 2004 by Joe & Tracy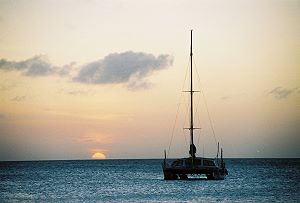 Here is a quick trip report for all of you. My wife and I spent six days there earlier this month (March '04). It was our first trip and we had a great time.
We travelled on a Monday and spent 2 days at the Renaissance, and then 3 days at the Hyatt with a work group on a reward trip. A lot of people have tried to compare/contrast the Renaissance with the high rise hotels, and I truly think it just comes down to what you're looking for. Both were really nice but completely different.
We were in the Marina Tower at the Renaissance, and saw no signs of construction. The rooms were a bit smaller than normal, but we spent almost no time there so who cares. I can't say enough about the staff at the Renaissance -- they were the friendliest, most helpful I have ever seen. One night we came back to the hotel around midnight, and my wife had a craving for some cheescake. We stopped a girl who was straightening chairs by the pool (just off the main lobby) to ask her where we could go to get some cheescake, and her response was, "Please just sit down, and I will bring it to you," completely stopping what she was doing to become our personal waitress. I'm not exaggerating when I say that every single Renaissance employee we encountered was friendlier than the friendliest at the Hyatt. There was a HUGE difference in the overall personalities of the two staffs.
The Renaissance island was really nice, very unique. We snorkeled right off the beach, and outside the rock barrier with no problems.
Dinners at Driftwood, Iguana Joe's, and El Gaucho -- all were very good. I have never seen so much staff as at Driftwood -- it seemed like one person for about every two tables, and they refilled water glasses faster than a Hooters girl does a beer glass. Food was excellent. Iguana Joe's was really good, but a much different type of place. We sat on the deck overlooking the street -- good food and atmosphere -- a great place for people watching. Went to El Gaucho with a group of 10. Steaks (and other meats) were excellent, while everything else was pretty standard fare. I kept hoping for a bit of original local flavor, but by the end of the week, I got the feeling that there is very little that is natively Aruban.
Rented a 4X4 from Amigo rentals for a day touring the north coast. Great people and service from Amigo, but the 4X4 was on it's last legs (it actually had 4 different types of tires on the 4 wheels). I kept wishing I had spent the extra $20 for a "real" Jeep. We also drove down to Baby Beach -- I honestly don't think they want you to find that place. A pretty place, but not sure it was worth the drive.
Our whole group (26) went on the "Taste of Aruba" snorkeling cruise on Mi Dushi. We had a great time, and the crew was great. Stopped at 3 sites to snorkel (all on the west coast) and had a ball.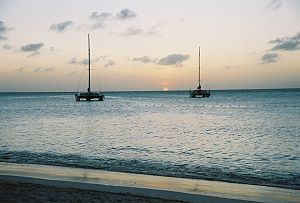 The Hyatt was all that it's cracked up to be. Everything in its place - very nice, very corporate. All in all, the Hyatt could have been picked up and set down anywhere else and it would have been exactly the same - a big, very nice but sterile property. A beautiful beach (with $50 daily hut rental), but it really lacked the personality that the Renaissance had (but I know that that is exactly what a lot of people want).
As much as we loved the trip, I doubt that my wife and I would go back to Aruba again, before we tried some other places first. When I travel outside the US, I like to get a sense that I've really gone somewhere foreign, and you just don't get that much in Aruba. The only Aruban money I saw all week, was a coin I found on the ground (no lie). It was rare that I even saw a price listed in their currency. The Hyatt was so Americanized, that it could have been on Hilton Head, and you wouldn't know the difference.
I'll try to include a couple pics. One of the catamaran pics makes a beautiful background for my desktop.
Joe and Tracy