Divi All Inclusive
September 26 - October 3, 2004 By By Brad & Courtney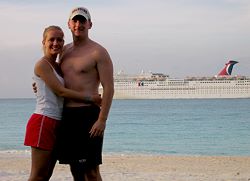 As a precursor to all of this,
this was our first time to Aruba and we were on our honeymoon. I want to thank all the people that submitted their own trip reports for it helped immensely in picking and shaping our trip! Also if there is any misspellings, wrong names used or not given…I apologize. If you have any questions feel free to email me.
Sunday (Sept 26th)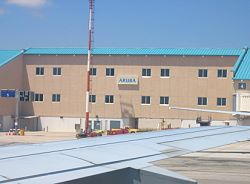 We left Philly at 9:40am and had a comfortable trip via USAir and arrived shortly before 2pm in Aruba. From reading prior posts when we got to the immigration line we headed for the far right and actually was able to go through the line for the pilots! From there we got our luggage and boarded the DePalm bus, which took us to our resort. When we got to the Divi (10-minute ride from the airport..max) we were greeted by hotel staff, very friendly! After check-in, we were told that we would be in the lanai bld and our room was 612. Upon entering the room we realized that: it was on the 2nd flr, the a/c didn't seem to be working all that well, and the phone didn't work. After talking about it we went back and talked to Vivian at the front desk and she was able to switch us to the first floor Room 615 in the Lanai bld.
The room was pretty much what you see on Divi's website, standard bathroom with two sinks and the tv is inside the armoire. The only negative thing about our room was instead of a king bed, we had two queens…, which was not a big deal at all! Most importantly the a/c worked great! The Lanai bld is at the southern end of the resort (about a three minute walk from the front desk and main bars), which for us was a plus. The beaches were never crowded and I never saw anyone saving huts, atleast not at our end. One thing I did like about the Lanai bld was our room opened right out to the beach and we were away from the main bars which at night that area can get quite loud. Also we were about a 4-minute walk from the Tam. The Tamarijn and the Divi are separated by about a 200-yard stretch of beach. This area was nice and never seemed to be too crowded.
At 4:30 we attended an orientation meeting for new guests and make sure once they are done telling you all about the resort (meal times, restaurants, etc.) that you leave. Because once the resort people are done, the time share ladies then step in and try to sell you on a time-share.
Monday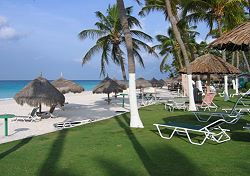 After waking up around 6:30 we opened our curtains to catch a Carnival cruise ship coming into port. This became a favorite of ours every morning watching the cruise ships coming into port. We got to breakfast at 7:30 and there was maybe only 2 other couples there (Breakfast runs from 7-11; lunch 12-3; dinner 6-9). The food was good and they have a cook there who will make you omelettes..mmmm! One thing you have to be careful about is never ever..ever leave your food unattended! There are birds that sit around waiting to swoop down and get their own breakfast! The rest of the day was spent relaxing and enjoying the resort. For dinner we made reservations for the Palm Grill at the Tam. Dinner was cooked right in front of you on your table (you cook it yourself) and you are seated with another couple. It was an experience, the thing we didn't care for is how hot you became because of the food cooking in front of you. Overall it was an experience though!
Tuesday
After breakfast we waited for the DePalm bus to take us to our Palm Pleasure snorkel trip. At 8:30 the bus picked up us and a few other couples and took us to the high-rise hotels. We were dropped off by the Hyatt and headed down a sidewalk to the dock where the catamaran was kept. The snorkeling trip, which was $59 pp., was from 9:30-1:30 and included 3 stops: a reef just off the coast of the Calif. lighthouse (9 feet deep), the Antilla shipwreck (50 feet deep), and another reef. The trip included lunch, which was a buffet to my surprise it was really good and they also, had a bar so you could quench any possible thirst that you might have. Let me add that the staff on the Palm Pleasure were great..fun, friendly and they seemed to really love what they do. While we were snorkeling at the Antilla, the Mi Dushi docked right next to us and let me say that the Palm Pleasure looked a lot nicer and seemed to be a better time.
Wednesday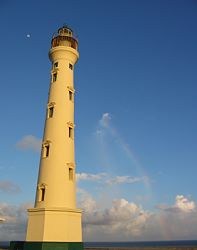 We mostly enjoyed the beach and collected some shells. That night we went to the Sunset Bistro (near the high rise hotels) for dinner. Its something that is included with the honeymoon package and you would think would be a quiet romantic evening. Instead when the Depalm bus picked us up, there were about 40 other couples enjoying this romantic evening also! When we got there we were given a glass of champagne and choose a table on the beach. We were fortunate to find a nicer table. Some couples were sitting at what looked to be card tables. Dinner was pretty good, chicken and some shrimp. The highlight of this was sitting about 6 feet away from us was a girl who I had went to college with. Her and her husband were honeymooning at the Tam.
Thursday
We decided to do some shopping on Thursday so the Divi had arranged for guests to be taken to downtown for a couple of hours. The only problem was we missed the bus. When we checked at the front desk they said we could easily catch a city bus (Arubus) just in front of the resort, next the Alhambra casino. We went out and within 10 minutes a bus pulled up and we were off. Round trip bus tickets for the both of us were $4. After we were dropped off at the bus station we walked maybe a block to where the main shopping area was. You cannot miss it, it is a 3-4 story pink building. But the best prices did seem to be right across the street where there were local vendors set up in more of a market style. After some more shopping we went back to the bus station and waited for our bus to pick us up. That night we made reservations at the Paparazzi for 6pm. We went over a little early and bought a 15 minute phone card at the Tam front desk for $10. I had brought a US calling card but was unable to use it there. Dinner at the Paparazzi was great. I had the lasagna, which was huge, and my wife had chicken with fettuccine, which she enjoyed. The one thing I did learn from our meal experience was the plates I guess they put in the oven with the food. Because midway through my meal I went to move my plate and received a nice little burn on my thumb. Besides that the Paparazzi was by far our favorite. After dinner, we used the phone right beside the shops at the Tam. It was pretty simple to call to home and my wife was able to talk to her parents!
Friday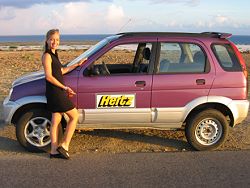 After breakfast we picked up our rental car at the Hertz desk in the lobby of Divi. The cost for a Toyota Terios 4x4 for 24 hrs was $82 (That was with the $15 insurance). After getting the keys we went out with the lady and checked over the vehicle. She marked down on a sheet of paper all the dents and dings on the car and then we were off. With a map supplied by Hertz, we headed east for the Natural Bridge. One thing I must say is besides the "main highways" (1A, 4A, 6A) in Aruba, there are no road signs. Knowing that going in, I assumed there would atleast be some signs for the Natural bridge, since that seems to be a big attraction in Aruba. Well I assumed wrong. What I did was I started heading in the direction that I thought it would be and eventually found a sign that pointed us down a road. At the end of the road we passed the Ostrich farm, then came to a dirt/clay road that had the RUINS and then we just followed the tour buses to the right towards the Natural Bridge. It was a good 5-10 ride to the Natural bridge. We absolutely enjoyed it there. It was well worth the trip Let me add that any type of vehicle can go to the Natural bridge with no problem. After the bridge we then left to find the Natural pool. We seemed to spend most of our time not on roads, but instead using our 4 wheel drive. After many failed attempts to even find the natural pool, we came across another couple who said that a native had told them it was over some hills and about a 25 minute drive. Me being the adventurous type thought this should be no problem. After about 15 minutes into it and constant bouncing around in our lil suv, I was apologizing to my wife! When we got to the top of the last hill/mountain the guy in the other vehicle looks down and says he see no way of getting down, it looked too steep. Also, we still couldn't see where exactly the infamous natural pool was. About that time 3 jeeps painted yellow (apparently a groups) come up behind us and proceeded down this steep part in which we thought was impossible. After a few seconds and a not so happy look from my wife, we followed/bounced our way down. When we got to the bottom we parked and made our way to the edge and saw first hand the natural pool. We then looked at each other and got back into car and headed back out! Down numerous steps you come to some rocks that protect this little pool somewhat from the ocean, the natural pool. When we saw it, we realized it was not what we had expected and did not feel like going down to take a dip. Instead we left and headed for our next destination…Baby Beach. When we first drove up to Baby Beach we were at the overlook where you can see Baby Beach on the left and Rodgers Beach on the right. We were able to get some pictures in and then headed down for some snorkeling. If you do snorkel there make sure to go out by where the bay of Baby Beach meets the rocks. There's a ton of fish! After Baby Beach we took highway 1-A back home. That night for dinner we ate inside at the Red Parrot. The food there was good and the wait staff was exceptionally friendly.
Saturday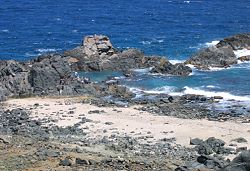 We woke up early (6:15) and jumped in our car and headed up to the Calif. Lighthouse. At this time in the morning it only took us maybe 15 min to get up there. The view from there was incredible, we were able to watch the sunrise in the east while enjoying the moon and a RAINBOW in the west! After taking several pictures we headed to downtown to get a few more pictures and do some looking around. At 9 am we returned our Toyota and spent the rest of the day enjoying the beach. For our last dinner Sat night we ate at the Paparazzi and another good meal.
Sunday
With checkout looming at noon we decided to wake up early eat breakfast and get as much beach time as we could. So around 11 we came back from the beach and finished our packing. At 11:45 we called the front desk and they sent a bellman to pick up our luggage. After checkout we were able keep our wrist bands and still enjoy everything from food to drinks. The resort also offers a courtesy room for guests who are leaving later in day to shower freshen up before they leave. Unfortunately for us, the DePalm bus picked us up at 12:30 and we were at the airport in about ten minutes. We were at first going to wait to go to the airport until later, because I originally thought getting to the airport 3 hours before our flight would be way to early. Well after getting there and taking an hour and a half to get through checkin, Aruba Customs, US Immigration (this is helpful b/c when we arrived in Philly we were able to get off the plane and go straight to baggage), I realized it was probably better that we decided to leave early! Our flight took off at 4:15 pm and arrived back in Philly at 8 pm.
THINGS OF INTEREST: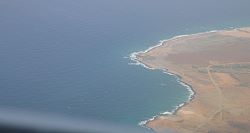 Divi resort
Loved it! The food/drinks were great, we are not drinkers so we don't know how strong the drinks are. The rooms were average, but the view absolutely breathtaking. The staff were always friendly and helpful. If we had to do it all over again, we would not change a thing!
Tamarijn resort
Food was great, the view from the Cunucu buffet was a lot better than Divi's buffet. They are under some construction right next to the lobby area, but that seems as if it will be done in a month or two. You've gotta try the 30 ft rock climbing wall!
Downtown
Definitely take a day trip and do some sightseeing and shopping. The market shops across from the main shopping area seems to have the better deals. Some of them you can even bargain with!
Aruba Palm Pleasure Snorkeling
We loved it! $59 per person, but that included 3 stops and lunch. Antilla shipwreck was great to snorkel over. Staff was great and the catamaran was awesome.
Natural Bridge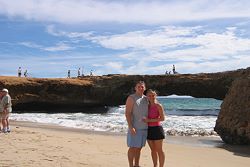 Definitely worth your time. It's not too far from the hotels and that side of the coast is a lot rockier with cliffs and the waves are a lot bigger.
Natural Pool
Don't waste your time, too long of a ride, too rough and not much to it. Spend more time enjoying the rest of the island.
Baby Beach
An awesome snorkeling spot. Its not very deep, in the little bay there are no waves and did I mention lots of fish.
California Lighthouse
Definitely take the time to drive up to it and see it. It overlooks the golf course and the ocean..you cant beat that!
Aruba
Loved it, loved it, loved it!! If you haven't been you need to go!