5th Trip to Aruba - La Cabana Beach Resort
December 1 - 8, 2012 by Susan
Aruba Forum Profile: Susan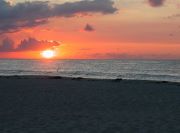 Our vacation started out in Boston on 11/30/12. We have been doing park stay and fly for the past 3-4 years with the past 3 years staying at Logan (Boston). This year we stayed at the Embassy Suites. We got there around 2 pm-checked in, dropped off our luggage and headed into Boston for dinner/drinks-we are officially on vacation!
Our flight was for 5:30 am on 12/1/12 so even though near the airport we still had to get up VERY early! We were at the airport by 4 am for our US Air flight. They were much more organized than in the past and we got checked in quickly and then off to wait for our flight. Our flight left on time and we got in early to Philly. We had an hour layover so no time to linger and that flight left on time as well. We landed in Aruba probably a ½ hour early!! No lines at all in immigration!! And our luggage came out quickly. We did have to wait to meet up with Hans (Tropic Car Rental) but not his fault. As always he was there on time and we spent some time chatting as the car he was giving to us got back to him a bit late. We got a brand new Hyundai Accent!! Well, pretty new! Off to the LaCabana!!!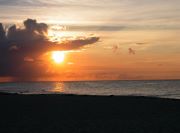 No issues with traffic and we were there by 2 or so and checked in right away. Same room as last year – 440C-4th floor overlooking the pool and the ocean! Unpacked, changed into Aruba clothes, off to the new Superstore!! It was packed! Parking is a bit tight but we managed to find a spot after not too much circling. The store was great. I love grocery stores so I could have spent some time wandering but SO, not so much so we got what we needed (we spend about $110 US for 2 cases of beer and snacks). We were hungry at this point so we went to Pizza Bobs-salad, pizza and Balashi! Then back to the hotel, grabbed a happy hour frozen drink and down to the beach. After the long day, we ended up back in our room and were done for the day.
Our days were pretty much the same, beach, snacks, balashi/chills, shower, dinner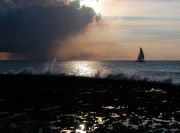 Our room was missing the in shower soap/shampoo dispenser but that was fixed ASAP. The TV in the living room was missing but we did not even say anything as not a big deal to us and at some point during the week we noticed there was there-who knows when it showed up. We had no issues with any construction noise. I love the fact they removed the carpet in the hallways-no musty smell. They are still working on painting the hallways. The housekeeping was excellent all week! The casino opened on Thursday (we had been told it was going to open all week). It is nice and not smoky yet


I am not sure but I am thinking we might have been the only ones tipping the waitresses as one chased us down to give us more drinks that we had not even ordered


The bar there looked very cool but we never went down there. We contributed to their profits but overall we probably spent an hour or so between Thursday and Friday night. Overall the resort looks great.. We only ate at the resort for one breakfast and once for wings for a snack-it was fine. The rest of the week we just grabbed Dunkins for breakfast and headed to the beach.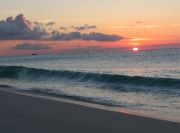 We did (ok, SO did) get up early for a palapa. But we are early risers anyways. SO got up, got our palapa, came back to the room, we showered, hit Dunkins, and then off to the beach. We went to Arashi Beach one day-I love that beach. We rental loungers there - $5 each-totally worth it! And we went to Baby Beach one day as well-$7 each for loungers there-still totally worth it! We had brought a collapsible cooler and it was worked great for us. Every day we would pack up our beer and snacks and we were good for the day. We only spent one afternoon at the pool. It's nice but just not for us. But we did partake of happy hour on the beach and at the pool. One afternoon before dinner we went over to the Amsterdam Manor for Happy Hour-we really enjoyed ourselves. Stef was the bartender-he was so personable and he made our drinks as we drank them so they did not 'melt'. We also had some wings-they were yummy.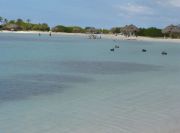 We did go downtown and shopped a bit. We did that a couple of days. Of course we stopped for drinks/apps at Iguana Joes-it's a tradition. We also went to the high rise area a couple of afternoons.
We met some great people on the LaCabana beach and every night we all ended upon the beach for the sunset.
Food
We had lunch one day at Bugaloe's-I enjoyed my fish sandwich, SO did not enjoy his lunch-oh well you cannot win them all. The drinks were good.
As always we did SO's birthday dinner at Madame Janette's-it was great as always. We did not have any issues with service, portion size, etc. SO had the tenderloin and I had the shrimp. I also had the potato gratin which I love. No dessert. I had not felt good that whole day – not sure what was up so even though I enjoyed the dinner I was sad I did not feel the greatest. That whole day was a bummer for me.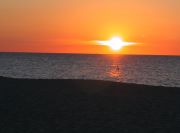 We ate at Smokey Joes 2 times-SO loves their ribs. Our new restaurant this year was Chalet Suisse-we both really enjoyed it. SO had the ribeye (I think-I recall it being bone-in) and I had the beef stroganoff-it was YUMMY. I also had the crème brulee for dessert – it was one of the best I have had. One night we had dinner at Mulligan's. The atmosphere is really nice and the food is good. The one restaurant that was not a hit was Hostaria Da Vittorio. I enjoyed it more than SO and I understand why. He ordered the chicken parm-it does not come with any pasta so he asked for a side of pasta-ziti. It came and it was a small bowl of ziti with sauce. When the bill came - $20 for that. Really?? Oh well, live and learn. It probably did not help that we were seated next to a couple with a young child (5ish??) who was pulling at the Christmas lights, picking up the wine bucket, etc. Very distracting.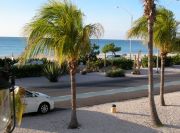 We had the BEST weather in all of our trips to Aruba. And beautiful sunsets. We only saw run form a storm that was out to sea. We also saw a water spout try to form off this storm but it never connected with the ocean.
Was that way too much info-if yes, I apologize. I ramble in real life too-sorry


We have already emailed the unit owner that we have rented from the past 2 years and are keeping our fingers crossed they will want to rent it again in 2013. We are really thinking 10 days in 2013.