19h Trip to Aruba - Amsterdam Manor Beach Resort
April 11 – April 19, 2009 by ~Amy~®
Aruba Forum Profile: ~Amy~®
Saturday Arrival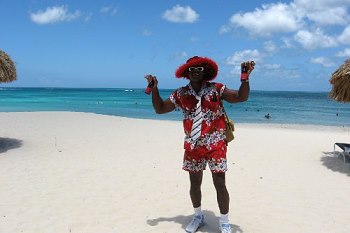 Used my United frequent flyer miles for First Class seats from Minneapolis for my flights (MSP-ORD-AUA) – nice, comfortable seat and no one in the seat next to me on the flight down plus great breakfast and drink service. All was well until we had just left the U.S. and were barely over the water – we had a medical emergency on the plane so we had to turn back and land in Orlando. Sounded like the guy might have been having a heart attack (luckily we had an ER doc and an anesthesiologist on board to help.) They cleared the runways for us in Orlando and we landed fast and medical personnel were on board quickly. They took him off the plane (hope he's okay), we refueled and were back in the air in about 30-45 minutes. Then we had medical emergency number 2 when we were about 15-20 minutes from Aruba so we just landed and the medical personnel came on board for him, too (apparently it was some sort of seizure.) All in all, we were only about 30 minutes late getting in though. Just a very bizarre flight....was happy to be in First Class with plenty of comfy room.
Picked up my car from Optima/Payless and I got a......ready.....not a white but a RED Yaris (it was nice to see a different color for a change – and easier to find in the parking lots, too.) Never knew they made red ones! LOL! Took their shuttle service from the airport to pick up the car. Optima is changing their name over to Payless which I didn't know and almost walked right by the guy with the Payless sign – but I stopped to ask him where Optima was so I got lucky when I asked the right person.
Stopped at Kong Hing on the way and got my groceries (and liquids) and checked into Amsterdam Manor at about 4:30pm.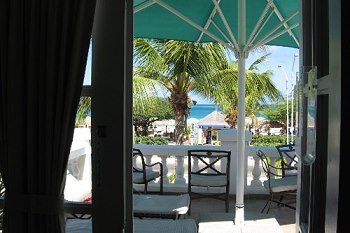 We booked our usual 2 bedroom/2 bath (my girlfriend was arriving the following day.) The accommodations are always exactly as I remember them: large rooms, nice décor, all of the kitchen amenities you could want, and always spotless. Had a nice bucket of Amstel Brights on ice waiting for me (I love Marc!)
Had a couple of Brights on the balcony and then went to happy hour at the pool bar....which is where I stayed ALL night (ordered dinner from Mango's at the bar). I was still there at the next happy from 9pm-10pm (I felt it was my official duty to keep the bartender company between happy hours.) Met a lot of people at the bar that night (some were staying next door at LaCabana)....and then crawled into bed around 11pm.
I was also able to cross off "hangover" on my list of things to do the following morning!
Sunday
First day I just hung out on the beach and headed to the airport around 2:30pm to pick up my girlfriend who was flying in from NY. Got there a little too early and circled and circled and circled….finally saw a little bar on the side of the road within the airport just as you're headed to the main road. I kept contemplating stopping in for a drink since they had a few parking spots next to it but I knew my girlfriend's cell phone didn't work in Aruba so she'd have no clue that I would be there waiting for her. But I think we may have to give this new "pick up location" a try next time so that the person doing the picking up can have a place to park and a beer while they wait. So after we got back to Amsterdam Manor we sat on the balcony and had a few Brights until happy hour and then had a few more at the pool bar (can't pass up 2 for 1 drinks.) We decided on Tulip for dinner since it was just down the street. Well, we could have walked to Tulip faster from Amsterdam Manor than driving - the road in front of Eagle Beach was bumper to bumper cars from the Easter Week campers - it was crazy...but fun! People just hanging out, playing cards with family and friends at tables set up by the lights, music, etc.....
Had a nice dinner (and inexpensive) at Tulip (Keshi Yena was great). We saw Donald working there and it happened to be his birthday so that was good timing on our part. We were "home" and in bed by 11pm. Have to get our energy back for a "bar crawl" later in the week.
Monday
The following morning proved to be a little interesting…..it started with a little lizard visitor on the balcony that we had to shoo away from our door (we always leave the door open.) But when I was inside talking on the phone I turned around and there he was sitting on the back of the couch like he owned the place. He did not want to leave and wasn't the least bit afraid of us. I ended up picking up the cushion off the couch with him on it and walking out to the balcony - he still refused to get off the cushion. I finally took a magazine and pushed him off and he scampered off toward the stairs but not without giving me one last look of disgust over his banishment from the room before heading down the stairs.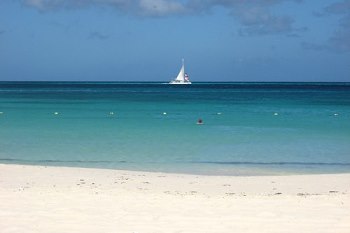 This was a beach day and we used the new flag service that Amsterdam Manor now has to order a pizza. A beach attendant comes by around 10am every morning and snaps a little red plastic flag (SOS flag = Signal of Service) onto your lounge chair. You just need to raise it up if you want a drink or food and they are right there to take your order. We got a delicious pizza to go with our Brights for lunch.
Had a GREAT turn-out at the bulletin board party later on for happy hour and met alot of really nice people. Also met Milie's mom who lives on the island (what a sweetheart!) and I bought her the first Mojito that she ever had – and she loved them!
Then off to Bingo for a great dinner (fish special was grouper in a sun-dried tomato sauce - we were both in food heaven that night! Hope they put it on the regular menu.) Had a couple of glasses of wine, talked with Frans for awhile and then went to Diego's new bar down the street. Met Diego's brother, had a beer and then off to Soprano's where we met Barry who was performing there and Tammy who is Soprano's new owner (great people!) If you have a chance definitely stop in to see Barry sing the next time he's playing in Aruba! He, of course, had to sing the one and only "Amy" song that he knew (and the only one I know): Amie by Pure Prairie League.
Tuesday
Another beach day….beach, Brights, and a book was all I needed to make me happy!
Tonight we stopped at Lizzardo's (Liz) house to drop off some items for the rescued kittens she takes care of (some powdered kitten milk and some toys), got to meet Liz's "zoo", and my girlfriend fell in love with one of the 5 week old kitties for adoption. She had him all snuggled up on her shoulder and I decided to take a photo from behind with his head peeking over her shoulder. Well, I think the flash on the camera startled the poor little thing and the next thing I know my friend, Kim, is talking about something "wet". Yes, the cute little thing relieved himself all over her shirt. Never a dull moment in Aruba! Liz was a sweetheart and gave her a shirt to wear and threw Kim's in the wash. I don't think we stopped laughing about this for the entire trip!
Dinner was at Salt & Pepper which was the quietest I've ever seen that place. The courtyard tables were only about ½ full. Then we met Christian from Aruba HeliTours at Rembrandt's for drinks. Had a reat time at Rembrandt's and then decided to pop over to the new Hard Rock Café and check it out. The Hard Rock was very nice (we stayed at the outdoor bar) but also very "dead". Brights at Rembrandt's were around $3 and the Brights at the Hard Rock were about $6…you can probably guess where we spent most of our evenings.
Wednesday
Yet another beach day. Tonight we went to Madam Janette's for an early dinner (early for us is around 7pm.) It was actually still light out when we got there. Didn't have a reservation but no problem getting a table and we were seated right away. They did get busier as the night went on but we did not have to make reservations anywhere on the island for dinner. Jorge (who used to be at Yemanja) saw us and moved us to his section so he could be our waiter. Also met some new friends from MJ's and next thing you know we were there until about 11pm at the bar having a good time. We were sent on our way with 10th Anniversary MJ t-shirts and hats! Oh, and the food was wonderful (I even stayed healthy there and had one of their "Caribbean Delight" dishes - have to save all my calories for beer during the day.)
Thursday
My girlfriend and I went to the Bugaloe for lunch before I took her to the airport. I swear that place has the COLDEST beer on the island (and good food, too.) After she left I was on my own for a couple of days.
Dinner was at Passions with a good friend. Always have a great dinner at Passions – good food, good conversation, and a spectacular view! Then I met Jorge at Rembrandt's for drinks…and we talked and talked and talked….until 3am at Rembrandt's. Fun night!
Friday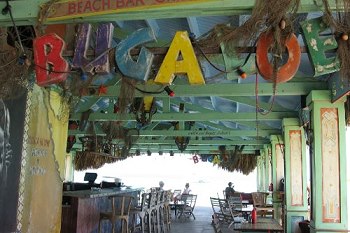 The fun started in the morning….a tiny gecko peeking out of the toaster at me (scared the you-know-what out of me as I was about to put my bread in.) Almost had toasted gecko for breakfast!
And I had a "companion" who shared my shade (both under my palapa and under my chair) for most of the day - a sweet dog who wouldn't leave my side. Actually found out that she followed a Dutch couple to the beach and she belonged to their neighbors. The couple that I met worked at Pam Pam Restaurant (he was the chef). I wish I would have had time to eat there before I left but hopefully I can try it on my trip in Sept.
Dinner at Chino Latino tonight – it was nice to have something different to pick from other than steak, fish, etc. Relatively inexpensive, too, so will definitely be going back. Also walked by Papillon and looked at their menu. Looked like a very nice French restaurant but just too romantic for dining alone so I'll save that one for Sept. when I can go with my husband. Had a few drinks afterwards at Bingo with "the Bingo boys" and then home to bed (was still trying to get back to normal from my 3am night.)
Saturday
Another beach day. Weather had been perfect every single day (sunny, windy, and barely a cloud in the sky) except for one late morning. We had a few clouds and a few raindrops while on the beach but all cleared up within a half hour and it was back to being perfect again. It was good book reading weather and I started and finished "An Island Away" while in Aruba (good book – it made me crave a cold Balashi on tap at Charlie's Bar again after reading it.)
Tonight I decided to go back to Mango's again for dinner. Picked a nice table by the fountain and had a great dinner and a little champagne to end my trip.
Sunday Departure
Had my last walk on the beach and a Mimosa on my balcony. Returned the car to Optima and they shuttled me back to the airport with no problems. I gave myself 2 hours to get through all of the lines and I had about 15 minutes to spare by the time I got to the gate. Nice seat in first class again and was on my way back home…..and am now waiting for our trip in Sept. which should be a lot of fun. Have a lot of fun things on the agenda for Sept. including a wedding, some pre-wedding parties, and a few drinks at Charlie's with an author.
Once again, many, many thanks to the wonderful staff at Amsterdam Manor for making me feel at home and to all of the friends who made me go out with them for drinks or dinner….my arm is easily twisted.