Radisson / Playa Linda
March 6 - 16, 2008 by Happy ToGo's (a.k.a Tynne)
Aruba Forum Profile: HappyToGo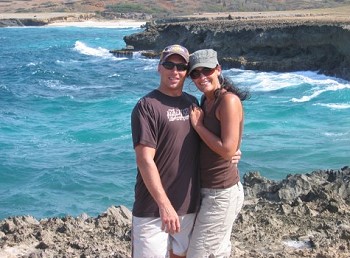 Whoooaaaa… Everyone says "Another Aruba Trip"? Well what can we say we love it there. It's starting to feel more like a 2nd home than any other place we have ever been. Nothing wrong with that at all. For those of you who are ready to read a detailed report of fine dining and excursions, you might want to stop reading right here…Sorry to disappoint. We don't seem to do the traditional vacation activities in Aruba anymore. Get comfortable… here it goes…
This is our 6th Trip to Aruba since Oct 2004. In fact it is the 3rd trip in the last 8 months, but who's counting? According to Dave, I AM! I was so excited to check the "6 or More" visits on the Immigration Card I had him take a picture of me checking the box!
We left the afternoon of March 6th from Chicago, O'hare. We flew American Airlines connecting ORD to MIA to AUA. Flights on the outbound were pretty good, we actually got into Aruba 30 minutes early. This was the fist time that we arrived in the evening, it was a new experience seeing all the lights as we approached the island, but we knew that it meant one day of vacation was over already. Our luggage was the first off the belt, a good sign already! Got a taxi and headed to the Radisson for the first few nights of our stay.
Radisson- March 6th- 9th
This was our first experience with the Radisson in Aruba. We used GoldPoints for our 3 nights there. I was a little concerned what type of room we were going to get since we were not really paying for it. To my surprise we had Room 2312. Check in was very smooth and Israel (Bell Man) took our bags up to the room…great guy. Every time we saw him he asked us how our stay was and if we needed anything. The room was a standard hotel suite, Radisson Style. I was pleased with the balcony and the bed was super comfortable. The bathroom was small, but still very well kept. I'm not to picky when it comes to the room as we are in it very little while we are in Aruba. I had requested a refrigerator in our room, it wasn't there when we arrived, but one call to the front desk and it arrived about 30 mins later.
The next morning we located the Business Center and were pleased to find free internet access. We sent an E mail home to let everyone know we made it. Our next stop was to the Lobby to pick up the Rental Car from Royal. They arrived on time with the car, but without our free cell phone. We were told that the phone would be dropped off the following day…I've heard that before so I wasn't holding my breath. Instead of dragging the free cell phone story out over the whole trip I will just tell you now that we never did get our phone even after a few E mails to Ardley and a 2 phone calls to the Royal Office. We just said forget it and bought a calling card. No one ever needs to reach us anyway so we figured they had the hotel numbers and that was good enough. I still think that Royal is the best company to rent from, the rates are good and vehicles have always been what we needed so I would recommend them to anyone in the market for a rental car…we have rented Jeeps and Economy Cars from them over the years. Price for the week was $174 Credit Card or $165 cash( Mitsubishi Lancer).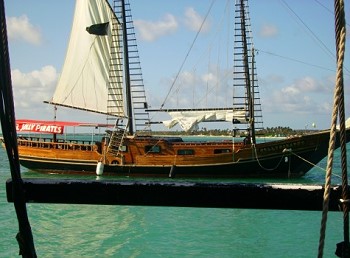 Off to the Bucuti Cam to rub it into all the family and friends that we were toasty warm and didn't have a flake of snow in Aruba. We were there Friday March 7th - Our sign read "READY SET DIVE" and that's what we were itching to do! First dive was scheduled at 3PM that afternoon so we had plenty of time to do some stuff on dry land. We went downtown and did some shopping. Dave bought a new Citizens Dive watch from Gemani's and got the best price there. This is the 2nd Dive watch we have bought there( I stole Dave's first one) and they beat all the other prices by about $50! Feeling good about getting some of the shopping out of the way we headed to the grocery store. We had never been to Hong King so we made our way there. Nice market, I still think I like Super Foods or Ling & Sons the best. Bought just enough to get breakfast for a couple days and a few snacks, remember we are only at the Radisson until Sunday and then off to Playa Linda and a full kitchen. I think total for groceries for the 10 days was about $90. We always eat breakfast in and sometimes lunch.
Okay, so now here is where the Scuba Divers will be interested and those who haven't been diving may or may not care… I put all the DIVES in this sections so if your not interested you can scroll through it!
Dave & I are Advance Open Water Divers. Dave is also a Wreck Diver, I want to get my PADI Photography Certification. As you can see from my pictures, I'm not afraid to take A LOT of pictures. Its very addicting once you start. This was my first trip with the External Flash for my SeaLife DC600. I loved it. I learned a lot just by playing around with it. I was pleased with the results.
We dive everyday while we are in Aruba, most days at least a 2 tank dive. Here is a list of the sites we went to on this trip and some of the highlights.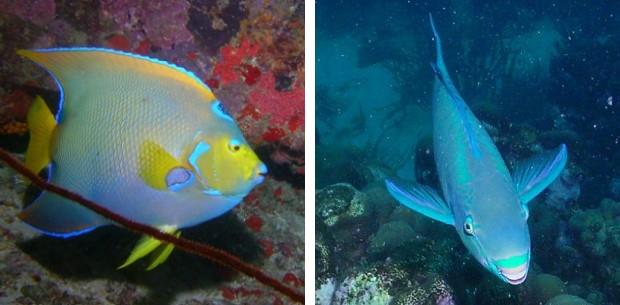 Dive 1 - Antilla- Max depth 54 ft


Bottom time was 45 mins. Water temp was much cooler than we remember on past trips. According to our log we were diving in an average of 82 on the last 2 trips to Aruba. Our average temp for all of our dives this trip was 78! That is a noticeable difference. Friends at Unique Sports warned us about it the week before we left, but to late to get another wetsuit. I normally dive with a full 3mm, but it needs to be altered and I didn't have time to get it done. Before we found out about the cooler water temps I bought a Full 1mm and a 2mm Shorty to bring with me. Dave always dives in a 3mm Shorty and he is fine. Back to the dive… Antilla was great as always, lots to look at. My favorite was the Octopus! Saw a couple of resident Green Moray Eels too. VIZ was average at the Antilla.

Dives 2 & 3- Jane C Wreck (94 ft) & Barcadera Reef (53ft)


This 2 tank South Coast dive is one of my favorites. I love the Jane C Wreck. I love the way the ship is sitting, just like it could rise up and take off again. Dave saw a Sting Ray off in the distance, but I wasn't lucky enough to catch it. Did see a few French Angle Fish as always. The Barcadera Reef was a slow drift dive and very nice.

Dives 4 & 5 - Dark Mangroves (91 ft) & Barcadera Reef (68ft)


Another South Coast dive. This was our first experience at the Dark Mangroves. The marine life was great, probably the highlight was about 5 mins before we made it to the dive site we saw a large pod of Dolphins. We were hoping to get geared up and in the water before they passed us, but we had a large group of divers and it was a live entry so not everyone was ready to go… I would have loved to swim with them!

Dive 6 - Antilla (53 ft)


This was dive #3 of the day so I was getting a bit chili, but the scuba diver in me said " You can do it"!!! Today the current at the Antilla was very strong especially going through the crack of the ship. I normally come up with about 1200-1500 PSI and this dive I came up with 900. I was really working hard down there. Not my favorite dive on the Antilla. We did see a HUGE Parrot fish there, had to be about 4 feet long! I want to say 8 ft long, but I know that would be pushing it! Humm I guess divers ca have a "fish tale" once in awhile too. With current so strong the VIZ wasn't the best, especially for taking pictures. You can probably pick out the pictures at the Antilla with all the fine particles in them. That would be this dive!

Dives 7 & 8 - Tug Boat (87 ft) & Harbour Reef (50ft)


These 2 dives were new to us as well. I was surprised at how much marine life was right there so close to were the Cruise Ships ect come in to port. We saw a few eels, 2 Scorpion fish and lots of other fish that I had never seen before. The TugBoat itself is very small, but lots of neat stuff to look at on it. Found a few bottles attached to the boat.

Dives 9 & 10 - The Fingers (123ft) & South Coast Somewhere (50ft)
( Maybe Sponge Reef?)


We had never been to The Fingers and it is a dive I will do again! The VIZ was AWESOME, probably the best of the week. My dive computer is set to alarm me when I hit 100ft, well I was being an irresponsible diver (oops) and following an eel and next thing I know that annoying beeping was me… Checked my depth…118ft..OMG its MY ALARM going off! With such good VIZ I couldn't believe I had gone down that fast- 123 was max. We were really sucking a lot of air so time to level off. Our dive master told us that we had the best chance to see Sharks at that South Coast dive, but no sharks that day. Beautiful Reef /Slope though… if you haven't done it, don't miss it! The second dive was somewhere on the South Coast and I'm sure I took about 60 pictures there too.

*Dave did the Pedernales Night Dive without me. I was just too cold and had a little sunburn which doesn't help the chill. He said it was the best Night dive he has done. They saw an adult turtle and a smaller turtle sleeping. I was very jealous, but no pain no gain right. I learned my lesson. He got some great pictures of both turtles. Even swam right along side of the adult one and touched its shell. Also some chatter on the boat about spotted eels hunting, parrot fish sleeping in their sacks and some lobsters I had never heard of before. All in all an experience I was sad to have missed.

Dives 11 & 12 - De Palm Slope (118 ft) & Sponge Reef (61 ft)


First trip to De Palm Slope for us. Very nice easy dive. Even though it was one of the deeper dives we did it was very relaxing. Current was moving pretty swiftly so it made taking photos a little more challenging, but VIZ was good. Used a lot of air on this dive… came up around 700 PSI. We saw the Atlantis Sub coming up after we surfaced so we played around 10 feet and at the surface for a few minutes to get an better look at it. Last dive of the week was the Sponge Reef, always a nice dive. We ended at the Airplanes which was a nice way to end the dive.
So as you can see we had a lot of dive experiences on this trip. This will make our totals- 31 Aruba dives for me and 34 Aruba dives for Dave. We know there are other and I'm sure better places to go scuba diving, but we have more fun in Aruba because of the Unique Crew who have quickly become good friends of ours. We look forward to hanging out with them while we are there.
Play Linda Resort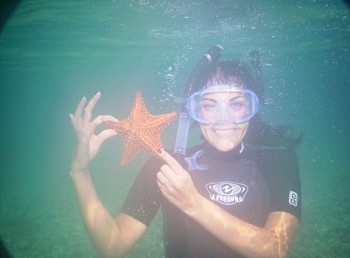 We had a nice stay at the Radisson, but all good things must come to an end and we moved to The Playa Linda on Sunday. We checked in and dropped our luggage around 8AM before our morning dives. We were told that they would do their best to have our room cleaned immediately after the pervious guests checked-out. We were also told that our luggage would be brought up to our room when it was ready. When we returned from our dives we were happy our room was ready, but we had no luggage. So I called down to have the Bell Man bring it up to us. They said they didn't have it and assumed that it was on its way to our room right that minute. SO we waited about 20 mins and still no luggage. Called the Bell Desk again and they said they had NO idea where our luggage was!!! WHAT!?!?!?! I flew down to the front desk to get this figured out and they told me I would have to talk to the Bell Staff…as I was walking out to the bell desk I noticed ALL my luggage was sitting in the small lobby area between the entrance and the main lobby! It had been sitting there ALL DAY!!! I was not a happy camper! All I could think of was someone could have walked off with all of our stuff and no one would have known! I was also thankful that I had taken all of our important stuff with us on the dive boat. After speaking to the Bell Staff about it they said it was the manager who accepted our stuff that early in the morning and he didn't tell them that it was there… They quickly delivered it to our room and I went though it and I'm happy to report that EVERYTHING was there! Gotta love Aruba!!!
The units at the Playa Linda are very nice. Since we are timeshare owners we are accustomed to the convenience of a kitchen and the Playa Linda had a nice setup. Just an FYI b/c hubby noticed it right away, they have no coffee filters. I found out on the last day of the vacation that they store in the lobby carries them for like $.50, not sure how many you get, but it looked like enough for the week. The rooms are very good size, balcony was also very nice. The view was also great. Not a perfect ocean view since we are on the 2nd floor, but its better than looking at a parking lot like some places we have stayed. Noise level was a little loud in the mid afternoon, but we only noticed that twice during our stay- they were doing water aerobics in the pool and you have to have the music cranked up for motivation I guess! One thing that I have to mention for the ladies… The lighting in the bathroom is in my opinion terrible. You have to practically be right against the mirror to avoid the light reflection. I found my self double checking my makeup application in the bedroom mirror before we went just to make sure I didn't give myself the "clown" treatment!
The Playa Linda has Internet Service, but they only have 2 computers, one was out of order for most of the week. You are charged $1 per 6 minutes. It was fine for me as I could check E mail and the BB in that amount of time once per day. The one thing that I thought was outrageous was the cost of laundry at the Playa Linda. It was $2 to wash and $2 to dry! When we were at the Holiday Inn it cost me $2.50 to wash and dry!!! I did 2 loads on about day # 5 or the trip and that was it. That's why I had so much to do when I got home.
The Jolly Pirates BB Sail was a lot of fun… We meet a lot of BB Friends on the sail. I loved putting names with faces! Dave did the Rope Swing, I was not brave enough to do it…again I'll use the its to cold excuse! It really was! The crew did a great job entertaining us. We didn't make it to Moomba's after the Sail as we had already had plans to meet friends at the Bugaloe. Which brings me to my favorite hangout in Aruba. For those of you who have been there you know that it's a great place to kick back, for those of you who have not yet experienced the fun at the Bugaloe you don't know what you are missing. They have live music on Tues/Friday/Sunday. When you go tell Lub & Dirk that you want to try a "Tynne-a-Licious" or a "Cosmopoli-Tynne" and you will get a big smile and an awesome drink! If its named after me it has to be good! LOL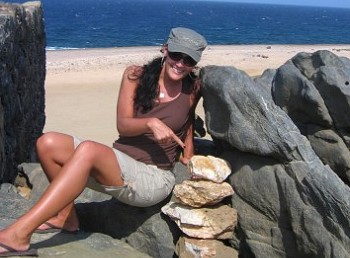 I know this topic comes up a lot on the BB so I will put my 2 cents in on it…Palapas. Oh my, this was the first trip that we had a hard time getting a palapa. Granted we are not out in the morning scouting the perfect piece of real estate, but after we came back from diving we would look for a palapa, and none to be found. So we baked in the sun with no shade. I have to say that I am always disappointed to look around and see that for long periods of time palapas go vacant. I didn't even take the time to read the Playa Linda Palapa Rules, but I think there is something about empty palapas for extended periods of time. I swear I saw an empty palapa for what seemed like a couple hours and then along came a couple who sat in the shade for about 30 mins and then gone again…whats up with that? I guess it's a game for some people.
We did hit the Casinos a few nights while we were there… Key Largo, Radisson, RUI, Excelsior and my favorite the Alhambra… Key Largo is my favorite place to play Roulette- they offer lower min bets, keeps me playing longer. Any Spanish 21 lovers out there, we did very well at the Excelsior…both of us walked out with a few hundred in winnings that night. My favorite night was when we went to the Alhambra- Although my lucky charm (Don?) wasn't at the door greeting ladies, have to get my good luck xoxo's from him, so I made Dave open the door for me and give me a smooch…hee hee it work! I again hit the $600 JACKPOT on the Jack in the Beanstalk machine! I love that machine. Try it, tell Jack that Tynne sent you in! LOL
On my last day I went to the Spa Del Sol at the Playa Linda. I'm sorry to say that I was very disappointed in my services there. The Spa itself has a great relaxing atmosphere and the staff is very nice, but the service itself was not worth the price. I had the After Sun Aloe Wrap and a Massage… $140 for both. First it was supposed to be a 90 min total service and I was in and out in about 70 mins. For the aloe wrap I was left to wrap for about 15 mins which was fine, but it only took about 10 mins for her to apply the aloe mixture. I think I was in the shower longer rinsing it off. The charge for that service was $60- no value at all. Very disappointing. Being in the Spa industry I love to experience signature treatments and this was a great concept, they just needed to offer more of a relaxing experience. I did ask what the aloe mixture was and she told me that they squeeze the aloe there at the spa and cool it and blend a mixture of other plant extracts and products…it was interesting. The massage was nothing write home about. I don't need a lot of pressure in my massage, but I do need the pressure in the right area, and she wasn't even close. Standards are different in Aruba for massage so it's the luck of the draw with technicians.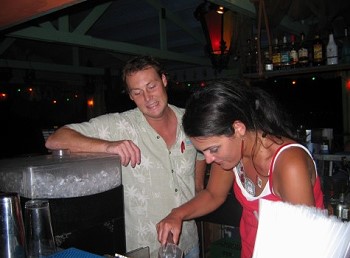 As for fine dining, like I said we didn't do any of it- money was spent on diving instead! We ate most of our lunches and dinners at the Bugaloe… by the way they have added 4 dinner items on to the menu and some other all day choices. We tried the Carbonara and Grouper for dinner one night…both very good. As for the rest of the menu what haven't we tried?? Some of my favorites are Grilled Cheese Mediterranean, Grouper Sandwich, Chicken BLT Wrap, Mozzarella Sandwich, Deluxe Snack Platter and my favorite lunch after you had one to many the night before…. Bugaloe Fries!!! Other places we ate at- Tomato Charlies ( Service was slower than normal this time), Smokey Joes, Pelican Pier and we also tried a friends local road side food cart by the La Cabana…Awesome!! Also stopped at HOT TAKE AWAY near Ling & Sons, it was also very good and cheap! So as you can see we didn't do the finest of dinning on this trip.
The way home was interesting to say the least. Dave had to be back for business early so he returned home on Friday and I returned on Sunday. His return included a 5 hour delay in Miami. My return included many delays in Aruba, Miami, Nashville and even in Chicago with semi- lost luggage. Not sure if anyone else has run into this, and I think I was ripped off in a way, but when I returned to the airport via taxi I said "$20 fare"? driver said " No not on Sunday's its $25" I had never heard of that before so I was feeling sassy so sorry to say I paid him $25 but no tip! Maybe he was charging me a weight fee like American Airlines did on the return… I was over by 18 pounds in my one suitcase so I had to pay the $50. There was no way I was going to lug around another 18 pounds in my carry on. Returning is bitter sweet as they say and this trip was no exception. We look forward to the next visit, but until then I will be hanging out here with my fellow Aruba Lovers… Again it was great to meet some of you - could you imagine if we all took over the island in one trip! Yikes!! God Bless Aruba…
May the sun shine on you wherever you are!
~Tynne… Happy To Go