Marriott Ocean Club
May 23 - 28, 2008 by The Prestons
May 23rd…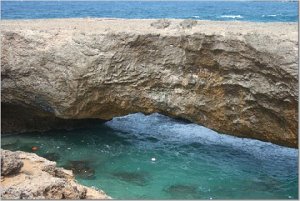 When I booked this trip I was a bit skeptical of Aruba for my kids as I thought there wasn't much to see or do here, and the airfare to get here was too expensive for a relaxing vacation….Was I ever wrong!
The Pros of Aruba:
It rarely ever rains
There is a constant breeze no matter where you are (so sunbathing is great)
The weather is consistently between 80-92 degrees most all days
The people here are very nice
There is a lot close buy to do or walk to
There are casinos here
There are natural wonders here
We stayed in the Marriott Ocean Club, a beautiful resort with all the amenities of a Hotel. The only other large resort developer on the Island is named Divi Aruba, who had just as nice accomadations, but there site was a little more spread out. Marriott's site has all the restaurants, entertainment, beaches, and other amenities just a short walk away.
The first day we had some difficulty with our flight and ended up just making it to the plane at 15 min before our flight left (it was scary). Although, after our plan landed in Charlotte, it was easy afterwards. Aruba's customs was a piece of cake (much better than mexico) and we felt that if we bought our kids here it would be a easy process.
We rented a car (which I suggest) and chose to take Avis insurance because if you damage a car in Aruba, you have to pay for the damages before you leave and get reimbursed by your insurance company when you return to the states.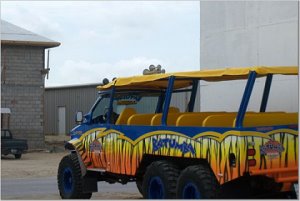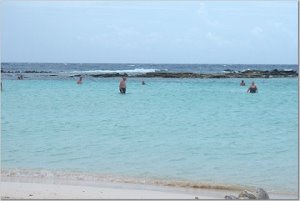 We arrived at the resort and got placed in room 5273 which was on the 2nd floor of the main building, it was a "garden view" in which we had a great view of the pool and if we turned our heads to the left we could see the beach. Our room was a 1br, with a 2 person Jacuzzi tub, 2 person shower, and a sleeper sofa. The kitchen had granite counters and a breakfast bar. The resort had a great pool, although you couldn't use the pool at the Marriott Surf club, I didn't mind as the Ocean Club was MUCH less crowded and congested and had a more cozy feel to it than the Surf Club. The beach was riddled with covered huts called Palapas with beach lounge chairs under them, and if you wanted one in the morning you could just reserve it for free. However, I was always able to get a front row palapas no matter if I reserved one or not. We packed seasoned meat that I froze, and pre-cooked Minute Maid rice for dinner. I also pre-ordered online eggs, ham, cheese, bread and milk for our breakfast, that we picked up from the onsite market when we arrived. It was already packed and ready to go. My first evening here we just relaxed by the beach, watching the sunset and drinking a Pina Colada…yum.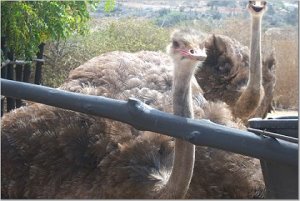 Saturday
We chose to relax most of the day, starting out with breakfast in our room, which we prepared. We went to the beach, packed a picnic lunch & drinks from our room and dipped in the beach (my 1 complaint about this resort and this part of Aruba was the sand was HARD, with lots of crushed seashells and if you didn't wear swim shoes you could cut your feet). The beach water temp was warm and blue, with pirate ships, wind surfers, and other water sports right onsite and in view. They had a band playing in the background, and iguanas roamed freely. That evening we dressed and went to the onsite casino, which we didn't feel paid out to well, and they had high bet minimums at the tables (we play black jack) starting at $10. So we went up the road to the Alahambra casino that paid out well and we could play black jack for $5 a hand.
Sunday
This day we started out on the beach for our morning routine, went to the large gym that rivals some gyms you may pay for a membership to join, then went out to explore some of Aruba on our own. Mostly everything in Aruba will be closed on Sunday. However, we went to the flea market, and to downtown Aruba, went through the restaurants in the Reniassance hotel, and the Divi Links resort complex and stopped for ice cream on the way back to the Marriott. We got to the resort in time for a salsa contest, then walked down the beach to the bar called Moombas for drinks. We got dressed again and went to dinner at Smokey Joes, a fantastic rib joint, where the rib dish was about $15 and they had these great Jaimacan beef patties…yum yum. We ended the evening in the casino (as we are not big party people) and ended up walking away with more than we went in with.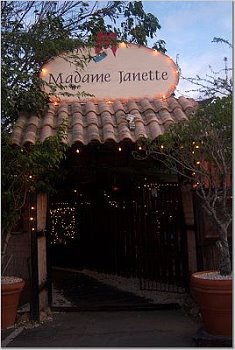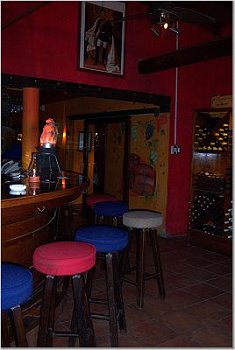 Monday
Another morning at the beach…ain't that what we are here for? Also, went to the gym and the pool. They had another band playing all day, and we made dinner reservations for Madam Jeanette's a cozy, romantic Carribean / dutch restaurant. We grabbed some ice cream from the elaborate snack bar in the casino which came to $10.50. Then we reserved the 8 hour jeep tour (which is the best tour for you $ at 79 pp and includes a great lunch and all the sites the Island has to offer in 1 swoop). We hit the casino at the Marriott, then left for dinner at Madam Jeanette's … the food was so good, the service was okay, and we ate outside. We ordered the surf & turf and the crab cake appetizer (don't order crabcake if you are from MD. You will be greatly disappointed!) and the surf and turf was good, and I topped it off with a Pina Colada. The cost was $81.00 for the 2 of us.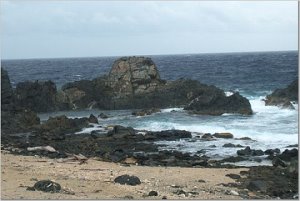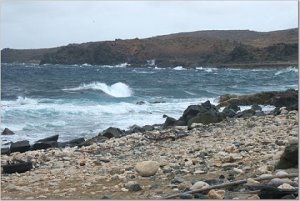 Tuesday
We ordered room service and had breakfast ($22), then went on the tour with ABC for the 8 hr tour of Aruba that covered the natural pool, baby beach, the oldest catholic church in Aruba, the caves, ostrige farm, old gold mines, the natural bridge and the lighthouse…definitely well worth every penny! We came back the room and had dinner at Simply Fish, located on the beach at the Marriott where we were staying. We enjoyed the dinner, location, and the service.
Last Day…
We packed, went to the beach for our last hooray, packed our rental car, and went to Linda's Pancakes for a late brunch…YUM…YUM… then we turned in the car, went flew home.
Definitely a do over vacation! The Marriott Aruba Ocean Club far exceeded our expectations and is a definite do over.
The Prestons