Bucuti Beach Resort
February 8 - 17, 2008 by Misti & John
Aruba Forum Profile: Mistimoop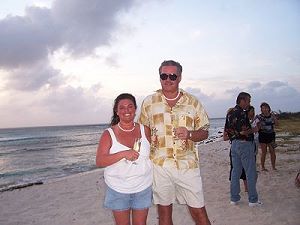 This was our 3rd trip to Aruba and to the Bucuti Beach Resort. Seeing as I am a detail-oriented person, this will probably be a long one and while I promised to make this year's report shorter than last year's, we had a few good stories that are just too good not to share…so sit back, relax & enjoy!
John picks me up and we go for our traditional night-before-a-trip Chinese buffet dinner. We get to his place and decide to try to get some sleep even though its only 9 p.m. He sets the alarm and we "sleep," but I think its really light dozing. I can't wait for the alarm anymore, so I get up to get ready.
Friday, February 8th
We have our reliable car driver that we requested pick us up and he's right on time…4:45 a.m! He gets us to JFK just after 6 a.m., we unload and check-in at the Jet Blue counter within minutes. The security line is fairly long for so early in the morning, but we get through without too much of a wait. I find it amazing how some people just still don't have a clue about what you can and cannot bring despite the signs, warnings, etc. We grab a couple of donuts and some coffee and wait near our gate. We board and take off right on time.
We have seats across the aisle from each other and end up chatting with our other seatmates. Mine live 20 minutes from us and were a group of brothers & sisters going down to a timeshare next door to us at Costa Linda. We share restaurant and activity plans and before you know it, we're getting ready to land. The gentleman next to the window was kind enough to switch seats so I could take some pictures as we descended. 4 hours and 10 minutes – we made great time and this flight was cake compared to our Hawaii trip!! We're one of the first off the plane, whisk through customs and stand around waiting for our luggage. No other flights are there. Suitcases come, we grab a cab right away. The driver welcomes us "home" (man, I really love that) and off to the Bucuti we go.
Apparently workers get out early on Friday afternoons and downtown is jammed, but our driver takes all these back side streets around Oranjestad and we're moving again.
We get to the Bucuti and are greeted with another "Welcome Home!" (Still love that!) Its great to see familiar faces. Our room is not ready so we're given 2 vouchers for the Sand Bar so we go to get drinks. More hugs & greetings at the bar by the bartenders. And now, for our first Slippery Monkeys of the trip. Nothing tastes better or makes me happier. Finish our drinks and head back to go to our room. Still not ready, so we sit outside on the patio for awhile soaking up a little sun. I go back in half an hour later & they ask how everything is. We haven't been upstairs yet!! But the room is ready and our luggage is in the room (our same one from years past). We quickly unpack and head to the beach for a dip (John is topless almost immediately!!). Even at 3 p.m. we're able to get a palapa. The ocean is a bit cool, but who cares?? We swim a bit then head back to our chairs. Our plans to get to Happy Hour fade as John goes to the bar and its past "standing room only" so he grabs us a couple of drinks and we just chill on the beach and watch our first sunset of our trip. Just sitting there, it feels like we just left and we can't believe we're back. Oh, happy day!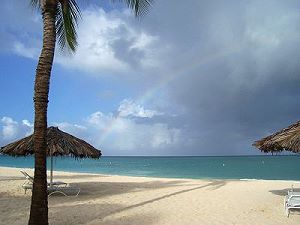 Back to the room to shower for dinner. The staff has left a "Welcome Back" goodie bag with a balloon, Aruba Aloe lotion, yummy wafer cookies, some crackers and a wheel of Gouda cheese. I'm in heaven!! Off to Pizza Bob's and the pizza is as awesome as we remember. I had a nice big mug of Balashi to wash it down with. Still can't get over how excited we are to be back and note how lucky we are that we're able to take vacations to such great places as Aruba. I quickly adjust to learning to eat without my hair blowing into my mouth. A quick trip to the Alhambra Casino for our first contribution to the island. I'm up $40 or so and despite my promises each year to quit while I'm ahead, I push on and finally cash out $27 up. I always seem to win enough to cover a dinner each trip. Off to bed – we're beat!
Saturday, February 9th
A "do nothing" day. Sweet! We have the included continental breakfast at the hotel. Bagels with peanut butter & jelly (but boy do we miss our morning glasses of milk) and walk up the beach toward Amsterdam Manor. It's quite windy this trip and we participate daily in the free spa treatment of "sandblasting" but again, it beats being blasted by cold wind, snow & ice back home. The water is rather rough, too – waves much bigger than we've seen before. It comes in lulls and if you time it right you can get in and out of the water with little damage to your body and bathing suit – no Aruba Boo-boos!
The day is full of dozing, sunning, napping and drooling. We snack throughout the day on the goldfish & cracker packs we've brought with us from home. Our entertainment consists of "Pelican Pete" and "Commander Whitehead" (aptly named by John) diving for fish in front of us and people watching. I must note that this year's bathing suit fashion for men seem to involve the theory that "be sure to buy a smaller bikini bottom than your partner will be wearing next to you." Time for Happy Hour again at the Sand Bar and we make sure we get there early enough to get a seat, as its very popular with the Costa Linda guests, as well. We see lots of familiar faces from last year and start chatting with everyone. This is one of the things that I REALLY love in Aruba – John & I are both very social people at home but for some reason at home, people are just not as friendly and willing to talk to you.
Anyway, 6 or 7 Slippery Monkeys later, we decide to get ready for dinner at Salt & Pepper. There's a short wait, so we get a carafe of sangria then off to our table. We like to get a bunch of tapas here for our dinner. The menu has changed some and a couple of the ones we like are no longer offered, but we're able to find others to try – we get two of the parmesan mushrooms and they rock as always, as does the sangria!! We walk around the high-rise area for a bit, find a mini mart and get a couple of 6-packs of beach beer and grab some bagels for the morning. Back to the hotel as we have to get up early for our deep sea fishing adventure.
Sunday, February 10th
Up at 6 a.m. (WHAT???) to get ready to head downtown to the marina. Pop a Bonine and have a little something to fill our stomachs. Catch a cab and we're downtown at the docks in no time. We find the boat we're going out on – the Kepasa and board the boat. I've never done deep sea fishing & John has gone once, so I'm not quite sure what to expect. The Captain greets us, introduces us to the two crew members (I never caught their names), shows us where to put our personal belongings and tells us if we're sick to be sure and clear the side of the boat. Rut roh! We head out of the harbor and I'm snapping pictures. I still have no idea what to do and thought maybe we would have been asked if it was our first time, or gotten a quick run-down. As we head out, I'm more & more thankful I took a Bonine. I don't typically get motion sick, but boy oh boy was the water rough the farther we headed out. I kept my eyes on the horizon as an added precaution. The swells were huge and sometimes higher than the sides of the boat. I don't think it was supposed to be THAT rough.
I should note that before we get too far out, I figure I should use the bathroom – an adventure in itself! The boat was rocking so much, holding on with one hand was not doing the job. Picture it if you can, holding onto the sink with one hand, bracing against the wall and trying to pull my shorts up with the other hand. Had I stayed in there much longer, I could definitely see myself getting sick.
We troll around and all of a sudden the crew member puts a rod in front of John in the fighting chair (equipped with a big club to beat the fish with). He reels in a small fish (I mean small) – a Melika or something. Meanwhile, nobody has told me the other chair I'm sitting in is not bolted to the floor. I tip over several times. I get to reel in the next fish (just as small) and I think we're told it's a tuna. When they un-hook the fish, they toss it into a wooden box and you listen to the fish flop and thump around until it stops. I hated that part. Apparently we hook a third fish somewhere along the way but it gets off the hook and we decide it was the "Big One." Finally back to the harbor and stable ground. We thank the crew and let them keep the fish. As we pass other boats, there are other charters gutting and cleaning these humongous fish on the docks. Go figure! I think I would try the fishing charter again (someday way in the future), as I don't think I experienced what it could really be. I do not understand how people can go out and drink heavily while they do this though. Luckily and mysteriously, we did not get sick.
Walked around downtown a little (a few shops were open due to two cruise ships being in port) in search of a souvenir cribbage board. I think we hit every shop that was open and all we could find was dominoes. Nobody knew what cribbage was. Back to the Bucuti and over to the Pega Pega at Manchebo for our first of several bacon Gouda cheeseburgers – pure heaven! Beached it for the rest of the afternoon, Happy Hour then off to Bingo! for dinner.
The place was mobbed but there was a table for two they would clear for us, so we sat and waited. Another couple came in and sat down at the table so we waited longer. As karma would have it, they did nothing but complain and the husband never ate his dinner. We had the shrimps escargot style and our beef satay skewers. Delicious as always!! A vacationing couple came in and the woman seemed to know every employee and guest in the restaurant. I kept peeking to see if perhaps it was Aruba Amy, but it was not. Early to bed again – its been a long day.
Monday, February 11th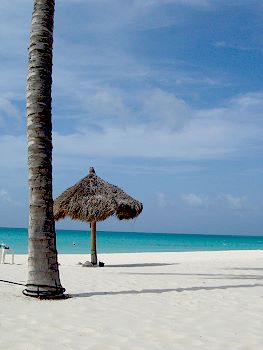 Another beach day and doing nothing. I should note by now that there is no more peanut butter at the continental breakfast so we settle for just jelly on our bagels in the morning. We stand at the webcam with our signs and that was about all we did for the day. At Happy Hour, we continue to meet more people and develop friendships with those we've previously. At this point, we're thinking, "aaaahh, we still have a week left" since we added a few days to our trip this year. I think we drank a lot at Happy Hour and didn't feel like going to far for dinner. I was really wanting Italian, so John picks Pizza Bob's. Other than the pizza and lasagna on the menu, there wasn't too much other Italian to have. So he had the lasagna and I had a burger. I love their pizza to death, but could only eat half of the burger. Apparently the lasagna wasn't too bad. Two ladies sat at the bar with us as it was showering briefly and their husbands were over at a table. They were at the Bucuti also and so we got to chatting with them and had a great time. It is at this point that I realize there are half-a-dozen people that have told John he looks like Tom Selleck, especially with his sunglasses on, and for the duration of the trip, most people were calling him "Tom." I'm in a mood about dinner still, so we go back to the room.
Tuesday, February 12th
Tranquilo Sail & Snorkel Day!! Waiting for a cab, there is another couple from our hotel doing the same sail we are, so we share a cab. Check-in at the pier and we're on our way. Capt. Anthony starts by telling us the forecast is for winds one (1) knot below gale-force. I don't know if he tells that to everyone or not, but hey, we are sailing, right? The sail down is peaceful, a little choppy at one point, but with rum punch and sun and a great crew (shout out to Gregory) and 12 other sailing mates, we head to Spanish Lagoon. The water is choppy for snorkeling and despite the wonderful sites we saw, people didn't seem to stay in the water too long. Either that or time just really flew! Only one person opted to do the drift snorkel, which we had been looking forward to, but the waves were just too crazy that day. Two cups of deeelllissssh pea soup and some sandwiches, we headed back. Keep on bringing the rum punch! Got to chat with the other passengers and I was lucky enough to be on the side of the boat that Capt. Anthony was tilting over and I had my toes skimming through the ocean. I'd have to say this was probably one of our best days on the island – the water colors, the people, the food and the rum punch. We'll do this sail again next year for sure!
A funny side note – while we're sailing back, Capt. Anthony's cell phone rang and he asks, "Any Bucuti guests here?" Yes. "Room 235?" Gulp – Yes. At first he told us our room was on fire, but apparently it was just our concierge confirming our trip and that we made it on the boat…Better late than never I guess!
Shared a cab back to the hotel and made it to Happy Hour just in time. I thought I'd stay consistent and have a Rum Runner to start. I saw the girls from the night before and went over to chat with them. I do not know/remember when the day's rum hit me, but apparently I went over to John to inform him I was drunk. I'm usually pretty good about keeping tabs on myself, but hey, its vacation. We shower for dinner and John drags me down the beach to Matthew's for their all-you-can-eat rib night. It was good. Two other groups from our hotel heard us talking about going there for dinner, so they went, too. After we ate (and I had food in my stomach), we table hopped and visited with everyone. In my drunken stupor, I had forgotten our coupon but I think we will definitely plan to go back there next year.
Wednesday, February 13th
Pretty much another beach day as we had the Kukoo Kunukoo Party Bus later that evening. We stop at the Sand Bar thinking we'll grab a late lunch hot dog before we get ready. The hotdog is a foot long so we decide to split one. It comes out and is two fat foot longs on a roll. Holy cow!! It was yummy. We get ready then head back to the bar of a little chunk of Happy Hour and to get our Kukoo refillable cups from last year filled so we have something to drink on the bus ride. We're picked up and on our way. This year we stop on the beach below the lighthouse, have our champagne toast and head to dinner. At our table, there ends up being a retired police officer from Boston and an active officer from Maryland, so John (a retired P.O.) is in his glory and all the boys bond. The food was ok but we're not there for that. The other bus that is traveling with us is filled with a much younger crowd, so the night should be interesting.
We hit three bars and pretty much hang out with the group from Boston most of the night. The drinks seemed extra strong this year – woohoo! At "U Wanna Beer," Mama pulls me aside and puts me up on the bar first. This happened to me last year, too, so I must have a sign on my forehead somewhere. Bar dancing continues and one of the ladies we hung out with says she wants to get on the bar, too and up she goes. One much older couple disappeared off the bus after the 2nd bar. By the 3rd bar, most people are blasted & the guy behind me has managed to break his maraca on my head. As a conga line starts, I tell my new friend how much I hate them as well as the "Hot Hot Hot" song. We board the bus to head back to the hotels and the crowd starts to sing the "Ole, Ole" part of "Hot, Hot, Hot." New friend stands up, stops them from singing telling them I don't like the song and to sing something else and "The wheels on the bus go 'round and 'round…" starts. We're dropped off and say our good-byes to everyone and head for bed.
Thursday, February 14th (V-Day)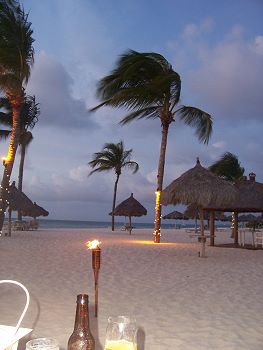 Up at a decent time despite the wild party the night before. Grab a palapa then head to the spa for our couple's massage on the beach. So nice and relaxing. A bit windy and my towel blew off once but I didn't even care. I do need to remember to get a cabana boy for the house though…Over to Pega Pega for another bacon Gouda cheeseburger. A little Happy Hour then shower and get ready for dinner.
During our last two trips we have always done the Romantic Dinner on the Beach offered at the Bucuti and have been extremely pleased with the 4-5 course meal and the setting couldn't get much better. This year, when I emailed for our reservation we were told they weren't doing that dinner on V-Day but were having something else special on the beach instead. Sign us up! The night before we had gotten the printed menu in our room – choice of soup or salad, surf & turf (lobster tail and petite filet mignon) with the chef's choice of sides and some sherbet in an edible bowl dessert, along with two glasses of champagne. Sounds great to us and comparable to other restaurants advertising in the newspaper.
We get to the Pirate's Nest at 6:30 and are escorted to our table on the beach. A 2-piece music ensemble is playing and the sunset is spectacular. Torches are burning and the sand is between our toes. It all is making me "misty." Our champagne comes, along with the two beers we've ordered and we place our dinner choices. Both salad, filets medium & medium well. The salads come and are quite large with a light tropical fruit dressing. Yum! We're waiting for the main course, John runs to the bathroom. In the meantime, a table near us gets their food & the man is not happy…some raucous occurs, words are exchanged and the couple gets up and leaves. John comes back and I tell him about it, he says there is one in every crowd. I go to the bathroom, stop and chat w/the girls still at the bar, come back. Waiting, waiting…its now about 8:15 and all we've had is some bread, salad and liquor. Another bathroom run. As I'm coming back to the table, here comes our waitress with a tray with food on it. She puts a plate in between us and two empty plates in front of us. The plate with food has one, yes one lobster tail and two very petite (not even thick petite) filets on it with a scoop of mashed potatoes and a little pile of what looked like mexicorn.
Before I go further, I must mention that John is one of the most even-tempered, non-confrontational people I've ever met. That being said, he asks the waitress where the other plate of food is and she tells him that's it, we're supposed to share. I believe "I don't think so" came out of his mouth. Now its not the waitress's fault by any means and we're not upset with her. John asks where it says that we're to get one plate of food and she does not know but says it is the intention of the chef that couples share their meal. She offers to get the manager, which she does. He comes to the table and John voices his complete displeasure with the fact that we're being given one plate of food and 2 salads for $130/couple. The manager asks what he can do to make it better and John tells him to bring us each our own meal. (Now its clicking why the other couple has left a bit earlier). We are told he cannot do that but can bring us menus from the restaurant and we can order from there if we don't like the menu. John tries to explain that we did like the menu but did not expect the lack of quantity of food for the price they were charging. Back & forth, we each would like a meal, that won't happen, etc. Its now 8:30 and we are told if we want to leave they would understand and only charge us for our two beers. Where will we go this late on V-Day to eat? I would be happy with a pizza at this point, as I'm starving. Manager disappears.
In the meantime, John has gotten up and is going to each table asking them if they were aware that for the price, they were only getting one meal. Nobody had a clue. I run over to the bar to chat with the girls again and come back to see John now talking to the chef on the beach. Yikes! After going back and forth, the chef agrees to give us two meals. John tells him that we'd better not get sick from the food or he'd find out where he lived! My hero… Another table arrives next to us and John tells them the story and that gets the gentleman riled up… "if they're getting two meals, so are we!" Food comes, the plate of food we were given was pretty much divided up onto two plates and it was cold. Dessert wasn't too bad and we each got a plate of it. At least all the other tables for the rest of the night got 2 meals. We couldn't convey to the manager how disappointed we were as we'd had their other special dinner in the past for the same price and the food was plentiful and delicious. We head to Alhambra hoping to save the day a little bit. We each lost $40 and headed back to the room. The more we re-hashed, the funnier it got. A Valentine's Day to remember for sure. I will note that John did send some beautiful flowers to the room despite my asking him not to and to save his money. Such a good boy!
Friday, February 15th
Is it possible that we only have a couple of days left already?? Yikes! A little morning beach time, we stop and let the Office Manager know what had happened the night before – not so much to complain but to let them know it was all very misleading. We shower and head downtown for some shopping. Plentiful iguanas on the grounds today, including two participating in extra-curricular activities right there out in public. We do some quick shopping for John's granddaughter and for my friend's children and decide since we've been here a few times, nobody needs another shirt. Still on a quest for that cribbage board but we come up empty handed. Late lunch at Iguana Joes and run into another couple from the Kukoo bus. We each have our mandatory two carafes each of our chosen beverage and the chicken & chili burritos. As yummy as always!
Head back to the hotel and not too long after we're back, we get a phone call from the Hotel Manager letting us know that she (and as we find out over the next two days, most of the staff and a good portion of guests) has heard about what happened. I told John we were luck to not go back to the room that night and find our clothes on the lawn. Anyway, they ended up crediting our account for the meal, which I thought was more than fair and we were pleased that they took our criticism seriously – it gives us more respect for the staff at the Bucuti.
I think we doze off a bit then run down to watch the sunset. A guy comes over and asks John to take a picture of him and his girlfriend/wife. Throughout the trip, I think John wore his "Let me take your picture for you" sign, as he was asked at least once or twice a day to take pictures of people. Later on we head to the Sand Bar for a couple of appetizers as we're still pretty full from our late lunch. Back at the room we decide to try playing strip cribbage to make it interesting. I head to the bathroom and don layers of tanks, t-shirts and shorts and somehow I still lose...
Saturday, February 16th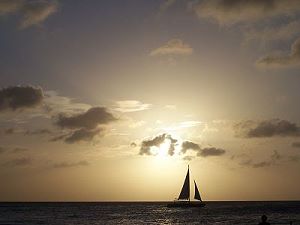 Our last full day here and I will mention that we were able to get front row palapas at least 3 or 4 of the mornings we were at the beach this trip, and sometimes after 9 a.m. Breakfast, a walk down the beach in the opposite direction toward the Divi. We pretty much veg out. Lunch time and John gets the rest of the beer out of our fridge for us to finish, along with a pizza from Pizza Bob's – another tradition. Its yummy. The day flies by and we head to our last Happy Hour. Savoring my last Slippery Monkeys, saying "good-byes" and "see you next years" to our friends, both staff & guests. The Bucuti in keeping with its romantic theme always plays love songs at the bar, but with my mindset it just made me sad and I think I spent a good portion of the time crying every time John told someone we were leaving the next day. I'm a huge sap!
Just as we're getting ready for dinner, it starts to pour wind-whipped rain for a good 45 minutes. We head down to get a cab and in the lobby and there are about 7-8 other parties ahead of us waiting for a cab. We'll never make our reservation. Over to the Alhambra and we split a cab with another couple heading to the high rises. We arrive at Chalet Suisse and the place is hopping. After a few minutes, we're seated in one of those cozy tucked in the wall couch tables. We split an amazing dinner (the same one we get every year), escargot, shrimp cocktail, Chateau Briand for two and just one dessert this year as we are stuffed – Crème Brule. Delicious as usual and always our final night meal. The cab drops us off at the Alhambra for "one last go" and I end up getting ahead by $25 or so as does John, so we finally quit while we're ahead and go back to the room to pack. Since our clothes are dirty and we won't need them for months to come, we just chuck everything into our suitcases and we're done in no time!
Sunday, February 17th
Doomsday looms before us. We go to breakfast hoping more peanut butter has arrived but alas, it has not. So one more last bagel with jelly. We have a later flight so we're able to have a couple of last hours on the beach to get some sun. Of course the last half hour I'm crying (again). Shower, last minute packing, check-out and store our bags so we can get our last bacon Gouda cheeseburger at the Pega Pega. We also turn in our room reservation for next year. Now John thinks 10 days isn't long enough. The burgers are great and we savor every last bite.
Off to the airport and we make good time. The cab driver is playing love songs in the car, so of course I cry (yes, AGAIN) all the way to the airport. We unload and even though it is Sunday, many of the airlines have lines out the door at the ticket counter. Jet Blue has no line and we're in and out in no time. None of the other lines are too long of a wait and ideally we could've caught the earlier JetBlue flight back to New York, but without luggage, of course. Finally we board and the plane is half full. I have nobody in the two seats next to me so John invites himself over to my row. The sunset flying home is gorgeous. I think we circle a few times and finally land, only a few minutes late. We get our luggage, find our car service and head home. Luckily, it is low 40s and raining so the shock of cold weather isn't so bad.
In summary (I'm almost done, I promise), I think this was our best trip yet despite a couple of small snafus. It amazes me how it only gets better year after year and that we never get bored. We miss all of our Aruba friends and hope to see them next year…until then!!