Tamarijn Aruba "All Inclusive"
April 17 - 24, 2008 by Jack & Katie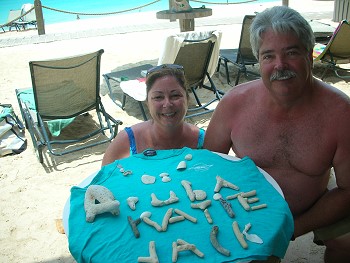 Loved the Tam. I started to write a very detailed report, but then thought I would just hit the highlights. Can't add much detail to Lisa's report! (loved it!)
I had requested a lower level room in either 1100 or 1200 block. We were given 1202 which is upstairs, but at the end. We were told to let them know if we wanted to move the next day. Room was great and the balcony was a little bigger and more private than the others. But I still wanted lower level. We did move to 1107 after 2 nights. Not a problem.
We sailed on Mi Dushi for a sunset/happy hour sail. Met some great people and had a good time. However, we must have been over capacity, because we were stopped by the Coast Guard and boarded. They then escorted us the rest of the time. However, didn't stop the fun. Several people did the rope swing and that was great to see.
We also took a 4 hour (3 stop) morning snorkel and a 3 hour (2 stop) afternoon snorkel with De Palm. Both very good, however, the morning one had 60 passengers and the afternoon was over 90! Very crowded. But again, nice people, nice weather..how can it be bad? Of the 3 stops, I would caution that the sunken ship is pretty rough water. Many people were back on the boat within minutes. The other 2 spots were great.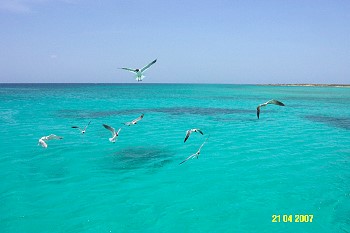 We took an island tour with De Palm via bus and enjoyed seeing the other side of the island. Spent about 20 minutes snorkeling at Baby Beach and enjoyed that, but could have been a little longer.
Downtown to shop for trinkets via public bus. (we also took a bus to De Palm Pier for the Mi Dushi sail) Very easy and inexpensive.
Many hours reading and swimming in the ocean, drinking and eating. Our neighbors were very nice people from upstate New York. Each morning we chatted as we read on the beach. Very relaxing. Could not have asked for a better vacation.
No complaints about the food. As a matter of fact, we really enjoyed every meal. We ate at Red Parrot twice, Papparazzi twice and Ginger once. Never did make it to the Palm Grill because one night was steak night at the buffet. And I was surprised how good that was! We actually walked around the dinner buffet a few times just to take a look. Each night has a theme and the dishes looked really good. No problem with the daytime buffets either. The people that say it got "old" after a few days, all I suggest it to try something new! Instead of omelets each day, have fruit and yogurt or oatmeal. We also had some fantastic scallops in wine sauce one afternoon for lunch. Skip the burgers and dogs. You can have those at home. They made some tasty grilled sandwiches also.
The hotel was clean, employees were nice and helpful. We NEVER thought any of the employees were rude. Appeared that the activities could keep you busy. (we played bingo one afternoon and had some fun, but no luck) The drinks were great. Never watered down. And I would know! I saw a lot of top shelf liquor on the shelves. We brought bigger mugs to fill with drinks but never used them because the service was so good, we never went empty.
We only saw one show at night and it was good. By the time we were done with a big dinner and several glasses of wine, we were ready to call it a night.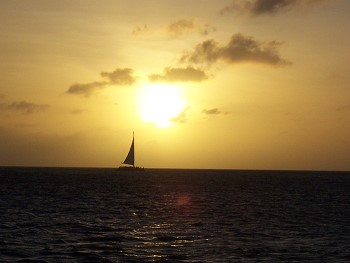 We have traveled many countries in Europe while on Ex-Pat assignment for 2 years. (including the Netherlands!) We really loved it. My husband has also been to several Asian countries. But this little island has captured our hearts. We are already talking of returning next year. It is an easy, comfortable and beautiful island. No challenges with money, language, water, transportation…. No hassles with high pressure time share sharks or the trinket sales on the beach. Being AI, we actually compared the island to a 20 mile cruise ship without the bar bill. Even though it took us 12 hours to get there and 18 hours to return, it was well worth the trip.
We have many photos. (around 300) We have some great photos of different birds (including the Sugar Thief) and other local creatures, flora and fauna. But I have sent mostly pictures of the beach views from the Tam. That is what most people like to see. (by the way, our camera would not keep the correct date, so please ignore the dates on the bottom) Most pictures are from 1100 looking one way or the other. And as many on this forum have said, "Mother Nature" will change the beach at any given moment. I talked to a security guard one night and he told me that in front of the 1100 block was all rocks just a few weeks before and now it was all soft sand. I wouldn't worry so much about it. There is plenty of beach for all the guests. If you do have some rocks in front of you, all you need to do is take a few steps to the right or left.
ENJOY! We certainly did.