18th Trip to Aruba - Amsterdam Manor Beach Resort
September 11 – September 28, 2008 by ~Amy~® and Mike
Aruba Forum Profile: ~Amy~®
Arrival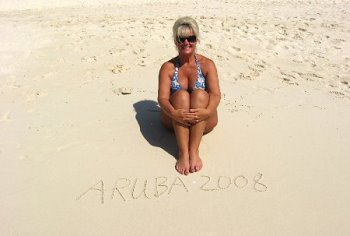 Used Delta this year (MSP-ATL-AUA) and all flights and connections were fine. No complaints.
Rented a Toyota Yaris from Optima again (always reliable and great service.) They were waiting for me with the shuttle bus near the old car rental kiosks. Within a few minutes I was at their new location near the Toyota dealership, signed the paperwork, and I was off for 17 glorious days at Amsterdam Manor.
Amsterdam Manor
My husband and I shared our usual two bedroom, 2 bath at Amsterdam Manor with my two girlfriends. My girlfriends arrived on the 10th, I arrived on the 11th, and my husband arrived on the 18th. My friends left on the 21st so I had a week with the girls and a week with my husband – two vacations in one!
These are some of the things we love about Amsterdam Manor, in addition to their lovely new rooms that have all the comforts of home (even a waffle maker!):
Free floats on the beach
Free fruit skewers every day on the beach
Beach towels available at any time, day or night (no towel hut to deal with)
Free computers/internet
Free Wifi in the room
New wider palapas on the beach, plenty of shade for 4 people
Never a problem getting a palapa on the beach at any time of day
New chairs and sofas for the beach bar
Room Service
2-for-1 Happy Hours
Bartenders – They are the best!
We mainly just lounged on the beach, ordered lunch from the beach bar, drank a lot of Brights from our cooler and Mojitos from the beach bar, used the floats in the water, and repeated all of that each day. It was very relaxing!
First night in Aruba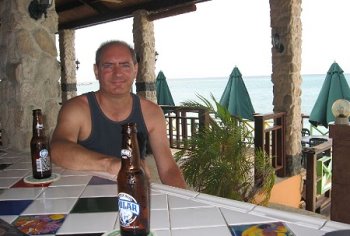 I had been emailing with a local DJ in Minneapolis about her vacation plans and on my recommendation she and her husband picked Aruba! They were dining at Passions my first night on the island so had to stop by and say hi, take some photos, and have my brush with local celebrity fame. She now has Aruba photos on her radio station blog.
It was fun meeting her and her husband – both great people!
Horseback Riding
We decided to try a new ranch this year and picked The Gold Mine Ranch. Boy, did we ever find a gem with this place – family owned, very personal service, and not too many horses so you will never be out riding with a huge group. It was just myself, my two girlfriends, and our guide (we got a private tour even though we didn't reserve one) – we had a blast cantering through the sand dunes, checking out various little hidden beaches, and even ran into a couple of donkeys along our way. What a great ride! I'm excited to ride with them again next year.
Bingo!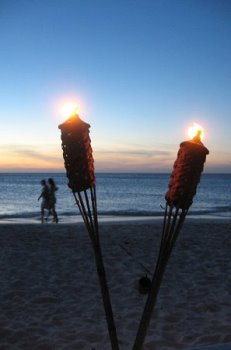 No trip is complete without several trips to Bingo's – it always seemed to be our "go to" place around 11pm most evenings. This year we met Franz' son who we officially dubbed Franz, Jr. because it was easier to say than his real name. Make sure you go to Bingo late on a Tuesday night – that is Dutch music night! By the end of the night, you'll be raising your beer, singing Dutch words that you pretend to know, and watching people parade around with barstools on their heads! Needless to say, we had a great time! I even got some choice photos thanks to leaving my camera on the bar while I went to the bathroom. Mike (owner) decided to take a few photos for me…..I now have lovely photos of….the beer cooler, an ashtray, the clock, the ceiling, and Franz Jr.'s ear! LOL!!
Honeymoon couples
Met two honeymoon couples from England who I had corresponded with on Trip Advisor and were staying at Amsterdam Manor. One couple actually got married in Aruba and had their reception at Amsterdam Manor – we were headed out for dinner the night of their reception when we happened to see them in the lobby so I had to grab a photo with them (Hi Emily!)
Italian Coffee vs. French Coffee
I love having a French coffee for dessert after dinner in Aruba but for some reason most restaurants seemed to have a problem getting it right this year even after I told them what was in a French coffee. It just got to be a running joke at almost every dinner as to which drink I was going to get. I almost (almost!) was starting to learn to like Italian coffees after tasting so many of them. We had the bright idea one night of ordering an Italian coffee with hopes of getting a French one….nope, didn't work.
Aruba Your Way Tours
We met the owner of this tour company one afternoon while having drinks and lunch at Charlie's Bar – he was on a Harley tour with Cindie and her husband from the bb. He was sitting next to me at the bar, we had a great conversation, and I also got a bite of his steak! I am definitely going to look into booking a tour with him next year – you can use any type of transportation for your tour and you can do whatever and go wherever you want. In Cindie's case, they wanted to stop at Charlie's Bar for lunch during their tour – now that's my kind of tour! We will definitely look David up for a tour on our next trip.
Birthday Party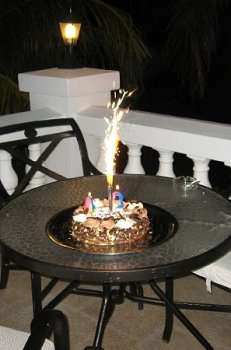 Our friend Stacy's 40th birthday is in Dec. this year and since we don't live in the same state, we decided to throw her a surprise pre-birthday party. I had Amsterdam Manor make a birthday cake for me (they even gave me a sparkler for the cake), picked it up while Stacy was in the shower and hid it in the closet of my bedroom. We all went out to eat at Salt & Pepper with the premise that we were meeting friends back at our balcony at 10pm for drinks (which we were.) We got back and Stacy immediately volunteered to get ice (perfect!) - of course she did this so she could go talk to Donald the bartender at the Pool Bar (Stacy and bartenders…don't ask!) We got the cake out, put on black leis, and lit the sparkler and candles just as we heard her coming up the stairs. She kept saying "But it's not my birthday….." Silly girl! LOL!! We also had a lovely 40th blinking tiara and purple lei for her to wear to add to her bewilderment of what was going on! It was a perfect surprise – we had cake, ice cream and Brights! Sue – thanks for bringing all of the extra decorations – they were perfect!
Beaches
Eagle Beach could not have been more perfect this year! Clear as a bell, calm enough for floats, little fish swimming at your feet, and I even ran into a couple of large crabs in the surf – I accidentally stepped on one (he was partially buried in the sand in the surf) and he certainly let me know that I was in HIS territory (nice little pinch on my foot!)
Weather
In 17 days, we had just about everything. Windy on some days, just breezy on others, and no wind on a couple of days. We had rain one night at 2am (about the time we were coming home from Bingo!) so we sat outside on the balcony under the umbrella and drank a bottle of wine. On another day we were at Rodger's Beach having a drink at the Coco Beach Bar when the wind picked up from the opposite direction. We then went to Charlie's Bar for lunch and it was overcast and sprinkled for about 5 minutes. When we drove back the hotel area around 4pm we could tell it had really poured there – we apparently missed a really good storm. But all was bright and sunny the following day and the showers blew by pretty quickly.
Restaurants / Bars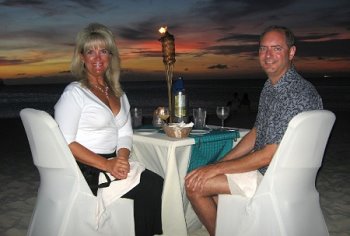 Couple of new places we went to this year were The Old Man And The Sea and A Taste of Belgium Bistro. The Old Man restaurant was very romantic, nice and quiet, good food, and we could even see Venezuela in the distance that night. A Taste of Belgium was a great place for lunch and a couple of ice cold Duvels!
Seems like we always ran into someone we knew (or who knew us) when we were out to dinner – so much fun seeing everyone!
We never had a bad meal in Aruba but our favorites on this trip: Passions, Chefs Tables, Screaming Eagle, and The Old Man And The Sea (and of course Bingo! for all of those 10:55pm food orders before the kitchen closed…and for the drinks and laughter!)
All of my restaurant reviews are at the following link: www.restaurantsaruba.com
Bulletin Board Parties
We went to two bulletin board parties and had about 18 people at each one – great turnout and so much fun to talk to everyone. Met a lot of new friends this year that I hope we'll see in Aruba again and a lot of "Sept. people", too! Great fun!
Departure
We left on a Sunday and got a little caught up in our last lunch in Aruba so we were running late. By the time we got to Optima to drop off the car we only had two hours before our flight left. The Optima shuttle took no time at all and we breezed through check-in, security, etc. all within 30 minutes. We found a new bar at Gate 4 this year which is nicer than the other small one near Gate 6 – a lot more room and more relaxed. Just ordered a drink when a girl sat next to me almost in tears - I could hear her telling her husband that she couldn't find any phone in the airport to call home that worked. Wasn't sure what the emergency was but I let her borrow my cell phone – she was elated and her husband bought us a round of drinks. Turns out the emergency was just to let her parents know they were at the Aruba Airport….
Until next year.....
it's always so sad to leave my "home away from home" at Amsterdam Manor. I cannot say enough great things about their staff! Marc – thank you for the cake and keep that beer on ice until I return!