17th Trip to Aruba - Amsterdam Manor Beach Resort
April 27 – May 5, 2008 by ~Amy~®
Aruba Forum Profile: ~Amy~®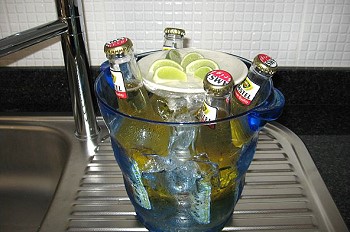 I usually go to Aruba in the spring with girlfriends but, unfortunately, due to circumstances beyond my control, I suddenly found myself traveling to Aruba alone on this trip (with my husband's blessing to "go and have fun".)
Arrival
Used United on the flight down (via O'Hare) and was able to upgrade to First Class using United frequent flyer points. What a treat that was to have a nice, comfortable seat (plus no one in the seat next to me), a wonderful breakfast of omelets, fresh fruit, yogurt and croissants (no plastic dinnerware), and drinks served in real glassware. The flight attendant in First Class catered to everything you needed (and he made one heckuva strong Bloody Mary!) – he even came by and turned on my overheard light for me when I was reading.
Optima Car Rental
This is the first time I've used Optima with their new off-airport shuttle service. I walked out of baggage claim and immediately saw a woman holding an Optima sign. She had my name on a list and I was quickly helped with my luggage and ushered onto the shuttle bus (similar to those at U.S. airports). Took just a few minutes to drive to Optima's new location which is located at the Toyota car dealership on your way into downtown. Walked into their office, finished the paperwork, walked outside and my car was already running with the A/C on and my luggage in the trunk. Easy as can be! This was the first time I've flown in on a Sunday and there was absolutely NO traffic downtown so I was at Amsterdam Manor within minutes.
Amsterdam Manor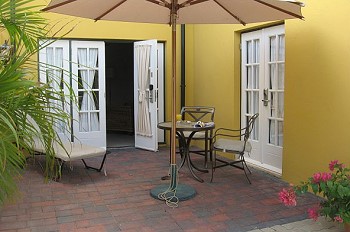 I had originally booked our usual 2 bedroom/2 bath since I usually come with friends. I had emailed Amsterdam Manor at the last minute and asked them to change my room to a studio (or anything they had available….storage closet would have worked and I would have been happy.) They ended up giving me a free upgrade to one of their available rooms – the honeymoon suite! Well, here I am – ALONE – with the honeymoon suite – probably the quietest that room has been in years! LOL! This is a perfect room for any couple looking for a little privacy and romance. It is very similar to their one bedroom suites except it has an incredibly private patio, a huge bathroom with double sinks, separate shower, and huge Jacuzzi tub for 2 people (complete with neck cushions and a waterfall-type faucet.) Loved it! And I loved having a lot of windows as well to let in the light in the morning – 2 windows in the bathroom plus the bedroom had a window along with patio doors. There were 2 sets of patio doors – one from the living room and one from the bedroom that opened up to the patio.
I called my husband as I was unpacking to let him know that I arrived safely and that I was drinking an Amstel Bright (a nice "welcome home" bucket of Brights was waiting for me in the room.) He immediately chastised me and told me to quit drinking beer in my room and to get out to the beach bar for happy hour – pronto! I wasn't one to argue with his request (or logic), so I headed to Amsterdam Manor's beach bar for my first happy hour and drink on the beach – a Mojito made by Tico (one of the best Mojito makers on the island!) This is when I learned that they have two kinds of Mojitos now – the usual one and a new one called the Passion Mojito (made with a bit of Passion juice – very yummy!) And now my vacation in Aruba has officially begun!
Eagle Beach at Amsterdam Manor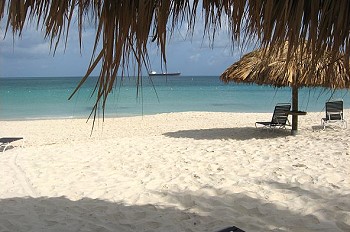 Most of my days consisted of the beach, the water, reading books, and the beach. I would get up early and do my usual walk/jog to the Phoenix and then back to the room for breakfast on the patio (bagels and mimosas) – or sometimes I'd take my breakfast to the beach with me, sit under my palapa and enjoy the view while sipping on my mimosa. Sometimes I'd go back to my room for lunch (sandwich and fruit for the beach) and sometimes I'd order lunch from Amsterdam Manor's beach bar (great salads and sandwiches at decent prices) when I was feeling lazy.
One afternoon I was out swimming just past where my feet could touch and there was this huge school of about 30 fish (silver and about 8-10 inches long) swimming circles around me. Their fins were sticking out of the water and sometimes they jumped a bit so it was like mini-Jaws all around me (I kept hearing the Jaws music in my head – LOL!) I treaded water with them for a good 15 minutes or so – fun!
Amsterdam Manor added a nice boardwalk from the street to where they put the tables for Passions. They also added a ton of new palapas. I looked around me one day and counted at least 10 near me at around 11am that were open. They have 72 rooms at Amsterdam Manor and I think they told me they now have 60 palapas. There was never a problem getting one before but now you have many to choose from.
Palm Beach
Went to Palm Beach one day…..started at Moomba's for a beer, walked over to the Surf Club (holy cow! The amount of people and chairs on the beach....just not for me!), then walked all the way down to the Riu. Stopped at Bugaloe for lunch and a few beers - met a wonderful Dutch bartender named Frank who took very good care of me (I was never without a cold Polar in front of me!) Then back toward Moomba's and a stop at Claudia's Bar at the Playa Linda to meet the famous Claudia (very sweet woman) and have another beer. Hands down so far for the best beer prices and the COLDEST beer on Palm Beach: Bugaloe!
Aruba Bulletin Board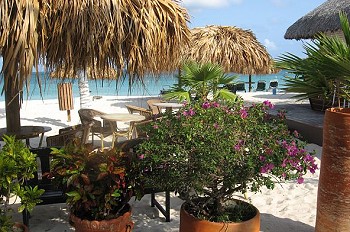 Attended the weekly Bulletin Board party at Amsterdam Manor's beach bar on Monday night. Great group of people, lots of free snacks, lots of 2 for 1 drinks….did I mention great group of people?!? Also met quite a few people from the bulletin board throughout the week: met a nice couple in the parking lot at Kong Hing as we were both loading up our cars with groceries (don't know how they recognized me though because it was very early and I really looked like I just rolled out of bed!); met two couples at Gasparito who came over to my table to say hello; a very nice couple on the beach, who were also staying at Amsterdam Manor, came over to introduce themselves (we would get palapas next to each other every day); and my favorite was the couple who sat next to me at happy hour one night at the beach bar and started talking about "ArubaAmy's recommendations" from the Trip Advisor Forum without even realizing I was sitting next to them – tapped them on the shoulder and introduced myself and told them I was glad that they didn't say anything bad about me!
Pole Sitting
Went downtown one morning for breakfast, a little window shopping and to take in the pole sitting contest at Café The Plaza (for charity.) Can you believe out of the 8 pole sitters who were there, I knew two of them! They were at 49 hours the morning I was there with another day and a half to go....and were looking very sleepy. Had breakfast at Café The Plaza which was very good AND they served Smit and Dorlas coffee (one of my favorites!)
Restaurants & Bars
I posted all of my restaurant reviews at this link but I've noted a few below: www.restaurantsaruba.com
Mango's at Amsterdam Manor – ate here alone on my first and last nights in Aruba. Nice menu with something for everyone. Their filet mignon was fantastic! It was two very relaxing, pleasant evenings near the fountain (same table both nights), enjoying my first and last dinners in Aruba. It was definitely a great way to begin and end my trip.
Went to Bingo's on a few occasions after dinner for drinks. One night I met 2 Americans at the bar who have been living in Aruba for almost 6 years as Customs Agents at the airport (they had some great stories!) On another night, I was able to witness a minor beer brawl/scuffle that Mike and Franz took care of within seconds – I think it started over a difference of opinion as to whether Eagle Beach or Palm Beach is better! LOL! Also met a couple of Dutch girls (waitress at Bingo and her friend) – her friend was telling me about her "new ones" (I told her they looked nice - from what I could see anyway).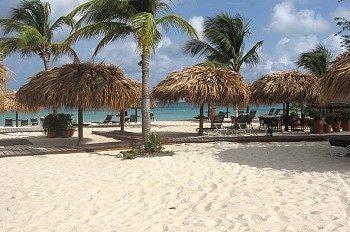 Decided to go to Linda's for pizza one night (never had their pizza, just pancakes at breakfast.) So I go in, order my pizza, and order a Bright while I wait at the bar. Next thing I know I'm talking to the guy next to me who owns a new dessert and coffee place at the new mall by the Holiday Inn and it turns out that Linda's son works for him. So we're talking and talking....Linda brings out my pizza and they both convince me to eat the pizza there. Linda's closes at 10pm, but they shut the lights out and we sit and have another drink sooooo....I actually closed down a bar that night (haven't done that in YEARS!) Granted, it was only 11pm when I left but I still closed down a bar! I've had Tomato Charlie's and Pizza Bob's pizzas but this one was definitely my favorite. Not sure how to describe it but it seemed more homemade than the others with tons and tons of toppings. It didn't have as thin of crust as I normally like but I can let that slide since the rest of it was so good. I got a ground beef, tomato, and green pepper and it was stacked high with toppings. They also use Gouda cheese (you can ask for mozzarella if you want) - definitely like the Gouda cheese better!
Wacky Wahoo's is as good as everyone says it is - nice place, good food, good prices. Heard everyone talk about their black bean soup and they are right (yum!) Met the owners - very nice couple - I was eating late and one of the last ones there and they were sitting outside enjoying a beer and relaxing since their night was over.
Went out with "Fisherlady" (Kathleen) from the bulletin board one evening. She came over to Amsterdam Manor one morning to find me…well, there I was sitting at the computer so that was easy! We went out to the Promenade for dinner and then decided to go have a couple of beers at Salt & Pepper after dinner....then we stayed until they closed (second bar I closed down on this trip!) I've never seen the bartenders do so many shots in one night - they're crazy there! And I ran into my new friends, the U.S. custom agents, that night, too! I looked for them in the little booths at the airport when I was leaving Aruba but didn't see them.
Departure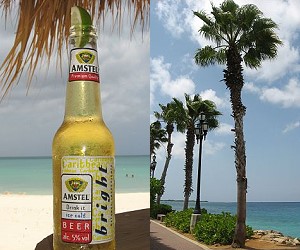 I was flying back on a Monday so I gave myself a little over 2 hours for the airport. First thing I had to do though was fill the gas tank back up before I returned it. So I stop at the Valero downtown…sat in line behind 4 cars waiting and waiting – and no one is moving. Cars aren't moving, there is no action at the pumps – nothing. I'm not sure what was going on but I didn't have time to sit there to find out. So I head back toward Palm Beach to the Valero by Bingo (thinking I might have time for a quick lunch – ha!) – same thing at that gas station, lines of cars and no one pumping any gas. Great! Now I'm thinking I'll just return the car as is (2/3 of a tank) and pay the price. As I was nearing the airport I realized I still had some time so I turned near PriceSmart to look for another gas station. Finally found a Texaco, line was long, but…..it was moving! Back to Optima to return the car. I pulled my luggage out of the trunk, did the paperwork, back outside only to see my shuttle driver putting my luggage back IN the same trunk that I just took it out of. He said since it was just me it was easier to just use the car instead of the shuttle. Well, if I had known that I would not have wasted muscle on pulling that luggage out of the trunk! LOL!
Lines at the airport were minimal and I breezed through check-in and security. Had time for a couple of drinks at the little bar near the gate. Onto the plane (US Air through Charlotte) with a seat in "steerage" (no First Class upgrade this time)…and on my way back home.
Once, again….many, many thanks to the wonderful staff at Amsterdam Manor (Marc, Diana, Tico, Diego, Janine, Sasha) – they are a huge part of what makes us return to Aruba year after year and they also made me feel very comfortable in taking this trip alone!