Divi Beach Resort
November 22 - November 29, 2007 by xcptnl
Aruba Forum Profile: xcptnl
(long winded – feel free to skip over stuff!)
Turkey Day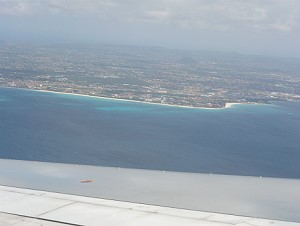 the alarm went off at 1 am but for some reason we had no issue jumping out of bed! Showers were taken – last minute items thrown in the bags and off we go! We live in Western Mass and boy was it foggy on the ride to Logan. By the time we go to 128 it was much better. We ended up deciding to park at Logan (hoping there would not be any issues with full lots). We headed to the Long term (Economy lot) and lo and behold – it was closed – we asked the attendant and he said the central garage was the same price and there would be plenty of spots – who would have though that?? So off we head back to the central garage – and yep – plenty of spots. We ended up at the ticket counter around 3:30 am with plenty of people in front of us! Once they started processing us it took about 15-20 minutes to get through. With all my worries about my bag being too heavy – I just made it (46 lbs!!!). I know I know!!! The flight was full but took off right on time. We had a layover in Miami but no plane or gate change! We got in right on time and left right on time! We took the time to call everyone while in Miami to wish them a Happy Thanksgiving! My sister and brother in law were on their way to Hawaii so a phone call to them on their way to the airport to wish them a happy vacation!
We landed in Aruba a bit early (around 1:45 pm).
Out to get our transport – we didn't have to wait long and then we were on way! We were the 2nd people dropped off. It was so nice to see the familiar buildings and roads and beaches! We got to the Divi by 3ish. Check in was easy – no issues. We had asked for room 523 (thanks Danadan!) but can you imagine – they let a bride have it! We ended up in 519. No issues with the room – great view!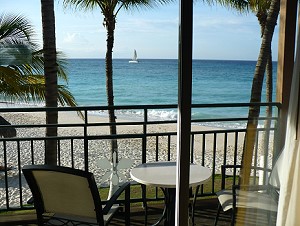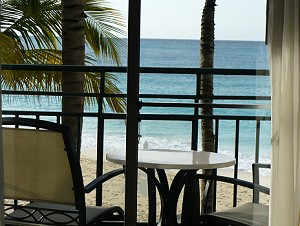 We just grabbed a pizza at the Coco Grill (Thelma was great all week!). I think we ate at the buffet that night – I really cannot remember. Then off to bed – long day!
Friday
Beach day all day! We walked down the beach to gaze longingly at the Manchebo and to see if I could spy Sasha but no luck! We enjoyed the breakfast selection at the Divi – the Coco Grill was good. We did stop at one of the other bars closer to the Tam (I think it was the Sandpiper) one afternoon and got a hamburger and I have to say it was really bad and I am not picky. So we didn't choose a hamburger again even at the other locations as we figured it must be the same for the whole resort. I am pretty sure we ate at the buffet for dinner that night. Had some drinks after dinner while sitting under the stars. That was about it that day – beach, eat, drink, beach, eat, drink. Off to bed we go! We are such party animals it is not even funny!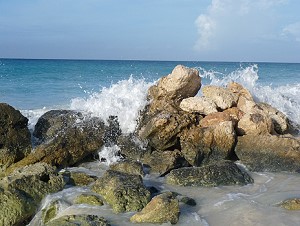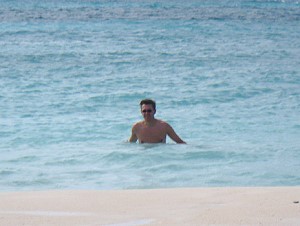 Saturday
We decided after breakfast to head into town today. We grabbed a taxi and headed in late morning. We did our gazing and shopping. I bought Brian a Red Sail golf shirt for his birthday (his birthday was on Turkey day!) that he picked out. I also got my daughter a new Carlos & Charlies t shirt. We stopped into Iguanas Joes for a drink and some snacks.

Once back to the resort we took the golf cart shuttle over to the Divi Links – Brian needs more Birthday shirts!! Back to the resort – we had reservations at the Red Parrot. I thought the food was good. I do have to say this was the only place where I thought the staff was not that friendly. No issues but just not overly enthusiastic – they seemed stressed out and maybe they were! We both had a tenderloin with mushroom gravy with mashed potatoes – Brian had a salad and I had Onion Soup to start. Neither of us had dessert (I think – not positive I did not but I don't remember!). We did wander over to the Casino after dinner – neither of us won and we don't end up there long due to the smoke but it was fun to pass the time.
Sunday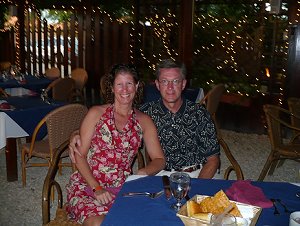 Up early – off to breakfast then to the beach! We wandered again down to the Manchebo – no Sasha. We stopped at the Pega Pega bar for a Balashi and I had to have the Uitsmijter sandwich! YUM! We chatted with Sandra for a bit at the reception desk and told her we missed the Manchebo – next year! Today is Madame Jeanette's!
We ended up with a 6 pm reservation but that is fine with us – being such partiers! I don't think we would have found the place so I am glad we took a cab! Loved this place and the food was excellent. I had the surf and turf and Brian got the tenderloin. I got the apple strudel for dessert, which Brian helped with. We were both very happy with our meal and the service. It was amazing watching the streams of people coming in. Back to the hotel – grabbed a couple of drinks at the bar by the water and off to bed!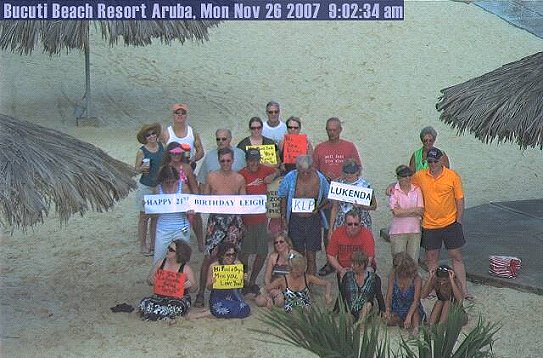 Monday – Up early – grabbed breakfast. Taped together my sign for my daughters 21st birthday and off to the webcam so she knows I was thinking about her even though I wasn't home for her birthday!
Then we stopped at Dunkins so I could pick up some more the Dunkin Donut mugs – they make me smile when I use them the rest of the year at home (it's worth the trip!). Back to the beach at the Divi – more sun, surf, drinks, pizza.
We had to get ready to go the BB party at the Amsterdam Manor so off the beach earlier today! We also have reservations at the Sunset Grille! We got to the Amsterdam Manor and to my knowledge no one else showed up. We both had two drinks. Played with a stray cute dog! And watched the sun go down!
Then off to the highrise area to wander around – have some drinks! We checked out the new shopping mall which was nice. We stopped at the Salt and Peppers to have a drink – I had a glass of Sangria.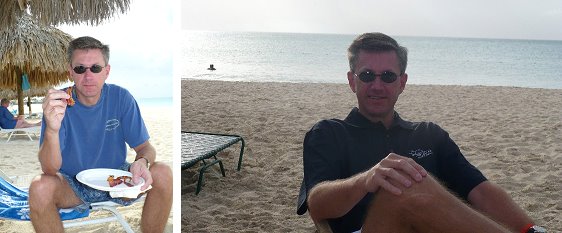 Then off to the Radisson for dinner. We were still a bit early so we stopped at their bar and I had some frozen sweet drink. Now – I really had not drank that much (2 rum/cokes, the glass of sangria and then the frozen drink) but I think the combination of my drinks was lethal. My stomach started to turn – blech! We walk into the Sunset Grille and this was supposed to be for Brian's Birthday – he was all excited over the steaks on display and my stomach was turning from the smell. We sat down and I knew I couldn't eat. He is so sweet – he told the waiter I was not feeling well and that we would need to leave – I felt so bad!! We grab a taxi and head back to the Divi. I went to the room and he went to the buffet – so much for a nice birthday dinner!
Tuesday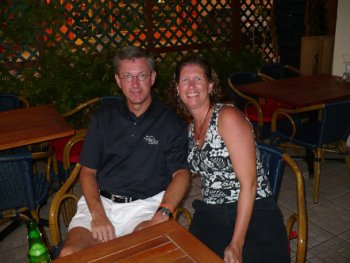 Today was the Donkey Sanctuary!!! So off to rent a car. All they had was a Toyota Yaris but no big deal (or so I thought). We saw this guy – runnnnnnnnnnnn Iguana RUNNN we are behind the wheel!!
Then off to the grocery store – must have carrots (there was much eye rolling by Brian). Then to the Balashi store – more tshirts must be bought. Then out come the maps and all the directions I had printed off from Amy, etc! Well we went a different way – and we were very close to being lost and I saw a sign for the Natural Bridge – of course I scream out – take that road. Brian wants to know why – because Amy said so that's why! The man has the patience of a saint! We start to the see the Ayo signs so I tell him we are close…then the road starts to get bad and the rental car people told him no 4 wheeling!!! He starts to get a bit annoyed (that patience thing is wearing off). But he nicely keeps going for me and we make it! I think in the end he thought they were cute but I am sure he is telling everyone about the road and how I almost voided the car rental agreement and he almost owned a Yaris!
Off to the Lighthouse we go! We ended up doing our road trip a bit backwards but oh well! Then to Baby Beach (I told you we were reversed!). I was so excited to get to Baby Beach! We get all of stuff on the beach – I start to take my tank top off (I had my bathing suit underneath a tank top and shirts) and my bathing suit top breaks!! The plastic clasp on the back just broke. I was sooo said because I am not of the age where it would be fun to just swim in the tank top and bathing suit bottoms – people might be running off the beach screaming in horror!! So I sat on the beach while Brian swam :)

So while he was enjoying the water I lay on the towels and pouted. I sat up about 3 minutes later and Brian was not where he was when I had laid down!!! I am doing the hand over the eyes because I just cannot understand where he went. Then I am scanning all the people in the water and no Brian. I am really starting to panic and I am just about to stand up and start yelling when I see him waving his arms at me over to the left. He saw me start to panic and was trying to get my attention but a man was kind of standing in between us so I didn't see him to begin with – WHEW that was a bit scary. So not only did I not get to swim I almost hyperventilated! Ok..back in the Yaris. We should have stopped at the beach bar (Cocos I think) but I said lets try Pinchos. Of course I didn't realize it was later afternoon/dinner place so it was closed. Oh well…back to the Divi! We decided we would try another birthday celebration dinner tonight and try Smokey Joes (Brian loves ribs so not too bad of compromise for him). We got back to the Divi – had some drinks – showered and changed and then dropped the car off right by Salt & Peppers. Then down to Smokey Joes.
We both really enjoyed our dinner. He was amazed by the amount of ribs for $17 and I thought my grilled shrimp/rice was really good! Then off to get some gelato! We grabbed a bus and headed back to the Divi. What an exciting day!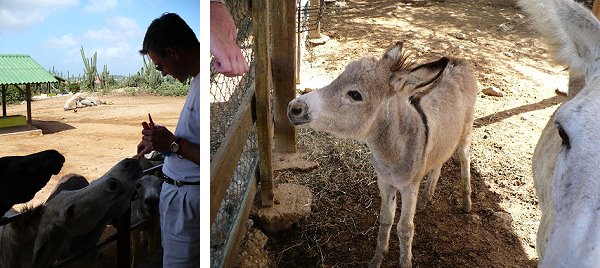 Wednesday
up early and to breakfast and then off to the beach! Not much going on today other than beach, drinks, eat. We ate at the buffet for both lunch and dinner and just relaxed. After dinner some drinks while by the water-we saw a shooting star! It was a totally relaxing day!
Thursday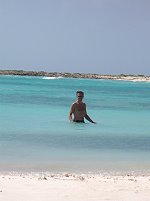 Travel day. We got up and got our stuff organized and then off to breakfast and some beach time. We then had some drinks at the Coco Grill. Before we knew it the bus was there to take us to the airport. We got to the airport around 2ish. Funny story – while in line there was a couple behind us and the man was really stressed out about the line. He got out of line at one point to talk to one of the people at the counter. Brian though he was trying to get a first class ticket – I said nooooo... he probably just has some questions. Well he gets back in line and is all fidgety! He then starts asking people what time their flights are. Most of the people are on the 4:30 flight – he starts saying I am on the 3:45 – I wont make it! Some people tell him if it gets close they will come and call out any earlier flights and get them through earlier. They do that for a San Jaun flight (this flight was for 3 I think) – he is now really annoyed that no one cares about his flight – he then tries to see if he can get in front of us – we say no. I don't mean to be nasty but we got there early – if he is in such a panic he should have gotten to the airport earlier! And at this point he is only about 4 people away from the counter. So we end up at the window where he was talking to the guy and he ask Brian what he was asking us – Brian says he wanted to get in front of us – the AA ticket guy says – yeah – he tried to bribe me to get on first class- he said if I did he would make it worth his while. Go figure! Anways to make a long story short – we see him wandering the terminal later – with a soda – he obviously had plenty of time! We had a non-stop back to Boston – the flight was not crowded so we ended up with just the two of us in the row. It was also on time! We were back in Boston right on time and back home by 10 pm or so!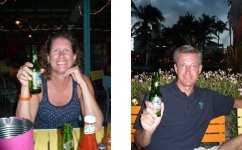 All in all a great trip. We enjoyed the Divi but we both liked the Manchebo better and will definitely make sure we book earlier next year so we can get in there! The weather was good – some mornings we had a couple of showers but by Monday there were not anymore. The waves were bigger until Monday also! Sorry this was so long!!
Thanks to all of you for your help – you are the BEST!!