Divi Aruba Phoenix Beach Resort
September 1 - 8, 2007 by Larry
Aruba Forum Profile: Vegas2Aruba
Our first time to Aruba will not be our last!
We arrived on Sept 1 at about 1:30pm. We came in from Las Vegas and spent the previous night on the plane traveling all night. We stayed at the Divi Aruba Phoenix in room 1105. Talk about a million dollar view! We anticipated a little cleaner room, but the one bedroom we had was large and we had a partial kitchen and two balconies. The view was awsome. I would say the Phoenix is a moderate hotel with a very small pool and little activity. The beach is very clean and not crowded at all. They are expanding the hotel and will be adding a new pool and 4 new towers. The current tower is getting a make over too.
Once we landed in Aruba we got our car at Royal and all went smooth. We took a quick drive up to California Lighthouse, not sure what the excitement of it is, but we drove to it and explored the island a little before we checked into our room. Check in went smooth too. After check in we went to Super Foods and loaded up with in room food. We got plenty of beer, wine and rum to last the week. Also got snacks and breakfast food. The bill there was about $120.
Also picked up our phone card at Certified. Our first night we were tired and felt it would be better to get a good nights rest to start our first full day rested.
September 2
Woke up early in the morning to a lot of rain and wind. Hurricane Felix had come close enough to the island to keep us in until about 2pm. Once it cleared up we made our way out to Salt and Pepper. The place was full, so we sat with another couple who shared their table with us. Nice couple from Atlanta. We stayed their for the next 4 hours drinking with them and had a lot of fun. Did not even get their names. After that we walked to Tomato Charlies and had some good pizza.
September 3
Went scuba diving in the morning with Unique Sports. Had two great dives and after we stayed on the De Palm pier and had lunch at Bugaloe. A great bar that we spent most of our days at for lunch and happy hour. For dinner we went to The Paddock. Nice place right on the water and really good food for a good price. Dinner for two was about $50. Would recommend it to others.
September 4
Slept in and then hit the beach around noon and floated on rafts in front of the Riu. Nice beach but can get crowded. Again had lunch at Bugaloe and then hit the beach and then back to Bugaloe for happy hour and a live band. Stayed their until about 7pm or so. Fun band good drinks and good food. We walked back to the Phoenix and on the way took a few swims on the way. By the time we made it back to our room we had enough food and drinks for the night so we stayed in.
September 5
We went for a message at Indulgence By The Sea at the Divi. Always need a good message on vacation. After the message we went on an afternoon scuba trip. Had a great 2 tank dive again. After the dives, of course we went to the Bugaloe for happy hour then back to our room. Dinner was at Smokey Joe's. This is a must on our next trip. Great ribs and shrimp dinner. Also a fun place to go. It is so nice out at night that after dinner we just walked around and enjoyed the scenery. Stoped by the Hyatt for a drink. What a nice place.
September 6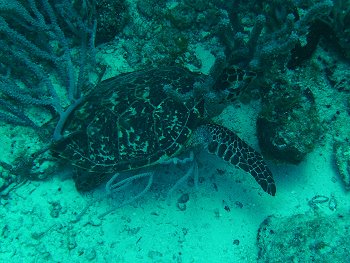 Drove around the island in the morning. Went to baby beach and drove through their residential area to get a feel for how life on Aruba is. After that we went to the beach near the Riu again. Dinner was at Sunset Bistro at the Phoenix. great atmosphere, but food was only OK at best. Would not recommend this place.
September 7
Last full day. Scuba diving in the morning. Then went to Malmok beach and found a very private place, felt like we were the only ones on the island. This is a must if you want to really feel like you are on a deserted island. We never made it out to dinner this night. Made food in our room and had left overs.
September 8
Woke up and packed our bags. Went to a few of the other hotels in the high rise area to check them out to see where we are going to stay on our next trip. Riu was nice, but heard a lot of bad things about it. We may just stay at the Phoenix again, since they are redoing it and adding the new towers it should be nice when done. All went well on the way to the airport and we boarded the plane and already want to go back to Aruba.
A few recommendations
Rent a car with Royal. Well worth the money. Parking was easy around the island and we never had to wait for a taxi or bus. We were able to go as we pleased. Scuba with Unique. Eat at Smokey Joe's. If you want a relaxing time in the afternoon and really want to get the island feel, then spend some time at the Bugaloe. Leave the watches at home, this is a place where time does not matter. Since we are from Vegas, we never made into a casino. Buy your own alcohol at the stores and bring a soft cooler, pack it full and hit the beach. Get a cell phone and phone card to call home. Make sure to bring OFF, bugs can get to you. Find a private section of the beach and have some private fun with your spouse.
We have been to other islands in the Caribbean and I think Aruba is the best. We will be back soon.