Divi Village
June 24 - July 3, 2007 by Happy To Go
Aruba Forum Profile: HappyToGo
This is our 4th trip to Aruba and possibly one of the best!
June 24th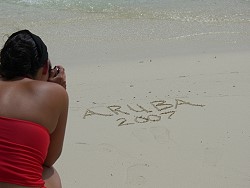 Aruba 2007 We flew out of Chicago O Hare at 7:30 AM connecting in Charlotte, NC and on to Aruba arriving at 3:13PM. Sun was shinning and we were smiling to be back to our Home Away From Home.
At the airport I left Dave to get the luggage and I made my way to Royal Rental Car to pick up the Jeep. As in years past my Jeep was not available so they upgraded us to a Ford Explorer Truck and gave us the option to have a Jeep delivered to us the next morning or keep the Explorer for the same price. We opted to have the Jeep delivered in the morning. I know that a lot of people may be upset about the Jeep not being available when that is what we reserved, but we had no worries and in a way we kept our fingers crossed that we would have something larger to get all of our luggage from the airport- Dave made it out with our luggage just in time to sign off on the "dent" report and we headed to the Resort. * In all the years that we have rented from Royal we have always asked for a complimentary cell phone and then we pick up a GSM phone card - 25 Afl. The minutes lasted the whole trip.
Divi Village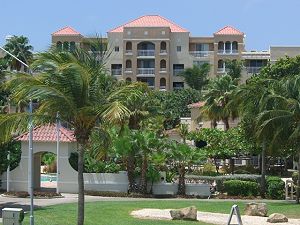 This was our first experience at the Divi Village, as we have been happy at the Renaissance Ocean Suites the last couple of trips. When we arrived at the Divi we were greeted with our choice of Fruit Punch or Rum Punch. Check in went very smooth and our room was ready and as we requested a non-smoking King- ground floor (Room 5503). As for a view we didn't have one unless you call the green net of the tennis court a view. No big deal as we are not in our room a whole lot. We had planned to make it to the grocery store that night, but our Visit Aruba card was not delivered until Monday afternoon... no V.A. card deliveries on Sunday... with the V.A. card you can get a discount at Certified Market. Groceries would have to wait until Monday.
After a long day of traveling we wanted to start to unwind with a drink and a sunset. Luckily Aruba has both. ? We made our way over to the beach and watched the sunset ...vacation just doesn't get much better than that! As for dinner we went to Mulligan's at Divi. The atmosphere was great. You over look the ocean and the golf course from open air seating. I enjoyed the Spinach Raviolis and Dave had a Mahi Mahi dish. He wasn't thrilled as it was in a broth rather than a sauce. I thought it was very tasty, even though I was glad I ordered my Ravioli's. Then for desert we had the "Chocoholic", very good. Dinner that night was around $65 with a tip.
Off to bed...
June 25th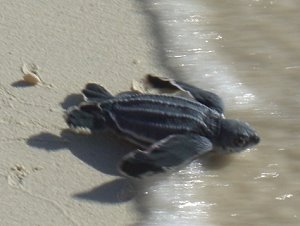 We had to make our first stop the Bucuti so we could say "hello" to our son via the daily web cam. We stopped for breakfast at Mi Dushi Bagels- Excellent! Very reasonably priced I might add for breakfast. I think our bagel sandwiches and juice were under $15. After breakfast it was off to the market- about this time I pointed out something very shocking to my husband- I had yet to get into the ocean and we had almost been on the island for 24 hours! I had to do something about that. So after our trip to the grocery store we made it to the beach and practically had the whole beach to ourselves. The winds were VERY strong that day. While we were in the water we found 2 Sand Dollars- something that we have never seen in Aruba before. That was very cool.
That evening was the Amsterdam BB Party and after 3 years of missing it we wanted to make this one and we were so glad that we did. We made it to the beach bar and notice that one of the turtle nests was drawing a lot of attention. I asked the bartender if they were hatching and she said "yes". I had plans to grab a drink first but a patron at the bar said "Your drink can wait, you may never see this again". We ran over to catch one of the most amazing things I have ever seen. All in all we watched 9 turtles hatch and make their way into the Caribbean Sea. We later heard that some people watched over 50 hatch from that nest Then it was back to the bar where we met up with "grovesc" and family from the BB and we had drinks and a good time with them. If you are reading grovesc.... ARRGGHHH!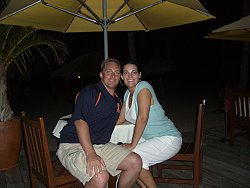 Then it was off to the Alhambra to try our luck at the casino. It was a so-so night at the casino. I am not writing this letter from my new vacation home in Aruba so you can see I didn't strike it rich! ? ? At about 9PM we finally remembered that we had not eaten since lunch. Off to the Pirates Nest ...
Our waiter was so wonderful he was very attentive and all in all the service was quick. I had Mahi Mahi and Dave had the Red Snapper. We both agreed that the portions were huge and food was excellent. Total bill with tip was $78. Had a few pictures taken and chatted with a few tables around us and then it was off to the resort. Our big adventure was to start in the morning.... SCUBA DIVING
June 26th
A little background before I get into the dive log- Dave and I are newly certified divers. The only dives we had been on up to this point were in Wisconsin's chilly Pearl Lake- So this was to be an experience like no other for us... We had no idea that we would be so hooked on diving until my fins hit the warm Caribbean water.
I had done a lot of research and asked a lot of questions on this BB to find a good dive operation and I have to say that we found it! We signed up for 4 dives before we left home with Unique Sports of Aruba...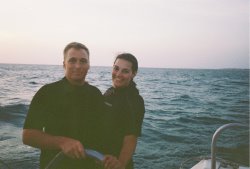 Unique Sports picked us up picked us up at 8:30AM, as scheduled and we headed to the De Palm pier- between the Radisson and Rui. Today's dive was at the Pedernales, max depth around 25ft. It was an amazing first dive. I couldn't believe how beautiful it was under the water with all the sea life. I can't even remember what amazing things we saw as I was so taken in by the whole idea that I was under the water doing something that I never thought I would ever dare do and even more exciting I was REALLY enjoying it! Max depth 25ft bottom time was 47 minutes.
Upon our return to the Divi we chatted up all the great things we experienced on the dive and enjoyed the rest of the afternoon poolside. The Divi has 3 pools. One was located right behind our building. It was the smallest of the pools and offered the most shade. The pool in the front of the resort was closed for maintence our entire stay. The last day they were filling it, so all must be finished now. The largest pool is in the Villas. The infinity pool is beautiful. They also have waterslides for the kids and they have them set back far enough away from the bar that you don't seem to notice the kids at all. They also have a lot of activities at this pool , the biggest draw was BINGO the afternoon we were poolside.
Tonight's dinner was at an old favorite Smokey Joe's. Always a good choice when you are looking for a casual meal with good food and good prices. We always start our meal with the Shark Bites- Yum- We ordered like twins that night enjoying Pink Iguana's (drink) and the Mahi Mahi Cesar Salad. For a sinful desert Dave ordered the Deep Fried Oreos- I had one bite, and that cured my curiosity. Again another reasonable night bill with tip $50.
June 27th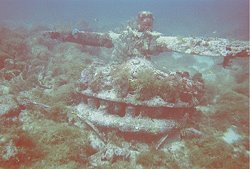 We were ready to dive again this morning...Today was a one tank dive to the Antilla. This is the site that we were both very anxious to explore. Unbelievable! We met at the bottom and took in the amazing coral colors that are on the ship. I have never seen so many colors of coral in my life...it was just like a picture postcard- I did try my hand at some underwater photography, but I only had a small disposable camera so once I was below 40 ft there wasn't enough light and my pictures didn't turn out very well. We saw a couple of eels and one parrot fish that was enormous! For those of you that have seen the parrot fish at DePalm Island picture even bigger than that. In fact as it was approaching us all we could see was a shadow I was getting a little nervous! Then as his buck tooth smile came into focus, I sighed relief and kept on exploring. This wreck was so much fun and even though it was only our 2nd dive in Aruba, Unique Sports made us feel very comfortable with the briefing at the surface- no surprises under the water. Max depth 57ft bottom time was 44 mins.
We returned from DePalm pier exhausted from the excitement and opted for a quick sandwich and nap. We had an appointment at Indulgence By The Sea Spa located across the street from the Divi at the Tamarijn. We booked an Ocean Rose Indulgence. Being in the beauty industry I enjoy all spa treatments and I wanted my husband to experience something other than a massage all the time. This was the perfect fit for us...They start all their services with a cleansing foot soak in the lobby. Then you are invited back to your treatment room to disrobe. From there you are in relaxation heaven! Just a little side note- I have been having lower back trouble and if there is any advice that I can give to people questioning a massage for what ever reason, tell your technician what you like and what you don't like, pressure, no pressure, no foot massage, whatever it might be... It will make the service more enjoyable for you and more rewarding for your technician when you tell him/her what a fantastic job they did. On with the Ocean Rose Indulgence ? It started off with a gentle body massage and my technician was AMAZING ! Then they use a exfoliator on your entire body. If you are sun burnt please stop them before they work on that area, my husband learned the hard way- again talk to your technician. After you are rinsed they apply a wonderful scented body moisturizer, almost like another massage in itself. By this time you are a noodle and loving every minute of it. I wish I would have gotten my technicians name b/c he was SO good. My husbands technician was not up to his standards, but I think if he would have given her some guidance as I did the whole service would have been better for him. In total we spent 1 hr 15 mins in the treatment and the cost was $153 (we had 10% off if you are staying at the Divi) with a $15 tip for each technician- in my opinion a steal in the Spa World!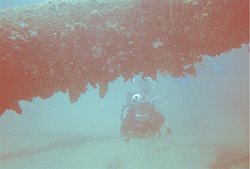 We had a couple of hours to lounge by the pool before we were going to go for dinner. Tonight we made plans to meet "grovesc" (Aruba BB) and family at Madam Janette's. We had never been to MJ's before and after finding it we were so happy that we went. The food was wonderful, I had Salmon Florentine and my husband had Shrimp Casserole . The portions were more than enough for one person, and by the time we had a couple of drinks each plate would have fed 2 people. Dinner and drinks (no room for desert) for the 2 of us was $85 including tip.
June 28th
We slept in a little this morning and then made our way out to the beach. Spent most of the morning in the water and catching some sun. Lunch was at the Sea Breeze Café at the Divi Village. The food was just okay. The entertainment was great- we watched a couple of birds fighting over sugar packets. They are very resourceful, why spend the time searching for nectar when you can poke a hole in a sugar packet!
Unique Sports picked up at 12:30 for our first 2 tank dive. Today was the last of our booked dives, boo hoo (no need to worry we were able to fix that- more on that later). This trip was to the Antilla and Malmok Reef. I would highly suggest going to the Antilla more than once. You really get a sense of how big of a wreck it is on the second trip. The other thing I noticed was that on our first trip there was a lot of different dive boats out there (9:30AM) on this trip we only had snorkelers out there, and since they stay up top you can enjoy a less crowded bottom. Also, on the early morning trip to the Antilla (1 tank dive) we had a lot of resort course divers. I would take the 1PM out to the Antilla, it was so enjoyable. Okay after our first 2 tank experience we were beat! We returned some of our rented gear and started talking to one of the Dive Masters about booking more dives. This is what I loved about Unique, after they dive with you they pay attention to your skill level and can suggest the dives that will be best suited for you. We happily added 5 more dives to our schedule...yeah.... After much debate and little apprehension on my part I agreed to do a NIGHT DIVE to the Pedernales that night. It helped when we started talking about the sea turtles that use the Pedernales as a sleeping ground. After they promised me that I would see a sea turtle I was all signed up! They didn't let me down, I saw a huge sea turtle and so many other neat creatures that use the nighttime to hunt and move about. Max Depth was 25ft, bottom time was 63 minutes. After about 45 minutes I was getting cold and wished I would have had a full 3mm wetsuit- I will know for next time. I was not the only one- we had 6 divers (great size group) and all but 2 of us only had on shorties and we agreed night dives you need a full wetsuit. When we surfaced we all high 5'ed about the sea turtle and enjoyed the short boat ride back to DePalm Pier. They offer 2 night dives a week.
That night dinner was a fine dining experience at Tomato Charlies. We ordered appetizers and a pizza and made it out of there under $30. Gotta love that! Not to mention it is great pizza.
June 29th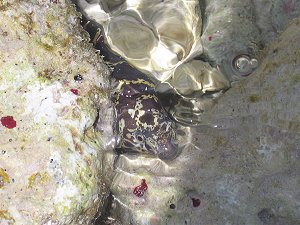 Today was a break from diving. I was wishing that we would have been out on the boat, but we agreed that the break was probably a wise thing. After all we did 3 dives the day before. We spent a better part of the day driving around and checking out the coast. We made a couple stops to snorkel, Catalina Bay and Malmok. We saw a school of squid. We had fun watching them for awhile. The water seemed colder than normal, probably b/c of all the diving we had been doing over the last few days. We did our annual drive up to the light house and around to the Natural Bridge. We always stop to check out our Wish Rocks that we leave at the Gold Mine Ruins every year. Mine didn't fair so well this time I only found a pile of 2. Dave found his to be fully intact- how do we know they are "the" rocks- pictures of course. We put them in roughly the same place every trip and then take pictures. We bring the pictures back with us and have a little treasure hunt so to speak. We laughed about this tradition on the 2nd trip, we couldn't believe we were doing this, but now it is becoming normal for us!
On our drive back into town we got to see some things we have never seen before- that's fancy talk for we got lost! ? We wondered how many times we should have turned left or right and it would have taken us right back to the low rise area, but we ended up making it downtown. All was well. We stopped and did a little shopping at the Mall since we were there. We looked in the jewelry shops for the most part. Dave was in the market for a dive watch. Still not sure that he was getting the best deal he wanted to check the internet to see what the Citizen dive watches were selling for in the US.
Back at the hotel we grabbed a drink and watched the sunset. We made it a casino night- We made it to the Radisson, Occidental and Key Largo. We ate a bowl of soup at Key Largo, not to bad, not to great. Then we each took $25 and play 50cent Roulette. We had a blast, I have always enjoyed roulette, but when you are playing $1 chips it seems to go so fast. We played for about an 1hr & a half and I broke even and Dave walked out with an extra $50! Yeah for him!
Off to bed as we were scheduled for a 8:25AM pick up for diving.
June 30th
If I haven't mentioned it before don't rely on your wakeup calls from the hotel in Aruba. We did not have good luck with the wake up calls at the Divi. Not to mention that the alarm clock was possessed and chose to work on occasion. This morning was no different, luckily I am an early riser most days up by 7AM. At 7:25AM my eyes opened and panic set in that our 7AM wakeup call didn't happen- Just enough time to shower and eat our oatmeal, toast and oj before meeting Unique at the front lobby for pickup for dive number 6.
This was a 2 tank dive to the south coast- Jane Sea Wreck and Barcadera Reef. The water was a little rough, but we stayed out of the boat fumes and we felt fine in the choppy water. The Jane Sea Wreck was probably my favorite dive in Aruba. It is a 250' cement freighter that is sitting upright in 90 ft of water. Unlike the Antilla , the Jane Sea is intact. Again the coral was beautiful and plenty of fish to watch. We saw a sting ray leaving the ship wreck- very cool. We dropped into the open area of the ship and that for me was a very exciting. I guess because so much of this is new to us every "first" that we experience is the coolest experience! I just can't imagine getting tired of Scuba Diving...always something new to see. Max depth was 91ft and bottom time was 35minutes. Temperature was still a comfortable 82 degrees. The south coast water is a little rougher than we were used to on the previous dives, so getting out of the water took some determination. My shins are still bruised from banging into the ladder. While we were waiting for our surface interval I was keeping the land in my line of sight. I couldn't wait to get back into the water. Not feeling "green" yet... ? We didn't travel far to the Barcadera Reef. Ahhh...back into the water and the motion sickness fades instantly. This dive was a lot of beautiful coral and some large Brain Coral. We saw the usual tropical fish, eels and a frog fish. Max depth was 60ft bottom time was 44 minutes.
Tonight's dinner was at one of my favorite places on the whole planet, The Flying Fishbone . I had reserved a table right at the waters edge for 6PM. The food is so delicious here that you have to enjoy all the courses! We started out with the Mini Shrimp Roti which was exactly the way a remember it from a couple of years ago. Soups: Lobster Bisque and Creamy Corn w/ Crab Chunks...both excellent! For our main course we had Lobster & Sirloin and the Chef's special Wahoo. Again both dishes were prepared perfectly. We attempted to polish off our after dinner drinks and a Brownie desert with vanilla cream sauce. It was a crime to leave even a crumb, but we couldn't finish it all. The sunset was beautiful and the night was perfect. With all of our food and drink courses we spent about $140 including tip. IMO well worth every penny. We managed to make it back to the Divi around 8PM. We had watched our last sunset as Divi Village guests and in the morning we would be heading to the Renaissance Marina Tower.
July 1st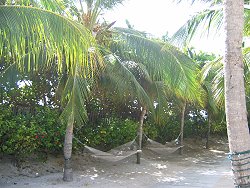 We planned out this morning to make a seamless hotel change and I am happy to report it went very close to plan. Dave dropped our luggage at the Renaissance Marina bell station bright and early. A little bit about the Renaissance Marina Tower. This was our first experience in the Marina Tower. We usually stay at the Ocean Suites and love it there. We were please to be able to get 2 nights at the Marina to extend our trip. This year I had heard that the Marina was an adults only resort. They are serious about that... I was in the lobby waiting for Dave and I saw a family walk in from the Mall, they spotted the pool and the Mother said to her 3 little kids- "Look at this pool kids" as they walked up the stairs to look at the infinity pool the concierge called the security guards over to inform the family of their "Adult Only" policy. So if you are looking for an Adults Only Resort the Renaissance Marina Tower might be your place.
Back to our days events...Another early morning dive pickup- 8:25AM Today's dive was a little bitter sweet as it was going to be our last day out with the crew of Unique Sports of Aruba. ? We went again to the south coast and we had been warned that the water would be rougher than the day before. They were right! Our first stop was at the Sonesta. This wreck is right off the Renaissance Private Island. There are 2 planes there one that you can go through (Dave did and said it was great...I will save that for next time), the other is older and they don't allow anyone to penetrate. Both were very good to dive around. Again we saw a lot of tropical fish. Max depth was 85ft , bottom time was 42 minutes. While we were on the surface I had to go up top of the boat as the waves were getting to be a little to much for me- like the day before I kept land in sight and prayed that I could get in the water quickly! The second tank was at the Sponge Reef. This was a drift dive and I think we probably saw the most eels on this dive. Max depth was 60ft bottom time was 48 minutes. When we got back to the pier we said our "good-bye's" to all the staff and headed back to the Renaissance Marina. We were not sure if our room would be ready as it was only 1:30PM. Not to mention we used our Marriott points so most of the time they like to put you in the coat closet rooms, but we were pleasantly surprised with a room on the 4th floor (1440) and a pretty decent ocean view. The bell staff brought our bags to the room and we headed to the Private Island. I couldn't wait to get out there as that is one of my favorite places to relax. We had a late lunch at Papagayos. I love the flamingo wrap... lunch out there is very pricey, but after the busy morning it didn't matter. Lunch with one drink each was $47 with tip.
That night we went to Bugaloe Beach Bar- suggested by our dive captain for drinks and entertainment. We were not disappointed, the music was great- the people watching even better. We had our biggest bar tab as of yet in Aruba but it was a great time- $75 for drinks and one appetizer. So you could say that we pretty much drank our dinner that night.
July 2nd
Breakfast was room service this morning as neither of us was feeling up to going out- remember the bar tab? We headed out to the Private Island again for a some relaxation. We also managed some afternoon shopping and Dave bought his Citizen dive watch. FYI if you are in the market for one- the prices are MUCH better in Aruba. Dave paid $300 for a watch that is selling in the US for $600 and up. We were very pleased with that.
Tonight we wanted to do something that in the last 3 trips we haven't done. So we took the De Palm Sunset Sail. It was $80 for the 2 of us using the Visit Aruba Card. We arrived at the De Palm Pier early so that we could grab a bite to eat -and a drink at the Bugaloe Beach Bar. $25 got us 2 sandwiches and a drink. Then it was off to watch the sunset. The waves were very strong that night. At the beginning of the ride most everyone was up in the front of the catamaran and half way through those folks were soaking wet. Our last Aruba Sunset was beautiful and worth the trip.
We hit the Radissons casino and walked around the palm Beach shopping area for awhile. When we got back to the Renaissance we made our way to the Crystal Casino for awhile and I managed to walk out with a little spending cash. Yeah for me! That night we packed up our suitcases and tried to remember how in the world it all fit in there on the way to Aruba.
July 3rd
The reality of going home hits you as soon as you wake up. We wanted to enjoy all the time we had left so we ate an early breakfast at Piazza's in the Renaissance Tower. Then took the boat to the Private Island. Our flight home was at 4:15PM and we had to make our final stop at Iguana Joe's for a Mahi Mahi Club and a Pink Iguana- Which I have to say is better at Iguana Joe's than at Smokey Joes. After doing all the traditional details we made our way to the airport at 2:15PM. Had another easy Jeep return at Royal, the guys were giving me a hard time about leaving on such a beautiful day, I asked what day wasn't beautiful? We tried to make a plan to "accidentally" miss our flight and have to stay a couple of extra days...It was a nice plan, but we headed to the airport anyway. Customs was smooth sailing, no major lines, we stopped for a little shopping and then we sat in the packed terminal for about 45mins before boarding. Flight home was uneventful and no delays! When we got back to Chicago we jumped on the shuttle to the Park N Fly. After about an hour driving in pouring rain we made it home just before 2AM.
The Island of Aruba will have to survive without us for a little while, but we will be back to enjoy our Home Away From Home very soon.... Thanks to everyone in Aruba that made this trip so special...May the sunshine on you wherever you are....
~Tynne
aka Happy To Go