Divi Aruba Beach Resort
October 5 - October 12, 2007 by Dana and Dan's first trip to Aruba
I'll warn you now, this is very long and detailed, so you might get bored. But I hope my report will at least be helpful to you as you plan your trips. Okay, here goes...
I'll start with some overall impressions, then give a day by day report. We loved Aruba! We've been to Mexico's Mayan Riviera, Jamaica and Bahamas and Aruba is our favorite so far!
Weather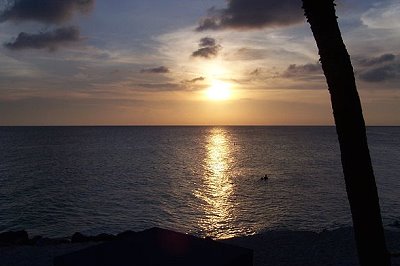 The winds were very light every day while we were there and the high was around 90 each day. Without the winds, it felt like 100+, but we got acclimated after a few days and it didn't seem so bad. We spent lots of time in the water to cool off.
Getting around
Getting from the airport to the low rise area and from there to the high rises was a breeze. Getting downtown was easy, too. The same road takes you from one end of the island to the other along the west coast. Getting to the grocery stores and other shopping was very easy also. We had a good street map, but still got lost a couple of times when we went exploring the island. The roads are not very well marked, but the island isn't very big so it didn't worry us if we drove around for a while looking for something. We always ended up somewhere that we recognized and found our way somehow.
Divi Aruba Beach Resort
It was perfect for us – casual and friendly. The staff was very friendly, except it was hit or miss at the reception desk. The entire resort was kept spotless, from the rooms and dining areas to the bird cages, which were cleaned daily. The maid mopped the floor in our room each day and we always returned to a tidy room. Food overall was good but not gourmet, but we didn't expect that. The Pelican Terrace Buffet was fairly Americanized, which was fine, but it would have been nice to have more local flavors. Drinks were good and as strong as you wanted. They served a lot of sweet rum drinks and I got sick of those after a day or two. They were good, just not something I can drink too much of. There was always beer….and shots if you want them. The beach was the best we saw anywhere on the island. The water was clear turquoise and just the right temperature. There were right many topless sunbathers in our immediate area, near the Vista buildings, but that didn't bother us at all. The landscape was well groomed with lots of pretty flowers and tropical plants. The pool wasn't very big, but looked nice. We never used it since we prefer the ocean for swimming. All over the resort were cup return stands so you didn't have to carry your cup back to the bar every time. We frequently carried a drink around with us walking about the resort, so we thought that was a good idea. I think I addressed everything else in my day by day account below.
Day 1 – Friday
We woke to the alarm at 2:30 am (although I wasn't really sleeping), filled our coffee mugs, loaded the car and were off to the airport at 3:15. Arrived at the Park 'n Go lot at 4:15, right on time, and they shuttled us to the airport 5 minutes away. We were dropped off right in front of the check in area and there were only a handful of people in the Delta line. Within 10 minutes baggage was checked and we were in the line for the security check. Put my shoes and Ziploc bag with my 3 oz. bottles in the bin…no problems. Carry-on and purse went though, also no problems. Next came Dan's carry-on and something in there caught their attention. The security guard kept running it through the screener over and over and looking puzzled. I told her there was a coffee maker in there, figuring that's what she was looking at, but she said there was something else suspicious and they would have to open the bag. Okay, no biggie since I knew they weren't going to find anything.
I had been very careful when packing not to violate any of the TSA rules – or so I thought. They pulled us aside and opened the bag and I immediately knew what it was. I had kept that carry-on out as our "last minute" bag and had stuffed the beach bag in there at the last minute, leaving 2 bottles of sunscreen in it.
I made sure to pack some in each suitcase in case one got lost and was waiting to see which one was underweight enough for the beach bag. I guess I spaced out and, half asleep, I threw it in the carry-on at the last minute. Well, needless to say they pitched 2 unopened bottles of my fragrance-free sunscreen. I have to have fragrance-free because of allergies and it's hard to find and more expensive. I wasn't very happy about it, but it was my fault. I packed a lot of sunscreen, so we would probably still be okay. The rest of check-in was uneventful and flight left on time (6:00 am). We had a 2.5 hour layover in Atlanta, so after we made our way to our gate we grabbed some breakfast and waited impatiently for our flight to Aruba.
On the way to Aruba we flew over various islands and beautiful blue-green water. Once I even saw what looked like a sand bar and we were in the middle of the Caribbean. I couldn't resist taking pictures. The plane landed in Aruba at 2:25 pm and after clearing immigrations and customs, we headed across the street to Royal to pick up our Jeep. The second we walked outside, the heat hit us like we had walked into an oven. The sun was quite intense and very little breeze, so it was VERY hot. Turns out that our Jeep hadn't been returned yet, so they put us in an SUV and said they would bring the Jeep to our resort the next day and exchange it. That was fine, and actually the SUV was much better for transporting our luggage. Most importantly…it was air conditioned!! We were also given our free cell phone and charger. By 3:30 we were off to the Divi Aruba Beach Resort, or the Divi Divi as it is commonly known.
We checked in and were in our room by 3:50. We were assigned room 523 just like I requested, so I was a happy camper. Room was large, tropically decorated with king bed, rattan sofa and 2 chairs, dresser and TV armoire. The room and the bathroom were both very clean, although the bathroom could use some updating. The bathroom had large tub (we didn't use it – at least not to bathe in…you'll find out near the end of my report), separate shower, single sink with lots of counter space, bidet and toilet.
The best part of our room was the view! It is the end room facing the ocean, with water views on 3 sides – spectacular! We stepped out onto our balcony to see a wedding taking place right below us. The wedding gazebo/massage tent was right below our room on the beach. Most mornings there was a couple getting a massage and many evenings there was a wedding. It was nice to see the weddings and it didn't obstruct our view, as you practically had to stand at the railing to see the ceremony. Sitting in the chairs, the view was only of the Caribbean Sea. The deck was made entirely of teak wood and had louvered slats above so you had partial shade from the hot sun. All of the other balconies in the building were on the side of the building, whereas ours was on the end – very private and just what we wanted.
We quickly dumped our stuff in the room and ran back out to get some groceries. Found Ling & Sons first, so that's where we went. We only went for coffee, coffee mugs (found some for $2.00), half & half, phone card, and a 6-pack of bottled water. We refilled the bottles all week from the tap and took them with us in our collapsible cooler everywhere we went. Water is delicious right from the tap – no need for bottled water. Like I said, we only bought them so we would have the bottles to refill. We bought Douwe Egberts coffee – Aroma Road – and it was some of the best coffee we've ever had. But, boy is it high-test! We are used to drinking half-caff at home and after two cups of Aroma Road we were definitely energized for the day! I know you are probably wondering why we would take our own coffee maker, buy mugs, etc. We love to start our day by having coffee on the balcony very early, before breakfast. When I found out that the Divi didn't have coffee pots in the room I decided it would be worth it for us to buy a small 4-cup coffee maker and bring it with us. I found a Mr. Coffee at Walmart for $18 and we left it in the original box and packed it in our carry-on luggage. I tried to find a couple of cheap, plastic mugs before I left but couldn't find any. We decided to just buy them there and then we left them for the maid when we checked out. It was a good decision for us, as we loved having our coffee on the balcony watching all the early morning walkers on the beach. We also tried the coffee in the buffet one morning and didn't care for it so much. We think the cream was goat milk or something other than what we're used to. It was kinda yellow and tasted funny to me.
Back to the day... we spent the evening having Rum Runners at the beach bar then dinner in the buffet restaurant, Pelican Terrace. Food at the dinner buffet was good, but not as much selection as the other all-inclusive resorts we've been to. We always found something we liked, however, and never left hungry. You could choose something from the grill, hot buffet station (with meats, pasta dishes and veges), soup, or something from the specialty sauté station. This night they had fajitas with your choice of meats. There was also a salad bar and dessert case every night. One more night cap at the beach bar then to bed early (9:00). First I unpacked the coffee maker and got it all set up for our morning cup of java. We had been up since 2:30 am and were exhausted. Went to sleep dreaming of our first full day in paradise...
Day 2 – Saturday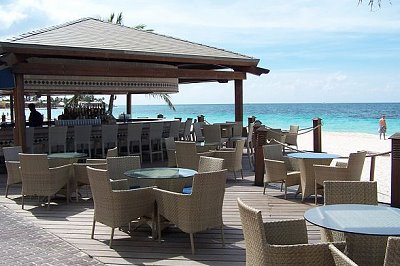 This day ended up being the only day we spent entirely at the resort. Slept till 8:00 this morning, which is late for us. We started the day with coffee on the balcony, the same way we started each day, then headed to the Pelican Terrace for breakfast. Breakfast was good but pretty much the same every day with made to order omelets and fried eggs, eggs benedict, baked tomatoes (these were to die for – breaded, baked and covered with melted gouda), sausage links and patties, bacon, dutch potatoes (these were just okay, in a tomato sauce that I could have done without), corned beef hash, scrambled eggs (these looked and tasted fake), cereals (hot and cold), breads and croissants, deli meats & cheeses, fresh fruits and melons, and Dan's favorite – smoked salmon.
After breakfast we slathered on the sunscreen and headed to the beach. We got the last available palapa in our area. Most days they were gone by 9:00, but you could walk down the beach and there were plenty more between the Divi and the Tam. We preferred to stay close to our room in Vista II, which is also close to the bar! No big deal if there were no palapas – we would just lie in the sun and spent lots of time in the water cooling off. We applied sunscreen religiously and never burned, and we both came home with beautiful tans.
We spent the entire day lying on the beach, swimming in the ocean and making trips to the bar. There were two young girls right next to us that were topless all day. One of them seemed to want everyone to notice her, and she was very pretty, so Dan was happy with our choice of palapa location this day! While swimming one time, a kamikaze sea pelican dive bombed right next to Dan and scared us to death. He got a mouthful of fish and was on his way. This was a frequent sight and enjoyed watching them.
For lunch, we went to the Coco Grill and had brick oven pizza and our first drinks of the day – cold Balashis with a shot of whiskey. The pizza was very good, but could have used more spices in the sauce. Our first impression of Balashi beer was that it was too light for us, but still good. We prefer dark beers. But as the week went on they tasted better and better to us! This hit the spot and we moseyed back to our beach chairs for some more relaxing in the sun.
Late in the afternoon we walked up the beach to the Tam. The beach wasn't as nice there, so we were glad we chose the Divi. We took a quick walk through the resort and caught the tram (really just an extended golf cart) back to the Divi and had some Rum Runners at the beach bar before going back to the room to shower up for dinner. You can get two drinks at a time, so each afternoon we would take an extra drink back to the room and put it in the fridge, then after our showers we would have a drink on the balcony before going to dinner. We also made it our daily routine to exchange our towels in the evening for we'd have a fresh one to start each day. I didn't get a chance to make a reservation at the Red Parrot, but that's where we wanted to eat so we took a chance and just showed up at about 8:00pm, after a few more Rum Runners, and were able to get a reservation for 8:45 inside. I don't think the girl taking the reservations was very happy with us, but she made the reservation nonetheless. We were disappointed in the food here after all we had heard. Dan had the Jamaican Mahi Mahi and it was overcooked. I had the Beef Tenderloin Medallions that were in a red sauce that I didn't care for – too rich. The Red Parrot wasn't terrible, just nothing special. We decided we wouldn't eat there again.
When we left the restaurant there was a band playing by the beach bar and it was a beautiful night. We couldn't believe it, but they were playing our song from when we met 22 years ago, Wonderful Tonight by Eric Clapton, so we slowed danced by the sea for a fitting end to a perfect day. We listened to a few more songs then walked along the waterfront back to our room to retire for the night. When we entered our room, we immediately noticed that the hotel management had left a bottle of red wine for us for our anniversary. It was a very nice touch and we saved it to drink on our anniversary, which was four days away. This was only our first full day in Aruba and we still had so much to look forward to.
Day 3 – Sunday
This day began the same as every other day, with coffee on the balcony then breakfast at the buffet. After breakfast, we packed our Koolit collapsible cooler with bottles of water and filled it with ice at the ice machine at the entrance to our building, and headed out toward Palm Beach. Along the way, we passed the Eagle Beach resorts (Amsterdam Manor, La Cabana, Bucuti to name a few) and noticed how much more crowded the beaches were here than our beach at the Divi. I thought Amsterdam Manor was very cute and they had a nice beach. We would probably consider staying there if we return and decide not to do all inclusive. Next, we stopped at the Old Dutch Windmill and surrounding shops – The Juggling Fish (ended up being our favorite of the trip) and Aruhiba Cigars. There was another cute shop, but it was closed. We bought a couple Aruhiba and Cuban cigars and continued our drive north. Passing Palm Beach the most noticeable sight was the Riu Palace rising above the others. It truly looked like a palace, and I'm sure is a very nice resort, but not very tropical or island-like at all. We drove past the other high rises and while they all looked very nice, we were glad to be staying on quiet Druif Beach, away from the crowds.
We continued along the coast to Malmok, Boca Catalina and Arashi – all the places we would go back to for snorkeling later. We stopped at each area to scoop out which ones looked to be the best snorkeling spots before heading back to the Divi for lunch and an afternoon on the beach. We had lunch in the buffet this time and thought everything was very good. I had a small salad and a cheeseburger & fries and loved it. It was probably because I hadn't had one in 6 months, but whatever the reason it was very tasty. I can't remember what Dan had, but he liked it. By the way, we don't allow ourselves to eat fried, highly caloric foods at home and we ate anything and everything we wanted all week. To us, that is part of what makes a vacation so great – indulging!
We spent the afternoon lying on the beach and swimming – our favorite way to spend the afternoon – then sat at the beach bar and had drinks. Each day there were two drink specials, one highball-type drink and one frozen drink. I tried a Pina Colada, but there was something about the cream of coconut they used that I didn't like. All of the frozen drinks I tried during the week that had coconut cream in them had that same funny taste, so I decided to just stick to rum drinks, beer or long island iced teas. If I didn't really feel like drinking lots of sweet drinks, I would get the long island iced tea. One or two of those was all I needed! After hanging at the bar for a while, we headed back to the room to have a drink on the balcony and watched another wedding on the beach before showering up for dinner. Tonight it was dinner in the buffet. I don't remember what we had, but we didn't go to bed hungry. We caught a little of the nightly entertainment before retiring and thought it was pretty good.
Day 4 – Monday
After coffee on the balcony we had breakfast at the buffet again. Today Dan had pancakes, French toast and sausage links. He said the links were more like he's used to, that the patties tasted different. I had an omelet, baked tomato, cheese and fruit. Everything was good and we left stuffed. Today will be spent exploring San Nicholas, Seroe Colorado and Arikok National Park. This was perhaps the best day of our trip, although our anniversary day comes in a close second. After filling our cooler with water bottles and ice, we headed out toward the southern end of the island through Saveneta to our first stop, Rodger's Beach.
We jumped out of the car just long enough to walk down the steps halfway to the beach and take a few pictures, and when we were walking back to the car we noticed two young guys on bicycles with empty backpacks. They were riding straight for our car until they saw us then they circled around the parking lot awkwardly and drove off. We really believe they intended to see if we had anything of value in the car to steal. We had locked the vehicle, as we did every time we went anywhere, so they wouldn't have been able to get in but it was pretty obvious what they were up to. Our SUV was the only vehicle in the parking lot, so it was an easy target. They weren't at all threatening, but we do think they were up to no good. Anyway, Rodger's Beach was a nice secluded beach that appeared to be used mostly by locals. There's a restaurant there called Coco Bar and Grill. Next trip we'd like to spend more time at Rodger's Beach.
Next we were going to stop at Baby Beach but had a really hard time finding it. We did finally see it in the distance, and I snapped a picture, but we decided to continue on to Seroe Colorado. We took a right at the big red anchor to Colorado Point to find the most amazing views on the entire island. The first thing we saw was the Seroe Point Lighthouse, which is really more like a large beacon than a lighthouse. At the edge of the cliffs we could see a couple of Jeep Safari vehicles, so we knew there must be something cool to see here. Boy is that an understatement! It was one of the most beautiful sights we have ever seen. Standing on the edge of the rocky cliffs looking down was just amazing. My photos don't even capture how far down it was. Looking to the left you could see Bachelor's Beach and Boca Grandi in the distance, also breathtaking. We couldn't seem to stop taking pictures here, we were so awed by the views. Another couple came at one point and we took turns taking each others' pictures standing on the edge of the cliff. You will need to have on shoes, not sandals, to walk out to where you can look over the edge as it is very rocky with lots of little cacti that are hard to see.
We eventually managed to tear ourselves away from this incredible spot to continue on our way to Arikok National Park. We had a very good road map and felt confident we knew how to get there, but ended up driving all over San Nicholas trying to find the road to Arikok. On the map it was marked 7A/7B, off of the main road, but try as we might we couldn't find it. It was kinda fun "getting lost" because we got to see the real Aruba and where the locals hang out. We even drove through a couple of areas that made me want to lock the car doors – and we did! But it was fun and we eventually got on the right road, which on the map looked like a fairly main road, but it wasn't. This route is actually the back way into Arikok and the roads are quite rough. We saw lots of wild goats and donkeys and even some wild dogs along the way. There were no other cars anywhere and we wondered if we were on the right track, but we soon came to the prison and the sign about the military firing range (I'd read about these in others trip reports) so I knew we were heading in the right direction.
Finally, the sign we'd been waiting for, "Welcome to National Park Arikok". The sign was small, next to what appeared to be the remains of the original much larger sign that had been destroyed. We passed several signs leading to the various caves, but since I'm claustrophobic I wasn't interested. I think Dan would have liked to have seen them though. But at this point it was getting close to lunch time and we were thirsty for something other than water, so we forged ahead. The park was a beautiful desert with many cacti, rocks and divi divi trees. Suddenly, as if it were a mirage, we came upon the Boca Prins Restaurant and Bar. It was literally out in the middle of the desert. They even had to generate their own power using windmills. We were the only patrons and were greeted by a very friendly hostess named Leonsita. She served us two very cold Coronas and gave us a lunch menu. Dan had the grouper sandwich and I had a grilled chicken sandwich. The fish was very good, but not enough fish and too much bread. My chicken sandwich was fine – not great, just okay. It wasn't seasoned at all, just a piece of grilled chicken breast. We had another beer each and listened to Leonsita's tales of Aruban history, checked out the little gift shop, then we were on our way to see Boca Prins. Lunch with four beers was over $50 – pretty pricey, but worth it for the experience.
Boca Prins was beautiful, but the beach was full of stuff that had washed up – some natural, some not. There was a huge rock in the surf that had a gigantic fossil, of what looked like a scallop shell, on one entire side. We took a few pictures here and headed up the coast to Dos Playa. This beach was much nicer and larger at Dos Playa than at Boca Prins. The color of the water was stunning and this was quite a picturesque scene. After snapping a few more photos, we decided it was time to head back "home". We drove the rough road back to the main entrance to the park. On the way we noticed some road construction crews working. I had read somewhere that they had approved a plan to pave the roads in the park, and it looked as if they were preparing to pour some sort of forms on the sides on the road. I'm sure this project will take quite some time, but it will be really nice once it's all finished.
After we left the park, we drove through Santa Cruz and Paradera on the way back to our resort. We stopped at Guest Services and made a reservation for Ginger, the Asian restaurant at the Tam. The only thing available was 9:00 pm, which was fine with us. We had our usual evening drinks at the Pelican Terrace Bar then back to the room for another drink and an Aruhiba cigar on the balcony. Once again there was a wedding on the beach at sunset. Dinner was at Pelican Terrace tonight with a show and night caps afterwards. We slept well after our fun-filled day of adventure.
Day 5 – Tuesday
After breakfast in the buffet again, we packed up our snorkel gear and headed out. We drove to Arashi and after making the rocky entry into the water we immediately saw tons of fish. We had a blast snorkeling for hours here, with the snorkel tour boats nearby. Several times we found ourselves drifting out farther than we were comfortable with and had to swim back in, but that was only because we would get lost up in the underwater world and not surface for a long time. I had a Kodak disposable underwater camera and took lots of what I thought at the time were good pictures, but I wasn't very happy with the quality and sharpness. I think I will look into buying a waterproof housing for my digital camera for next time. We saw lots of colorful fish – French Angelfish, Banded Butterfly Fish, eels, Trunkfish, Damselfish – to name a few. We had a wonderful morning of snorkeling, then headed back to the Divi for pizza and Balashi at Coco Grill. We first stopped at the guest services desk and asked them to make our reservation for tomorrow night's anniversary dinner at LG Smith's Steak & Chop House at the Renaissance downtown.
We sat at the beach bar until sunset having drinks and talking with other couples and the bartenders. We tipped our favorite bartender, Melissa, $5.00 and went back to the room to shower up and dress for dinner at Ginger. We grabbed the shuttle over to the Tam and had another drink at the beach bar before dinner. We chatted with a newly married couple from Massachusetts, then walked the short distance to Ginger and were seated promptly at 9:00. Our meal here was excellent. Service was just okay. For appetizers Dan had wonton soup and sushi and I had spring rolls – all very good. For entrees, Dan had Salmon Steak with Garlic Yakitori Sauce and I had the Mango Chicken. For dessert I had chocolate cake and Dan had the ginger with whipped cream. Desserts were small, but good. We left stuffed and watched some of the evening show at the Tam before catching a ride back to the Divi and retiring for the night. Another great day comes to an end.
Day 6 – Wednesday
This day, October 10, is our 20th Anniversary and we planned a day in Oranjestad of shopping and sightseeing. We lucked into a parking space in the lot right in front of the marina. We walked along the waterfront, taking pictures of the boats and such and enjoyed this quite a lot. Next we reached the row of vendors set up on the waterfront. Their prices were very reasonable, so we decided to come back by here on our way back to pick up various souvenirs for friends and family back home. We spent most of our time in the Royal Plaza Mall across the street. The air conditioned shops were a life saver, with very little winds and temps above 90.
We had lunch at Iguana Joe's, looking down at all the activity on LG Smith Blvd below. This was lots of fun, but oh so hot without the breeze. We both had a Pink Iguana to drink – very yummy! Dan had the Mahi-Mahi sandwich and I had the jerk chicken sandwich. Both were good, but my chicken was way to spicy for me (I should have known) and I could only eat about half of it. No worries, as Dan happily finished it off for me. We bought him a t-shirt and a bottle of their hottest hot sauce before we left, but we never made it home with the hot sauce and the shirt is scarred for life – more on that later. We shopped around a little more at the mall, then headed back to the waterfront shops for souvenir shopping before heading back to the Divi at around 2:30.
We spent the rest of the afternoon lying on the beach and swimming. There was this very tiny, dark colored crazy fish that seemed to like me, or my bathing suit, and swam all around me the entire time we were in the water. No matter how much I moved around, he would still be there. I scooped him up in my hand a few times and he was really pretty. I wish there was a way for me to take him home and put him in my aquarium with the other tropical fish. I think he would have come with me! We had 8:00 reservations at LG Smiths, so we went back to the room around 5:00 to open our bottle of red wine that the Divi gave us and relax on the balcony for a while. This was very nice and we enjoyed another glorious sunset before getting ready for dinner. There was yet another wedding on the beach and, since it was our wedding date also, we decided to say something to the couple afterwards. I told them their wedding was lovely and that October 10th was a great to get married and explained that it was our 20th anniversary. To our amazement, her mom and dad turned around, surprised, and told us that it was also their 20th anniversary. What a coincidence! And how cool that they got married on her parent's 20th anniversary.
We decided to ask Guest Services to call us a cab instead of driving ourselves. We figured it was worth the $8.00 each way to avoid the aggravation of driving there in the dark and finding a place to park. Not to mention, we'd had a couple of glasses of wine. When our taxi let us out at the Ren, we were presented with a coupon for a free glass of wine each. That was a very nice touch, and we think it was because of our anniversary since the girl at Guest Services mentioned it was our 20th anniversary when she made our reservation. The restaurant was very modern and chic and we were impressed with the great service and nice atmosphere. Dan had the crab cake appetizer, rack of lamb and the triple chocolate dessert. I had a Caesar salad and the surf & turf and a small sampling of the chocolate dessert. Everything was to-die-for delicious! Our server, Audrey (or it might have been Aubrey), was excellent, giving us just the right amount of attention without intruding on our romantic dinner. This was by far the best meal of our entire trip. Afterwards, we took the cab back to the Divi and watched the shows for a while before going to bed. A perfect ending to another perfect day in paradise.
Day 7 – Thursday
This was our last full day in Aruba. After our usual breakfast at Pelican Terrace buffet, we headed to Boca Catalina for another morning of snorkeling. The water was crystal clear and we saw many beautiful fish, including a huge founder, a spotted sea snake and a very long gar-type fish. Once again, the snorkel tours were anchored nearby. After several hours of snorkeling fun, we stopped back at the Dutch Windmill to pick up some more cigars at Aruhiba then spent the rest of the day on the beach at the Divi. Lunch today was in the buffet and again was very good. We sat at the bar for several hours this evening and again tipped our favorite bartenders before going back to the room to relax and watch the sunset from the balcony. On the way, we turned in our towels and got our cards back this time since we were checking out in the morning.
Dinner tonight was in the buffet again. I had beef Wellington, garlic mashed potatoes and asparagus – not bad for a buffet meal! I think Dan tried some of everything, since it was his last dinner at the Divi buffet. He is a big fan of buffets by the way – just loves all the different tastes. Tonight (and Tuesday night also, but we were at the Tam) the local artists had set up booths outside of the buffet and beach bar area. I bought a hand painted wooden ashtray for one of my sons. There was lots of jewelry, leather and other hand made items – mostly inexpensive souvenir type things – but it was fun to walk around and look at everything. We watched the nightly show for the last time and went to bed dreading the next day when we had to leave.
Day 8 – Friday
Our flight wasn't until 3:30, so we got up as usual and had coffee on the balcony before starting to pack. We decided to pack up a few things before going to breakfast and when I picked up the bag from Iguana Joe's I noticed the strong smell of hot sauce. Uh oh…this was not good since Dan's t-shirt was in the same bag. Sure enough, somehow the bottle of hot sauce had burst and it was all over the shirt. What a mess. So I quickly rinsed it out in the tub as best I could, then left it soaking while we went for breakfast. I coughed and choked the entire time – that was some really hot sauce! After we returned from breakfast we packed most of the rest of our stuff and I tried to get all the stain out of Dan's t-shirt, but it wasn't working so I left it wet and put it in two plastic bags and in the carry-on for the trip home. I managed to get most of it out when we got home, but it didn't come totally clean.
We left our coffee mugs in the room for our maid and checked out at around 11:00 so we'd have time for some last minute shopping before we had to be at the airport at 12:30. We went to Ling & Sons for stroopwafels and gouda for folks back home (and us!), then made one last trip to the shops at the Dutch Windmill. We bought a cute top for me and another t-shirt for Dan at the Juggling Fish, and I also got a Juggling Fish can koolie. We thought the quality of the clothes here was better than anywhere else we shopped. The little shop next door was open this time and Dan bought me a bracelet that I just love. It was time to make our way to the airport, knowing we had to return the rental car before checking in, so we headed in that direction.
In the last turnabout before getting to the airport, we ended up circling around twice – the only time we did that all week. Dan was driving, but it was my fault... he was just following my directions. Anyway, we got a good laugh about this because we talked at the beginning of the week that we would probably be doing that all week and were proud of ourselves when we managed not to. It reminded us of European Vacation with Chevy Chase. Returning the car was easy. We were met at the curb and after one quick trip around the car, he said "car is in good condition, come inside to pay". He gave me back the credit card ticket he had swiped for the deposit, gave me a new one to sign showing the correct amount with the internet discount, collected the cell phone and charger and we were off. I thought Royal Car Rental was fast and friendly and recommend them.
It was now about 12:40, so we rushed to the Delta counter to find a short line that we got through in just minutes. The entire process including going through security and stopping to fill out our immigration cards took us only 40 minutes, so we had lots of time to spare. We each had a pizza and shared a Corona (I don't remember exactly, but they were about $8.00 each) for lunch at Sbarro, which was right next to our gate. There isn't much seating, but a nice couple offered to share their table with us. When they left, we offered others to share with us. They really need to put in some more tables because it was a popular spot. We went over to take our seats at the gate, but the entire section was full. Either people were saving seats or there was only one here or there, so we shared a seat and took turns sitting until two together became available. We people watched until they called our section to board.
The flight to Atlanta was uneventful and we watched Evan Almighty to pass the time. We had a 2.5 hour layover, so we had dinner at Friday's near our gate. It was really crowded and we waited over 30 minutes for a table and got back just in time to board. Flight into Richmond was fine and we slept most of the way. We arrived at midnight and had to wait a while for our luggage to be unloaded. Everyone was tired and cranky, but soon we had our bags and caught the shuttle back to the Park 'N Go lot. The hour trip home was very depressing and seemed like it took much longer than it did. We got home at 1:30 am and fell fast asleep, with wonderful thoughts of Aruba still fresh in our memories.