Playa Linda Beach Resort
March 4 - March 25, 2007 by Chris & Willie
Aruba Forum Profile: ChrisnWillie
We have been going to Aruba yearly in March since 1999, staying in our timeshare since 2001. For the last 3 years, we have been staying 3 weeks and for us, this is the perfect amount of time. Also, we have many friends there at our timeshare and we all stay weeks 9, 10 and 11 and we look forward very much to spending the 3 weeks together and are always full of tears when we say our good-byes.
This trip (3-4 to 3-25) was no exception. We do not do much during our stay, and this is a choice we make on purpose since we are self employed and live very hectic lives. The trips for us are about the warmth, relaxation, beach time, and friends.
Flights
We departed JFK on time without a hitch flying AA direct. . We had the opportunity of doing self check-in this year, which was a pleasure. It took less than 2 minutes for the both of us to obtain our boarding passes, and on the top of the computer, there was a sign directing you to a window for your baggage tags. The only problem we had was an oriental man that was claiming he was us insisting on having his bags tagged with our tags. It was quite bizarre, but the AA agent was not amused and called security on him. We were at our gate in about 15 minutes.
We flew home Business Class on AA direct, so our check in (on a Sunday) was very quick (a special line at the airport for Business Class) so we didn't have to deal with the hundreds that were online checking in at AA. It took 45 minutes to get to the gate. No problems whatsoever.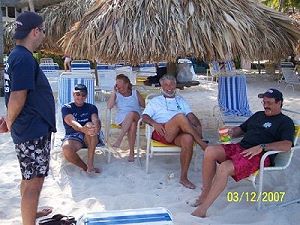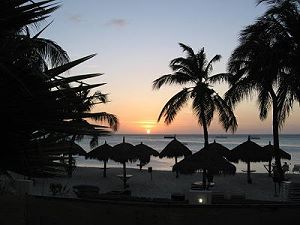 Playa Linda
I love PLBR. It is truly my home away from home. Everyone from the front desk to the maids welcomed us back. We stayed the first week in a rented studio (the owner I am hoping will sell to me this year since we rent from them every year and this is an extra unit they have), the second week in our own studio, and the third week in our own beachfront Lanai. It was heaven. The resort has ongoing upgrades, and is looking better every year. More work still needs to be done, but the resort is financially sound and we were extremely pleased. Our GM and our BOD's are doing a great job.
Restaurants
We did the old favorites....and were not disappointed. MJ's was excellent and Chef Kasi lived up to his word and made me Lobster Thermidor even though it is off the menu. The Paddock in town had excellent all you can eat ribs this trip as well. Pelican's Nest, Tomato Charlies, Benihana's, Azzuro's, Salt & Pepper's, Hooter's, Amici's, Café D'Italia, etc all had wonderful meals. Since I celebrate my b-day there, this year I chose The Chef's Table. The food was very good, the service was very good, the ambiance was nice, but we had a loud table in our room. That was my only complaint there. My BIG complaint is the Sangria at S & P's. It's now over $20 and you get a Carafe instead of a pitcher! Hooter's has excellent white Sangria.
Activities
In a word, NONE. Relax, swim, talk, that's about it. I can't and won't bring myself to do much of anything in Aruba. I have seen the island, and it's wonderful....but now I go for the reasons mentioned above.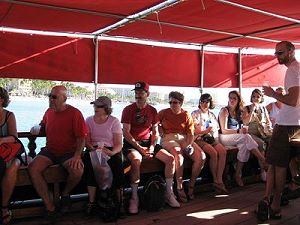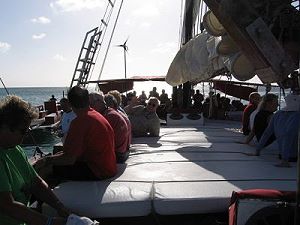 I did participate in our yearly BB sunset cruise aboard the Jolly Pirate with Captain Harald this year and it was wonderful as always. We had the Vets from the Pet Partners trip onboard this year as a special treat for us, and they enjoyed the rope swing! Afterwards, we had a wonderful BBQ at MooMBa's where Cheryl was kind enough to present me with a beautiful painting of an Aruban beach which she painted herself as a TY for participating in the fund raising effort for the spay/neuter project this year. We had a wonderful time and a wonderful dinner that evening. I went on another sunset cruise 11 days later with my husband's sister and her husband who had joined us this year our last week, and it was the Jolly Pirate's 10th Anniversary sunset sail celebration. Again, a wonderful time from a top notch business and wonderful owners. Thank you Carla and Harald.
Cheryl from the BB also had us to dinner at her home and not only is her home beautiful, but her dinner was outstanding as was all the wonderful hospitality she showed us that evening. She is a very special, warm, loving, woman who did a tremendous job with the Pet Partners project and I can only hope I am invited to participate with her in 2008. Thank you Cheryl.
A few closing thoughts
The island has gotten very expensive. Restaurants, grocery stores, clothing and souvenir shops, etc all have gone up substantially and in addition to increase in prices, everyone is adding on the 3% BBO tax as an additional line item. The bus system, as of March 1st, has gone up to $2.60/pp round trip.
The Riu Resort doesn't look like it belongs in Aruba. IMHO, it's gaudy. The building closest to the street looks like it is quite a ways off from being complete, but the new one closest to the beach appears to be almost done on the outside. The original Grand building looks the same. The workers that change shift out front are obviously not Arubans.....kind of a scary looking bunch. A member at Playa Linda was mugged on Monday 3/12/07 while walking by the Riu at 7:30pm. Don't know if it was a worker or not, as they fled (2 of them) back into the construction site after the mugging.
The only difference in the mall across the street from the HI this March, from last March, is the roof is now on....otherwise, it looks like they have done nothing to it since our last trip.
The guys shore fished with much success this year. A black tipped shark was caught right out in front of the HI, and many other fish such as snook, bonefish, cuda's, etc were all caught on the beach in front of either Playa Linda or the Holiday Inn.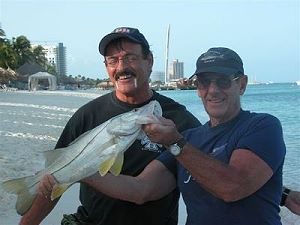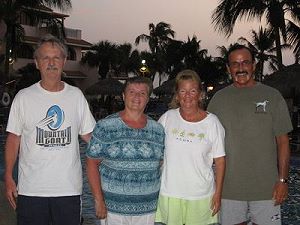 I have an Aruban cell phone, and getting more minutes at Setar next to Brickell Bay is a PITA. Make sure you have about 2 hours to wait. It's not that they are slow....it's the amount of people....take a number and be prepared to wait.
The best coconut Rum I have ever had is Palmero's Rum.......I drank it for 3 weeks, straight....no ice and no mix. This is a first for me.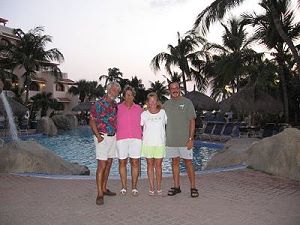 My husband's sister joined us 3/18. She flew USAIR Syracuse-Philly-Aruba and what a nightmare. She finally arrived after midnight on 3/19 (12 hours late).....after being jerked around by USAIR. When she departed 3/25, her flight was Aruba-Charlotte-Syracuse departing Aruba at 4pm. She departed at 6:30, and their connecting flight was still in Charlotte, but USAIR sold the seats they were told and put them up in Charlotte. On 3/26, they finally put them on a flight back to Syracuse at 8pm. Don't think they will EVER fly USAIR again. Between what USAIR said was mechanical problems and storm related problems, they had hundreds of people stranded in Philly, Charlotte and Aruba, all unhappy.
The Hyatt, where we gambled most often has a whole new look. It's very contemporary and really doesn't "go" with the rest of the decor. But what was interesting is their "new look" to their lobby bar. Instead of booths, they have full size BEDS! You can get a drink, and climb into a bed and relax. Very strange to see, but amusing. The casinos were not kind to us...the slots seem tighter this year than normal. Maybe it's to help pay for all the upgrades all the hotels are undergoing. Who knows?
The island I felt was windier than normal this year, as we would get sand blasted occasionally. I also did not feel as safe this year as I have in the past. Part of the reason is that our friends, Jean and Doug had the theft in their rented home while we were there, but also there seems to have been some feeling of nervousness abound. I only saw the visibility team on the beach on quads 3 times in 3 weeks.....and I was on the beach daily. At night, the sidewalk was virtually empty behind the hotels.....it just seemed different. It's not that I ever felt unsafe....I guess I just felt the need to be more aware of my surroundings than I had in the past.
Another long year now to wait. I'll be looking at airfares 330 days out....my next departure date is 3/2/08. AA so far, out of JFK, has beaten JetBlue's prices but even if they don't...I think I'll continue to look to fly AA until JetBlue has ironed out some problems.