16th Trip to Aruba - Amsterdam Manor Beach Resort
September 8 - September 22, 2007 by ~Amy~® and Mike
Aruba Forum Profile: ~Amy~®
Arrival
We went back to flying USAir this year (MSP-CLT-AUA) because the Delta connection through Atlanta last year was a little too close for comfort.
Picked up the rental car at Optima Rent A Car at their airport kiosk. We have used Optima in the past but it was many years ago. I was happy to see that they are still a very good and efficient company. Nice car (4 door Toyota Yaris with wonderful A/C), pleasant ladies at the counter, easy transaction and on my way to the hotel in just a few minutes.
Amsterdam Manor
Check in was a breeze since I pre-registered on Amsterdam Manor's website. I booked a 2 bedroom, 2 bath since my husband and I were sharing a room with two friends (Stacy and Kimmy.) My husband was arriving a few days later and our friends a couple of days after that so I checked in for everyone and got the card keys, towels, etc.
Walked into the room and there on the coffee table was an ice bucket filled with 4 Amstel Brights! What a sight for sore eyes after being up at the crack of dawn, a long plane ride, and still wearing hot jeans. I popped open one of those before I even opened my suitcase!
Amsterdam Manor is just finishing up a major renovation of all of their rooms: new tiling and granite counter tops in the kitchens and bathrooms, new kitchen appliances and dishes, flat screen TV's and cordless phones in each room, and new modern, sleek looking furniture. Everything is so comfortable, fresh, and new!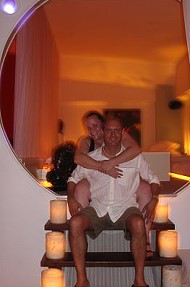 Made a run to the grocery store (Kong Hing) the following day for supplies and "liquids" to stock the frig - and after that, straight to the beach! Spent many wonderful days on the beach – water was clear and warm. It was hard to go exploring this year – seemed like I just wanted to relax, enjoy the beach and water, and read a few books. We had just been to Holland the month before so I think that may have had something to do with my laziness. Amsterdam Manor's beach is still uncrowded and quiet – easy to get a palapa at any time of day which is the way it should be!
Some days we brought our drinks/lunch to the beach and other days we just ordered from the beach bar because it was just too easy to have drinks and food brought to your palapa (and that's what a vacation is all about!) We had everything from salads to French onion soup to pizzas delivered to our chairs! The service is wonderful at their beach bar (Diego and Diana are the best!) One afternoon I decided to order a Mojito but Diego said the mint didn't look fresh and he would be back in a few minutes with new mint. I waited a bit and decided it was going to take longer than I thought. Hubby and friends were out in the water so I joined them. About 15 minutes later Diego is standing at the water's edge with my drink in his hand, waving me in! I yelled at him to meet me half way – funny that he didn't really go for that idea! But talk about service... drink brought to you right at the shoreline!
And they finally (finally!) have new bar stools at the beach bar – much more comfortable than the old ones! Of course, now that I'm comfortable sitting there I have a tendency to sit and chat with people and order more drinks... which is not always a good thing when you pay your bar bill at the end of the day (but it's vacation money which I like to refer to as "monopoly money" because you brought it to spend!)
Much to my husband's dismay, I took full advantage of the free internet service offered at Amsterdam Manor. Was very hard not to when the computers are right next to the steps to our room and they seemed to call my name whenever I walked by. It was nice to keep in touch though and do a little (gasp!) work that needed to be taken care of.
Amsterdam Manor now has free movies on the beach for guests every Wednesday night! First movie we saw was Devil Wears Prada (that night we took a bottle of champagne to sip on while watching the movie) and the following week we saw Wild Hogs (this time took a bottle of wine and some microwave popcorn – our friends snacked on pizza and beer!) Very nice, fun idea!
The water at Eagle Beach was great – small, gentle waves, warm water and a nice, sandy bottom. The water was so clear on some days that you could be standing up to your neck in the water and still see your feet. Lots of fish to see swimming around your feet as well (which is probably why we had pelicans hanging out the entire time.)
Arikok Park (or "How we made it out alive!")
We've been through Arikok Park several times in the past with a small rental car. Never any problems. Well... since it had rained a bit, the roads through the park have changed a little (lots of deep ruts and protruding, sharp rocks) and there was also a detour within the park. Needless to say, our little Toyota Yaris with 4 people in it was having a heck of a time maneuvering the "goat path" without scraping the bottom of the car every so often (this is where Optima should stop reading!) Kimmy had never been through the park and Stacy only once on an ATV - they had little faith in my husband's driving ability so the day went something like this:
Scrape (sound of the bottom of car scraping the road)... gasp!..... look out for that hole..... OMG!..... I can't see down this hill, better get out and take a look.... gasp! ...... a fork in the road, neither looks good so let's flip a coin.... hey, goats – at least we'll have something to eat for a few days if we're stranded out here.... another scrape.... gasp! .....hope the tires hold out.... we do have a spare, right?...... what do you mean, you don't have your cell phone with you?!? ......is this even a road?!?.... where is that Boca Prins bar – I need a beer! .......will we ever see civilization again?... hey, there's the helicopter tour going overhead – maybe we can spell out S.O.S. with rocks! .....scrape!.... OMG! ....there's a construction crew working on the "goat path" – real people! ...how are we going to get by them?...wonder if they have a cell phone?.... I see water and I see another car behind us (we're all in this together now!)... Boca Prins must be close....ahhhhhhhhhhhhhh.... Boca Prins bar!!!!
We weren't sure whether to kiss the ground or kiss our cold beer at that point! But that bar was truly an oasis! Then it was onto Charlie's Bar in San Nicolas for our usual lunch (steak sandwich with honeymoon sauce) and many, many, many (many!) ice cold Balashis on tap!
Weather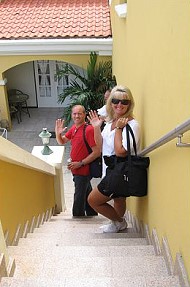 had beautiful weather (sunny and windy) for almost all 14 days – just 2 days of a little rain.
One day was a good excuse to go downtown shopping since it didn't rain that long but remained overcast. All of the years we've been coming to Aruba, Mike has always wanted to get a temporary tattoo – well, this was the year! We stopped at Rumba for lunch, then Mike got his tattoo, stopped at the Paddock for a cold Heineken, and then back to Rumba to say hello to Stefan (owner.) We sat there for quite awhile talking to Stefan and another couple at the bar (their first trip to Aruba). Didn't think we'd be there that long and had limited cash on us. I miscalculated the number of beers we had (Mike snuck in an extra one somewhere) and we were $5 short on our tab. Stefan and Milca had already left and we thought we would soon be washing dishes. The couple at the bar was staying next door at LaCabana and they offered to loan us $5 (I was so embarrassed).
Then we found out they were taking a taxi to the grocery store on the way back to get beer so we offered to drive them to the store, waited while they bought beer, and then we dropped them off at LaCabana. Our debt was paid!
The other day it POURED all morning – and we were very glad we had a living room, kitchen, etc. to relax in and not feel cramped in a hotel room. By noon it had let up so the four us went to Salt & Pepper for lunch (ran into LizardLady there), checked out the new mall by the Holiday Inn (used the parking ramp there which is set up kind of odd), then on to Moomba's for more drinks.
Ran into Mark of "Mark and Marlene" fame at Moomba's – kept running into both of them all over the island – at bars (go figure!)
Restaurants / Bars
I posted my restaurant reviews at: www.restaurantsaruba.com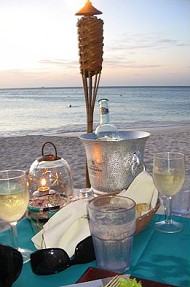 Some of our favorites this year – Passions on the beach at Amsterdam Manor (food, ambiance, and service were nothing less than perfect), Screaming Eagle (incredible atmosphere and incredible food), Yemanja (great food and Diana and Jorge are wonderful hosts), Sunset Grille at the Radisson (food and service is always top-notch!), Bingo (this place is like my "second home" – casual with great food and a nice place to hang out for drinks). Other annual favorites: Rumba, Gasparito, Mango's.
We had a group of 9 at Marandi's last night at their old location. Ran into so many people there that night from the bulletin board who were also enjoying Marandi's last evening – was almost like a big bulletin board party.
Met up with Christian (Aruba Heli Tours) at Bingo for a few drinks and also dropped by the Bugaloe one evening to have drinks with Capt. Anthony (Tranquilo) and his wife (great people) – love the live music nights at the Bugaloe. Of course, we ran into Mark and Marlene there, too. Speaking of running into.... I think we ran into our friend SueW and her girls (Jenny and Katie) every night since they arrived. Of course, we did have dinner with them on some nights, but it was just funny that whenever we were out and about somewhere... there they were (okay, we did NOT see them in Arikok Park!)
Had a good look/walk-thru of the new Riu Palace. Very impressive, lots of people, and very, very big. I will say that its lights that face the road are quite bright at night compared to the other hotels on Palm Beach – it looks like a giant nightlight!
My own observation/opinion: Palm Beach is starting to look like Miami Beach. We go to Miami Beach every year and really don't need to duplicate that trip so we will continue to stay on Eagle Beach where there are less people, less cars, less congestion, etc.
Bulletin Board Parties
Met so many fun people at a couple of bulletin board parties from about 3 different bulletin boards (aruba-travelguide.com, aruba-bb.com, and the Trip Advisor Forum) – and also our usual "Sept. Aruba friends" who we see every year. In addition to the snacks that Amsterdam Manor serves, Tom and Karen brought some delicious homemade sausage that they shared with everyone. Also finally was able to meet Nilton and his lovely family as well.
Animals
Walks in the morning were never complete without a companion of the four-legged kind (the local dogs seemed to enjoy the company of us humans!) Also spotted a couple of owls perched on a ledge at the Sands Condo sales office on Eagle Beach – they were there almost every morning.
Departure
We had one of the first flights to the U.S. on a Saturday (departure at 1:10pm) so we were able to avoid the congestion of people in the middle of the afternoon. Arrived at the airport at 11am, returned the car, checked in and went through security, customs, etc.
We arrived at our gate (okay, we stopped at the bar first) at around 11:35am so we had about an hour to kill before boarding at 12:30pm.
Of course, no trip is complete without some sort of faux pas or wine glass breakage: The 4 of us were in the kitchen one morning, talking, making breakfast... I was nonchalantly taking the wire "cage" off of the top of the champagne bottle for Mimosas. I didn't even have the wire off when the cork flew (cage and all), hit the peaked ceiling, ricocheted off a wall or two, champagne spilling everywhere. Sounded like gunfire! Was happy to see no one was hurt, that we all still had our eyes intact and that we didn't blow a hole through the ceiling (not sure how we would have explained that one to management!) Never a dull moment in Aruba! LOL!
Once again..... it's always such a nice feeling to be welcomed back to Amsterdam Manor year after year and be treated like family. Everyone always seems so happy to see you (and if they're not then they're doing a great acting job!) The entire staff is nothing less than stellar (special thanks to Marc for the Brights, Diana for making our evening at Passions perfect, and Diego for the fantastic Mojitos – make sure you have a lot of mint next year!)