15th Trip to Aruba - Amsterdam Manor Beach Resort
April 26 – May 5, 2007 by ~Amy~®
Aruba Forum Profile: ~Amy~®
This was a girls trip to Aruba – spent the first couple of days with a friend who has been traveling to Aruba for over 20 years (Stacy). The other seven days were with a friend who had never been to Aruba before (Karla.)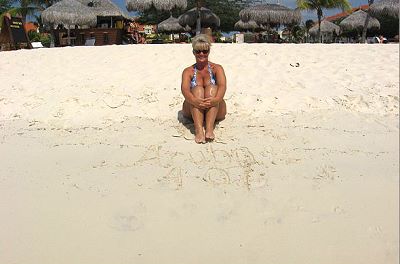 Arrival
Flight from Minneapolis on USAir was uneventful except for getting into Charlotte a little late for my connection. Of course, the gate we landed at and the gate I needed to get to were (what seemed like) miles apart so I had a very nice jog through the Charlotte airport (and here I was worried about missing my time at the gym!)
Car Rental
Arrived into Aruba and my bag was one of the first ones off (probably because it was the last one on!) Found Hans and Dennis from Tropic Car Rental waiting for me with my name on a sign. This was my first year using Tropic and everything was quick and easy. Dennis took my luggage to the parking lot, we finished the paperwork right by the car, he gave me a ticket to get out of the paid parking area, and off I drove to Amsterdam Manor. Will be using them again on future trips.
Amsterdam Manor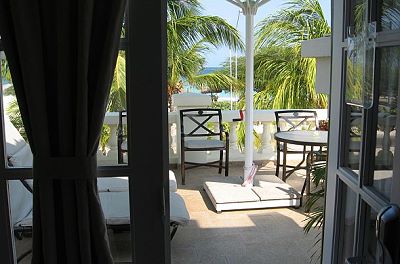 We booked the same 2 bedroom, 2 bath suite that we always do…..walked in and….wow! Couldn't believe the renovations and new furniture in the room! It was a completely different room than when I was there 7 months ago! New tile, kitchens, countertops, light fixtures, living room and dining room furniture, flat screen TV's, new vanity areas in the bathrooms..... all very, very nice! Also had every amenity you could imagine in the kitchen – everything from a nice cutting board with cheese knife to a blender to nice glassware (perfect for our morning Mimosas), new dishes, new frig, etc. Also a lot of exterior updates, too, around the resort area and at Mango's – can't believe how great everything looks!
The beach and beach bar at Amsterdam Manor is, as always, where we spent most of our days. Never crowded, can get a palapa at any time during the day, and, in general, very, very relaxing. They still bring around fresh fruit skewers, too, during the day as a nice (and free) afternoon treat for hotel guests. We spent most of our days just lounging at the beach, relaxing, drinking Polars and Brights, chatting with friends…..doesn't get much better than that.
The best news…..the sewage treatment plant located near Amsterdam Manor has been upgraded and another treatment plant has opened on the other side of the island as of the first week of May. The sludge of the treatment which normally dried behind the plant (causing odor) is being transported straight out of the process to this new plant as well. This means that the factors contributing to the smell that some people experienced in the past have now been eliminated. Everything is back to normal....finally!
Fireworks and Turtles
After dinner one night at Mango's with friends Karla and Jeroen, Karla decided she wanted to take a bottle of wine down to the beach and listen to the waves. Sounds like a plan! We head down to the beach, wine in hand and grab a couple of chairs from the beach bar. So we're sitting there having a wonderful bottle of wine when we see a great fireworks show coming from the Palm Beach area – that just added to our nice evening with friends and wine. Then about 10 minutes after the fireworks ended, a friend from Passions walks over to our chairs in the dark and tells us that a huge, leatherback turtle just came ashore and was laying her eggs on the beach between Amsterdam Manor and LaCabana. So, wine in glasses in hand, we walk over in the dark and stand in the moonlight with about ten other people and watch her lay her eggs and cover them with sand. I couldn't believe how large she was! Just an incredible, unplanned evening – sometimes those are the best!
Queen's Birthday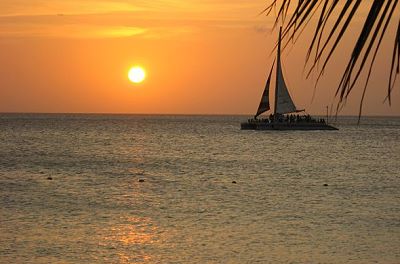 Since it was a holiday there was a late night beach party at Arashi Beach. Met a lot of fun people, listened to music, drank a lot, and just enjoyed being on the beach with new friends until about 3am.
Mi Dushi
Went on the sunset cruise and had a great time. Brand name liquor flowed freely and often, nice group of people and not too crowded. Evening ended with some people taking their turns on the rope swing.
Bulletin Board Party
Attended the weekly Bulletin Board party at Amsterdam Manor's beach bar on Monday. Had a great turnout and saw a lot of friends from previous years and met a lot of new friends, too! Afterwards, a group of about 10 of us went to dinner at Bingo for a nice evening of drinks, food, and good conversation!
Dutch Marines Open House
The Dutch Marines in Savaneta has an open house every year on May 1st (Aruba's Labor Day). We were invited by a friend of ours and had a great time walking around and seeing all of the different activities they let you partake in – rappelling, shooting a gun (blanks, of course), touring some of their ships. Fun day and very interesting.
Restaurants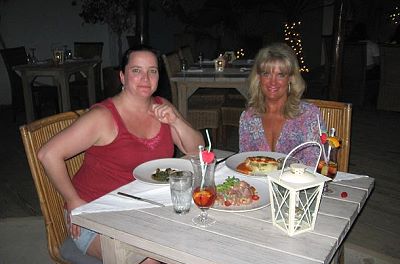 I posted all of my restaurant reviews at: www.RestaurantsAruba.com
And if you're having trouble reading the small print on Salt & Pepper's menu, have no fear…..just ask for a pair of reading glasses. We, jokingly, said a pair of glasses would be nice since it was dark and the print was small, and our wonderful waiter miraculously appeared with an entire box of reading glasses to choose from! Who knew?!?
Spent a lot of time at Bingo – eating, drinking, and socializing. It's a great place for all three! Also learned a nifty little phrase at Bingo since we continued to decline the limes for our Amstel Brights: NFL (I'll let you figure it out!)
Passions and Mango's at Amsterdam Manor were great in both service and food (and, of course, you can't beat the view at Passions on the beach!) Also dined at Marandi on my first night – wonderful as always!
Spent some time at The Mill for happy hour (very popular place on Friday nights) and at the Bugaloe a few nights as well. Love the Bugaloe – great bartenders and great drinks!
Went to Jamaica Me Crazy for the first time on this trip - the food was outstanding and inexpensive. If you're looking for good jerk chicken or fish, this is THE place! Talked to the owner and he said that they will be moving sometime this year from their present location near Certified to a new spot in the high rise hotel area.
As much as I enjoyed all of the food in Aruba, the trip did end on a bit of a sour note. On my last evening on the island, I developed a lovely case of food poisoning (which can happen anywhere – happened to me once in the U.S. from a well-known restaurant). It was a long, exhausting night and morning but the staff at Amsterdam Manor took very good care of me at 4am – even driving me to and from the hospital. I knew that I would have to pay upfront at the hospital so I made sure to bring my credit card with me. While I was there they gave me an IV (I was very dehydrated) and a prescription to be filled at the pharmacy next door. The next morning everyone at Amsterdam Manor was checking in on me since I was still undecided about flying home that day. They were so wonderful about helping me with anything I needed – special thanks to Esther and Janine at Amsterdam Manor. They were both very kind and comforting and truly cared!
Departure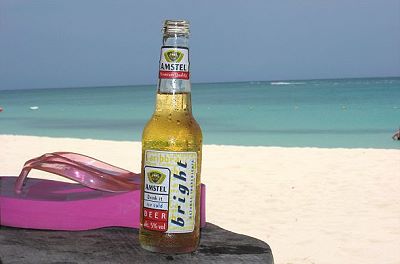 Gave ourselves the usual 3 hours of time for the airport. Arrived at the airport to find Hans waiting for us – very simple and easy return of the rental car. They have moved one of the security check points to a spot before you get to the shopping area. Not sure if that has helped or the fact that our flight left a little earlier than usual but it only took a little over an hour (last April it took the entire 3 hours!) to go from check-in counter to the gate this time so we had plenty of time for shopping, eating, or drinking (too bad I still felt too miserable to do any of those!)
Observations
A lot of building going on and the area around Palm Beach just keeps getting more and more congested with people and cars. We used to stay on Palm Beach years ago and used to like it but now it's too busy for us and doesn't seem relaxing. It's okay to visit for lunch or dinner or a snorkel cruise but we really enjoy being able to go back to Amsterdam Manor on Eagle Beach where it's quiet and tranquil.
Once, again….many, many thanks to the wonderful staff at Amsterdam Manor – they are a huge part of what makes us return to Aruba year after year! Looking forward to seeing them again soon…..Sept. 2007!