Manchebo & Playa Linda
July 17 - July 25, 2004 By Vicky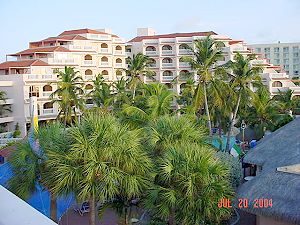 Booked through Expedia with 2 nights at the Manchebo Beach Resort (good deal and cheaper than booking airfare for 4 separately at the time).
Flew to Miami from Jax, FL; flight from Miami to Aruba delayed l l/2 hours. Arrived at 2:00 and received our Kia 5 door from Jansen. Easy to work with and car was in very good condition. Check in at Manchebo was a breeze. The rooms are quite small but clean. Beach is beautiful. They give you some nice free drink coupons at check in. Dinner at French Steakhouse was very good.
Only stayed one night because we had bought a 2 bedroom timeshare for the week at Playa Linda. Had already filled out our paperwork on Saturday night so check in was, again, very easy. Had hoped our room would be ready early, but it wasn't. We had our towel ticket and went to the beach until the room was ready.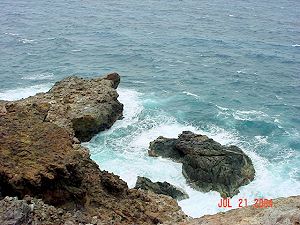 I was very pleased with our unit. We were on the third floor with a direct ocean view from one side of the balcony and a view of the pool area on the other side. In addition, we had a small balcony off the master bedroom. The unit worked perfectly for us and our two teenaged boys. Friends rented a 1 br lanai unit from someone I found on the bulletin board and their room was equally nice (and a bit newer). We loved the Playa Linda and can't wait to return.
Meals: Smokey Joes -- great ribs, mahi mahi and key lime pie; El Gaucho -- quite good but both my husband and I agreed our steaks weren't as tender as last year although everyone else enjoyed theirs; Gilligan's at Radisson -- nice casual meal; Pelican Pier at Holiday Inn -- very good food and right on water; Azurro at Playa Linda -- wonderful Italian food but a bit pricey; also had fantastic tiramisu (sp?).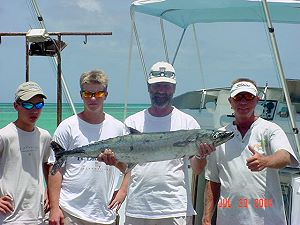 My husband, friend's husband and boys did 3 fishing charters. They were very impressed with Melina at the pier by the Marriott. The captain has his own way of doing things but they learned a lot even though they're experienced saltwater fishermen. We went bottom fishing with Jungle George one day. Caught a lot of little fish but nothing we wanted to eat. Really not much fish caught on any of the trips but the men/boys had fun anyway.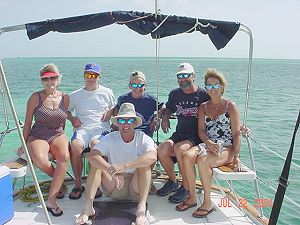 Highlight of our trip was a private sailboat cruise on the Morningstar. My husband and I had done this last year and wanted our friends and boys to experience it. Marciano and Kat (h/w) are the most wonderful hosts. We trolled while sailing up from the high rise to low rise sections and back to the Antilla to snorkel. Kat serves fruit, cheese, veggie pizza during the sail. After the Antilla snorkel (which was awesome) we headed up toward the lighthouse where we snorkeled while Marciano & Kat prepared our steak and fresh snapper. Dinner was eaten as the sun set. Dessert was German Chocolate cake and brownies. Everyone agreed this was the best meal of the entire trip! Of course, they say everything always tastes better on the water! This is not an inexpensive charter but they will cater to your every whim and there are some less expensive alternatives to what we did.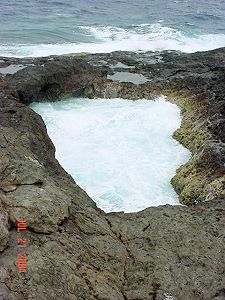 Also snorkeled at Baby Beach. Saw some fantastic fish just outside the rocks. One member of our group even saw an octopus. Snorkeled again up near the lighthouse and we saw some type of sea snake -- I avoided that area since I have heard that sea snakes are quite poisonous. A little closer to the high rise sections, my boys think they saw a moray eel.
We visited the natural bridge and two other natural bridges that are near Seroe Colorado. We preferrred this area because it isn't as touristy. Next trip I want to make it to the natural pool. Ventured into the casinos at night, but not much luck there! It isn't Vegas, but, then, who cares?
Natural Bridge Sorry to run so long, but this was the best vacation ever. There was so much for everyone to do. They practically had to grab my keys away from me at checkout.
Can't wait for next year!