Manchebo Beach Resort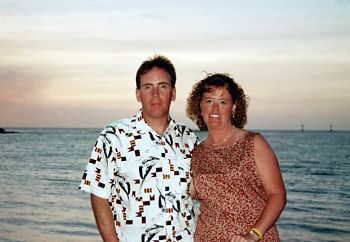 December 16 - December 26, 2004 by Tina
Let me start this report by saying thanks to everyone on the bulletin board for all the help and advice in planning our trip. We were supposed to go to Grand Cayman for our third Christmas in a row and because of Ivan, had to make a change of plans in September. When we plan a trip, I usually do extensive research before and since I only had a few months, these boards were invaluable…so thanks! I will warn you, the following report is very detailed and long…hope I don't bore you!
Thursday, 12/16
We departed Indy via American at 7:55am. Flight was on time and fine. We arrived in Miami and had a layover there until 5:30pm! Yes you read that right. When we had originally made the reservations, we were supposed to leave Miami at 12:30 and arrive in Aruba at around 5 or so. Well the airline decided to move the flight so we had to sit around the Miami airport for 7 hours! No explanation as to why either. There were also no other flights we could take. So…we didn't get to Aruba until 9:30pm. I did call the hotel and car rental agency to make them aware of this and make sure we still had our room and the car place was still open!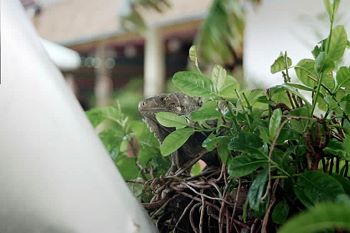 When we arrived, off to customs and we went to the far right as people on the boards indicated. There was only one other line open and it was long. My husband kept telling me not to get in that line that it was for residents and the crew but I told him we needed to give it a try. It worked but I will say we got some nasty looks from people in the other line. Although we got through the line fast, it took forever for our luggage to appear though. Then we had to stand in another long line before we could leave the airport. Only one line open there. It took an hour or so for us to get out of the airport…long day!
After that we crossed the street and found Jansen's office quickly. The guy working was waiting for us (in fact, he closed right after we left). I thanked him for staying late for us. He had our Kia 4x4 all ready to go. Now the one thing I didn't like about getting there so late and having never been there before was it was dark and we had no idea where we were going. The guy at Jansen gave us a map and also gave my husband directions to get to the hotel. The directions he gave though had us going around downtown to avoid it. We got totally lost and it took us forever to get to the hotel. Later when we knew the area better we figured it probably would have been better if he had sent us through downtown!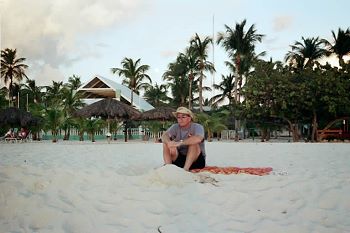 We finally arrived at the hotel. Stayed at Manchebo. Even though by this time it was after 11:00, there were two other people at the front desk doing something so it took a while to be waited on. I was pretty tired by this point and just wanted my bed! We did get checked in fine though. We had preordered the Visit Aruba card and it was there with our check in paperwork. We requested a first floor room with ocean view. We had room #4. It was a nice room, basic but nice. The patio was nice too. I ended up taking a lounge chair from the beach to our patio and they let us keep it there for our stay. Our neighbors had three people in their room so they took our extra chair. The mini fridge was very helpful and there was a coffee maker too but we didn't use it because we got a free breakfast every day. The one thing that bugged me was at first I didn't think there was a plug in the bathroom. I finally found it way up by the ceiling attached to the light fixture. A weird place for it! I ended up using the same plug the fridge was plugged into for my hairdryer and used the mirror on the closet door to do my hair. I did like that they had nightly turndown service and brought the evening paper. That was a nice touch. We will definitely stay there again and I am even going to try to request the same room. We were on the side of the hotel where the spa is and it seemed to be the quieter side.
Friday, 12/17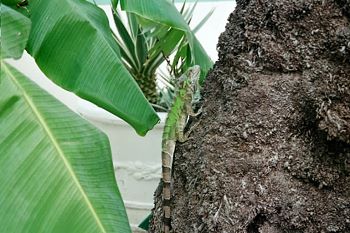 Since it was dark out when we arrived, we couldn't wait to get up and get out to see the beach. We got up at about 6:30am and headed out to check it out. We watched a cruise ship come in and sat out there for a while. We then headed back, activated our Visit Aruba card and went off to breakfast. With this card, we got breakfast for 2 each morning since we were staying at Manchebo. The card was only $12.00 and we saved almost $200 on breakfast alone! Not to mention the other times we used it. After breakfast we went back to the beach for a while then decided to drive around and get our bearings and hit the grocery store. That's when the fun began! We had also made reservations for dinner that night at El Gauchos so we wanted to be sure we knew where that was too. First we headed out to the lighthouse and Alto Vista to check those out. Then we headed downtown and it was pretty busy with cars. Sat in a lot of traffic and drove in circles trying to find the restaurant. What is the deal with no street signs? I was pretty frustrated and it took us about 2 hours to find the restaurant. By that time we needed to rush to the grocery to get a few snacks, dress for dinner and get back there! Even when we went back we had a little trouble finding it again. I told my husband I felt like he and I were on the Amazing Race! I will say it was somewhat better after a couple of days but I still don't get the no street signs. We just made sure we found the places we wanted to eat during the day.
Dinner at El Gauchos was great. We both had the 16oz. Gaucho Steak which was huge! Of course we had to eat it all. We also got a pitcher of Sangria which was great too. I was glad we didn't get any appetizers and no room for dessert.
After that we walked around downtown a little and strolled in one of the casinos. We spent a whole $1.10 in the slot machines and then left. We are not gamblers and my husband can't stand all the smoke in the casinos so that was all the casino stuff we did for the entire trip!
Saturday, 12/18
Got up around 6:30 again and headed to breakfast by 7:30 or so. After that we were off for our lunch and snorkel trip on the Jolly Pirate. It was a blast! I will say I was a little worried when we were waiting to board and a bus load of cruise people came to join us but the crowd was still good enough that you didn't feel like you were on a cattle boat. The crew of the ship was great and we talked to Harold for quite a bit before boarding. He even gave my husband some recommendations for diving later in the week. The snorkel stops were fun and it gave us a chance to scope out where they were so we could go back to them later on in the week on our own. The lunch was really good too! The rope swing was a big hit. I didn't have the guts to try it but my husband did. He was doing flips and everything. We met some great people on the boat and there were some older people from the cruise that didn't snorkel. They just stayed on the boat and drank! This one guy was making his own drinks by the end and even entertained us on the microphone with a song. He was a hoot!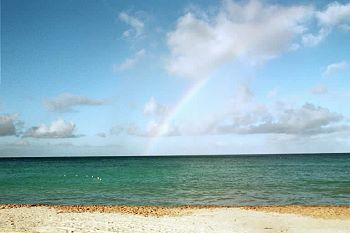 When we got back from the trip we decided to walk down the beach and check out Pelican to see if my husband could sign up to go diving. He did but was disappointed because they wouldn't let him to a 2 tank. He had only done about 7 dives and the lady said he would have had to have done 15. She said he could do a 1 tank and then if the dive instructor thought he did good he could come back another day. He signed up to dive the Anitlla on Monday. He did get 15% off with the Visit Aruba Card.
That night we didn't have any reservations anywhere so we decided to be casual and went to Alfredo's by Adventure Golf. I live in Indiana now but am originally from Massachusetts. This restaurant is run by a Mass. Family who are Italian (so am I) so we wanted to check it out. It was okay. I had ravioli and my husband had a pasta and sausage dish. They served the food in a skillet which was kind of neat. Not a bad place if you want something casual and Italian.
Sunday, 12/19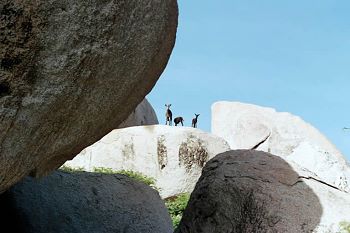 Today we decided to go snorkel at Baby Beach. We talked to some people on the boat yesterday who had been there and said it was great. We brought our own snorkel gear and also some sand chairs and a small cooler so we packed for the day. Before we left we had our free breakfast though. Since it was a Sunday, there was no traffic at all, BUT we had a heck of a time finding the beach. Again, no signs or nothing! For a while we were following a bus that we hoped was going there too but then they turned. We did eventually find it though and were still early enough to get a shade shelter. We spent a good part of the day there. The snorkeling was decent. We did see a lobster which was cool. We didn't just stay in the cove area, we swam out some but there were some areas where the coral got pretty high so you had to be careful.
After we left we decided while we were in the area that we should find Flying Fishbone since we wanted to eat there later in the week. We did find it eventually!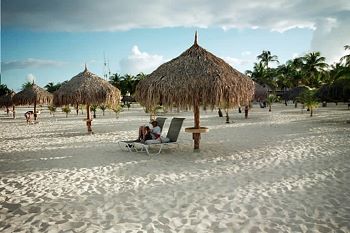 Back to the hotel and we went to the pool for a while and hit the bar for Happy Hour. This is the day that we discovered the drink Brown Lady. We were hooked! They are so good. I have the recipe and can't wait to make them at home! We tried to be around the hotel almost every day to take advantage of Happy Hour! Dinner that night was at Texas de Brazil. I do believe that this was my husband's favorite meal. He loves meat so he was in heaven! He said if we ever go again he is not even going to go near the salad bar - just bring on the meat! We stuffed ourselves there. One mistake we made though was I thought that dessert was included so we both got something (which we didn't need!). Then we found out it was extra. Oh well. We did get a 10% discount with our Visit Aruba Card (told you this card was great!).
Monday, 12/20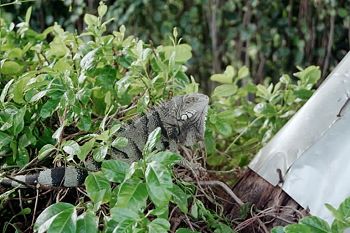 Today I woke up with a head cold. I think we were keeping our room too cold. This was the day my husband was going diving though so it worked out good. I did need to get some medicine though so we headed back to the grocery to get some after we had breakfast. We walked all around the store and there were no aspirin or anything to be found. I finally went to customer service and they told me that they did not sell medicine there…we had to go to the pharmacy. Didn't know where one was so she told us near the hospital. We found it and they did have a very small section of US stuff. Was able to get some Advil Cold and Sinus and Nyquil. I will say I am glad I wasn't really sick!
After that it was almost time for husband's dive. I was feeling a bit better so I told him to drop me off at the high rise area and I would walk around the hotels and check out their shops. He was going to be gone for several hours. I started feeling bad after he dropped me off though and wished I had stayed at the hotel. The shops weren't that great either. I survived though. My husband enjoyed diving the wreck and the instructor said he could do a 2 tank. Unfortunately we ran out of time later in the week so he never got to again.
That night we had dinner at Madame Janette's. Again we found it during the day, which was a good thing! This was the only time that I got attacked by bugs biting me. As soon as we sat down they started. Fortunately they had bug spray! I also thought is was strange that they had stray cats roaming around. One really took a liking to my husband and stuck around our table until we left!
I had the surf and turf, which had a steak with their great butter, a lobster tail and shrimp, which was a nice addition. My husband had the pork cordon blue and we couldn't believe how huge it was! He liked it a lot but thought it was a bit salty. Mine was great. He also had a drink but I didn't because of all the medicine I had taken that day. I was feeling better by then though. We also split the mousse for dessert.
Tuesday, 12/21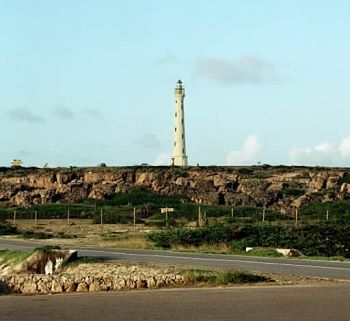 Today was our sail and snorkel on the Tranquillo. Based on recommendations from this board, we decided to try them. Even though we went on the Jolly Pirate, we wanted to try another trip and this was perfect because we went in a totally opposite direction. It was also a much smaller group. There was a local guy who was originally from Boston but has lived in Aruba for 5 years on the boat so we got lots of great information from him. My husband tried his first Balishi but he didn't care for it so he stuck to the rum punch! The snorkeling spots were great and we really loved the drift snorkeling even though I had a little trouble getting back in the boat after that! The lunch was basic, not as good as the Jolly Pirate but it was fun. I did try the pea soup but I didn't like it. My husband though, who doesn't like anything, did like it! He even ate the salmon sandwiches which surprised me. Must have been the sea air! I thought sailing down the whole one side of the island was great. We even had a plane land right above us which was cool. Since we sailed right by the Manchebo, I got some great pictures of that from the water. The people on the boat were all a lot of fun too…except this one guy who got totally smashed - before lunch! He didn't go snorkeling with his wife and teenage daughter, he stayed on the boat and slammed the Balishi's. I asked his wife if he was coming and she said no. I wondered if he's done this before. When we got back from snorkeling he was so drunk it was scary. They tried to give him some soup and he just spilled it on himself. I was worried he might puke but he didn't, thank goodness. Then he was sitting and sort of passed out in the sun. Anthony told his wife she might want to move him out of the sun but she didn't and said he would learn his lesson! She did move him later though and when he woke up he wanted to start drinking again. They wouldn't give him anymore though. My husband also said he thought people slowed down the drinking after that. I would have been mortified if that was my husband or dad. The wife and daughter were nice though and we chatted with them and the others. The crew was Anthony, Ernest and a new guy Greg. My husband had some nice conversations with Greg. It was a nice relaxing day and we enjoyed it. We made it back to Manchebo in time for the manager's cocktail party. Free drinks and appetizers! The hotel manager walked around and talked with everyone. She was so nice. We told her about the Tranquillo and she said she used to be neighbors with Anthony when he was little! She also answered lots of questions we had about the island. It was nice.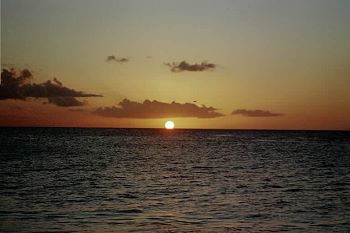 We relaxed at the beach and pool after that and then headed in to clean up. The guy from Boston on the boat has recommended The Buccaneer so we decided to check it out for dinner. The restaurant is cool because it has all these fish tanks inside but the food is so so. I got a seafood casserole over pasta. I asked the waiter what was in it and he didn't tell me all the ingredients. One being squid, which I am not fond of at all. I ate around it though. My husband had pork chops and he said they were just okay. They did make a good brown lady though! Probably wouldn't go back. Seemed like a lot of locals there and the prices weren't too high.
Wednesday, 12/22
There were no cruise ships in today so we decided to make this our downtown shopping day. We had breakfast and headed downtown early. Got a great parking spot but had to wait around for the shops to open. I wasn't that impressed with the shopping. I did get a bracelet I had wanted but I didn't think their prices were that much less than the US for this particular designer. I think the jewelry prices are better in Grand CaymaCayman. Besides that we got a couple t-shirts, husband go a couple of hats and we got some stuff in the Aruba Aloe store. At around noon my husband was hungry so we went to Iguana Joe's. This was a great place and those pink iguanas are so good…I could have sucked down several! My husband had a pretty potent drink that came in a wine carafe. He had a burger and I just got some conch fritters. A good lunch.
After that we were getting hot so we decided to go back to the hotel and hit the beach for the rest of the day (and happy hour too!).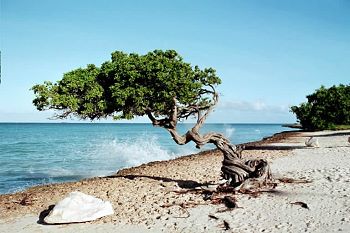 After sunset we got cleaned up and decided we were a little hungry so we ended up at Salt and Pepper. This was a fun place. We sat outside and there was some guy on a little stage signing. He was pretty entertaining…not the greatest signer, but entertaining. With our Visit Aruba Card we each got a free glass of wine. We got the sangria and it was great! We ended up getting a second glass but I wished we had gotten the pitcher. Sangria and Brown Lady's were our favs! Instead of dinner we decided to just get tapas. We got 5 different ones…the meatballs, spinach dip, mahi mahi fingers, teriyaki chicken and tacos. All were pretty good and again we were too full for desert. When we were done we shopped in the little shops around that area. I got some neat hand made Christmas ornaments for $5.00 each.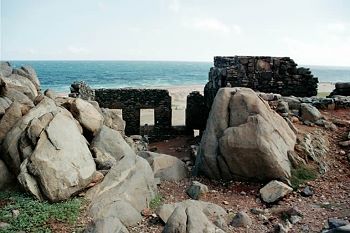 Thursday, 12/23
Today was our "explore the other side of the island" day. We got up and had breakfast then headed out to check out the rock formations, abandoned gold mines, natural bridge and natural pool. We had our maps with us but they were pretty useless. My keen sense of direction was working pretty good that day though and we did find the two places with rock formations and were able to stay ahead of a jeep tour and have those places to ourselves. At the second one, there were a bunch of goats climbing in the rocks so we got some great pictures. After that we headed to the abandoned gold mine ruins which was also pretty cool. My husband was having fun with the four wheel drive. He decided to take us on a drive down the coast after we left the gold mine turning left instead of right which would take us to the natural bridge. We drove that way for a while and passed some people in ATV's and on horseback. Both looked fun and we'd like to try one of those if we go back.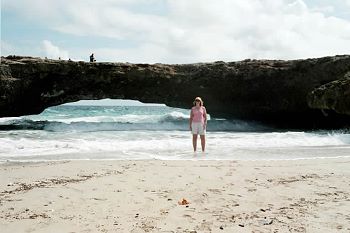 We also found a smaller natural bridge that we stopped at and took some pictures. We then turned around and headed to the Natural Bridge. That was neat and we took several pictures there. It was getting crowded though so we decided to leave and try and find the Natural Pool. This is where the fun started again…we drove around and around and on some of the nastiest roads (actually I wouldn't even call them roads!) but we just couldn't find it. The skies were looking dark like it might rain so I thought we should head back to some paved roads so we wouldn't get stuck. We did and found our way back to the hotel. We decided we would get to the Natural Pool on our next trip to Aruba!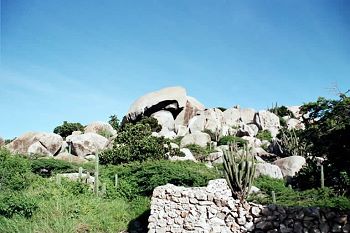 We spent the rest of the day at the beach and pool and headed in early to get ready for dinner. We had reservations at Flying Fishbone for 5:30 so we would be there for sunset. We already knew how to get to the restaurant since we searched for it the other day so no problems getting there. When we were there, they told us they do usually have a painted VW Bug on the main street to direct people, but it was in the shop for repairs. Another couple heard us talking about finding it and they too said they drove around for 1/2 hour trying to find it.
This was probably our favorite meal of the entire trip! We got what I believe was the best table in the entire restaurant…it was right where the beach is at a point and there are some large rocks piled up. We had no one in front or beside us, everyone was behind us so it was great! Like Madame Janette's, they too had what they called a house cat, Missy, who roamed the beach. She was pretty friendly and stuck around our table pretty much the entire time. The staff at the restaurant were so nice, friendly and informative. It was so cool to have them bring you a shoe tree to hang your shoes so you could dine barefoot. We ordered a bottle of wine and I got the lobster soup for an appetizer. It was pretty good but I guess I didn't read the description very well…I thought it would be more of a creamy soup but it was a broth. The lobster pieces in it were pretty good sized though. For our entrees, my husband got pork tenderloin that was cut into piece over pasta. It was huge and he loved it. I couldn't make up my mind to what I wanted there were so many great things on the menu to choose from! I finally decided on the catch of the day, which as Wahoo. I had never had it before so I thought I would give it a try. It was wonderful and they gave me two huge pieces! It came over mashed potatoes and had a curry sauce I believe. After that we did take a look at the dessert menu and decided to share the tiramisu. Tiramisu is my all time favorite dessert so I like to try it at different places. Theirs came with ice cream. It was pretty good but I probably wouldn't get it again. The couple behind us got coffee and I noticed that if you order coffee there, it comes with a tray of cookies. I thought that was a nice touch and we would probably just do that if we go again (which I know we will on our next trip!). We really enjoyed this dinner and made it last almost 3 hours. It was so relaxing sitting there on the beach. We took some great pictures there too.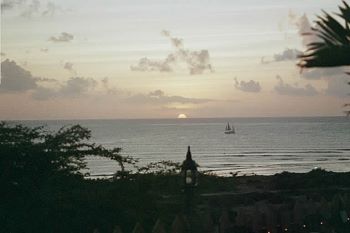 After dinner we noticed some houses in the area all decorated with Christmas lights so we checked them out and then headed back to the hotel. When we got back, we sat out on the patio and met our neighbors who had just arrived. We ended up staying out there until after 11:00 chatting. Nice evening.
Friday, 12/24
It's Christmas Eve but it sure doesn't feel like it around here! We got up before 7:00 again and headed to breakfast. By this time our waiter knows to bring my husband coffee and me an orange juice. He doesn't even bring us the menu because he knows we have it memorized! After breakfast we decided we would go snorkeling on our own. We head to Arishi Beach first. I didn't think the snorkeling was that great there but maybe we were in the wrong spot. After that we head to Malmok and realized we should have gone there first. All the snorkel boats are there when we get there. We still go in though and it's pretty cool. Next trip we will get there though before all the boats! We couldn't figure out where else to go after that. One thing I liked better about Grand Cayman was there were lots of great places to snorkel from the shore. We just didn't find that in Aruba. I will also say that the snorkeling is way better in Grand Cayman. I know that Grand Cayman is one of the best places in the world for snorkeling and diving so I guess we are a little spoiled. You really can't compare the two. We still enjoyed it though. After snorkeling my husband was hungry so we decided to go to Moombas for lunch since we knew it was on the beach and casual. I had their crab salad sandwich and my husband had a steak sandwich. We also both had Brown Ladies! The sandwiches were $5.50 and $6.00 so it was a pretty cheap lunch. They were okay. After that we headed back to the hotel to hang out at the beach for the rest of the day.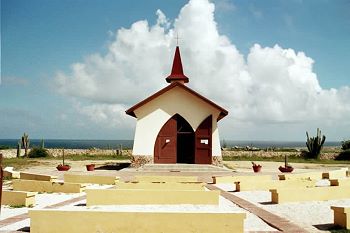 That evening we had reservations at 6:00 for the Italian restaurant at the Lighthouse. I had heard mixed reviews about it but we wanted to check it out and catch sunset from that side of the island. We got there a bit early so we were waiting outside for them to call us. Others were out there with us. There were some goats climbing the rocks in front of the restaurant. All of us out there kept hearing one of them making an awful sound and we realized it was a baby goat that had fallen down in the rocks. A lady went to tell someone and they didn't seem worried and said it was the goat's environment. Well we kept watching and the baby was not getting out. Finally a couple of the guys went on the rocks and they did free the baby. We all clapped.
We were seated at our table and the first thing I noticed was how many workers there were. Too many in my opinion. I felt like they were watching us the whole time we were there. Right after we got seated, the sun was beginning to set so I was more interested in taking pictures than anything else. We did that and then ordered. The menu was huge and there were lots of different items on it but I thought they were way overpriced. The least expensive item for dinner was $20.00 and that was for a pasta dish with no meat! I had a glass of wine and my husband just had a coke. We had a beef appetizer that had rare beef with fresh shaved parmesan cheese. It was pretty good. The bread they put on the table was good too. For our entrees, I had the lasagna which was delicious but not worth $20.00. It had no meat, just cheese. The piece they gave was huge though. Both my husband and I could have shared it. I had to eat it all of course! My husband had some ear shaped pasta with a plump tomato sauce. I think his was $21.00! He ate his all too and liked it. Since it was an Italian place, even though we were stuffed, I told my husband that we had to check out the desserts. I knew they would have some great ones and they did! We ended up sharing the ricotta cheesecake and it was delicious. Like I said, the food was great and the view was great but we will probably not go back because to me it was overpriced and the wait staff was a bit snooty. Anyone can go up there and check out the view by the lighthouse so we will probably just do that! After that we rolled back to the hotel and visited with our neighbors again until well after midnight. These last few nights there has been a full moon so the evenings have been beautiful!
Saturday, 12/25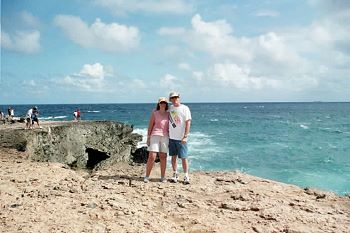 Merry Christmas! Again, it didn't feel like Christmas. Up early and off to breakfast. Alfredo our waiter was decked out in his Santa hat. We ate and then headed off to our day trip to DePalm Island. Again, I had read mixed reviews about going there on the boards but then while we were on our snorkeling trips, several people told us it was a great place to go. We decided to go on Christmas because we knew nothing would be open and there were no cruise ships in port so it wouldn't be crowded. We had a $10.00 off coupon so it cost us $44.00 per person. We did the full day because it was only about $15.00 more for that. We saved money too by driving to the boat launch ourselves and not taking their bus. We got there early to beat the crowds and make sure we got on the first boat.
When we arrived on the island, we secured a shade spot. The price you pay includes all food and drink. They were serving breakfast but we had already had ours so we skipped it. We brought our own snorkeling equipment too so we didn't need to use theirs. After we got our spot on the beach we headed to the dock to check out the snorkeling. The guide told us we had to stay within the buoys but then he was going to go beyond them and if we were strong swimmers we could join him. My husband and I decided to do that and it was cool. We were actually swimming over divers who were diving the wall. It really wasn't a bad swim out there either. The snorkeling there was great and those parrot fish were huge! In the morning it was better than in the afternoon because a crowd of people showed up around lunchtime. They were all foreign and most of them would just stand or sit on the step of the dock blocking the way for those of us who wanted to get in and out of the water snorkeling. They didn't speak English so you couldn't communicate with them to move. A lot of them who were blocking the way were also smoking and throwing their butts in the water…what a disgrace! Besides the snorkeling, there really wasn't anything else to do unless you wanted to pay even more money. I was pretty disappointed and wished that there was another way you could go there to snorkel without paying all that money. When lunch was served, I was not impressed at all. We thought the food was terrible! To make up for not eating, we decided to try and get our moneys worth at the bar. The drinks were served in small cups but we just kept going back for more. The special drink was a Yellow Bird and it was good. I think I had about 7 or 8 of those. We really only needed a half day there but we didn't know. I think we snorkeled 4 times while we were there. We really liked the snorkeling but I would not go back there again! I wish they would just let you pay to take the boat ride over there and nothing else but I can see where they are making money doing it the way they do.
At 5:00 we left the island and headed back to the hotel. This was our final night on the island and we had reservations for 7:00 at our hotel's restaurant - the French Steakhouse. When we got back from DePalm, we quickly got ready for dinner and then headed to the beach to watch the sunset. Another gorgeous one and we wanted to take some pictures. At 7:00 we walked to the restaurant. It was pretty busy that night so I am glad we had reservations. Of course we took advantage of the Ambassador's Special. Earlier in the day, my husband had mentioned that he was missing not having his Christmas turkey dinner so he was pleasantly surprised when we looked at the menu and they had added a turkey and ham dinner to the Ambassador's menu for the evening. He ordered that and I had the 12oz. Churrasco. Before the entrée though we each had an appetizer, me the seafood crepe and he had a turkey pot pie, then a salad. Our entrees were huge and we still had coffee and dessert to go! We also got the complimentary bottle of wine. For dessert I had a sundae which hit the spot and my husband had the chocolate cake, which was just okay. Overall, it was the best value we had all week! The meal was not our best but in our top 5. We would definitely go there again. What was nice is after dinner we just walked back to our room…or I should say rolled. We were full!
When we got back we packed our bags quickly to save time tomorrow and then we sat out on the patio again and enjoyed what time we had left.
Sunday, 12/26
Our last day, boo hoo! Our plane was leaving at 2:30 so we figured we needed to head to the airport around 11:30. We wouldn't have time for lunch so we got up early again and went and had our last free breakfast. A big one too! After that we went to the beach to spend our last hours there. At 10:30 it was time to get a shower and then check out. Checkout went smooth. The night before they gave us our bill with extra charges. They did have a charge on the bill for a lunch at Pega Pega which we did not have. I brought that to the attention of the front desk the night before and they took it off. The one other thing that bothered me was we were charged .99 for each local call we made. We were not told this upfront which I didn't think was right. Those charges were about $12.00. I paid it though without complaining but I did mention it on the survey they asked me to fill out.
We sadly left the hotel and got to the airport in no time at all. Since it was Sunday there wasn't any traffic. We dropped off the rental car with no problems…they didn't even look over the car with a fine tooth comb like most places usually do! The airport was empty and we really didn't have to get there as early as we did but you never know. I was pleasantly surprised to see that there were several shops in the airport though so I got in some more shopping time. I think we bought more stuff at the airport than we did on our shopping day! We would have bought more but no room in our carry on's! The plane was a little late leaving Aruba but we had almost 2 hours to make our connection in Miami so we weren't worried. I had heard about all the airline problems that happened over Christmas so I was a little worried but Miami was fine and we made our connection just fine.
When we left Aruba it was about 87 degrees. When we got back home to Indiana Sunday night, it was 17 degrees! We had also missed quite a snowstorm so there was about 9 inches of snow on the ground. Back to reality!
Overall our trip was just wonderful! We've been to Grand Cayman twice so to compare the two I would say they both had good and bad things. Aruba is definitely cheaper and the food is wonderful. The biggest disappointment to us was the snorkeling and finding our way around. We loved it though and are seriously considering going back next Christmas. We do want to return to Grand Cayman again but I still think 2005 is too soon to go back there.
Thanks again for all the help on this board and I hope my trip report helps others (and is not too long and boring!). If anyone has any questions about any of it, please let me know. I do highly recommend Manchebo, getting the Visit Aruba Card, Jansen Car Rentals, Jolly Pirate, Tranquillo and most of the restaurants we went to.