La Cabana Beach Resort
October 9 - October 16, 2004 By By Teri & John
Saturday, October 9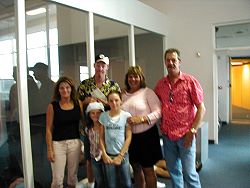 There were six of us going to our annual Aruba vacation at our timeshare at La Cabana: John, my husband, me, Shawn, our son, Denise, our daughter-in-law and their two daughters, Nicolette (11) and Brandi, who is 8. We gathered at our house at 6:00 am, singing and dancing and ready to go! Check in at the Pittsburgh airport, no problems. We had to change planes at Charlotte and took the opportunity to stop at the duty-free store for cigarettes and rum for our trip. Our flight arrived on time, breezed through customs, etc, and while everyone else waited for luggage I went to get our cars. We rented two cars from Budget for an excellent price online. I got there before the crowd and was taken right away but our car was really terrible!! We took it anyway figuring we would exchange it in the next day or two if it rode really bad. Off to La Cabana. Check-in was not as smooth as years past, they only had one person working on a Saturday afternoon at the timeshare desk, pretty stupid. He was very friendly and efficient, although Shawn and Denises' room was not yet ready. I asked for some sort of compensation as it was already after 4:00 by then and he gave us two drink tickets.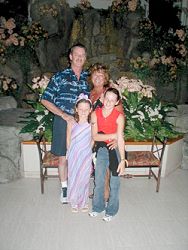 We unpacked and headed straight to the pool~and Happy Hour! John and Shawn went to the grocery store for supplies (at the Mega Mall, way expensive!) Shawn and Denise decided to stay at the pool and I wanted to try one of the restaurants on my list that we hadn't been to yet. Well that was not as good as I had hoped. First of all, John wasn't feeling good (he never felt much better until Friday! ) and wasn't in a very patient mood. We first went to the Aqua Grille. I wasn't very impressed by the menu but thought we could try it anyway. The front of the restaurant was crowded but the back was completely empty. The hostess said there was a 15 minute wait and to sit at the bar. Well that didn't sit too well with John so we left. We then walked over to Amazonia but as soon as they said "Fixed Price" John walked out. ~sigh~ We then drove over to Gasparito and John and I actually got to sit down and order a meal! I decided to be a little adventurous and try the Keshi Yana, a local dish made with Gouda cheese and a seafood mixture. John ordered a filet mignon. His steak was excellent but he felt so crappy he couldn't really enjoy it and took half of it back with him. My dish wasn't really what I expected but it was very good. But I don't think I would get it again. It had been a long day and John was ill so we went right back to the hotel after dinner and made and early night of it.
Sunday, October 10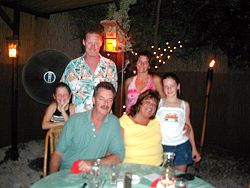 John and I actually slept later than I would have thought but Shawn had already gone down to the pool and reserved a table for us. We have found that we always have to do this because the tables there get filled up quickly and early and we like to be near the bar. I mean, the entrance to the pool. Anyway, John went to Dunkin' Donuts and got us coffee and breakfast sandwiches and then I went to the pool. John was still feeling yucky and went back to bed. He was woken up by a phone call from Bluegreen (who has ownership in La Cabana) to go to some presentation and get lunch, etc so he agreed to it (for the free lunch!) Well we went to the office and they said it was the wrong time for lunch (12:00???) and we would have to come back at 1:00. John was no way giving up watching the Steelers kick the Browns butts so we had to forego the lunch but listened to the presentation anyway. I am very surprised that nobody has ever mentioned this before, but they were trying to sell us a "points" program, which we had never heard of. I'm not going to get into all the details here but it was among the stupidest things I have ever heard of. At least we got a nice beach towel and a $165.00 casino package for the Crystal Palace out of it. Spent the rest of the day at the pool, lounging, playing bingo, etc.
We always go to Madame Janette's on our second night in Aruba because it's such a great way to kick off the week. Of course our table was ready, outside under cover and we had wonderful service, as usual. Everybody loved their meals, but I was disappointed that I didn't get to meet Chef Karsten.
After dinner, Shawn, etc went back to the hotel and John and I went to the Crystal Casino to cash in our prize. Spent $10.00 of it and was back in the room in time to watch Boston Legal!
Monday, October 11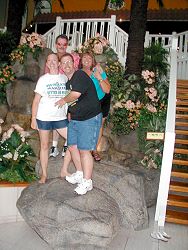 Up early and back to the pool! Shawn and family had donuts from Dunkin' Donuts and John and I decided to try the breakfast at La Petit Cafe, at the Paradise Villa's right next door. We left the pool early that day as we had the BB party on the Jolly Pirates at 5:00. We arrived early and had time to catch up with Carla and others and to meet some new friends before we boarded the new, temporary ship. What can I say, we had a fabulous time!! The wonderful crew is definitely what makes the Jolly Pirates the best ship on the island for all types of cruises. Apparently some of the BBer's have been practicing for the rope swing and put on quite a show! It was great to see Dee, Susan, Sandy, Scott, John and Erin again. It was also great to meet CJ & Cj, Mike and Erica, Billy and Christine, Daphne, Scarlett, Shelly, Bob, Brian and Tracy. I hope we can make this an annual tradition.
After the sunset cruise, we went to meet others at MooMba's for the second part of our BB Party. We were greeted by Carla and it was wonderful to see her and get to spend time with her. The manager at MooMba's had helped to organize the party and we had a wonderful BBQ that included chicken, shrimp, swordfish, red snapper, beef and tuna, all cooked to order on skewers. It was wonderful!! One of our best meals all week. Several others who hadn't made the cruise joined us, Jim and Jeanette, Steve and Mo, Wanda and Bob, and Pauline. We all had a great time, had a few cocktails and lots of laughs.
Tuesday, October 12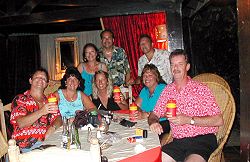 Up early and at the pool again. John and I left around 11:00 to meet Sandra and Carla for lunch at Rumba's. It was so great to finally meet Sandra, although she wasn't feeling good and didn't get to eat. But we did have a nice conversation and I look forward to seeing her again next year. Oh, and I tried the chocolate mousse there, YUM!!
After lunch I went back to the pool for about an hour (John laid down) and then got ready for our next BB party on the KuKoo Kanukoo bus. We met Steve and Mo in the lobby (they were staying at La Cabana too) and the four of us were really excited to get going!
When the bus came, lots of other BBers were already on it and we had fun picking up the rest. We had a quick trip to the California Lighthouse and then on to the beach for sunset.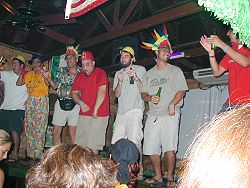 Our first stop after that was MooMba's where I was very happy to run into Mark and Marlene. We had hoped to see them the night before but they had another commitment. We had a good time with them, but not long enough!
Our next stop was the Minister of Protocol's house for dinner. Not the best meal but the drinks helped to make up for it!!
Back to the bus!! We visited three more bars in all, and had a good time on the bus going to each one!! At the first bar, we donned silly hats and learned new dances! At the next beer, "U Wanna Beer" (the only bar's name that I remember!) some of the men treated us to a rousing version of YMCA! The last bar was fun too, we learned more dances and got up on the stage!
It was actually a relief to get home and go to bed at 1:00! But we all had a great time and many thanks to Shelly for organizing it.
Wednesday, October 13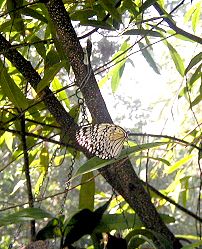 Got up early and Denise and I took the girls to the Butterfly Farm. The girls enjoyed it but it is not something I would highly recommend as it is very expensive ($12.00 for adults and 6.00 for children). Our pictures didn't even turn out that good there!
Shawn and Denise decided to do the points presentation to get a free breakfast! Thank goodness, they didn't buy it! John and I had lunch at the Islander Grill and it was delicious. We then played Bingo and Shawn won a t-shirt and $5.00. It was the only time all week any of us won at Bingo! But we did go to the manager's cocktail party that evening and John and I won at bottle of champagne!
Shawn and Denise went to Rumba's for dinner and then to the Crystal Palace to cash in their casino package. He actually doubled the money, the only time all week that any of us won! John and I took the girls to Bucaneer for dinner. This was always a favorite, although we haven't been there in a couple of years. Sad to say, it has gone downhill and I think we will be scratching if off our list.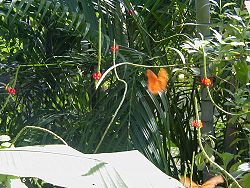 We then took the girls to the Go Karts. This is my least favorite thing to do but that's what they picked. I thought Nicolette would be tall enough to drive her own car but she wasn't and I had to drive. She kept yelling at me and hitting me the entire time!! Thank goodness we were the only two cars out there (John and Brandi were in the other one). I did laugh the whole time though and I was winning until the very last lap! We met Shawn and Denise in the lobby and everyone retired after a long day.
Thursday, October 14
John and I went into town early to get some shopping done. We then went to Iguana Joe's for lunch. YUM!!! The drinks were fabulous, as was the food. We went back and relaxed at the pool until sunset.
Shawn and Denise wanted a casual dinner at Taco Bell and John and I decided to try one of the remaining restaurants on our list. We ended up at Chalet Suisse. It was very good but rather expensive. Back to our room for a somewhat early night.
Friday, October 15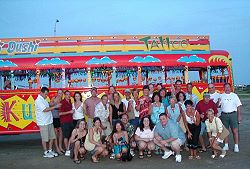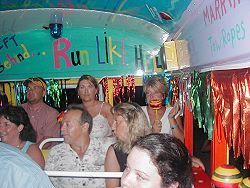 Our last full day in Aruba!!! We got to the pool early and just stayed there the whole day. This was the first time all week that John felt good and it was our last day!! The girls had made friends and played with them all week and we enjoyed talking to the parents of the one little girl and made arrangements to meet them sometime this winter. John and I went to the pool bar for Happy Hour and tried at least three different drinks. It was a really beautiful day, the prettiest all week.
We always go to El Gaucho's for our last night in Aruba. It helps to make up having to go home the next day. Everyone had a great dinner there, as usual.
After dinner, John and I drove up to the Marriott. In all the times we have gone to Aruba, we have never seen it so I wanted to walk through. It was beautiful and we wasted a few dollars in the casino before heading back to our room.
Saturday, October 16
Since our plane didn't leave until 3:00, we had a few hours by the pool in the morning. We checked out around 11:00 so we could have lunch in town before we went to the airport. We ate at the Patio Cafe, not very good. Did a little shopping in the Seaport Mall and then off to the airport. Denise, the girls and I checked in while the guys returned the cars. There was absolutely nobody in line at the USAirways counter so it only took a few minutes. When John went to return our car, he was charged $48.00 for a door handle that had fallen off in his hand one day. That is definitely the last time we use Budget. We had never had a problem before but this car was really bad and the money we saved was wasted on the stupid door handle.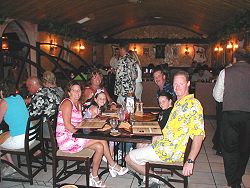 Our flight ended up being an hour late in leaving Aruba and we arrived in Charlotte with just minutes to spare to get to a different gate at a different concourse, clear on the other side of the airport. Luckily they held the plane a few minutes for us. Unfortunately, although we made it, not all of our luggage did. I figured out quite quickly what had happened and filed a claim before all the other passengers knew what was going on so we did get out of the airport rather quickly, arriving home at 10:30. Just enough time to finish watching the race and run out for a sandwich and a cocktail!! Back to reality, it was only about 45 degrees in Pittsburgh and I was freezing!!! I kept trying to pretend it was air-conditioning but that didn't work! But it didn't keep me from the afterglow of another wonderful vacation in Aruba and looking forward to next year's trip.
Comments
Wow, are you as tired of reading this as I am of writing it? I did warn you at the beginning!! But here's a couple of other things I wanted to remember too.
The iguanas that had been in short supply last year at La Cabana were back and very pretty. And very brave! One of them jumped right on Denise's leg.
The bug problem was non-existant. We brought bug spray and had it with us all of the time but never needed it.
The weather was incredibly HOT!!! Even Carla and Sandra said it was hotter than usual, in the high 90's every day but Friday. Friday it dropped to the high 80's and was honestly more comfortable. Also a little breezier. We had no rain but it was a little overcast one morning.
We still haven't tried all of the restaurants we wanted to, but did manage to get in three more this year. Next year, I definitely want to go to Driftwood, Salt and Peppers and Que Pasa, to name a few.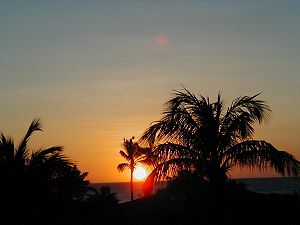 I've said it before, a week is not long enough. John and I will try next year to stay for at least 3 more days, if not a week. We will probably go to a different hotel for the second week because, much as I love La Cabana, it just wouldn't be the same without our family and I don't want them there the second week!!
It was great to see some old friends and make some new ones. I hope we can continue our Monday night BB party on the Jolly Pirates and at MooMba's afterwards.
I think that's about it. If anyone has any questions, too bad, I'm tired of writing. Just kidding, feel free to pm me.
Bon Bini!!