Radisson Aruba Resort & Casino
August 9 - August 20, 2004 by Petra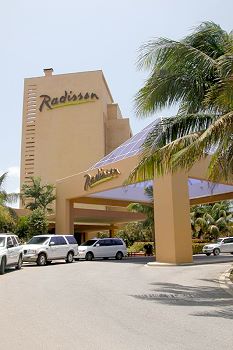 Friday, January 07, 2005
Twelve Days in Paradise!
This is the trip journal I kept during our vacation to Aruba in August of 2004. This was the second year in a row we visited the island. Last year we stayed at the Allegro hotel and this year the choice fell on the Radisson.
Monday, August 09, 2004
Day 1: via San Juan to Aruba
We're so exhausted! At 12am this morning I woke up and noticed Rick was not lying next to me yet. He was so excited, he couldn't sleep!
But at 2:45 the alarm clock had no mercy and it was time to get up. We quickly showered and closed all the suitcases. We had ordered a taxi for 3:30, which arrived at 3:15. Especially Katja had a really rough time getting up this early. But precisely at 3:30 we drove off to the airport.
On the way we noticed two deer in the shoulder of the road. They could have easily jumped in front of our car! That made the trip a little more stressful for me, as I had visions of dead deer and a total loss taxi minivan, especially since the cab driver didn't exactly keep to the speed limit!
But at 4:15 we arrived safely at Washington Dulles airport and noticed that we were practically the first ones there! What a difference from Washington National at the same time in the morning, where long lines start forming around 3 am for the 7 am flights! The kids were angry that we had gotten them up so early, but we had no idea what to expect!
After having lied down at the gate for an hour TGI Friday's finally opened for breakfast, so we ate there. We didn't realize that would be the only food we'd get for over 12 hours (with the exception of a few bags of pretzels from San Juan to Aruba)! At the airport in San Juan there was no food in sight!
The flight was otherwise uneventful. We had less than an hour layover in San Juan, Puerto Rico and landed in Aruba at 1:15pm.
Customs and picking up our luggage seemed to go smoothly, but after we had received 5 of our 6 pieces of luggage, the conveyor belt inexplicably stopped for more than a half an hour. No explanation, nothing. We all had an exercise in patience there! Thankfully, the belt started again as suddenly as it had stopped and there was our last suitcase!
Apparently the Aruban customs were trying something new, as we then had to join an endless line to go by two customs officers. Some people had to have their luggage x-rayed, but when our turn came the officer only asked us if we were planning to immigrate (ha ha). We had 6 suitcases with a family of 5, I saw couples with 4 suitcases, so I think we packed very compactly!
Once outside personnel of De Palm, the tour operator organizing our transportation to the hotel, guided us to our very comfortable, air conditioned bus. The driver was in a great mood and told us numerous things about the island. After about 20 minutes we reached our destination, the Radisson hotel, where we will stay for the coming 12 days.
Unfortunately, our rooms weren't at all what we had reserved and requested, so we called the front desk. There I spoke to Rosita, who promised to look into our situation and get back to me tomorrow. Right now, we have two rooms , partial oceanview (which we paid to get) with two double beds next to each other, but without an adjoining door in the Curacao tower. We had requested a king size and a double room with adjoining door in the Aruba tower. Most of those requests would have been icing on the cake, but the adjoining door had been promised to us and is too important to let go.
We'll see tomorrow, at least it is fun to be able to speak Dutch again and be understood!
We were super-exhausted, but the kids went swimming anyway and Rick and I strolled along the beach. We ate at Sunset Grille, the excellent restaurant at the Radisson. Sleepy time now! Tomorrow the real fun can begin!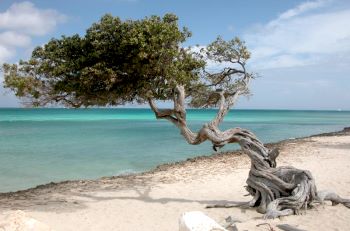 Tuesday, August 10, 2004
Day 2: Orientation
This morning we got up around 8am, Rick and I at least, the kids slept in till past 10! Rick and I enjoyed a leisurely walk along Palm Beach together and gathered information on the Kids' Club here at the Radisson. This one looks like a lot of fun, but Saskia abhors kids clubs, so she'll probably not be interested. Having the information can be handy, though, in case we want to do something really "adult", that she wouldn't enjoy.
Rick also got all his information on the dives coming up this week. Katja and he want to go diving at least 5 times. He got information from Red Sail Sports and Pelican, but he's likely going to stay with Red Sail, like last year.
For breakfast we brought "stroopwafels" for the kids, a real Dutch treat. Of course not the most nutritious breakfast, but a nice unusual treat and it would tie them over for a while.
We still didn't know which rooms we would get and at 11:30 I went to the front desk, as I was told to do the night before. The person I was supposed to meet was not there, however, and the alternate rooms they showed for us were even worse than what we had: no view of the water and on the outside on the main floor, so looking out on a parking lot, not to mention I'd never dare to leave the kids alone in that case. Because no one else seemed aware of our situation, I requested to speak to a manager. I ended up talking to a very friendly lady from Customer Service. She told me to return at 1pm and she would see what she could do.
After some swimming in the pools and the sea and a tasty lunch with a real coconut to drink from at Gilligan's bar, I went back to see what the outcome of her search was. I have to say, I am very impressed with the solution! We will need to stay in our current rooms one more night, but tomorrow we will be moved to adjoining rooms, with the types of beds we had requested and in the Aruba tower, the main tower. One more night and then it will be perfect!
For the rest of the afternoon we've been swimming, alternating between the pools and the sea. The children had a blast with the many lizards and iguana's. After several hours in the sun and after Saskia had had her whole head done in little braids, we got dressed to go shopping. We wanted to go to the bookstores, which sells Dutch magazines and comics and to the supermarket, again because of the many delicious Dutch products I'd missed for a year. We restrained ourselves from buying too much as we first want to be in our permanent room. But the sausagepastries looked delicious!
Tonight we tried to go and eat at Marina Pirata's, a restaurant we loved last year. Unfortunately it turned out to be closed on Tuesday's. We decided to try Chalet Suisse as an alternate and we certainly didn't regret that choice! The food was delicious! My filet mignon was soft as butter and Rick's Wiener schnitzel tasted exactly as he remembered from his childhood.
The restaurants in Aruba are amazing! There is so much choice and the quality is very high.
The eternal Aruban wind is blowing hard tonight! Apparently there is a tropical storm churning not too far from here (Charley), hopefully some wind is all we'll notice of him!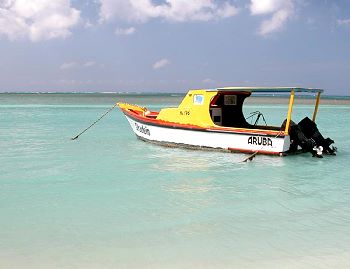 Wednesday, August 11, 2004
Day 3: Snorkeling and the move
This morning I woke up at a quarter to eight because of high wind and it was completely overcast. Because the "weathermen" had warned for tropical storm Charley I expected this to be a part of it. But after an hour the weather cleared up completely, although it remained very windy, even for Aruba.
I decided to take my camera and walk along the beach, while Rick arranged the diving package at Red Sail Sports. At the Aruba Phoenix Resort several colorful wooden chairs are standing right along the water's edge. They make perfect photo subjects! On the way there I saw numerous turquoise lizards, one of which I tried to photograph, but it's hard to capture the deep turquoise coloring on film.
After my walk we decided to go and eat brunch at Linda's, a (Dutch) pancake and pizza restaurant. The pancakes are delicious and taste exactly like they do in the Netherlands, what a treat! I had mine with bacon, cheese and apple and of course "stroop" to sweeten it all. The kids love Gouda cheese, so they're in heaven on Aruba!
After we finished the entire wheel of a pancake, we returned to the hotel to pack as we were to move today. The hotel had promised us to do the moving all for us, so we left for Oranjestad after everything was packed away.
There I panicked, as I realized I had left my wedding rings on the bed in one of the rooms! I had taken them off to put sunscreen on Saskia, because the cream makes the rings so dirty. My wedding set is rather unique and the chance of finding another one like it would be almost nil.
Rick raced back to the hotel and thank God he found the ring ! I would have been extremely upset had I lost it!
This afternoon we snorkeled at Boca Catalina, where the tourboats also go. It was beautiful! We saw many colorful fish and even some seastars.
Once back at the hotel it turned out that my big Dutch mouth (as Rick calls it sometimes) had been very successful, as our new rooms are fit for the royal family! We have lots of space and the rooms are beautifully appointed. Our view is perfect, everything is perfect (even the refrigerator got moved from the other room). We now have rooms 1501 and 1503 in the Aruba tower, we couldn't have hoped for anything better!
For dinner we went to Marandi's. This is a new restaurant at the beach, so we had a great view of the sunset. The food was good (though this was not Rick's favorite restaurant) and the kids could play in the sand.
Rick and I tried our luck in the casino, but tonight was not our turn to win a million. Still, we had fun playing and that's worthwhile too.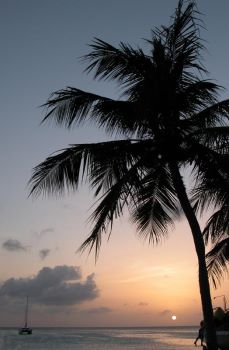 Thursday, August 12, 2004
Day 4: Wind and the French kitchen
No matter how much I tell myself to sleep in, I keep being wide awake at 8 am. This morning was no exception, though this was partly due to Rick and Katja having to get up that early to make their first 9:15 dive. It was a 2 tank dive and they were going to visit one of the shipwrecks, that lie in the ocean near the Aruban coast and are now housing for many colorful fish and corals.
After I'd fed the other two children breakfast, I went to lift weights in the "fitness center" here at the hotel. It was extremely crowded there and I've decided to only go there for weights, I can walk and run along the beach for my aerobic exercise!
My breakfast was iced caramel coffee and a V8, which I got at the little coffeestand in the lobby of the Radisson.
Just off shore along Palm Beach near the Mill Resort lies a pile of rocks, where the snorkeling is excellent! It's very shallow and the pelicans sit on the rocks within touching distance. The diversity in sealife there is great! Kai, Saskia and I decided to go there while Rick and Katja were diving. We saw French angelfishes, squirrelfishes and even a scary scorpionfish, glad I didn't put my hand accidentally on top of him!
After about 2 hours of snorkeling we were getting hungry and I thought Katja and Rick might be done too, but they weren't back till 1pm. Kai and Saskia played in the pool, while we waited for the others to return, while I cleaned the rooms up some.
We ordered lunch for the kids at the Gilligan's bar at the hotel. They're very fond of the grilled cheese sandwiches made with Gouda. Rick and I went to Superfood to buy a bunch of goodies and had a delicious warm sausage pastry for lunch. The Dutch sausage pastries, which you can ask to be heated up, are very good and a nice, cheap lunch.
Meanwhile the kids had spent a little too much time in the sun and Saskia was getting a little sunburnt, she has very fair skin and it's almost impossible to keep it from burning in the hot Aruban sun! We decided to get dressed and go to the butterfly farm. There we took the informative tour about how caterpillars become butterflies and the differences between tropical and "regular" butterflies. They have a great selection of beautifully colored butterflies fluttering around, a delight for a photographer like me, though it's hard to get one of them to sit quietly long enough to focus!
Katja wanted to return to the pool afterwards, but we took the other two, who were quite red already, on a drive to the California lighthouse and from there to look at the wild ocean on that side of the island. Our 4 wheel drive did nice work on the rough roads.
On the way back, we visited the Alto Vista chapel, a picturesque old little church in a desolate area of the island.
To watch the sunset tonight we went to Piet's Bar, which belongs to the Hyatt Hotel, but is situated on a pier jutting out into the sea. The waitress recognized us from last year, which was fun! Like last year the french fries with peanut sauce were delicious! The kids had a sandwich for dinner from there too.
Rick and I had a reservation at Chez Mathilde in Oranjestad, a very romantic French restaurant. We had a delicious meal there (I had the ostrich steak) and the service was impeccable.
Saskia woke up in the middle of the night, because she had a terrible headache. A little later she had to throw up. Hopefully that doesn't mean a sickness! We were doubly glad to have the adjoining rooms now, so she could just get us when she was feeling so miserable, poor little one!
Outside the wind is blowing hard. It seems like there is more wind than there was last year, or maybe I don't remember it well. It's driving me crazy with my hair flying everywhere, but at least it makes the heat bearable.
The information from home is about wind too, it looks like the remnants of hurricane Charley will come over our area. Hopefully too weak to cause any damage!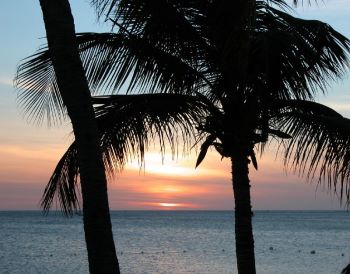 Friday, August 13, 2004
Day 5: Hurricane Charley and Conchi
While folks at home were preparing for hurricane Charley's visit (hopefully a weak tropical storm by the time he reaches our house!), we got ready to enjoy another brightly sunny Aruban day.
Saskia got quite a bit of sun yesterday (a reason for her feeling ill at night?), so we made today a restricted sun day. It's hardly possible to stay out of the sun altogether, though.
Kai and I walked from our hotel all the way to Arashi beach, about 7 kilometers! This is a really fun walk along the beach. First you pass all the large resorts with their watersports and bars. Then you walk by Hadicurari, the small fisherboats area. There is a dock with the most colorful fisherboats anchored to it and the pelicans love resting there, so you can get quite close to them.
A little further we saw the fresh catch of the day lying on a small table. On the way back they were busy cleaning it. The catch was two gigantic fish, not sure what kind though.
The next part of the beach has a lot of shells. Kind of unexpected, as the water is extremely shallow there and very, very calm. A shipwreck sticks out above the water.
After our walk we went to Oranjestad to have lunch at the "cow" café, Eetcafé The Paddock. There were two waitresses, one of whom was super friendly, but the other seemed quite irritable and almost threw a stack of Dutch menu's at me, when I asked for one instead of an English one! Of course she couldn't know how special it is for me to speak and read Dutch in Aruba, but no need to react that way! In any case, the food was very tasty and the kids loved their "kroket". We did notice, that that dish isn't even mentioned on the English version of the menu, while I'm sure Americans would love it too.
Last year we had gone to the "Conchi" (a large natural pool, created by the rough waters of the East coast). The rocks on the way there were so bad, it caused a flat tire and to top it off, the pool was closed for swimming due to the rough waters. We were a little nervous about trying it again this year, but we'd read about the amazing snorkeling there and the lady at Hertz told us to go ahead and go via another route, which was less rocky according to her.
We followed kilometers of unpaved roads, but ended up dead-ending where motorized vehicles were no longer allowed. Finally we drove the exact same road we did last year, thankfully without tire problems this time!
All this was extremely worthwhile, because this time we could swim and snorkel and we did so breathlessly (well, as a manner of speaking of course)! The most beautiful corals and fish were there and we even saw a small moray eel.
Because of all the searching it was 4pm already by the time we arrived, so we only had about an hour before the pool was completely in the shadow and we couldn't see much anymore. The tide was coming in too and that was quite noticeable! Amazing what power the sea has there!
After our showers we had dinner at Pago Pago at the Wyndham hotel two doors down from ours. This too is a beautiful hotel, perhaps a candidate for our next visit to Aruba.
The restaurant had good food, but the service left much to be desired and the price was highly inflated. We would choose the Radisson's Sunset Grille of this restaurant at any time.
Tonight we watched the openings ceremony of the Olympic Games. We all liked seeing the American and the Dutch athletes enter the stadium and even the Arubans had some meaning to us now.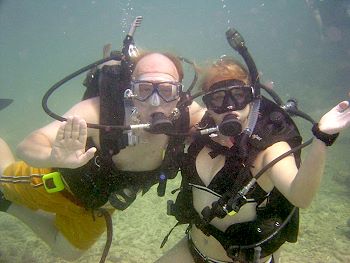 Saturday, August 14, 2004
Day 6: Baby Beach and Marina Pirata
Rick and Katja would have a dive at 3pm this afternoon, so we took the morning to go do something as a family.
After a quick breakfast at Délifrance, where they sell delicious croissants, French bread and rolls, we drove via San Nicolaas to the southside of the island, to a beach called Baby Beach. This is an appropriate name, as a large part of the small bay is shallow and calm enough to be safe for very little children.
Just outside the protected bay (which has beautiful turquoise water!) lies a reef, where the snorkeling is beautiful. Katja and I saw a bunch of very special fishes. A few of them nibbled at my fingers, probably because my nailpolish attracted them. All too soon it was time to drive back. We bought a few sausage pastries and "frikandel" (another type of Dutch sausage) pastries for lunch at the Superfood and then it was time for Rick and Katja to go.
Saskia, Kai and I played in the pool and later in the sea. When the others returned from their dive, Rick and I went to the De Palm bar, where we encountered a very nice Dutch bar tender.
Tonight we ate at Marina Pirata, a restaurant right on the water, very nice at sunset. They have good fish dishes. I had conch and a plate with fish prepared the Aruban way. All quite delicious.
To end the evening we played some Blackjack at the casino. But after initial luck we didn't fare so well. Still it's always a fun game to play.
Sunday, August 15, 2004
Day 7: De Palm Island
This morning Rick and I went for a walk along the beach. This time we went in the direction of Eagle Beach, the low rise hotel area. We didn't walk all the way there, as we wanted to go to De Palm Island early to go snorkeling. After having slathered everyone with sunscreen, as we're all burning quite fast here, we went to eat breakfast at the Dutch Pancake House. We thought to quickly eat, but that turned out otherwise, apparently because there were a few groups (which we couldn't see) ahead of us. The pancakes tasted very good, but we like the other pancake house "Linda's" better.
Around noon we were finally on the ferry to De Palm Island. Snorkeling around this island is very special. The water is shallow and gigantic blue parrotfishes come so close, that you can touch them. Many people feed the fishes, but we don't out of principle. It's ecologically irresponsible. If find it hard to see how little people care about keeping nature alive. Many also just stand on corals while there are large signs asking them not to. I guess they don't realize they kill with their behavior!
Anyway, it was again a great experience, something we did twice last year and hopefully we'll get to go again this week as well.
Tonight we ate at Café Japengo at the Hyatt hotel. The food was very good and the restaurants there have great atmosphere. However, I find the Hyatt too American to stay at.
Maybe that sounds strange, but they're so completely geared towards American clients, they don't even have Gouda cheese to make a grilled cheese sandwich, only American cheese. Other resorts do have that and that's exactly what the kids love so much. I know, something seemingly unimportant, but just what adds the international flavor to the vacation. Besides that the Hyatt is a gorgeous hotel, especially the pool area.
Monday, August 16, 2004
Day 8: Oranjestad
Rick and Katja went for their last dive this morning, so I dove into the fitness center. There is a better one at the Wyndham, for example, as the one at the Radisson is just a small basement room which is completely full every morning. Therefore I'd rather go walk outside on the beach, when I don't want to do weights. After a quick breakfast we went snorkeling across from the Wyndham hotel and again saw some very unusual fish. Kai and Saskia entertained themselves also by building sandcastles.
When Rick and Katja returned, the kids stayed in the room to read and play while Katja babysat and Rick and I went to Oranjestad to go shopping. Our anniversary is this Friday and of course there are many jewelers here and Rick wanted me to select something from them. My choice was a beautiful opal and tanzanite slider necklace with matching earrings. They have gorgeous stuff here!
We also shopped for some Dutch things, such as Saridon and of course magazines for me.
Tonight we ate at Madame Janette. Very good food, but I thought it was a little too heavy and the portions were gigantic! Requests for sauces on the side were not honored, the Hollandaise sauce had to be on the steak, whether I wanted that or not. Not very flexible!
The tournedos were two enormous pieces of steak. It's a very popular restaurant, likely for that reason! The waiter spoke Dutch with me and the children, but however much Rick tried to use his (very fluent) Dutch, the man kept answering him in English. That irritated me, when someone clearly speaks your language I find it insulting to act as if that's not the case!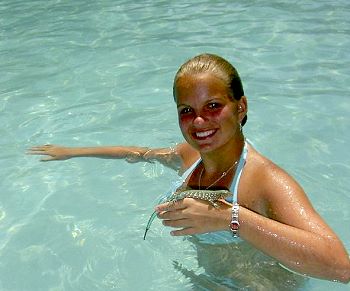 Tuesday, August 17, 2004
Day 9: Wreck snorkeling and iguana's
We got up early this morning, at 7:30, as we'd be picked up at 8:30 by a "Roberto's" boat to go snorkeling. Exactly on time the captain Nick from Rotterdam appeared at the De Palm pier in front of our hotel. First he took us to the shipwreck of the Antilla, a ship that sunk in 1940. In all that time beautiful corals have attached themselves to it and there are literally thousands of fish to be seen. I would have wanted to stay much longer, but the rest of the family was done way too soon for my feeling!
Nick gave us a cup of rum punch, a great drink for 9:30 in the morning on a pretty empty stomach! He also enjoyed having Dutch (ok, half at least) clients. He told me he was amused by the difference between the Dutch and the American ladies. Dutch women take off their bikini tops the moment they're on the boat, while American women ask shyly if it's allowed. I'm not at all interested in topless sunbathing, so he was out of luck with me!
After the snorkeling Rick and I wanted to do more, so we went to the rocks near the hotels. It's only a small pier of rocks there, but the variety of fish is so interesting! Today I again saw a few scorpion fish, which are toxic if you touch them.
For lunch we went to Gilligan's, the Radisson's beach restaurant. They have delicious sate there, we thoroughly enjoyed our food. They also have coconut water, which you get to drink from a just opened coconut. I'm not wild about the taste, so I tried it once and that was enough.
After lunch we relaxed and read at the pool. While I was lying there 5 green iguana's walked up to me! Two of them even allowed me to pet them and they loved eating the yellow flowers (which I know are part of their natural diet) I offered them. They're such cool animals!
Around 3pm we'd had enough of the sun and decided to go explore the south side of the island some more. Here we saw beautiful bright white sand dunes, many different kinds of cactuses and caves, that are supposed to have Indian drawings, but they were closed off with a tall gate, so we couldn't see much.
For dinner we went to El Gaucho, a well known Argentinian steak restaurant in Oranjestad. It was a good thing we had reservations, as it was extremely busy! I wasn't too thrilled with the food, but Rick is a steak lover, so he was in seventh heaven!
Back at the hotel we once more tried our luck in the casino. This casino hasn't been one of our luckier ones, but this time I got a full house at Let It Ride and won back all our previous losses!
Wednesday, August 18, 2004
Day 10:Arashi beach
This morning I ventured out again to go look at the colorful fisherboats and pelicans. I find them endless inspirations for photographs, those red and yellow boats floating in the turquoise water against the kobalt blue sky. I went as far as Malmok Beach. The houses there are so beautiful. Little palaces you can only dream about owning!
Upon my return I found the family ready to go and we had a buffet breakfast at the Laguna Fish Market, one of the 3 restaurants here at the Radisson. The buffet was delicious with smoked salmon and our favorite Gouda cheese. The Aruban French toast tasted wonderfully as well.
Yesterday Nick from the snorkelboat had advised us to go snorkeling at Arashi, which according to him had a fish rich coral reef close to shore. So Rick and I went to try it. But either we didn't find the reef or there weren't many fish today, because it wasn't at all spectacular. The small rockpier near the hotels shows a greater variety of fish, despite the constant roar of motorboats nearby.
Back at our beach, Rick wanted to go buy a t-shirt from Red Sail Sports, as they did all their dives with them. Katja and I looked at the bikini's and we both found one, that we just had to have. I have a red one and Katja a beautiful lightblue one, that brings out her bright blue eyes very well.
After a late lunch of chicken sate Kai and I decided to go kayaking. What exactly happened will forever remain a mystery, but the kayak capsized and one of the oars hit my nose hard. It bled like crazy, so it looked serious (and initially felt serious too!). Thankfully upon close examination back on shore there was no break. I wanted to go back in, but Kai was too frightened and didn't want to go back out to sea. So Rick and I asked for another more stable kayak and went out together.
Following this Rick, Katja and Kai made a tour on one of those big inflated tubes, which can hold three people and are pulled across the water at dazzling speeds. According to Rick he had trouble holding on, good thing we didn't try this with Saskia!
Before our happy hour we were relaxing in the sea for a bit, when I suddenly saw something swim away underneath me that looked remarkably like a big stingray. Rick quickly went to get the snorkels, while I kept an eye on the animal. And indeed, with snorkels on we saw a beautiful stingray swimming below us! Rick also found a colorful seastar. They come quite close to shore!
Before dinner we watched the sun set at Piet's Bar. We're well known there and they know we always order a portion of fries with peanut sauce.
We had reservations at the Papiamento restaurant for dinner. This is a very nice authentic restaurant with scrumptious food. We sat by the swimming pool and the service (which was very slow last year) as well as the food was top notch. Rick and I had the appetizer "Keshi Yena" a tasty mix of meat, vegetables and Gouda cheese, wich is an authentic Aruban dish.
At the casino we ended the evening by playing Blackjack. We're playing even right now. With a $5 minimum the money also lasts a lot longer than with the $15 minimum in Atlantic City! Wins aren't as great either that way, but we're not serious gamblers anyway.
Thursday, August 19, 2004
Day 11: De Palm Island reprise
We find the snorkeling at De Palm Island very special so we decided to go again. This time earlier in the morning, so the water would be more clear. Later in the day there are so many snorkelers, that the water especially close to shore gets very murky.
We arrived at 10 and could immediately take the ferry across. It was a week day and no cruise ships in town, so a lot quieter than on Sunday!
The water was quite rough, though, the waves fairly high. It's not as noticeable when you lie with your face in the water, but I did get inundated several times. Rick and I swam a good distance out, at least a kilometer and there the water was clear and there was an abundance of colorful fish.
Just as we decided to leave the water, a groups of kayakers came in, they were going to swim out very far as well. The Aruban guides asked me to go with them, jokingly saying we'd see barracuda's and sharks. I decided to take them up on their offer, though I was surprised they specifically asked me.
I had brought my underwater camera and the leader of the group took a picture of me from deep under water. Another guide found a small seastar and gave it to me to hold and took a picture. It was a very nice experience, especially because I'd never swum that far away from the coast and in such deep waters without a flotation device, alone I would never dare!
The more underwater life I see, the more I want to go and follow a Scuba course, hopefully I can conquer the problem with the pressure on my ears.
Included in the ticket to De Palm Island is all food and drink, so we ate a very tasty lunch consisting of chicken sate (yes, a favorite dish for us in Aruba), fries (with mayonnaise of course!) and a glass of white wine.
At about three o'clock we'd had enough of the strong sun. One drawback to the island is the lack of shade on the deck, it quickly gets very hot.
On the way back we stopped at the Superfood supermarket and bought bags full of Dutch goodies. Peanut butter (the American peanut butter is good, but the Dutch one is less sweet), special peppermints, stroopwafels, Tijgernootjes and much, much more, we'll be traveling home with a big extra bag full of food!
For our happy hour drink we went to the lobby bar at the Radisson, we also ordered some sushi there.
Just before sunset Rick and I walked to the beach and watched a romantic sunset while lying in one of the lounge chairs there. The kids went back to the pool in the meantime, they can't get enough of the water!
The dinner tonight was at the Old Cunucu House, a local small restaurant, not yet discovered by tourists, as we were the only guests. It's run by a few Italians, who really enjoyed that I speak some Italian (I'm actually ashamed as I studied it for 4 years and 20 years later I can only stutter something in reply! Thankfully I do understand it all.)
The kids were in seventh heaven, as there were a few cats and one of them had a litter with 3 kittens not more than 3 weeks old. It instantly became their favorite restaurant!
Of course we played in the casino again tonight. We won't leave here with large gains, but we managed to play the entire vacation with the $100 we initially put in.
Friday, August 20, 2004
Day 12:Snorkeling, snorkeling and more snorkeling!
On our last full day in Aruba we (Kai and I) took a long walk along the beach. This time in the direction of Oranjestad. We walked to the Amsterdam Manor Resort on Eagle Beach. It was an interesting walk, because along the coast that direction is no beach but eroded coral rocks. There were deep holes in the rocks and the sea sometimes came out in a spout. Fascinating, especially for Kai, but we had to be careful where we stepped, so that we didn't step in one of those holes!
After breakfast in the room we went snorkeling across from the Wyndham hotel. It is amazing how many different sea animals live there! Today it was especially spectacular, as besides the family of French Angelfishes, that always swims there, I also saw an octopus, which stayed in one spot for a long time, a moray eel and for the first time in Aruba a turtle! He suddenly swam by us, what a beautiful sight!
We found having lunch at Gilligan's again the most practical. That way we could just stay in our bathing suits. Last year we went to other restaurants more for lunch, but this year the kids wanted to constantly play in the pool. The result was however, that Saskia burned too much in her face. I'll have to find a solution for that, as it is so bad for her with her fair complexion. She is unfortunately very stubborn and protests vehemently against wearing a hat or the zink sunscreen, that leaves white streaks on her nose and cheeks.
The kids played in the pool the rest of the afternoon with a couple of turquoise lizards. Those had fallen in the water and couldn't climb out again, so Katja and Kai rescued them. The lizards spent much of their time sunbathing on the kids' heads, which of course delighted them all.
Rick and I meanwhile went snorkeling at Malmok Beach for a bit. We didn't regret that for one minute either! Again a large variety of fish and another octopus as well as two moray eels were our reward. Strange, last year I didn't see a single moray eel and this year a whole bunch.
After our sunset drink at Piet's Bar we dressed to the nines and went to celebrate our 16th wedding anniversay at Le Dome, a Belgian-French restaurant and the best one on the island as far as we're concerned. This could become a tradition! When the Dutch manager realised we also spoke Dutch and had a mixed marriage like himself (he's married to an Aruban woman) he came to have a nice chat.
Before going to bed we played in the casino a bit, where we got a very fun Blackjack dealer. It adds so much, if there is a bit of enthusiasm at the table. American dealers usually are more fun, but Aruban dealers can be very serious.
In short it was a fantastic anniversary!!
Saturday, August 21, 2004
Day 13: Goodbye to our favorite island
This morning the rain that ticked against the windows woke me up after a restless night. Yuck, our last morning and the weather was gloomy. Thankfully the rain stopped, but there were more clouds than sunshine.
The beads on Saskia's braids that had been set at the beginning of our vacation had become all sticky and dirty from all the sunscreen. So we found the braiding lady back on the beach and asked her to redo the beads. She did it for $20 and Saskia is happy again. I had to help as the old elastic bands had somehow melted together and were very difficult to get out. Amazing what sunscreen will do to rubber and plastic!
After about an hour she was finished and we continued packing. Still, I had my mind set on one more snorkeling round. Rick felt like it as well and so we got our snorkels, masks and fins one more time to swim around the rocks in front of the Wyndham hotel.
We did not regret it! When I swam around a rock and looked beneath me I suddenly saw a gigantic turtle! He was resting so I could have easily touched him. He stayed quiet for a little bit and then swam away calmly. I was so annoyed with our underwatercamera, which just this morning decided to malfunction! I've never been this close to an adult turtle in the wild! How magnificent!
My (perhaps ambitious) goal is to get SCUBA certified myself within 2 years. I have many problems clearing my ears though, so I hope I'll overcome that. But the underwaterworld is so fascinating and I just want to see more of it than just from the surface. Rick and Katja are all excited about this plan, as they'd like to see the entire family be certified.
After this goodbye gift from Aruba we quickly finished packing, while the kids played with the birds in the lobby of the Radisson. They had completely fallen in love with those animals and Katja even had to cry saying goodbye.
Fortunately we know, that we'll definitely return next year if not sooner. We totally lost our hearts to Aruba. It calls itself rightfully "One Happy Island"!
We had one last lunch of chicken sate at Gilligan's and then the taxi was waiting. The cab driver was a very nice female taxi chauffeur with a nice big van, necessary for our gigantic amount of luggage, which even counted one more bag than on the way out. That bag was filled with Dutch goodies!
In Aruba you clear customs for the United States before you board your plane and the lines there were outrageous! We arrived at the airport three hours before our flight and we barely made it. But it saves the horrible customs at Miami airport and there is definitely a lot to say for that!
After a little delay we took off and are now on our way to the mainland of the United States. See you next year, Aruba!
Regards,
Petra