Costa Linda Beach Resort
September 10 - Septmebr 17, 2004 By Kevin
Friday 9/10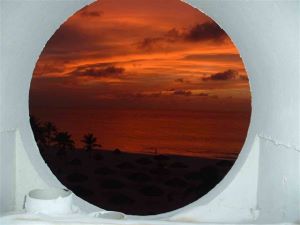 We flew in as scheduled, arriving at 2:30 PM. Hurricane Ivan had brought lots of wind and rain that morning, from the air we could see that the ocean water color was stained, especially along the southern coast and also the west. We picked up our Nissan Xterra from Econo at the airport, and headed off for the Costa Linda. We noticed that the streets were wet, but the sun was shining and we didn't see many signs that Ivan had just been there. That all changed as we approached the downtown area - the main road was closed at the circle, so we had to bear right into town. Without any signs marking detour routes, we did our best to navigate through town. All around us water was pooled up from all the rain, and road blocks were everywhere. Fortunately we had a 4x4, which allowed us to cross areas that were otherwise impassable. We saw residents walking in waist-deep water in front of their homes, and started to realize just how extensive the rain and surge from Ivan had been. After about an hour of floundering and many U-turns, we managed to get to Costa Linda. The parking lot was underwater, so parking was a free-for-all, but we managed to find a place to park. Check-in took about an hour because of the long line, so we took turns getting drinks from the bar. There were buckets everywhere, catching water that was leaking through the roof. Once we finally got checked in, we made our way to our 2 bdr suite on the 4th floor.
Wow! Any feelings of stress or despair resulting from Ivan melted away as we entered our suite. The view of the ocean and grounds was beautiful, and the suite was incredible. My wife Loren and I settled into the master bedroom, and our friends Laurie and Eddie took the second bedroom. After pushing the 2 beds together, they had a king-size bed just like we did. There was a full kitchen, dining room, and living room, and a large balcony/patio that we knew right away would be our main hangout while in our suite. We unpacked, and then went downstairs to have dinner and drinks by the beach at the Turtles Nest. When we were told that we'd have to wait an hour, we took a walk to find a place to eat. After a short walk, we ended up next door at the French Steakhouse. We all had the Ambassador's Special, which was a lot of tasty food and included a bottle of wine. The food was fabulous, but the service was very slow, so we ended up being there for nearly 3 hours. After the long day we'd had, we would have preferred something simpler than a 3 hour meal, but at least we got to try the French Steakhouse. After a walk on the beach, we all went back to the CL and called it a night.
Saturday 9/11
I got up at sunrise and drove to my fishing spot by Spanish Lagoon. I'd been waiting all year for this, and even with the recent hurricane, the spot didn't disappoint. On my first cast, a giant barracuda hit my lure but broke it off. I tied on another, and on the 2nd cast I caught a huge tarpon. Using a medium-heavy spinning rig and 10 pound test line, I was able to fight and land what was at least a 40 pound trophy, about 4 feet long. I was so mad I hadn't brought a camera, but at least I got a souvenir scale before releasing it. By about 8 AM, it gets too warm for me and the fish, so I headed back home. I noticed that a few more roads were open, which was encouraging. Once we all got up, we went downtown to shop for groceries, but first to Villa Germania for breakfast. If you have never tried their potato pancakes, you're missing out on a great treat. One bit of warning: there is a frame overhead that has lots of vines on it, but which also is a habitat for iguanas. Our friend Eddie found out first hand as one peed down on the table right in front of him - we thought it was rainwater leaking, until we looked up and saw that he wasn't done yet. When we saw that he was about to poop, we jumped back just in time as it landed on the table. In all our previous visits to the Villa this had never happened, so we were all caught by surprise. All the diners and staff enjoyed the excitement, and we were moved to a clean table. After breakfast we booked a half day of fishing for Monday on the 'J String', a 36' boat that we went out on last year. Our friends got to see the big iguanas by the marina for the first time, which was a lot of fun.
After loading up on groceries and liquor at Kong Hing, we came back and spent the day on the beach. The waves were much bigger than normal for Eagle Beach, which worked out well for Laurie, since she'd brought a boogie board with her. There were lots of others using boards as well, including surfers that had probably waited a very long time for waves like these. It was a great day on the beach, and we looked forward to many more.
For dinner the girls wanted sushi, so we went back downtown to Loren's favorite Japanese restaurant (I always forget the name, probably because I can't eat the food!). Right next door is a Sbarros, so I got some lasagna and sat with them while they ate their sushi. As it turns out, I may try the sushi next year, because the Sbarros lasagna sent me to the bathroom instantly. VERY unpleasant, enough said. After a bit of gambling (donating), we went back for a quiet night at home.
Sunday 9/12
Up again at sunrise for fishing, but this time I managed to bring Loren with me, quite an accomplishment considering it was 6 AM. She brought along her digital camera (and her paints), so naturally I caught nothing. I fought one cuda for just a few seconds, but then he broke off and swam to his freedom. On our way back, we saw a boat engulfed in flames. We didn't know it at the time, but we were later told that it was the Jolly Pirates sailboat. We stopped to watch for a bit, as the fire and smoke was such a picture of contrast against the blue water.
We got back and had breakfast on the balcony, then loaded up the cooler and headed to the beach. After a few hours (and losing my second pair of shades in 2 days bodysurfing!), we moved up to the pool and played some water-volleyball. The CL pool is great, plenty of room for adults and kids, happy hour specials, and a live band every afternoon. We had home-cooked dinner on the balcony, and then all retired early - our fishing charter left first thing in the morning. We made some sandwiches to bring with us, and dreamed of fish (at least I did, but then I always do!).
Monday 9/13
We all got up early, had some cereal and bagels on the balcony, and then met the J String at 8 AM. Capt Eddy was as friendly as always, and he talked a lot about the hurricane - he spent the hardest night on his boat, so I was surprised to hear that he managed to sleep a bit. When I asked him if he'd heard about the burning boat, he told me it was the Jolly Pirates. For this trip we had all taken Dramamine, especially considering the waves and swells were still bigger than usual. Unfortunately, after about an hour Laurie started feeling very ill. Another half hour in, and her boyfriend Eddie joined her in sickness. For the next 3 hours they were miserable, and we only got to catch one fish, so all in all it was a bit of a bust. We did get to see some flying fish again, which is really amazing. I knew that there's always a chance for a zero catch, as well as a chance that people might get sick, but that didn't make it any better for Laurie and Eddie.we left the cuda we caught for the Capt, and went to the Villa again for some lunch. Everyone's appetites were a bit sketchy, so we all ate light. The girls then went shopping while the boys went gambling, a marriage made in heaven! We had dinner at Iguana Joes, as good as we remembered it. We had the nachos and pina coladas to start, then I enjoyed the mahi club. Yum! The sunset was spectacular, and we reserved the patio at Costa Linda for a BBQ party Wed evening. Everyone else was spent, but I walked over to the Alhambra for some more gambling. I finally won, over $100 at roulette and $40 playing video poker.
Tuesday 9/14
Another breakfast on the balcony, I always used this time to write my notes for the trip report and also to read the latest news. I still hadn't seen anything on the burning boat, but this was the first day that 'The News' was distributed - the hurricane had shut them down for five days. There were a number of good articles by residents and columnists, describing the hours when Ivan was at his worst. Apparently we arrived just hours after the worst rains and winds, so it was understandable that some of the staff at some restaurants wasn't at their best. It must have been very traumatic, considering that Arubans don't usually have to deal with this kind of thing.
We went to the DePalm pier to meet Capt Anthony and the Tranquilo, something we were all really looking forward to. The girls took Dramamine again, just in case, but it wasn't necessary. This trip was everything as advertised, a beautiful sail along the south coast (which allowed a closer look at some of the damage from Ivan), and some great snorkeling in Spanish Lagoon. The area was once home to the famed 'Pirates of the Caribbean', and now is home to some of the best snorkeling on Aruba. On our way we sailed right next to the burned remains of the now partially sunken boat, which Capt Anthony confirmed was the Jolly Pirates. I assume it will remain to become a new spot to snorkel, as it's almost completely underwater. The drift snorkeling was great, the deeper water was still clear enough to see lots of fish. Loren nearly drowned me when she saw a bunch of yellowtail right next to her, it was very funny (once I could breathe again). Now the part you're all waiting for: the pea soup. Believe it or not, I actually tried and enjoyed it! Maybe it was all the rum punch and Balashis I had downed, but this meatatarian surprised everyone in our group by nearly finishing my bowl. There were also sandwiches provided, and the drinks flowed all day. Add it all up, and for 6 hours of sailing, snorkeling, eating and open bar, it was $50 pp well spent!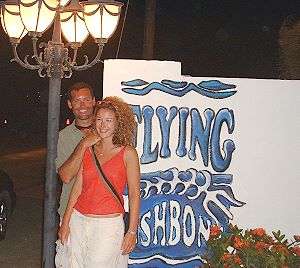 L and K We got back, cleaned up, and made our 6:15 reservation for Flying Fishbone. We were surprised that it was open, and more surprised that it hadn't suffered any noticeable damage at all. As usual, the view/sunset was spectacular, but the food was just pretty good. For the price (over $300 for the 4 of us, with drinks), I was a bit let down this time. The ambiance is unbeatable, but the food could have been more memorable. We still bought a gift cert for some friends of ours that will be honeymooning in Aruba next week.
Wednesday 9/15
Today I got up for fishing even earlier, I left at 5:45 and it was still dark. By now most roads are cleared and open, so the trip to my spot only takes 10 minutes, and I got there right as the light started coming up. Sunrise in Aruba is an experience that I will always look forward to, whether or not I catch a fish while enjoying it. I did manage to catch another tarpon, but this one broke me off after about 5 minutes of battling. This is the norm with a tarpon, either it breaks off or spools you, and it made my catch on Saturday that much more impressive. I tried a different lure and caught a mangrove snapper (I think?), which would have been good eating if I wanted to keep it. I'd prefer to catch him again next year, so I let him go. I did manage to get a couple pictures of him showing his huge teeth.
After breakfast on the balcony, we headed downtown for the 'real' day of shopping. Again, Eddie and I went to the casino while the girls did their thing - I was so thankful to have another girl along, those long shopping trips can kill a man! The girls took forever, and it turns out it was because they briefly got lost while walking the streets of O-stad. We headed back to the CL, and had reserved the patio for the 4 hour block of 5-9 PM. Cost for this: $5. Five dollars!?! For a large patio with 2 grills, 2 jacuzzis, room for 30 people, and a perfect view of the beach and sunset - $5?! I must have asked to confirm the price a dozen times, I couldn't believe it. Next year we're definitely taking that opportunity more than once! We brought our blender out to the patio and made pina coladas, and enjoyed the spectacular sunset. We had a great BBQ, enjoyed the hot tubs, and then had a quiet romantic eve at home.
Thursday 9/16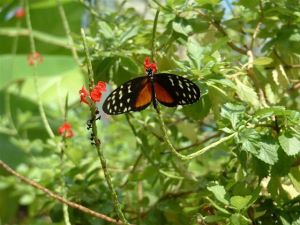 Picked up some bagels at Mi Dushi for breakfast on the balcony. We loaded up the cooler for our last day, and started it at the Butterfly Farm. The gals really loved it, and took a bunch of pictures. We drove by all the nice houses in Malmok, then stopped at Arashi for a couple hours of snorkeling. The water was still a bit cloudy from Ivan, but we still got to see some fish, though not nearly as many as last year. Once we ate our sandwiches and dried off, we drove to the north shore for some sightseeing. The road was blocked by some standing water before we could reach Natural Bridge, so we just stopped here and there to see the coast. All the rock piles had been knocked over, and the terrain looked even more inhospitable and unspoiled than usual. There was lots of water pooled up, and also resulting new growth beginning, a good consequence of the hurricane. It was fun having friends with us that had never been to Aruba, they were amazed that we were still on the same island.
We came home, cleaned up and got ready for the BB party at Amsterdam Manor and then dinner at Madame Jeanette's. We didn't get to AM's pool bar until 6, an hour after the BB party was scheduled, and we couldn't identify anyone from the BB - it never dawned on me to have a system, I just figured I'd recognize Amy or Andrea from their avatars on the BB. We waited a few minutes then sadly gave up, and headed for MJ's. We'd never been there before, and I'd been waiting to try the almond encrusted grouper for months, so we were excited and hungry. What a beautiful setting they have, all outdoor seating with nice lights and plants and stuff. When they led us to our table, I thought it was the best table they had - it turns out I was wrong. If you go, make sure you don't get seated in the covered area, because it traps in the heat. The location was nice (big table in the corner), but we got warmer and warmer as the night went on. The service was the opposite of both French Steakhouse and Flying Fishbone, almost too fast! Within 2 minutes, I was staring at a 32 ounce Balashi and we were ordering crabcake appetizers. For dinner I had the grouper (YUM!), and Loren had the Lobster Thermidor. Fortunately I usually get to finish her dinners, and this night was one of my luckier ones - their food was incredible. It is our new Most Favorite Restaurant, and will be the place we go on our last night. The only thing missing was the beach at our feet (ala FF), but other than that they are perfect - the ambiance, the food, the service, all 10's!
Friday 9/17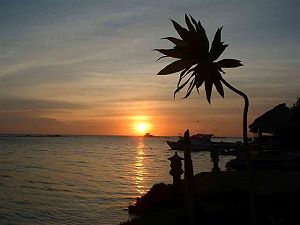 Our last day :-(. We woke up and packed, and saw a cruise ship coming in - the first one we'd seen all week. The Caribbean has been a hotbed for hurricanes this summer, and I'm sure a mess for the cruise industry. We checked out and headed downtown for one last breakfast at Villa Germania, and saw that there were actually 3 (three!) cruise ships in port. By now Ivan was a distant memory for tourists - the water was cleared up, the roads were all open, cruise ships in port, and sunny skies all week. I really feel sorry for all the residents who are still suffering from water damage, they won't recover as fast as the tourist industry did. We took one last walk around the marina, said goodbye to the iguanas, and headed to the airport.
We arrived at 12:00 for our 2:50 flight, and had made it through all the stops and checks and to the gate by 12:30. I know they say to get there 3 hours early, but we certainly didn't need that much time - oh well, better safe than sorry. If you don't already know this, once you get through customs and immigration there is nothing to do but read and wait, so make sure you bring something to read. Also, there is a small stand where a guy sells very overpriced snacks and drinks (what a racket!), so bring some snacks if you think you might get hungry.
Our flight to Charlotte went smoothly, but the connection to Washington-Dulles was another issue. There were tornadoes all over the DC metro area, so flights there were delayed or cancelled. Our flight was supposed to leave CLT at 7:40, but didn't leave until 10:30, and was combined with 2 other flights that had been cancelled. We got to IAD at midnite, then waited almost an hour for our luggage since a lot of flights had been waiting for permission to land, and they all flooded the luggage carousels at once. Home by 1 AM, 4 hours later than scheduled, but home.
Some final thoughts
The Costa Linda is probably one of the nicest resorts we have ever stayed at, and we'll definitely be staying there again. It was nice to cruise by it on the Tranquilo, you really get to see how big and nicely landscaped it is, and their beach is huge and immaculate. We saw the pool at Bucuti while we ate at Fr. Steakhouse, and it helped us realize how good we have it at CL. Every afternoon there was a live band by the pool playing salsa and meringue music. Plenty of palapas, plenty of space on the beach. The terrace for rent is a bonus I wouldn't have known about if not for the BB - thanks to Carol, Sherry, and everyone else who helped!
Our best meals: Breakfast at Villa Germania, Iguana Joes, dinner at Madame Jeanette's.
Best tour: Tranquilo, hands down.