Wyndham Aruba (now Westin) & Aruba Beach Club
January 2004 by Kerry & John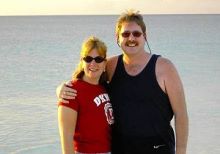 Headed out from JFK on 1/8. My fifth trip to Aruba and my husband's 2nd. My mom has had a timeshare at Aruba Beach Club for around 20 years and for the past two she's given it to my husband and I to use. What a mom, huh?!?
Great flight - even got in a little early. Took a cab to the Wyndham for our two extra days before we check into ABC. I know there's been some negative comments about the Wyndham lately, but we were very happy with our experience there. Check in was a breeze thanks to Wyndham by Request and we were pleasantly surprised with a great room -- 17th floor, facing the pool. I felt like we could see the whole island from our balcony, right down to the cruise ships in the harbor - fun! We got a great rate on the rooms from Hotwire - $100/night, so we were pretty happy. And now we are ready to get down to some serious relaxing. Coming from deep-freeze in NY, it felt so nice to finally be WARM!!!
First night we had a casual dinner at Gilligans at the Radisson - good grouper sandwich.
Friday - Started the day with a rainbow - perfect. Got in line around 8ish for a chickee on the beach.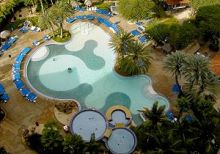 There was one problem, though, that I haven't read about here and might be helpful to people. The Wyndham's restaurant on the beach ("Azure?") starts setting up around 4:30 right in the middle of some of the prime beach locations. They bring out tables & chairs, plop them in the sand right in front of you, then they hook up speakers and start playing some loud music (probably to get rid of any lingering beach goers). They kind of work around you, but they actually bumped my lounge several times - not very relaxing. They totally blocked our view of the horizon, so no sunset for us that night - bummer.
That night we walked down for dinner at Sunset Beach Bistro at the Divi Phoenix, French onion soup and delicious Grouper Creole, yum!!
Saturday - Yay - back to Aruba Beach Club. It feels like home away from home, and we love it there. The beach is just steps away and if you want to go back to the room for lunch or a snack, it's not a major excursion.
We had several meals at the newly expanded Tortuga Grill next to the ABC pool. Lunches of chicken sandwiches and burgers - around $8-9 each. Dinner - we both had catch of the day - $17. Good meals and good values. Really nice covered deck overlooking the beach.
Our days pretty much followed this schedule: One of us would wake up around 6:00 a.m. - head down (in the rain) and reserve a chickee, breakfast in the room, then head to the beach for lots of reading, people-watching, 2 for 1 happy hours and a beautiful sunset. Then head up to the room to get ready for dinner.
Each morning started off with some pretty heavy rain, usually over by around 8:30 a.m. Only one day was really overcast all day - good shopping weather.
Pool at the Wyndham Some random thoughts: Wyndham vs. ABC: The crowd at the Wyndham was much younger, bathing suits skimpier (hubby appreciates that J) and happy hours louder, but I prefer the super quiet and laid-back ABC, you can't find a better beach anywhere IMHO.
Before we left, I some bought Dine-Around meals through AGA. In our opinion, they just weren't worth the $$. Many items on the menus have $2-5 surcharges for those using the Dine-Around option (which came to approx. $33/pp per meal). Plus, you've prepaid for three courses, so by the time you get to dessert, you order it because you've already paid for it, even if you don't have room for it! Just not worth it for us.
Purchased a family-pack from Ling & Sons to be delivered to our room at ABC. Very convenient and well worth it for us because we weren't renting a car this trip. Good for breakfast, soft drinks and snacks during the day.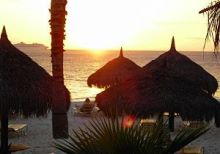 The Waterfront Crabhouse - Food was very good, but I'm not a big fan of seeing animals in cages and right across the walkway is the tiger you may have read about on these boards. She just looked so tired and BORED that it made me kind of sad. If you go here - sit inside so you don't have to listen to the presentation over and over and over and over.
The Buccaneer - Get there early enough to get a booth so you can enjoy your own personal aquarium while you wait for some great food. We tried barracuda for the first time. It was absolutely delicious and we can't wait to have it again sometime.
And finally, the Driftwood was our favorite meal that week - they had Wahoo that I had been dying to have again since last year and it did not disappoint. Pan Bati - awesome! We will go back here for sure!
Another great vacation - over way too soon. I wish I had my feet in that sand right now. That must mean it's time to start planning the next trip!
Kerry & John