Tamarijn
December 3 - December 7, 2004 by Julie
Single and on a Budget!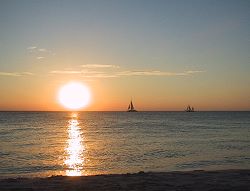 Sorry this is lagging, but the holidays had me occupied for a couple of weeks there. My co-worker Denise and I (Julie) took a long girl's weekend to Aruba - it was the first time either of us had been to Aruba. We had an amazing trip! I was able to get a lot of valuable information off of these boards, and would like to contribute back. I'm writing from a different point of view than most of you (single and on a tight budget), but I want to show everyone who may have discounted Aruba for one of these reasons that Aruba can be visited and enjoyed regardless.
We booked the Tamarijn through our travel agent, who in turn went through Go-Go Tours for our trip. For round trip air-fare, 4 nights at the Tamarijn (all-inclusive) and transfers to and from the airport, we paid $820 each. I'm not throwing our costs out there to boast or brag, I just want to give a realistic price range out there to people who might be considering a trip to Aruba - it's something I would have found useful for my trip planning.
We flew AA from Baltimore to AUA with a short layover on San Juan both ways. AA was terrific - flights were on-time and staff was friendly. Just keep in mind that while the US is on Daylight Savings time, they are not (in San Juan & Aruba), because we almost didn't get on our connecting flight thinking we were an hour early!
Our overall impression of the Tam was fantastic! We ate at each of the three restaurants for dinner, and had the buffet & snack bar for every lunch and breakfast. We stayed in room 1303, and LOVED the location. We were the building right next to the pool, bar & restaurants, and the beach in front of our room was heaven. There were a few decorative rocks, but none were an inconvenience.
We had booked a snorkeling excursion with Red Sail, but a violent Saturday morning storm cancelled that trip. Since Red Sail forgot to tell us it was cancelled and picked us up for the sail anyway, our shuttle driver, Leo, gave us a 3 hour private tour of the island OUT OF THE KINDNESS OF HIS OWN HEART. He charged us nothing (we tipped him well, of course), and he took us to see the California Lighthouse, the Natural Bridge and the Alto Vista Chapel. The tour would have easily been $100 each had we arranged for it. Just as we got to the Chapel, one of Aruba's famous 2-minute showers was coming through, and this beautiful rainbow formed right over the chapel. Historically recognized as the symbol of a promise, I took that as God's promise to me that we wouldn't have any more rain on our trip. I was right - we didn't.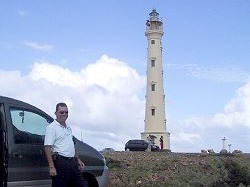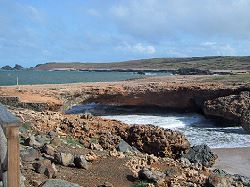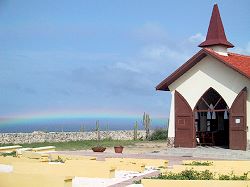 We spent most of our time relaxing and soaking up the sun, so I can't give too much insight on the rest of the island except for what we saw on this afternoon, which was amazing.
We relied on the busses to take us where we needed to go. It was only $2 round trip per person, instead of the $8 minimum the cabs charge. Both cabs and busses run frequently, just make sure you are at a 'real' bus stop if you want them to stop - they can be found at random points on the side of the main roads.
If you stay at the Tam, on Monday and Friday nights a bunch of street vendors come onto the resort and set up tables and sell their crafts. This was hitting the jackpot for me - I bought all of my souvenirs there, and thought I got good deals on everything. Also take advantage of all the freebies included with your package: the rafts (snooze…), the bikes, the towels, etc. These all helped enhance our experience. We actually kept a tab of everything we used, consumed (food & drink) and services provided to us (housekeeping, etc.), and found that had we paid for everything separately, we would have paid at least double the cost. (I know - we're on vacation - why all the math? Because we couldn't believe how GREAT everything was, and that it was all included in our package!)
We did splurge one night and go to Carlos & Charlie's, and its reputation precedes itself - it was a GOOD TIME, with good food. We were picked out to be the favorites that night, so we got some extra picking-on. They tied paper napkins in my hair and put a "single women" sign on out table:
Then Denise got an involuntary piggy-back ride over to the bar for a mandatory shot of tequila (yuck…)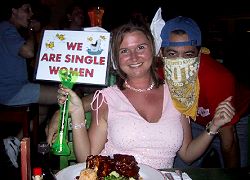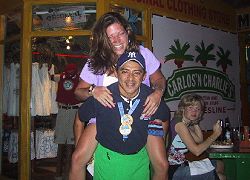 It was great. There was no "night-life" for singles at the Tam, so this made for a good night out. We had relaxed enough, so it was time we party-it-up so we would have one good story to come home with!
Things I learned on these boards that were helpful were:
Upon arriving in Aruba at the airport, use the customs line to the far right - it says flight crew, but they'll take you too!
Balashi is worth trying and worth taking home.
In town, the street vendors across from the mall have the same souvenirs and can offer better prices. They also offer more handmade / authentic items.
Bring bug-spray - We came home with about 5 bites each. I'm sure it's due to the rain, but they were present.
The people of Aruba are genuinely some of the nicest I've ever met. It was very refreshing to be in their company.
I welcome any questions or comments, and hope that this has been helpful to some of you who think that Aruba is outside of your means… like me, you may be pleasantly surprised! I'll leave you with a few of my favorite shots.
Julie