Bucuti Beach Resort
September 17 - September 27, 2004 By Gerry & Sue W.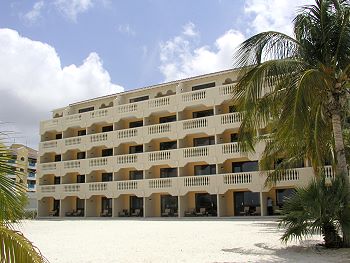 For us, the combination of Aruba and Bucuti is definitely a hard habit to break. It renews the spirit in ways only Arubaholics understand. We're so thankful to have the memories and friendships we've made thru our association with individuals on the island and also on the bb forums. Thank you to Susan Biemans, Hans Dhooge, Anthony, Sabine, [and there's so many more] for making us feel like family. We firmly believe our love of Aruba is due to your dedication and commitment in providing a stress-free destination.
Here is our account of our 5th trip
TICKETS
We were finally able to use Delta frequent flyer miles. We heard horror stories about cashing them in, but our experience went without a hitch.
FLIGHT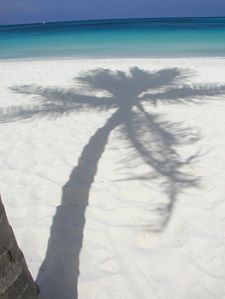 Outbound to Atlanta was smooth and on time considering Lexington was experiencing the rains from Hurricane Ivan. Upon arrival in Atlanta, we soon discovered that the airport had extra people who had been stranded the day before, also from Hurricane Ivan. Our flight was delayed a 1/2 hr without explanation. The plane was 2/3 full even with the 2 days' worth of passengers onboard. Surprisingly, we flew just east of the Bahamas, Haiti and Dominican Republic as Hurricane Jeanne was preparing to slam into those islands. Very interesting cloud formation to say the least. Upon touchdown in Aruba, the pilot announced the temperature was 90º with zero winds. OH MY !!! As we were taxiing to our gate, we saw the mast of the recently sunk Jolly Pirates above water. Baggage claim was extremely slow, perhaps the slowest of all our trips.
TROPIC CAR RENTAL
Once again, we rented thru Hans who was patiently waiting for us in the terminal. Judging from his apparent increasing popularity on the bbs, we reserved a car 3 months prior and will do the same in the future. I have to say the Yaris' air-conditioner worked beautifully all week. We used the car daily and filled the car on our way back to airport. $18 for 10 days. Of course, Hans was waiting for us at the appointed time when we returned to airport. It doesn't get any easier.
WEATHER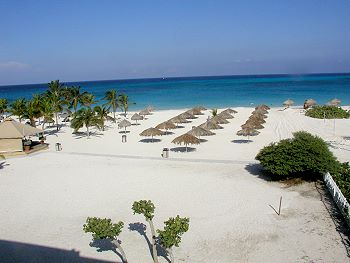 Hot, hot, hot. We arrived on a Friday to a stifling and oppressive heat. The first sign of any wind didn't arrive until the following Tuesday and then it was a very slight, gentle breeze for the rest of the week until the next Sunday when the trade winds we are all familiar with returned to full force.
While on the beach on our second afternoon, the sky and clouds looked evil. As the thunder and ominous sky was approaching the low rise area, we became uncomfortable and were possibly one of the last to pack up head to room. The skies cleared up in a half-hour's time - without any rain---and we returned to beach. Later that night we saw on the news that a tornado had touched down on the other side of island. Tornado? Apparently so. We heard that there hadn't been a tornado in Aruba since the late 1800s.
BUCUTI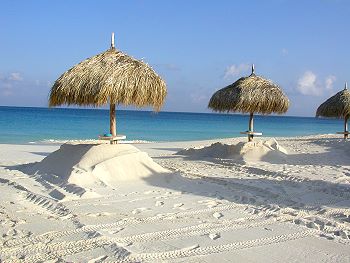 Amazing, simply amazing. Year after year it only gets better. The friendly management and staff remain the best we've ever encountered anywhere and one of the main reasons we've returned yearly since that first magical trip in 2000.
We had a room in Tara Suites this year. The view is spectacular and the building itself is beautiful. Kudos to the architect, the designer and the buyer with their choice of soothing colors, European decor and chic furnishings. Even with the 40 additional rooms on the property, the peaceful, serene atmosphere has not been compromised. Gone is the deposit on beach towels. Upon arrival you are issued a towel card that you turn in at the new towel kiosk behind the Sand Bar. It is staffed 8am - 7pm. Spa service, a concierge desk and a continental breakfast room/lounge are available within Tara; however the Business Center and Mini Market are only available in the Bucuti building. (The mini-market was temporarily closed during our stay---no new mouse pad for me this year!).
SURF AND TURF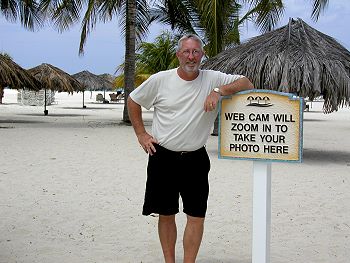 The beach in front of Bucuti remains a natural wonder. Absolute pure white sugary sand. Fortunately, the wrath of Ivan did no damage. The only visible change was some shifting of sand near the shoreline. The water was clear our entire stay, some days clearer than others. The currents ran the full gamut - from completely still one day to very strong another. Due to the lack of wind our first half of the trip, I spent most of my time in the water.
RESTAURANTS
We tried a handful of new restaurants this year and two, Marandi and Pinchos, stand above the rest. Madame Janette remains our all time favorite. Only an oceanfront setting would make it better. Individual comments on each have been posted on the Restaurant Review section of this bb.
Perhaps it's because we're now seasoned to being on island time, but we found service everywhere to be at a comfortable pace. We never felt rushed nor did we ever feel forgotten.
ACTIVITIES
Bulletin Board Party at Amsterdam Manor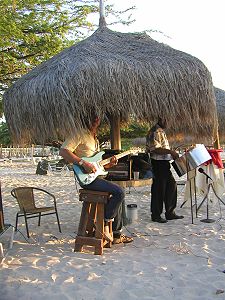 Large turnout, met up with many friends and met many new ones as well. Thank you to Melvin, Amy and Jurgen for being the force behind this successful yearly gathering.
Tranquilo
Let's see now...hmmm...sunshine, sailing, snorkeling, special friends, a super-duper crew, some Dutch pea soup and an open bar. Need I say more? We had a blast and officially baptized Mike, Alecia, Tonya and Jeff as newly converted Arubaholics in the waters of Spanish Lagoon. Thank you to Anthony and Roy for another adventure we won't soon forget!
I booked our group a month in advance. Probably isn't necessary in low season but wanted to be sure we could all get onboard together.
Casinos
Several nights I heard a slot machine calling my name and happy to report I walked out with more money every night except one. I even gave Gerry some of my winnings to play blackjack. He didn't hear a table call HIS name, but he still had fun.
Other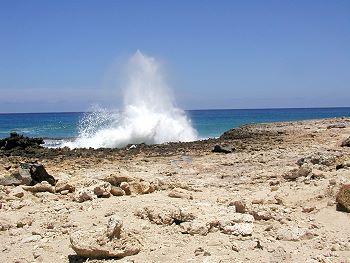 We didn't do much touring this year other than the annual drive thru the Tierra del Sol community. We also found a little road just before heading up to the lighthouse and took many photos of the crashing shoreline, pelicans and even saw a bald eagle. Gerry golfed for the first time at Tierra del Sol later in the week with our friend Chris while I took a couple friends shopping.
ADDITIONAL NOTES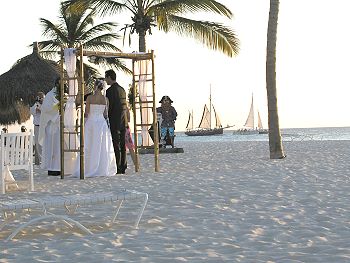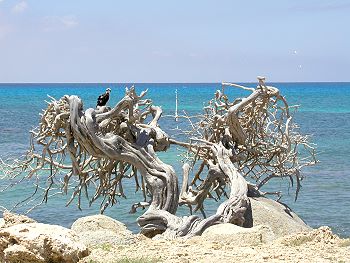 Aruba Plus card more than paid for itself between a round of drinks (7) at Salt and Pepper and Tranquilo.
We witnessed our first wedding on the beach at Bucuti one evening. (I'm so glad we were dressed for the occasion...lol ! )
I've been wearing glasses something like 45 years and for the first time ever, I broke my frame. Wouldn't you know it would happen when you're 1000s of miles away from home? I was sent to Pearle Vision which is just beyond Certified Grocers. They don't do repairs. From there I was sent just a few yards away to Optica Leslie. They were able to solder them in 15 minutes.
We had our first encounter with mosquitos. We weren't bitten, but we were aware it was possibly due to standing water still on the island since the rains came the week before.
The sounds of steel drums are more prevalent than ever. We heard them not only at Bucuti but at Amsterdam Manor, the Wyndham and downtown as well.
What took me by surprise was downtown Oranjestad crowded on a Saturday morning/afternoon. There were no cruise ships in port. Where were they all coming from? I would guess it had to be the poker tournament generating the extra people. We always go to town on Friday nights and have never come across as many people when the cruise ships are in as we did that day.
The watersports activity canopy in front of Costa Linda is an eyesore. A big eyesore on such a lovely property and beach. There seems to be a decrease in patronizing that business than in previous years but it's not completely eliminated. The motor boats that pick up the tourists appear to be driven by very young people and some drive them like they were 6 year olds on a Big Wheel. Enough said.
Racing boats seem to be the latest fad. Then do a 180º turn on a dime. Right now I can only think of the Screamer (which is colorfully painted like a shark) and the Thriller, but I think there were others.
RETURN FLIGHT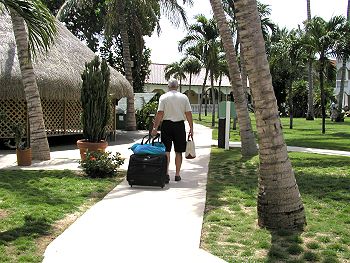 We arrived 3 hours prior to departure. No lines at the Delta desk but there were three days' worth of American Airlines passengers as the flights into Miami had been cancelled the two previous days due to Hurricane Jeanne.
The line (there may have been 2 lines here) leading to the first security check point was backed-up to before the duty-free shops. Long story short – we still had plenty of time to make our flight.
The flight into Atlanta was smooth until we reached Atlanta airspace. We circled (smoothly) for 1 hr and 20 minutes before given clearance to land. The descent was from a movie script. We have to give the captain credit --- and many hugs--- as he did an incredible job with the touchdown. The outerbands of Hurricane Jeanne had arrived and the airport was closed shortly after. That's when the real fun began. I won't go into boring details as I know everyone who was stranded there that night has a similar story. We made it home (briefly) the next afternoon, showered then rushed out the door for a longstanding commitment. We finally got home for good at midnight. Our bed never looked so good – we had been up 42 hrs.
CLOSING THOUGHTS: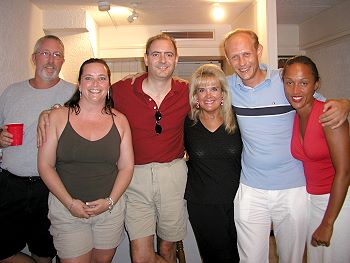 Just how much fun can a vacation be?
To Stacy & Chris, Amy & Mike, Chick, Louisa, Richard & Karen, Melvin & Maria, Alecia & Mike, John & Sandy...what can I say?
We're so happy to have you as part of our 2004 memories and in some cases, photos. Hope to meet up again same time next year.
(photo: from Left to Right):
Gerry, Stacy, Mike, Amy, Melvin & Maria