Manchebo Beach Resort & Aruba Beach Resort
April 2 - April 9, 2004 by Donna Davis
Our first trip to Aruba was almost exactly one year ago. After much reading and consulting with this great BB we had decided on the Manchebo. If you read our trip report from last year, you will realize that it was the best decision we could have made. Sooo, this year we returned to the Manchebo and brought with us my sister and her husband who also stayed there and my husband's brother and his wife who knew people who knew people and ended up getting a great deal at the ABC which is right next door.
The two other couples had never been to Aruba and I have to say...I think they've become addicts too!! My sister and her husband lived in Australia for 2 and a half years and have snorkeled the Great Barrier Reef...and have also owned a 24 foot sail boat and have traveled with it to many places...but still, have voiced that they want to come back to ARUBA...Go Figure! LOL
Our trip started out of Boston on a GWV charter. The flights were awesome and exactly on time. The only thing that was bothersome was the fact that when I booked a Friday to Friday flight (thought it would be good to come home with a few days to prepare for Easter!) I didn't realize that we would have to stop in Curacao both ways. It was nice to say we've been in Curacao twice (lol) but it made our travel time longer by about 1.5 to 2 hours! Other than that GWV was awesome!
As soon as we got to our rooms, we threw on our bathing suits and headed for a cold one at the Pega Pega...(hey,c'mon we'd been in a plane for 8 hours!)...then right down to the beach. I can't say enough about Manchebo's beach..vast expanses of pure white sand ...when you're in the water, you feel like you are on your own private beach, barely anyone around you! The waves are terrific and once you get beyond the breakers, you get to be rocked by warm torquise blue swells. It doesn't get any better than that!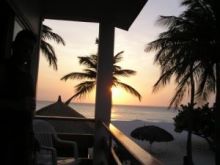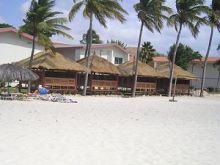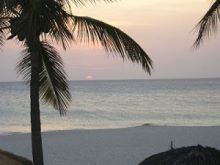 Dinner that night was at the Garden Terrace (French Steakhouse) I had the Dutch Filet which was the best Filet that I've ever had, done to perfection. Every one else raved about their meals except for the two people who had the beef tips...they said they were just "okay".
It's already been a week since we've been home so I can't give you a day by day (the mind seems to get hazzy in the 49th year!) so I will tell you the highlights.
First of all...once again, I HIGHLY recommend the Manchebo Beach Resort...the rooms are not fancy...but extremely adequate with a small fridge, a safe , large TV (who knows why!? lol) hair dryer, iron and ironing board, VERY comfortable King size bed, very clean and comfortable. But the beach is to die for and our view from our second story balcony was ethereal. The Pega Pega beach bar is great with steel drum entertainment 3 nights a week. (Have to admit though...we really missed Eddie, the entertainer from last year) The French Steakhouse is one of the best restaurants on the Island and the Garden Terrace is awesome and has it's own bar and Pool Side seating. After going up to visit the High Rise area once again this year...I cannot figure out why anyone would stay in that area. I guess if you like to be on the beach with wall to wall people and pay a ton of money to stay on the 15th floor of a hotel..then it's for you...but in my humble opinion, I can't figure out why!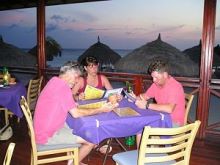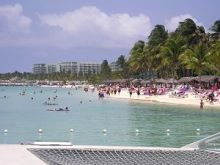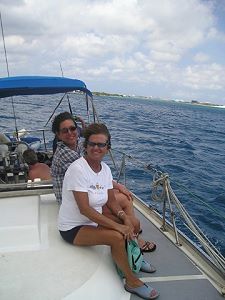 Because my brother-in-law and sister-in -law were staying at ABC this year, I got to experience that property also. It is GREAT! The lay out is wonderful...they have a nice big pool and a wonderful beach bar with live entertainment every happy hour..the band was great and played the likes of Jimmy Buffet, Sting, Beach Boys and lots of "Island" music. The Tortuga restaurant was Wonderful...the seating overlooks the beach and the food was FANTASTIC with great prices. Their grouper was the best I had all week. The staff is very friendly and accomodating.
The two other restaurants that we went to were the Marina Pirata and Tony Ramas...the Marina we had gone to last year for drinks with the (sorry about the spelling) Cucakanooka Bus and I LOVED the ambience and wanted to return. The ambience is sooooo excellent and the staff is Wonderful...but alas...our meals kinda sucked! We all got fish meals..mostly grouper and it was way over done. I think I've heard they do awesome with shrimp...we should have tried that. Because the location is just so nice, you sit out on the edge of a dock and watch the fish swimming...I think I will go back once again..and maybe try the shrimp this time.
Tony Ramas was ...well, Tony Ramas! My husband was Jonesing for Ribs, so we went. Everything was excellent except I ordered one of the combos with ribs and shrimp and the shrimp were those flat ones that you get frozen...tasty enough but still the frozen variety. Yea, I know...who the hell orders shrimp at Tony Ramas! LOL
OH..the other restaurant we encountered was Subway...I don't know if it was because I was in Aruba but those subs rocked!! I had a tuna with the works and it was excellent!!!
Went to Alhambra Casino one night...lost 20 bucks in an hour but got 2 free great drinks!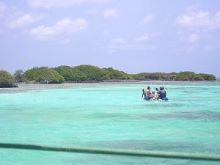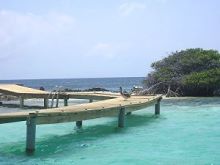 The highlight of our trip was the Tranquilo lunch snorkel. I had never sailed before and had never snorkeled before and I am now in love with both! It's a 6 hour sail that starts out in front of the Aruba Grand (is that the name?) and travels up the coast going south..for two hours...lots of great stuff to see including the private Renasaince Island and the Depalm Island. They take you to a reef that actually has a dock that you swim out to and you snorkel in water that is waist to chest deep...but OH so many beautiful fish and live coral..some of it huge! Then you can do a drift snorkel where you go out to open sea where it's about 30 feet deep and just drift along.
Unbelievable. The crew was awesome..Anthony is the Captain and he is a wonderful guy...there was Roy who kept our Rum punches always full and was totally entertaining and the Pirate (sorry, I don't remember his name) who waited on us hand and foot also,and kept us entertained too. Anthony's Mom makes Dutch Pea soup and sandwiches for lunch (I'm drooling over that soup right now!) and they give you watermelon for desert. Anyone who is contemplating a sail/snorkel trip...go with the Tranquilo!
Other than those things , we spent most of our time laying on the beach and enjoying the wonderful tranquility of Manchebo Beach along with ..of course..the Pina Coladas..Mosquitos,Aruba-Aribes,Polars and Balashi's!! A wonderful time was had by all and we can't wait to get back to Aruba!