Amsterdam Manor
Amsterdam Manor, October 9 - October 15, 2004 By Bill & Marie Greene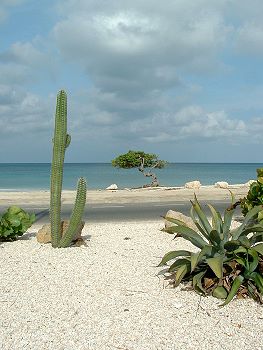 Upon finishing a terrific 6 lovely honeymooning nights with the WindJammer Cruises on October 9, Marie and I arrived at Aruba's beautiful a Amsterdam Manor Hotel to finish our stay. This picturesque low-rise resort features very roomy, comfortable air-conditioned suites. We were fortunate to have had a beautiful view outside our door of the famous Aruban beach tree and turquoise blue waters.
The outdoor restaurant, Mango's, had a wonderful dinner selection of Garlic Shrimp, Mahi-Mahi, and pastas - however, the service was slow and, at times, chaotic. It wasn't the Servers' fault - they certainly were VERY courteous and tried very hard - I hold management to account. Yet, Aruba, as well as Bonaire and Curacao, all measure SERVICE TIME much differently than in the states; Leave your East Coast attitude at home - You'll get your meal when you get it. That's that. I strongly suggest that when the server arrives, you be prepared with your drink and/or food order. If you hesitate, you lose - er, lose TIME, that is.
Anyway, the service dichotomy at Amsterdam Manor's Mangos was a Bartender named "FILO". Get to know him. His hospitality and service far exceeds anyone we've come across on any of the ABC Islands. He will not only try to learn your name, but he will help you get a feel for the area - all while keeping your drinks in hand; All of this BEFORE we tipped him - and we tipped him well. He deserved it and I suggest you do the same - he'll become a friend even before you do so.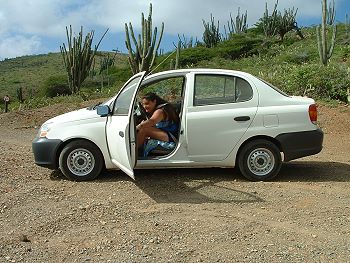 As per the Island, we STRONGLY suggest you rent a car - and rent it from Economy Car Rental. The rates and service are terrific and it's the only way to properly explore the island. However, take the time to learn the rules of the road - signs and all. My new wife, Marie, is a professional driver and her attention to the rules of the road made a difference. Make sure you get the map from Economy. There are very FEW road signs and I promise you WILL get lost, if at least momentarily. No worries, 'though, it's a small island and you'll make your way.
Anyway, we took our little Toyota Yarris compact all the way from the upper side of the island at the California Lighthouse, all the way down to Point Colorado. We later traveled into the Arikok National Park's dirt road trail - which our Rental Agent warned us against doing; No worries again, it was perfectly safe - but then again, we are from Colorado. Ha!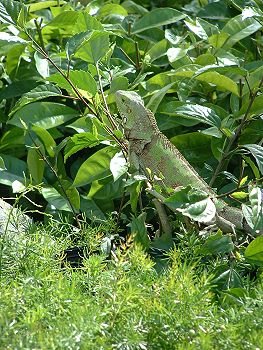 We also managed to barely find our way to the Natural Bridge on the other side of the island. A must see as the coast is much different on that side of the island.
Happy surprises included snorkling up near the coast below the lighthouse and visiting the exact opposite end of the island down near Point Colorado. We ventured into the farthest point there and discovered Coco Bar. The owner will probably be the one who will wait on you and he's terrific as well.
If you need to escape from the many hot, open air restaurants, I suggest dining at Buchaneers and having breakfast inside the hotel right next to Amsterdam Manor.
All in all, it was wonderful and all of the local people are unpretentious and nice - it's only the many Cruise Ship tourists who will be annoying, if anything.
If you have any questions, please feel free to email me about our great time in Aruba, Curacao, and Bonaire.
Best regards for a safe and trip on One Happy Island!
Bill Greene, Producer, Piranha Films in Denver, CO