Manchebo Beach Resort and Spa
September 21 - September 30, 2004 By Auntie Mame
Tuesday, Sept 21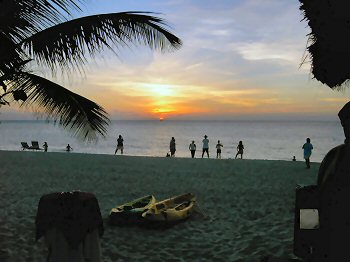 Our USAirways flight was happily uneventful. They showed Harry Potter and the Prisoner of Azkaban which kept me amused until I fell asleep. We took a taxi from the Airport. Our driver reported that he had had 25 cm of water in his house during Ivan. Many of his belongings had been ruined.
Check in at The Manchebo was a breeze. We hardly had time to put away our clothes before it was time for the Manager's cocktail party, which was very nice indeed. I ran over to the Pega Pega bar and got a club sandwich to go for later because right after the Manchebo Party was the Aruba Forum BB party at Amsterdam Manor.
The BB Party was super! It was fun to meet folks. We met Amy and Mike, Sue, Melvin, Jurgen, Pete and others I'm sure whom I've left out. We never did see Richard. The munchies provided by AMBR were wonderful and the new Beach Bar is excellent.
We went straight back to Manchebo after the party and watched TV while enjoying the sandwich – which was so good we ordered the same several times during our stay.
Notes on Manchebo Beach Resort and Spa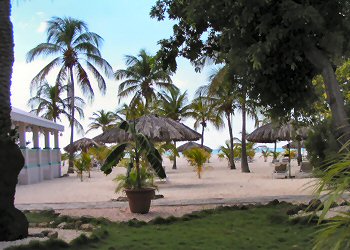 This was our first year at the Manchebo. We chose it because it is right on the beach, has an excellent restaurant, and has easy access to the parking lot. Accessibility is an issue for us and I asked for a room that was close to things so that too much walking was not required. Vivian gave us room 15 – an ocean view close to the lobby and the parking lot. It was perfect.
Our room had two very comfortable beds with lots of pillows, a table and comfortable chairs for lunching in, a ceiling fan, an excellent air conditioner, a small fridge, coffeemaker, iron (yeh, right), and hair drier. There is a safe in the closet and plenty of hangers as well. The bathroom vanity had more than sufficient space for toiletries and the shower was strong. The tub had six corner shelves for soap etc and a clothesline as well. We were quite pleased.
The resort is small – 71 rooms – with a wide beach, IMHO the best steakhouse on the island, and a good sized bar between the beach and the pool. There is a computer with free internet access in the lobby and a well stocked mini mart.
The resort has a beautiful new spa. We did not use the spa this trip but we met folks who did and they were very happy with the services.
The staff at the Manchebo is excellent – friendly and highly competent.
Wed, Sept 22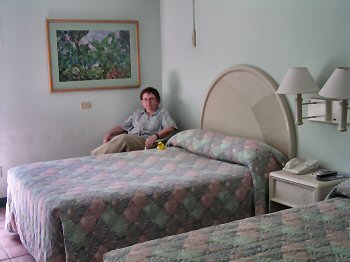 Spent the day on the beach. Ate dinner at the French Steakhouse. We got the Ambassador's special. I started with the seafood crepe and Hank with the pea soup. He then had the filet and I the churrasco. The meal was glorious. We took about half the steaks home as well as about a third of the bottle of wine. That provided lunch for:
Thursday, Sept 23
Got a car from Royal and drove down to Baby Beach which has changed due to Ivan but which still is very beautiful. We ate at our favorite Wendy's in Savaneta and stopped at the Certified Cash and Carry for our usual cold cuts etc. (Certified now accepts credit cards, making its name oxymoronic).
Dinner was at Rumba's. Now we have to add yet another restaurant to our 'must visit' list. I had the seafood trio in white wine sauce which was heavenly and Hank enjoyed both his chicken Parm and the potatoes it came with. We had the chocolate mousse for dessert. Rumba's is a restaurant which takes it's food and food presentation very seriously but which maintains a lighthearted atmosphere.
Another beach day. We were in the ocean when the Tranquillo passed. We waved and they waved back. Little did we know that it was Aruba Amy and company on the boat that day. Dinner was at Chalet Suisse. We had our racks of lamb which were not quite up to their usual standard but were very good none-the-less. Chalet Suisse remains on our must visit list.
Sat, Sept 25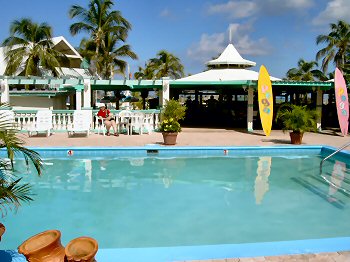 We spent some time in the shade of the Pega Pega bar today, chatting with Nacio and other guests. Nacio mixes a mean Aruba Ariba I can tell you!
Dinner was at the Garden at the Mill Resort. Our favorite waitress, Martha, no longer works there but the service is still very good and the meal at about 12 USD pp is a real bargain. The tourist menu changes daily. Today it was a tasty seafood soup, chicken parm, and fruit cup. Quite enjoyable.
Sun, Sept 26
The Manchebo had a BBQ today with chicken, ribs, corn, beans, cole slaw, fried rice, salad and more that I can't remember. We ate our fill and were pleased with the meal. It was reasonable -- about 17 USD pp.
Mon, Sept 27
Again we drove around the island seeing the sites. Dinner was at Gasparito's. Shrimp cocktail was very tasty. I had the Keshi Yena, which was to die for. Hank had the filet which was fine and had a wonderful sauce. But he tasted my Keshi Yena and declared that we would have to come back so he could get that as well. We had banana na forno for dessert – excellent.
Tuesday , Sept 28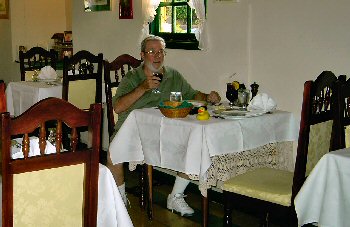 An other beach day - another Mgr Cocktail Party. We ate again at the French Steak House. I do believe Chef Daal is some kind of culinary genius.
Wed, Sept 29
Dinner at Sole Mare. We each got a chef's special which was Penne with lobster. Hank had a Vodka sauce and I a white wine sauce. Both dishes were very good. The lobster was a bit chewy, but very tasty and there was plenty of it. The desserts, a brownie and a flan, were mediocre. Service was very good.
Thursday, Sept 30
We went down to the airport to check our luggage and return the car about noon. There was absolutely no waiting in line. We took a taxi into town. Our driver, Carlos in taxi number 7, said he'd come back for us at three o'clock. We spent the afternoon gambling and shopping and had a very fine lunch at the Paddock (brie an a baguette with a salad – sort of a French Ploughman's lunch)
Carlos arrived as promised and we got to the airport to find, once again, no lines!! Our USAirways flight, which I know had a full load planned only a month earlier, was about half full. I guess people cancelled due to the money woes. We all spread out and were quite comfortable. We landed early. Then we were in the hands of the USAirways Philly ground crew. It took us two hours to get out of the airport!! (Welcome home *sigh*)