Tamarijn
September 20th to 27th, 2004 By Anna
Honeymoon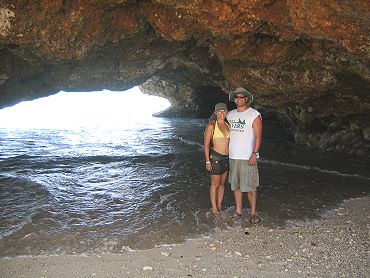 We arrived at the Holiday Inn in Aruba at approximately 1:30 a.m. We were pretty excited and very happy because we were on our honeymoon and it was our first trip to Aruba. The flight was fine and bus ride from the airport was great. We stayed all inclusive at the Holiday Inn. We ended up switching rooms right away because we wanted to have an ocean view, which the Holiday Inn upgraded for us at no extra cost. I am not going to go into detail about what we did every day of our trip. I will say that the beach was beautiful and the weather was awesome every single day. About the Holiday Inn, it was exactly what I expected it would be for a four star all-inclusive resort. It is not an overly luxurious resort but that was okay with us. The room was clean, buildings were clean, staff was nice and friendly and the food was good. I was pretty impressed with the breakfast buffet. The Mirmar (reservations required) was also good. We ate dinner at the Mirmar 5 out of the 7 nights. For some reason, I thought there were two restaurants we could choose from but it turned out that there is the Mirmar and the dinner buffet. One night we ate at the outdoor dinner buffet, which was alright. One night we ate at the Moomba Restaurant and bar which is right next door to the Holiday Inn. I would highly recommend the Moomba. The meal there was excellent.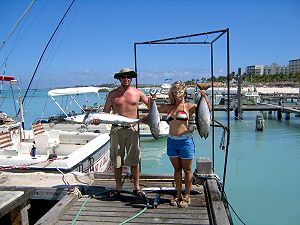 Since this was our honeymoon we decided right from the beginning that this would be a relaxing, lay on the beach and be lazy vacation. We did however take a few days to check out the island and do some sight seeing.
One day we booked a deep sea fishing trip with Captain Monty. His boat is docked right at the pier near to the Holiday Inn. We caught two tunas, baracudas and a waho. It was pretty exciting. The only major downfall is that you do not get to keep any of the fish that you catch. I was at least hoping to pack up some tuna to bring home with me but was informed that it was "not allowed". So, Captain Monty ended up bringing one of the baracudas that we caught over to the Moomba Restaurant and they cooked it up for us for dinner that night. It was the best meal we had in Aruba.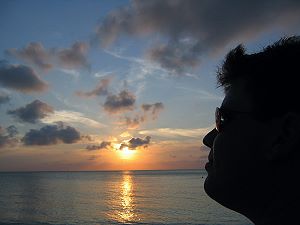 Our favourite day in Aruba was when we rented a jeep and toured the island. We had the jeep for 24 hours. That day we off-roaded across the island and saw many sights. It is definately the way to go rather than spending money on tours. For $65.00 we were able to go where we wanted, when we wanted and stay for how ever long we wanted. I strongly recommend to anyone that would like to go "sightseeing" to take this route. What was great about it was that we did not really know where we were going. We were trying to follow a map of the island but did get lost a few times. Getting lost was not a big deal. We always felt VERY safe. What is also great is that there are so many other people driving around in the rental jeeps and cars and I think that in part made me feel very safe. We visited the natural bridge, some ruins, a church, the lighthouse, Baby Beach, Rogers Beach and the Natural Pool. I would advise against taking the trip to the natural pool. NOT worth the time and effort to get there and not much to see once you get there. All in all we had a very relaxing and romantic honeymoon at the Holiday Inn in Aruba. One thing to mention is that the Disco and the pool were under construction while we were there. It was no big deal to us seeing how we were on our honeymoon we spent fairly quite evenings together and as for the pool, who needs it when you have a beautiful beach and great ocean at your feet! One more thing - the sunsets were beautiful!