La Cabana Beach Resort and Spa
September 9 - September 18, 2004 By Andrea and Paul
I will try to divide this report into categories.
Weather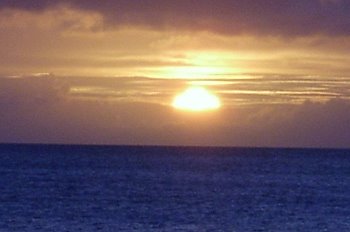 We dealt with the remains of Ivan the Terrible. Upon arrival in Aruba and meeting Hans from Tropic at the airport, he told us he'd have to "lead us" to La Cabana. We said, "Hans, we have been here 25+ times, it is not necessary that you lead us." He smiled and said, we had a little rain yesterday and the roads are "tricky". Tricky was an understatement. Lots of flooding, we saw floating livestock (chickens and goats drowned). We eventually got to La Cabana and checked in uneventfully using our Bluegreen points. (but that is another story) Our first night once asleep around midnight we had the worst thunderstorm that one could imagine. The rain poured for hours and the sky was lit so much by lightning it looked like daylight. We awoke on Friday morning to MORE flooding and probably 1/4 of the island's neighborhoods bailing, pumping, crying and/or stunned. The rain never returned during our waking hours for the remainder of the vacation. Sun shone, hot and humid weather. Very little trade winds as Ivan, Jeanne and then Karl kept dominating and keeping the Aruba weather humid and still. Most mornings partly to mostly cloudy and most afternoons mostly sunny.
Flights
US Airways from Boston to Philly to AUA on the 9th were uneventful and not crowded. Paul and I each had our own row of seats and SLEPT SOUNDLY from Philly to AUA. We slept thru the movie, snack and landing. Returning home to Boston via Charlotte it was the same way. Lots of space and lots of napping. Flight home on the 18th was delayed a few hrs due to heavy rain in Boston earlier in the day and that messed up the schedule for the rest of the day.
Dinners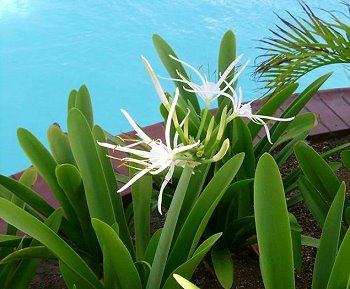 We are creatures of habit. We ate at Madam Janette's 2x, had take out from King Ribs 2x, Tony Roma's once, ate dinner in our suite/room (stuffed peppers and salad and pizza and salad 2x and French Steakhouse 2x. MJ's, King Ribs and FSH were exceptional. Tony Roma's is a habit we got into a few years ago when we had Kevin with us, he loves their chicken fingers. Paul likes their BBQ chicken, nothing they serve suites me. So we did Tony Roma's 1st night and it really was unpleasant. We had BBQ chicken and it was burned on the outside and bloody raw inside. Sent back 3 times and then said to heck with it. My soggy piece of corn on the cob had a long brown hair entangled in the kernels. We negotiated that we were to pay only for our 2 diet cokes, left an extra $2 as a tip and RAN to the car. MJ's Paul had steak and I had almondcrusted grouper both visits. We also split a caesar salad, which was huge. FSH Paul had steak and I had chicken caesar salad. King Ribs We had ribs 1st time as take out and 2nd time combo ribs and chicken. King Ribs undoubtedly best meals of the vacation. We ate breakfasts and lunch in our suite at La Cabana and spent about $100 on groceries.
Casinos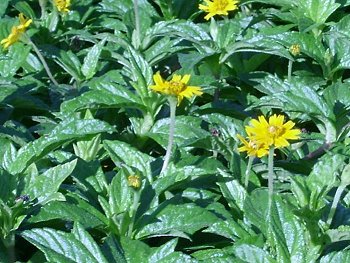 We did OK Alhambra was generous the first night and then the subsequent nights were not so much fun. A friend, mentioned that the Marriott had gotten better lately so we popped up there Mon - Fri to play at the Stellaris casino. Each night there we came out ahead or broke even. Breaking even is a success (i guess). As stupid as it sounds, we played the "winning for dummies" penny machine. Each night we won over $300 on that ridiculous machine playing $1.80 per pull. Some nights after pocketing our penny wins we then went to craps or roulette but when it looked like we'd be losers, we got the heck out and pretty much did OK there. So we went to Aruba with about X amount of dollars that was to be allocated for restaurants, casino and groceries and came home with about $20 dollars less than what we which I would call SUCCESS. The money went back into the checking and of course real estate taxes are due on Nov 1, so goodbye $$.
Bluegreen/Lacabana
I will not elaborate until our situation is resolved, but let it be known that if it is not resolved in our favor, EVERYONE from here to Kingdom Come will be forewarned.
Activities
We did nothing spectacular. We sunned, we read, we napped, we gambled, we swam and did water aerobics, we dropped in to say hello to our webmistress Daphne
Car Rental
TROPIC was wonderful. Great price for a Toyota Yaris that was in good shape. Unfortunately roads were a mess and lots of flooding and detours. We did not venture far. Hans, always a gentleman was wonderful to deal with and we finally met his better half! We filled the car before dropping it with Hans and used only about $15 for gas. Not bad.
Beaches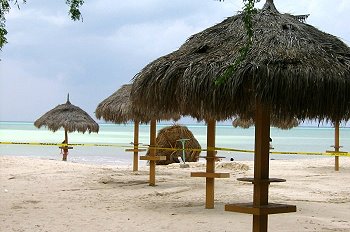 Eagle beach was a mess from the 8th til the the 11th and in front of Amsterdam Manor seemed to bear a lot of the mess. All of Eagle Beach reopened by the 11th with Amsterdam Manor's section still being kind of a mess even up to the 18th. They were working very diligently though.
Social
We stopped by the Amsterdam Manor BB party and met up with Amy, Tony D and Sandy D. It was quite pleasant. Jurgen is so handsome!
Shopping
Paul bought me a new wedding band at a shop that I cannot remember the name of. and we got Kevin's girl a lovely gold chain and poor Kevin only got some chocolates from us :-)
Thoughts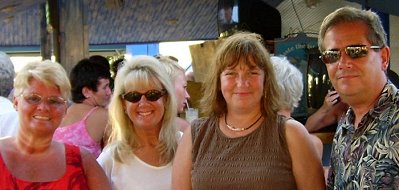 During the flooding and mess in Aruba it was amazing how compassionate the tourists became. Lots made donations. Lots helped out at the resorts as many staff could not get to work due to the roads and some of their homes were destroyed. On our floor of Lacabana a few of us collected soiled towels and delivered linens as 2 of the housekeepers from our floor were unable to get to work due to flooding. (i delivered pillow cases and dish towel and cloths to every room on the 3rd floor Amsterdam Manor side. La Cabana was way understaffed due to the floods and not 1 person was insensitive enough to complain. Kudos to we tourists.
We had a cell phone rental with 70+ outgoing minutes and free incoming calls. It was nice to have the luxury of the phone especially since Kevin is at college and we being out of the USA w/out him.
Many were saddened to hear of the loss of the Jolly Pirate tour boat.
Goodbye Tessa, you will be missed.
Aruba is MORE fun with Sherry and Murray.