Bucuti Beach Resort & Aruba Beach Resort
April 21 - April 29, 2004 By Amy & Chris
This report is long and detailed but it is divided into sections, so you only need to read what interests you. I know that I LOVE reading long trip reports because then I can live vicariously and it gives me good ideas for my next visit.
St Maarten Flight to Aruba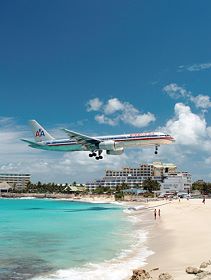 We began our vacation in St. Maarten. We flew American Airlines from SXM to San Juan. Since San Juan is American soil, we had to go through customs, even though we were just passing through to Aruba. The plane's cargo door jammed and they couldn't get our luggage out. The luggage had to go through customs before we could board our plane to Aruba. We ended up running through customs to our plane, but thankfully, we made it on time. The plane wasn't very full and it was a short flight. It is so much easier to leave Aruba, having customs right there in the airport.
Bucuti
The first person we encountered at the Bucuti was Mukesch. He recognized us immediately and welcomed us back. Since we were in the new Tara Wing, he took our bags to the Tara Wing's reception area. We were offered champagne or ice water while we checked in. We were told that our room was not exactly ready for us; they needed to fix the outlet in the bathroom. They gave us the option of unpacking right away, or having a drink at the bar while they finished the repairs. We chose to unpack while they were working. We probably should have taken the other option, since they had to keep turning off the electricity and it got pretty hot in the room.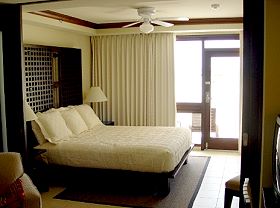 The room itself was beautiful, exactly like the photos. The room still needed a few finishing touches (towel rack, nice room numbers on the doors, etc) but they were adding these items as they became available. It was really lovely to be sitting in bed and looking out at the white sand and blue water. The chairs on the patio were very comfy and we began and ended most of our days sitting on them.
Although it was nice to be in a brand new room, we still missed the bungalows. Besides the added privacy of staying in a building that houses only 3 rooms, nothing beats the patio. At any time of the day, there is shade to sit in. And you have your choice of a straight chair, a lounge chair or a couch.
The Sandbar
The Bucuti's bar is always a great place at happy hour to catch up with the friendly bartenders and have some delicious drinks and munchies. They steel drummer, Lee, was there again this year. Steel drums just seem so appropriate when sipping a frozen drink, sitting on the beach, watching the sunset.
Rental Car
We rented with Economy, again. They had the best rates per vehicle and we were very pleased with them in previous years. They gave us a great returning customer discount and even let us use the Visit Aruba card for an additional 10% off. The total for the 8 days was $167. We had a newer four-door Toyota Yaris and had absolutely no problems with it.
Helicopter Tour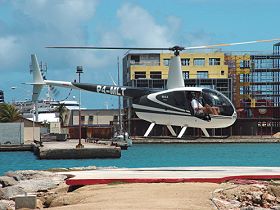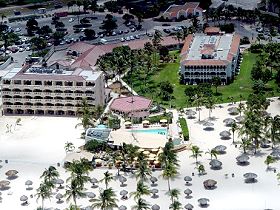 This was the highlight of our trip! I was so nervous about doing this because I'm a little claustrophobic. The staff made me feel so comfortable. Since we were a couple, they didn't put a third person with us and they gave us a discount for booking directly. We took the island tour instead of the beach tour. We also told him that we wanted to pause at the Bucuti and the airport. I held the camcorder, but didn't really pay much attention to it, because I didn't want to miss the sites by worrying about the filming of it. The views were spectacular! To see the Natural Bridge and Natural Pool from those perspectives was amazing. And the Antilla from the air gives you a whole new perspective. When I got off the helicopter, all I could think about was that I wanted to go up again. I don't even remember the ride itself, what it felt like to be in a helicopter, since I was to taken away by the views. I do remember that it was very smooth, much smoother than any airplane. I would recommend this to new people to Aruba, as a great way to decide where you want to sightsee. But I also recommend it to people who have visited or lived in Aruba, as a new way to see the island. If something like this was offered where I live, I'd jump at the chance to see my home from the sky. ($198 for couple - does not include tip to pilot)
Snorkeling
Boca Catalina - We only went here once to snorkel. We saw plenty of fish, but the water was a little murky. We met a nice woman from Massachusetts who vacations in Aruba four weeks a year and is looking to buy a house near Malmok (lucky woman)!
Baby Beach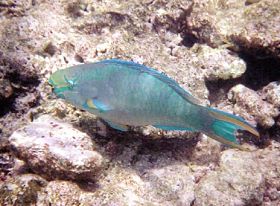 This was our favorite spot this year. We went on our anniversary. The water was very clear and we saw larger fish than we had ever seen in this spot before. I even saw a good-sized barracuda that gave me quite a shock. We saw very large parrotfish, tangs, butterfly fish and boxfish. Luckily, our pictures came out well. As it got a little later, it got much more crowded. I started to get worried that someone would kick me with their fins. We moved to a different area and saw some amazing brain corral and beautiful fish. It was nice having that spot to ourselves and we enjoyed it.
Souvenirs
We didn't buy as many souvenirs this year. Since our family & friends already have Aruba gifts from us, we bought most of our souvenirs in St. Maarten. We did however shop in the Seaport Mall for our first time. Before you shop here, I recommend going to the Information booth and getting a free map and discount card to most of the stores in the Seaport Mall and Plaza. We bought a nice wall map of Aruba in one store, and will have it framed at home. At the Cigar Emporium, I bought a couple of chocolate-flavored and cinnamon-flavored cigars. At the Royal Mall we purchased a nice Lladro figurine, cigars at Casa De Habano, Mont Blanc perfume & cologne, and chocolate flavored cigars at Vibes (for me). Since the Casa del Habano didn't have any labels for us and gave us a crappy-looking, plain wooden box for the cigars, we went to Benlo. They remembered us from last year and gave us the cigar labels and box we needed and I bought some small cigars for souvenirs. What nice people! I also recommend going to Happy Taste (or something like that). It is along the strip where King Ribs and the grocery stores are, near the liquor store. They have several different flavors of Ponche Crème that are homemade. They will give you a taste of each. I bought the pistachio. It was delicious!
Driving/Sightseeing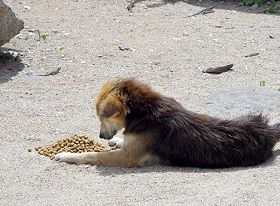 We didn't do as much driving/sightseeing as usual - since we only had 7 full days. We drove around parts of Aruba we had never seen before, like the Hooiberg area, just to drive. On our first trip to Alta Vista Chapel, we were surprised to see no dogs around. We came prepared with dog food. On our second trip to Alta Vista Chapel, we saw one dog that we remembered from last year. We fed her and she was sweet and calm enough to let us pet her. Our last night, we went back to the chapel to take some night photos. She was there, all alone. We didn't have food with us, so we drove to the gas station next to Linda's and bought a bag of food and a bottle of water. We used a "to go" styrofoam container to hold the water. She was so grateful for the water and it was hard to leave her there all alone. If we lived in Aruba, we'd have a lot of adopted dogs.
When we stopped at the gas station, we saw Diane Keijzer coming out. We had met her several years ago while taking pictures at Mount Jamanota and saw her again last year at Linda's. She took one look at Chris and said, "Where do I know you from?" We reminded her of Mount Jamanota and then she instantly remembered. It was funny that while we stood there in front of the gas station chatting with her, several people drove or walked up to ask her for directions to different restaurants. It was nice catching up with her again.
Aruba Panorama
We went to see this movie for several reasons; we were very hot and it was air-conditioned, we had a discount for it (from the Seaport discount card I mentioned), and we thought it would be interesting. Although it was a bit of a commercial for the Radisson, it was pretty nice. I wouldn't strongly recommend it, but if you're hot and want a cool place to hang out for 25 minutes and want to learn a little more history about Aruba, give it a try.
Wildlife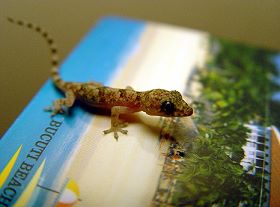 We saw a significant decrease in stray dogs/cats. We did see several goats, the usual iguanas, and a larger number of geckos (known as pega pega in Aruba). We had several we saw every evening. They look so cute when they run. Please don't disturb these small creatures; all they are doing is eating the little bugs that would otherwise be bothering you.
Casinos
This was the first year we decided to check out the casinos, probably because we got a little taste of it in St. Maarten. The differences I saw between the two island's casinos, in St. Maarten the casinos are a little nicer, have more tables available with lower minimums, have more friendly dealers and have better payouts. We gave donations to: Alhambra, Excelsior, and Crystal casinos. I think that we've had our fill of casinos for a while, not that we were ever very into them in the first place.
Dining
Chalet Suisse
We made reservations from home for our first dinner in Aruba. We always have our first and last dinner in Aruba here. We had garden salads with their excellent creamy, garlic house dressing. Chris actually ordered a second serving of salad; yes, they are that yummy. Next came the chateaubriand (filet mignon for two - carved tableside) served with potatoes and vegetables. They also have great garlic bread on the table that we couldn't resist. And we had their wonderful chocolate fondue for dessert. It looked so beautiful when it arrived, we took a picture of it. Chris had a 3 Balashis and I had one Brown Lady. The total, with 15% service charge added in, was $114 - worth every penny. On our second visit, we had the salads (3) & chateaubriand, a brown lady for me, and 2 strawberry coladas for Chris - too full for dessert. (Sorry, we forgot to note how much the bill was.)
Pirate's Nest
Breakfasts - Rather than the $12.95 champagne buffet, we each opted for the other b-fasts. Chris had the hot b-fast (eggs - cooked to order, French toast, bacon, sausage, potatoes etc) for $9.95 and I had the cold b-fast (fruit, smoked salmon, cold meats, breads) for $8.95. Both included juice/coffee etc. The food was excellent and we always have our first breakfast here, before we've gone shopping.
Linda's
We had lunch here one day. We both ordered small pizzas with toppings. Chris finished his, but I could only eat half. This is his favorite pizza in the world.
Iguana Joe's
We ate lunch here three times because: we often found ourselves downtown at lunchtime, you never needed reservations, the prices are very reasonable, the food is always pretty good, and the drinks are even better. Our first time, we split the Iguanachos and bbq rib appetizer. We washed it down with a Lethal Lizard and Cactus Colada. Our second time, we only had a couple of sodas, a taco salad and (my favorite) Iguanachos. Our third visit, we split the Iguanachos, bbq rib appetizer and a taco salad. Since we knew it would be our last meal here, we had a couple of their famous drinks, two pink iguanas and two cactus coladas. (Sorry, I didn't keep track of the bills, but they were very reasonable and do not include a service charge.)
Buccaneer
This is one of our favorites in Aruba. Good prices, no reservations, casual, and great seafood. Chris started with a large shrimp cocktail and I had a yummy escargot. They usually have Barracuda as the catch of the day - but not today! We were so upset - that is our favorite and we can't get it in the states. However, we both ordered the shrimp in madame jeanette sauce and it was delicious and came with many side dishes. Chris had two balashis and I had one brown lady. The only reason we didn't come a second evening is because there were so many screaming, crying kids there, we couldn't imagine coming back. It wasn't the restaurant's fault, and they did try to do everything they could. I blame the parents for letting their children sit there and scream and not do anything about it.
Garufa Cigar Bar/Lounge
We came in here twice, after eating at El Gauchos. We met, David, a really nice guy from Dominica, who works there. He was joking with me about not smoking a cigar so I asked him what he recommended for a woman, who didn't smoke. He came back with a chocolate-flavored smaller cigar. It was pretty good! Chris had a Natural Bridge and I had two Brown Ladys (the best!). They had a really good band that evening. Our second evening here, there was a piano player. We ordered drinks, but we came with our own cigars. David stopped by and chatted with us a bit.
El Gauchos
We always have a little trouble finding this restaurant the first time. If you're driving here yourself, give yourself time to find it, and find parking. We had no wait our first dinner here. A salad & bread comes with dinner, so appetizers aren't necessary. We both had the gaucho steak, which is a large tenderloin. The meal is served with 3 sauces on the side (the garlic was my favorite for dipping my stead and bread), corn, potato, and broccoli. This meal was phenomenal! We both ate about half of our meals and saved the rest for breakfast the next day. Chris had a piece of German chocolate cake for dessert. We enjoyed it so much; we made reservations for the next time. Our second meal was on our anniversary and it was the perfect way to round out our perfect day. We had the same meal with the addition of a piece of tiramisu for myself. Once again, there was plenty left over for a delicious breakfast the next day.
Tony Roma's
We decided to go here for several reasons. We do not have one close by at home, we had heard good things about it on the Aruba BBs, and it was kind of late to be going out to dinner without reservations. We started with the sampler platter for an appetizer. Everything on it was excellent! We also had a ½ onion loaf and some bread with our dinner. Both were very good. I ordered the ½ rack of baby back ribs with the original sauce and Chris had the bbq sandwich with a side of coleslaw. I'm glad we ordered so many appetizers and sides to go with the meal because the main courses were terrible! The ribs were very tough, and tasteless. Chris' sandwich was also tough and tasteless. It was $40 without service charge and we will not be going back.
Villa Germania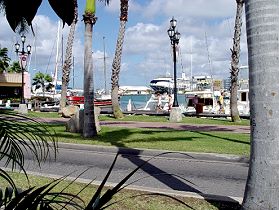 We had heard about this place several time on the BB but hadn't tried it. We decided to give it a try one morning for breakfast. What a gem!! The view of the harbor is beautiful, the service is very good and friendly and the food is great! On our first breakfast, we started with a frozen cappuccino and a café mocha (careful they're huge!). We also ordered a couple of sodas (not realizing how big the coffee drinks would be). I ordered the potato pancakes and bacon. Chris ordered the special: scrambled eggs, french toast, bacon, and coffee/tea. The waitress joked with Chris about finishing his 3 different drinks, but he managed to accomplish it! The scrambled eggs were the best either of us had ever had. The potato pancakes were also very good and I know good potato pancakes being that I'm Jewish. Every morning after this, I tried to coax Chris into driving to town for another breakfast here. I was able to convince him one other time. That morning we skipped the huge coffee drinks and I had potato pancakes with scrambled eggs and Chris had the french toast with bacon. Everything was excellent! We picked up a little sampler menu they have and their lunch/dinner also looks very nice. For those looking for fondue: they have several varieties including cheese & chocolate. Their prices are very reasonable and this earned a spot of our favorites list.
The Paddock
We skipped this spot last year, and now I remember why. Although the food is very tasty and reasonable the service is simply appalling. We know that we're on vacation, not in a hurry, but there is reasonably slow, and then there is painfully slow - especially when you're thirsty and have nothing to drink or are missing something from your meal and there is no server around. I had the pork sate with fries and Chris had the burger with fries. Both were pretty good, but not worth the wait.
Smokey Joe's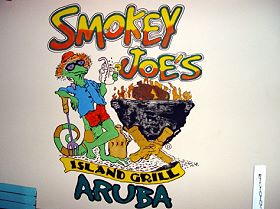 We saw this new restaurant on the day we stopped at Benlo. It is right across from Playa Linda. My first thought when I saw it was that it looked like they were trying to rip off Iguana Joe's. Nope, the same people own them both. They have some of the same items on their menu and some of the same drinks. Unfortunately they don't have the nachos, which are my favorites, but their ribs are fantastic! They are better than Iguana Joe's, better than Tony Roma's (no comparison), even better than King Ribs (in our opinion). I ordered the original and Chris ordered the sampler that had ½ original and ½ of another type. Both were excellent, very tender and tasty. If you think that Iguana Joe's makes strong drinks, wait until you try these! One drink (with 151 rum in it) put me away! Chris had one also, but it wasn't quite as strong as mine. We also had the oreo surprise for dessert, yummy. The total was $51 and service charge was not added. We will definitely be going back to this place again!
Madame Jeanette's
We skipped going here last year and were looking forward to it this year. We were seated on the porch where we had a nice view of the backyard and guitar player. Service was incredibly slow although it wasn't terribly crowded. We both ordered salads, not realizing how huge they would be! I got the caesar and Chris got the mixed salad. Both were excellent. Chris asked to have his leftovers boxed up. I didn't because I knew it would be pretty wilted the next day. We both ordered the tenderloin. They were overcooked and not as tasty as in previous years. We waited a long time for the waitress to come back to check on us. She offered us new steaks cooked right, but we were too tired and it was too late to wait for new steaks to be made. We simply picked at what we had on our plates. When Chris went to eat his salad the next day, it was obvious that the entire salad was not packed up. He had left a huge amount and there was only a handful of salad in the container. We were very disappointed and probably won't be back for a couple of years.
Grocery Stores
Since we had a kitchenette, we went to Ling & Sons and bought breakfast food, snacks, sodas and lots of Balashi. This saved us money and allowed us to eat in a few times instead of always having to go out for a meal. We usually go to King Hong but wanted to try the newer, larger Ling & Sons. It is so nice in there! We found the infamous stroopwafels and we are hooked! We brought some home and got my sister-in-law addicted to them. Chris brought home a case of Balashis that he packed into an empty carry on bag he brought along for this purpose. The guys at the airport had quite a chuckle when he put it through the x-ray machine.
Flight back to the USA
We arrived at the airport 2 1/2 hours before our flight so we would have time to return our rental car. There were two lines at American - for different destinations. Our line happened to be the shorter one. We had enough time to do a little duty-free shopping and eat a little something at Sbarro's. We went through security pretty quickly and went to wait at the gate. The plane was on time and wasn't very crowded. The switch at San Juan went smoothly and the plane to IAD was also not crowded.
Pictures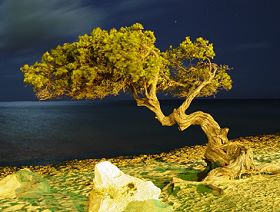 Last year, Chris upgraded his digital camera. We took the tripod to several locations, including the beach in front of the Amsterdam Manor. Chris took some awesome long exposure pictures of "the" divi tree, the moon, the water, Alta Vista Chapel and the beach. We are still working on the organization of our Aruba site and hope to get our new pictures loaded pretty soon.
inaruba.homestead.com
Please feel free to ask any questions and visit our website.
Amy & Chris
Amy B. and AUA Spotter