Tamarijn
August 10 - 15, 2002 by Peter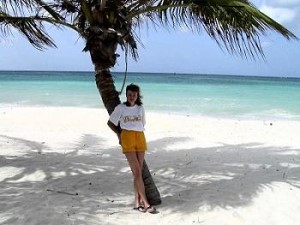 We stayed at Tamarijn Resort from August 10 through 15, 2002. Overall, we had a great vacation. Tamarijn resort exceeded our expectations - we expected less from the two star resort. This is not a luxury hotel, but it was absolutely adequate for us, and definitely worth the money we paid. We stayed in 1900 block, and we liked it a lot.
Pros:
We liked to live in small buildings right on the beach rather than in the big hotel. The rooms were clean and comfortable. The staff was very friendly. Every evening there were some entertainments, and they were good. The food was good, although pretty much the same every day. The restaurants were very good. Since we had Mega pack, we could use Divi restaurants and buffet as well, which were even better than in Tamarijn. The beach was great, just a few meters from our door. Tap water wais absolutely safe to drink, like everywhere in Aruba. There were not many people, so sometimes we were almost alone on the beach.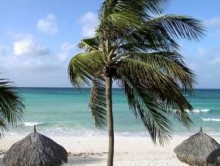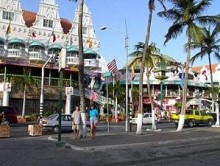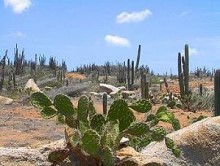 Cons:
Just couple of things. Although the food was good, it was nothing comparing to, for instance, Puerto Vallarta. We've never had such an excellent fresh food and fresh-squeezed juices like in Mexico. Aruba is mostly a desert. Nothing really grows there (some coconut palms, mango trees - that's all). Even in the hotel most flowers were artificial. All fruits and vegetables are imported from South America or Netherlands, and not that fresh. Another minor problem - there were many rocks on the bottom in Tamarijn beach, which made sometimes quite difficult to enter into the water. However, if you walk just five minutes to the beach in Divi, you can find an excellent beach and sandy sea bottom.
Weather:
The weather was great - hot, but not humid. Constant wind makes it easier to stand. There was only one short rain at night. Sun was very strong - take lots of sunscreen.
Snorkeling:
Snorkeling was great, especially in the Northern part of the island and in the Natural Pool. It's a good idea to have a car to go to these places.
Tours:
Cannot provide any information, because we didn't take any. We rented a car and explored Aruba ourselves.
Driving:
It is not necessary to rent a car to have a great vacation in Aruba. However, if you want to have a freedom, explore the island on your own, and save a lot of money on tours, we would highly recommend to do it. We reserved a car in advance for $180 for 3 days, and picked up our Chevrolet Tracker at the Dollar car rental at the airport. The car was pretty much a wreck, even speedometer didn't work. However, it handled Arubian roads pretty well, so we didn't complain. When we came to the hotel, we realized that we made a mistake by making reservation in advance. There was a Hertz car rental at Tamarijn, which had plenty of cars in much better shape and cheaper. We could rent a Suzuki Jimney for $55 a day. After 3 days we returned our car to the Dollar car rental near the hotel and rented another car in Tamarijn. Since we've been done with off-road driving, we rented small Daihatsu Cuore for $35 a day (no taxes or surcharges in Aruba), which we returned later at the airport.
The driving in Aruba is different, but not difficult. The drivers are generally very polite. The only problem was to find the place you want to go, especially in the countryside. The road signs show only major towns. We used everything - maps, compass, and asked local people. Even if they didn't speak English, they usually could point us to the right direction. The places we would recommend to visit (besides Oranjestad) are: Natural Bridge, Natural Pool and Arikok National Park. You must have a 4WD to go to Natural Pool and to drive some back roads in Arikok. The driving is mostly on the rocks through the desert. The desert is beautiful, the landscape looks surrealistic. You can also have a great swimming and snorkeling in the Natural Pool.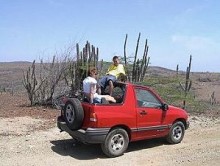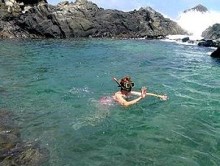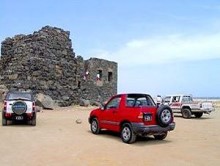 Shopping:
We haven't spent much time shopping, but generally we were not impressed. There is a big mall in the downtown Oranjestad which has many familiar stores like Guess, Tommy etc. The prices are the same or even higher than in the US. As always, there is a lot of tourist junk. The regular department stores are much cheaper, but there is not much to buy there. My wife bought a lot of European cosmetics, which is usually not available (or very expensive) in the US. The US dollar is accepted everywhere.
Crime:
Never had any problems, and never heard about any incidents. Aruba doesn't seem to be a very poor country - no slums like in some parts of Mexico or some other Caribbean islands.
Communications:
There are four languages in Aruba: Dutch, Papiamento (language of local people of Netherlands Antilles - Aruba, Curacao and Bonaire), Spanish (due to proximity of Venezuela) and English. In the tourists areas most people speak English, in the other areas they may not.
Again, we had a great and pretty quiet vacation. If you want to party, you probably could do it as well - there are many casinos, big hotels, restaurants and other places in Aruba. I think everyone can find something for himself. We hope to be back some day.