Wyndham Resort (now Westin)
Sept. 21-28 / Sept. 28-Oct. 5 by Paul & Jane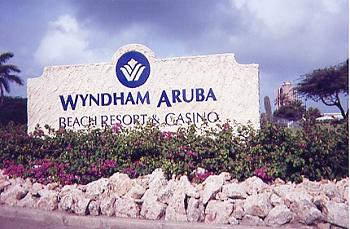 I will preface this review by stating that I will be as unbiased as possible. The opinions are based on my own personal experience and are not intended to slam anyone but to assist fellow bb'ers in planning their vacation. I also must let you know that I own a fine dining restaurant in Pittsburgh that was voted as Pittsburgh's "Best New Restaurant" so I do have some experience to draw on when rating the restaurants we dined at.
Agent:
We used as local travel agent to book through Apple Tours since they had the best rates that included air. Apple is now using Planet Airlines out of Pittsburgh and they are terrible. From the filthy seats to the inedible food to the delays. We had heard horror stories from some other folks on the plane about their experiences and did not believe them until we experienced it ourselves. I would use Apple in the future but only as a last resort.
Pittsburgh Departure:
Our scheduled departure time was 7:00am. We were at the airport at 5:00am as requested and breezed through the checkpoints. I did notice that about ten minutes after we were in line that it had backed up very quickly so it looked like we beat everyone by just a couple minutes. We were at the gate at 5:20. The plane was 1 hour late taking off. They blamed it on the plane not being cleaned from the night before. The flight was pretty bad. The breakfast was not edible and the seats were packed in so tight some people had to sit sideways because their knees were hitting the seat in front of them. Good thing I got us an exit row. Plenty of leg room there (hint).
Aruba Arrival: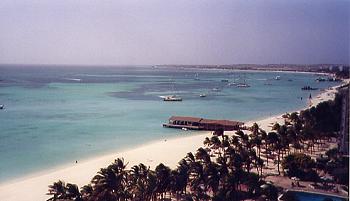 Took about 20 minutes to get luggage and walked through immigration. No one checked our luggage. Walked across the street to Econo to get our car. (If I would have known better I would have left the luggage and my wife on the airport side and walked over to get the car and then driven around to pick everything up.) $165 for the week. Got an automatic Tercel and booked it online a couple months ahead of time. It was a ten minute ride to the high-rise area. Very easy drive.
Wyndham:
Check in went quickly, probably because we beat everyone there that took the bus. The counter clerks were slow but remember you're in Aruba. Since we were at the hotel about 1:30 we had an hour wait to get our room so we went to get something to eat. (more about food later). I had emailed Christina the previous week to check on a room upgrade since we had signed up for the Wyndham by Request (thanks everyone for this tip). We were upgraded from the basement (that's what you get when you book through Apple) to a Suite on the 12th floor. I couldn't complain that the room was not on the pool side (we were in 1205). Even numbers pools side. Odd numbers overlook the beach down the high rise area. If you can get an even room go for it but the suite was very nice and had wine/champagne and cheese waiting for us.
Overall the Wyndham is very nice. The grounds are well maintained and yes it is windy there. Much more than at the other resorts. In fact two days we had to leave the beach and go to the pool. We were getting sandblasted and the sand actually imbedded itself in our skin. We selected talapa #38 most of the week (thanks to whomever recommended that one). It's set at the far end of huts and has an unobstructed view of the water but because it's set back on the beach it doesn't get as much wind. Never had a problem getting a talapa. There were at least 10 available all day. Saturday was the only day you needed to get there early. They go fast on that day. Negatives about the hotel would be that the motorized water sports are right on their beach. If you like doing that stuff it's handy. For us, it was a little annoying with speedboats pulling in and out all day. There were several times when I wanted to talk to someone in the lobby and couldn't find anyone. They would have one clerk on duty with 4 or 5 people backed up and the concierge desk was unmanned. Also a negative was that there was a lot of kids around. We walked over to the Rad and it wasn't like that. If you want to avoid the kids, head to the Rad. Also there was very little entertainment. No groups playing poolside. Just the daily bingo at 2:00 but they did offer several activities for kids during the day.
BB Party:
Got to Moomba's beach at 4:00. there was a lot of folks there already. It was nice to meet everyone. Thanks John & Amber and Mark for setting it up. We had a couple drinks and were wiped out from the trip in. We would have stayed longer if we had not just got in.
Dress Code:
Casual, did not wear pants all week just shorts and a bathing suit. Next time I'd take one pair so we could check out Chez Matilde.
Snorkle/Dive: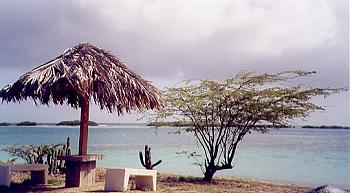 The water was not that great for clarity. 10-15 ft tops. I wouldn't dive. I did take my snorkel, mask and fins and just for the heck of it went in the water right at the hotel. I was surprised to see aquatic life right there. Look around the buoys and especially around the sunning platform that the Wyndham has. Saw cuddle fish, various tangs and angels, spotted grouper, cardinals, wrasses and blennies. Found a spotted eel in the vegetation. Stipped bass and glass fish. Very nice. Drove down to Malmok Beach & Arashi Beach and just found a spot and went in. no need take a snorkel tour, just do it yourself. I also found time to go to Baby Beach one day. A long drive and tough to find but the washout area was abundant with fish and there was better visibility.
Dining:
First, thanks to all the reviews everyone posted. It was very difficult to choose which ones we wanted to try.
Breakfast:
Most of the time we just got bagels or donuts and made coffee in the room.
We did try La Petite cafe' at the Playa Linda for breakfast one day. They have an all you eat for $7.95. DO NOT WASTE YOUR MONEY. This was by far the worst breakfast I have ever had. If you want details I'd be happy to supply them. The breakfast at cafe' Amici at the Wyndham is great. Ordered off the menu and the bill came to $26 with tip.
Lunch:
Most of our lunches were at the Terrace restaurant at the Wyndham since it was convenient. Good food, good service. Lunches came to about $28 w/tip. We did take a walk next door at Aruba Grand one day and had lunch at their pool bar. BBQ Ribs and chicken. Very good. $22 w/tip
Restaurants:
rating system is 10 (outstanding) to 1 (poor) Most of the dinners we had were for 6:30. the sun sets at around 7:00. It was not busy at any of the restaurants and we probably could have got reservations for that day at any of them.
Blossoms (at the Wyndham). Nice place. I had sushi, Jane had general Tso's chicken. One drink no desert $50 w/tip. Ambiance (9), Food (8), Service (7). Would try somewhere else next time, probably Pago Pago.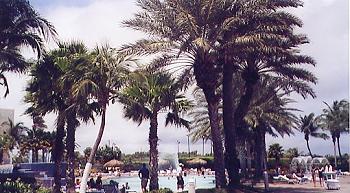 Marina Pirata: 20-25 minutes from high-rise area. The sunset was uneventful and the sun sets over the desalination plant (not very romantic). The best part is that their pet sea turtle called Marina Pirata comes in for feeding between 6:30 and 7:00 every night. Ambience (8), Food (7), Service (7). Dinner w/tip and no drinks $60. Probably would not go back wasn't that impressed.
Madame Janettes: Less than 10-minute drive. Can't see sunset from here so book your dinner after 7:00 when the lights come on. We did see several stray dogs and cats in this area. Ambiance (9), Food (8), Service (8). One glass of wine and desert $70 w/tip. I'd put this one on the return list, very nice.
Tony Roma: It's a chain, enough said. Very similar to Damon's Ribs back home. $45 w/tip. I'd try Kings Ribs next time. Service was poor.
Chalet Suisse: 10 minute drive. WE HAVE A WINNER! Made reservations online prior to leaving and requested table #32 (someone on the board recommended that one). They responded and said everyone wants that table. We ended up getting Table #32 and tipped Benny a ten spot for that one. Nice cozy, romantic table. >From the time we walked in to the time we left it was as enjoyable a meal as I have ever had. Soup, entr'e's, a couple deserts and a glass of wine $80 w/tip. Ambiance (10), Food (10), Service (10). An absolute must do.
Que Pasa: downtown (15 min drive). There was a street bazaar on Saturday so we decided to go into town around 4 and browse around then just stayed in town for dinner. There was hardly anyone in the restaurant. I would consider their decor as eclectic Aruban. Very friendly. We both had ribs (huge portions) and a desert and the bill was $42 w/tip. Ambiance (7), Food (8), Service (8). I'd go back. The ribs were excellent.
Flying Fishbone: Very nice. About 30 min from the hotel. It was worth the drive. Their special that night was barracuda. It was outstanding. Table was right on the water. Ambiance (10), Food (9), Service (8). $70 w/tip including a glass of wine.
Things to do:
We didn't do a whole lot except lay on the beach and eat. What a great vacation. We did do the sunset cruise on the Tranquillo and would recommend it to anyone. Not crowded and Captain Anthony let us steer the boat. It was much more personal than the big boats. The sunsets, we were told, are better in August, September and October. Since it seems to have been hazy most evenings. I do have to mention the folks we met on the cruise and they just happened to be from Pittsburgh. We had a great time with John & Judy and Robert & Wendy. It was quite interesting to find out that John & Judy had actually eaten at my restaurant. It's a small world.
For a romantic sunset head out towards the lighthouse around 6:30 and stop at one of the talapas on malmok beach to watch the sunset over the water or lay in a hammock on the beach at the Wyndham and watch the sun come down with a glass of wine.
Sunset Departure: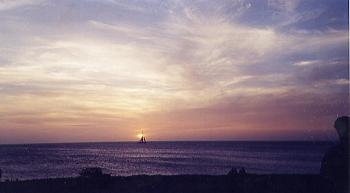 Left at 8:45 for a 12:15 flight (the tour bus was leaving at 9:30 and we wanted to beat it) . Dropped off the car and we were second in line to check in. Total time to go through check in, Emigration and customs was 30 minutes. They didn't check anything, probably because we were scheduled on a charter and not a common carrier. The plane was 3 hours late coming in and stopped for an hour in Fort Lauderdale for fuel so instead of getting home at 4:45 we pulled in at 9:15. It made for a long day.
Overall:
Enjoyed Aruba. We've been to a lot of the islands in the Caribbean and this was, next to Grand Cayman, the best. I would definitely return. For the price it was a good value. I would not even consider an all inclusive unless you drink a lot. Most places have happy hour from 4 to 6 and drinks are $3. I would try the Radisson the next time just to have something to compare to. I would recommend renting a car. It's very easy to get around and allows you a lot of flexibility. You would spend a lot more to take taxi's everywhere I mentioned here. We did this trip on $1000 spending money but we are not gamblers or drinkers.