Manchebo Beach Resort / Aruba Grand
Sept. 21-28 / Sept. 28-Oct. 5 by ~Amy~® and Mike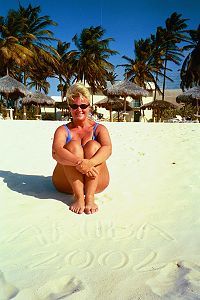 This was our first year flying ATA to Aruba (have always flown Sun Country Airlines in the past). We flew from Minneapolis with a connection at Chicago's Midway Airport and then on to Aruba. Flight was good and on time (and our flight down was less than ½ full so there was plenty of room to spread out.)
Picked up our rental car from Jansen Rent a Car at the airport. We have been renting with them for the last few years now and their service cannot be beat. The car was running with the A/C already turned on when we got there and ready to go. We finally had the pleasure of meeting Leo Jansen later in the week and he is the nicest man (wish we would've had more time to spend with him but hopefully next year.)
Manchebo Beach Resort
Checked into the Manchebo Beach Resort located on Manchebo Beach for our first week. We requested a room on the first floor and we got a perfect room with a walk-out patio that also has a small lamp and chairs beyond the patio for at night (we referred to this as our "outdoor living room") and also had a nice beach/ocean view. The room was a little smaller than what we're used to but the beach……the beach is incredible!!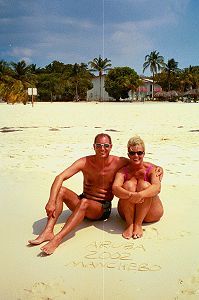 It is probably the widest beach I've ever seen. Lots of huts and palm trees on the beach so there was never any problems on getting a hut at any time during the day since the hotel has less than 100 rooms. We usually spent the mornings in our "outdoor living room" drinking coffee (the rooms come equipped with coffee makers, mini-frig, and electronic safe), eating fruit, and feeding the iguanas that came by at the same time every day. The Manchebo also has a great happy hour at their Pega-Pega Bar from 5pm-7pm - 2 for 1 drinks, free taco bar, and a nice view of the beach with plenty of shade.
Aruba Grand Resort
Spent our second week at the Aruba Grand in our favorite lanai room that is literally just steps from the beach. Breakfast was included at the Grand so we had a nice breakfast every morning outside at their restaurant and didn't need much for lunch after that. We've stayed at the Grand many times and the Bell Staff remembered us as soon as we pulled up in our rental car. The beach at the Grand is large with plenty of huts so even if we decided to go shopping downtown in the morning and didn't get to the beach until noon, there were always plenty of huts to choose from. The Grand also has a brand new fitness center with state of the art equipment and it is run by Vincent (many of you may remember Vincent, the limbo man!)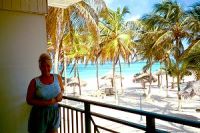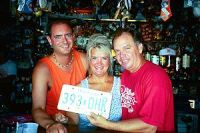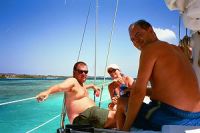 Restaurants
We ate at some of our favorites (Gasparito, French Steakhouse, Madame Janette's, El Gaucho, Flying Fishbone, Que Pasa, Salt & Pepper), went back to a few that we haven't been to in years (Buccaneer, La Dolce Vita, The Mill) and tried a brand new one (Rumba's.) I have posted reviews of each of them in the Restaurant Review section: www.RestaurantsAruba.com
Tranquilo
FINALLY made it on the Tranquilo this year for their six hour snorkeling trip to the Spanish Lagoon area. Can't say enough wonderful things about the crew (Capt. Anthony, Roy, and Greg!!!) and the homemade split pea soup is as good as everyone has said!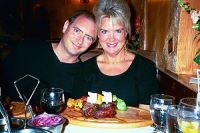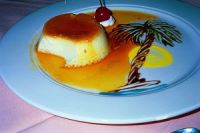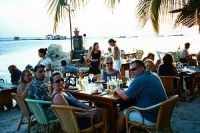 Horsebackriding at Rancho Notorious
We did the 3 ½ hour private ride and it was good as usual, but HOT!! What was really funny was that I rode the exact same horse that I rode back in 1998 and she's still a little spitfire with attitude. Our guide was great at taking photographs with all of our cameras and setting up the shots with the scenery in the background. I had a slight problem with one of the stirrups cutting into my ankle which is why I always tell people to wear long pants (I only wore Capri pants) for the ride. We saw another group go out before us and almost everyone was wearing shorts and some even had flip-flop sandals on….I'm sure they were all regretting it later.
Quad Racer Tour at Rancho Notorious
This was a lot of fun!! But you do get dirty!! There are some puddles on the trail and even if you avoid them, you still get some mud kicked up at you every now and then. Some people chose to go through the puddles and they were filthy. Just make sure you wear something that you don't care about getting dirty and that you don't plan on wearing for the rest of the trip. We went to the Natural Bridge, the gold mine, the chapel and the lighthouse. We will definitely do this again on future trips.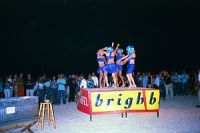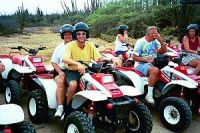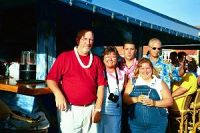 Aloe Factory
We ventured to the Aloe Factory this year for the tour. It's now in a brand new building and you can take a tour at any time of the day for $5/person. It's a fairly short tour that gives you the history of Aloe and then they show you how it's processed and packaged. Of course, no tour is complete without a tour of the gift shop. The prices are very good and you can go into the gift shop at any time without taking the tour - we went back later on in the week and bought a few items for friends back home.
Balashi Brewery Tour
was temporarily closed for remodeling…we were bummed!!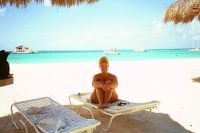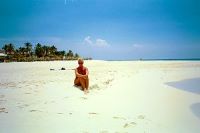 Aruba Forum BB Party
Happy Hour at Amsterdam Manor and sunset sail with Red Sail Sports. This was the BEST party yet!! We had very few no-shows so we had close to 50 people at the happy hour and the sunset sail. The happy hour at the Amsterdam Manor was fun and I met quite a few people from the BB (loved meeting and talking to everyone!!) We had $1 drinks at the party along with some snacks provided by Amsterdam Manor. Then at 5:30 everyone was transported (courtesy of ABC Tours) to the pier near the Hyatt for the Red Sail Sports sunset cruise. Had a HUGE ship with plenty of room for dancing near the bar (drinks were included) and it was just one big party with music, drinks, and a lot of great people! Everyone received a free aruba-travelguide.com t-shirt and we had 2 great prizes that were given away in a random drawing: one was a free dinner for two at the French Steakhouse and the other was a free jeep tour with ABC Tours.
I can't wait until next year….this is an annual event now and I look forward to it every year!
Odds and Ends
If you don't feel like going out to dinner some nights, grab a pizza at Pizza Hut and a nice bottle of cold Lambrusco (or cold beer!) I was exhausted (and dirty) from the ATV Tour and we didn't get back to the hotel until after dark….I had no energy to get cleaned up for a dinner out on the town so Pizza Hut really hit the spot for a nice relaxing evening out on the patio of our room.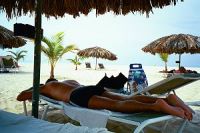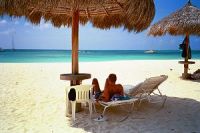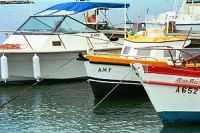 The Manchebo Beach Resort - this was the first time we stayed at the Manchebo Beach Resort and I can't say enough wonderful things about this hotel and their staff! Definitely has one of the best beaches in Aruba and it's affordable if you're on a budget. It's a great value for your dollar! Also has a great outdoor restaurant/bar for lunch and happy hour and is home to the wonderful French Steakhouse. Plenty of things to walk to (Alhambra Casino, a few little shops, etc.) and you can go for a nice long beach walk from the Manchebo Beach all the way down to Eagle Beach in front of La Cabana.
Charlie's Bar - we go every year on our way down to Rodger's Beach. This year I FINALLY remembered to bring one of my old license plates from my car since they were lacking a plate from Minnesota. The bartenders there are a couple of jokesters and they even invited me behind the bar to have my photo taken with my "gift" (the COLD Balashi beer on tap in frosted mugs is the BEST and if you like spicy food then you MUST try their famous "honeymoon sauce"!)
Rodger's Beach - always have to go for a dip in the water here at least once per trip. It's a quiet little beach with usually no one on it except for maybe a stray dog or two (who always seem to "adopt" me for the day) and the water is nice and calm for swimming.
Kokoa Bar (pier near the Aruba Grand) - I love this place for drinks and a quick lunch. It's so handy when we're staying right at the Grand to just wander over from our beach chairs for a break and a snack (and some Amstel Brights or Polars!!)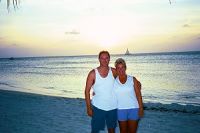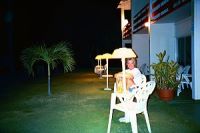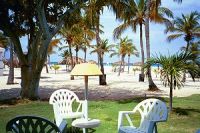 Moomba's - we went to the Full Moon Party at Moomba's on our first night in Aruba. Wow - what a HUGE crowd and a lot of fun. Problem was that I was getting tired by 11pm from the long flight that day so I had to leave early and get some sleep. I will say though that if you're staying at the Holiday Inn and you're in the tower that faces Moomba's….you will not get any sleep during their parties because of the loud music.
We finally were able to meet Sandra from Aruba who contributes quite a bit to the Aruba bulletin boards. We met her for lunch at the Plaza Café downtown and had a great time talking about Aruba. Sandra: Next year dinner is on us!!
We had our annual "champagne party on the beach" with some wonderful friends that we've met over the years. Our mission is to always bring the fresh shrimp (which we accomplished). This year we had friends staying at the Radisson so they set up everything on the Radisson's beach: music (CD player), fruit with sauces for dipping, snacks, cheese and crackers, shrimp with cocktail sauce and, of course, some fantastic champagne that our friends bring every year. This used to just be a party of just my husband and I and another couple but this year it had grown into 8 people and it was great to see everyone again!
Another note that I am sorry to report: Be aware that during our stay there were some notices regarding stolen bags from the beach. One of the hotels had caught the culprit on videotape (where he was in the lobby bathroom at the hotel rummaging through stolen bags looking for things of value) but, unfortunately, he was not caught. Another friend of ours had their camera stolen while at the Kokoa Bar - camera was on the bar and we were just steps away from it but we were not keeping our eyes glued to it. Aruba is still a very safe island but just be cautious of your valuables and of the people around you while at the beach and at bars.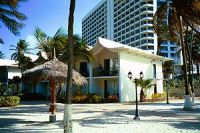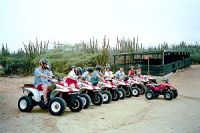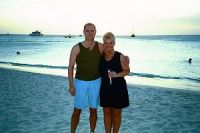 I am sure I'm forgetting to mention something so please feel free to email me if you have any questions. We covered a lot of ground in our annual two weeks!!
Also like to say a big thank you to the following people for their friendship and generosity: Melvin , Leo (Jansen Rent A Car), Theo (Manchebo Beach Resort), Anne (Amsterdam Manor), Sandra, Stacy & Chris, "Mom", Sonny & Dotty, CindyK & Jim, SueW & Gerry, and all of the new friends we met at the Aruba Forum happy hour party and sunset sail (too numerous to mention but I loved meeting everyone and hope you join us again next year!) I've said it before and I'll say it again: it's the people that make Aruba so special (okay, the beaches are pretty nice, too - LOL!!)
Regards,
Amy and Mike