Amsterdam Manor Beach Resort
May 23 - June 13, 2002 by Melvin Trost
The flight and arrival:
Flying on board the Mother Theresa, a KLM MD-11, my favourite kind of plane, I arrived on Aruba in the afternoon. I slept on the plane, having several seats to myself, so I arrived in good shape.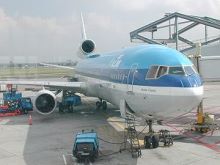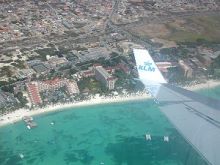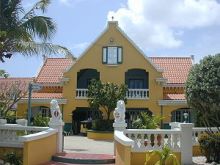 I decided to say hi to my friend Leo Jansen, owner of Jansen Car Rental. It was great to see him again. He's one the people that make me feel as if I'm coming home whenever I arrive on Aruba. After having promised that I would return to see him again, he gave me one of his Toyota's and I went off to the Amsterdam Manor, my home for the next three weeks.
Amsterdam Manor Beach Resort
At the lobby of the Amsterdam Manor, I was greeted warmly by the staff. I quickly freshened up and went to the Sunset Upperdeck Bar, just in time for the start of the Manager's cocktail party. It was good to see Jurgen van Schaijk, the General Manager, whom I see on a regular basis, because he allways visits our company whenever he comes to the Netherlands.
"The Manor" plays host to guests that seek an intimate atmosphere. The grounds of the resort are made up of cozy little courts that surround the buildings painted in ochre yellow. The courts are tastefully decorated with many large potted flowers.
The next morning I got up to go on a Quad Tour with Rancho Notorious. After an extensive instruction session, we set out on great ride that took us along the North Coast where we stopped off at the Bushiribana Ruins. Although a Quad is motorised, bouncing around under the unrelenting Caribbean sun does make you tired. And thirsty! So we stopped at the Natural Bridge for a welcome drink. Then on to the California Lighthouse where we stopped at the Lucky Stones, towers made of rocks and stones that people pile up for good fortune.
When we got back, we had another refreshing drink and a laugh before boarding the bus that brought us back to our hotels. That was fun.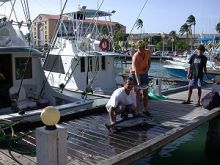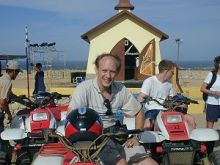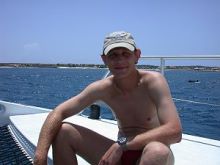 Whenever I go to Aruba, it is to mix a lot of work with some fun in the little time that remains. So most time I spent visiting existing clients and meeting new ones.
At night I would stay at the Manor and have dinner at Mango's, eating my way through as many baby ribs as I wanted, or have a go at the Italian Buffet.
And sometimes I would go out and eat elsewhere, never to be disappointed, either. Aruba has its fair share of great restaurants, ranging from "très chique" to "enter in beach attire", with menus from all over the globe.
I consider myself lucky to have eaten at the Pago Pago, Blossom's, Tabasco, Que Pasa?, La Cage aux Follies (formerly Three Little Birds), The Old Cunucu House, French Steakhouse, Salt 'n Pepper, Madame Jeanette and the Paddock.
Papiamento, one of my favourites, was booked full on the night I wanted to go there.
Only occassionly would I take a quick bite at Wendy's, my favourite fast food restaurant, which, unfortunately, we do not have in the Netherlands.
And I went dancing at the Paddock, Carlos 'n Charlie's, Bahia, La Fiesta, Mambo Jumbo and Moomba Beach.
Isn't it great to be able to do all this for a living? Yep, I'm a lucky guy.
It was an unexpected treat to be able to visit the Foot Volleyball tournament where many Dutch Soccer Stars were present. Unlucky for them they didn't make it to the World Championship Tournament in Japan and South Korea. But it gave me the chance to see former European and World (club-) championships at work, playing footvolleyball on Moomba Beach on Aruba.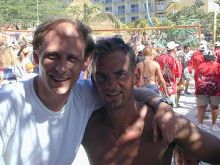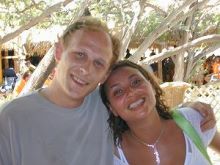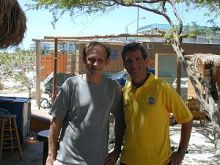 Among them Ronald de Boer, Aaron Winter, Richard and Robbie Witsche, Danny Blind, Pierre van Hooijdonk, Ronald Koeman and Louis van Gaal. These are names that may not mean much to you, but in the Netherlands these are, or at least used to be, the cream of the crop.
Snorkelling at Antilla Wreck, Malmok Beach and Boca Catalina:
On a saterday morning I took the Day Luncheon Snorkel Sail trip with Red Sail. We went with their new catamaran "Rumba" which is a very great catamaran (I like catamarans very much). Of course we snorkel at the Antilla Wreck, which impressed me always. The fish, the ship itself decorated with underlife plants and fishes. The lunch was very tastefull as usual.
The snorkel at Malmok (near Boca Catalina) was again a great snorkel. I forgot to put extra sun block on my skin (used factor 8 instead of 20), so my back became a lobster skin :).
Hope to see you in September in Aruba!!